Taco Training: An Endurance Athlete's Guide to San José del Cabo, Mexico
Will Ross, November 24, 2017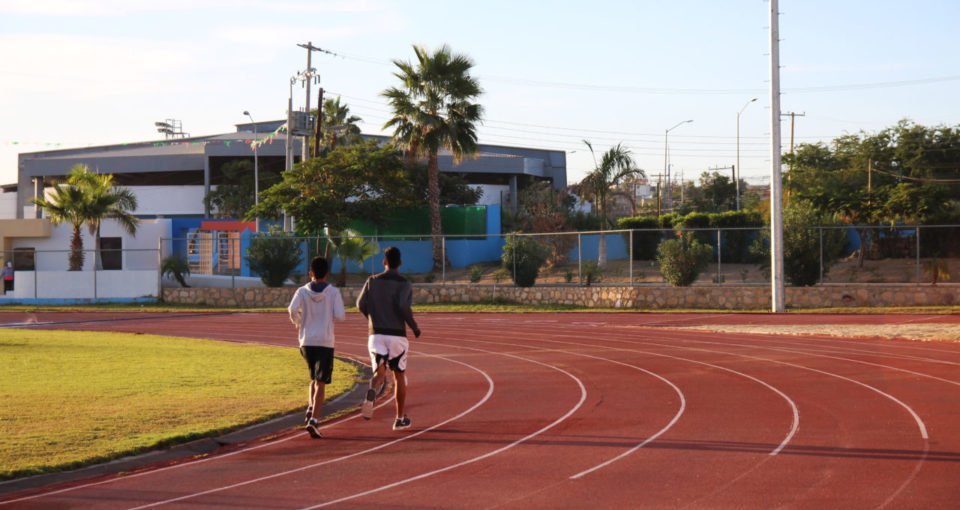 It's official: Los Cabos reputation is slowly being prised away from a drunkard's den to a haven for health. The region that sits at the tip of Mexico's Baja California is in fact dotted with facilities for proper training, made more wonderful by a long spell of warm weather through the winter months.
The blossoming downtown area of San José del Cabo serves as an outstanding base for training, with diverse terrain leaping out from the swimmable beaches. Take confidence in the fact that San José caters for the full demands of endurance recovery and schedule sessions for a dedicated training stay. Here are some notes from my stay, when Ironman Los Cabos truly changed the pulse of this idyllic oceanfront.
Training
Runners have it best in San José del Cabo, thanks to a nearby hill and running track. The 8-lane, 400m athletics track sits within the town's impressive sports facility, "Estadio de San José del Cabo". The track is open from 7am to 10pm and doesn't have an entry fee. Though the rubberised surface is old tech and worn [November 2017], and the eight lane was ripped out by floods in August, it's a good facility for honest training and floodlit sessions.
For running trails and some climbing, look west and up the hill for 1.2km at 9%. I created a Strava Segment, Upward Punch from San José, mapping the route to the natural summit – just note that the trail is crumbling nicely so some kind of trail shoes are a must (I was in Salmon S/Lab Sense 6 SG). From the top of the climb, you'll come across a fork – left takes you down anti-clockwise and back to town, with the right direction guiding you further through the hills. If you hit the wall, dive back to the Tourist Corridor and hail the purple and orange "Ruta del Desierto" bus to get back to town – bring cash but don't worry about exact change.
Running along San José pavements is an option though there aren't long uninterrupted sections in the area. One starting point would be to familiarise yourself with the strip of hotels and pavement at the San José end of the Resort Strip – Paseo Malecon is the road's name. As for safety, take care when crossing the faded zebra crossings – they aren't really respected by motorists.
Cyclists need to be brave to head out on the heaving road to Cabo San Lucas, the route that has been used by Ironman for the past few years. Weave off this inland and you'll find challenging climbs that climb for up to four miles. Two orientation climbs should be your starting points: due west out of San José, Camino Ancho is 6.4km at 4%. A second orientation requires you to spend a couple of miles on the drag to Cabo San Lucas before taking a right up Costa Azul Canyon, a 4km climb with a gentler 2% pitch.
A more challenging climb heads up the hill west of the Costa Azul Climb, appropriately named Fat Pancho Mountain Climb. This 1.6km segment hikes up at an average of a 10% gradient, scooping steeper during the second half to 13%. A longer climb can be found further down the road to Cabo San Lucas, Carretera Federal, a near-dead-straight 5.6km / 6% ramp.
San José's premier lap swimming pool is part of a sports complex called Punto Azul Club Deportivo which was flooded to a depth of 6ft during the August storms. Its recovery is remarkable with the 25m swimming pool taking priority. An on-site gym was still showing signs of repair when I visited in mid-November 2017 – this may be updated if you want to make the most of your 150-Pesos entry and crack out a session using their cardio or weights equipment.
Open water swimming is within four miles of San José, in a cove called Palmilla Beach. This was the site of Ironman's swim, accompanied by an ambitious jog out of the water and up the beach. Palmilla Beach has showers and restrooms, and became Blue Flag-rated in 2016, as a sign of its water quality and infrastructure.
For some resistance training, the most substantial weights offering is at Seis24, a CrossFit box a short jog from downtown San José. Their hours are broad and their drop-in fees start at $15 for one day, $25 for two, and $10 each day thereafter. Sunk into the basement of an office block, this CrossFit box is true to the architectural heritage of the sport and a good place to escape the heat in the middle of the day.
Eating
Put in enough training and you'll soon find yourself in the belly of San José's finest eateries. Early birds can scoot over to Coffee LAB from 7am for coffee, signature dishes like avocado toast and a wide variety of smoothies – this was my holy trinity during a two-week stay, ordered with metronomic consistency throughout my mornings. Coffee in the afternoons in the breezy courtyard of Café Dona Nena provides a natural pause to the day.
A few blocks from Coffee LAB is Chula Vegan Cafe from sisters Natalia and Ivana. Their exceptional spot is not only a glowing example of tasty ethics, but their dishes are caloric and varied. Hearty salads, chickpea burgers, waffles for weekends and smoothies for any hours can be your go-to's from 9am to 6pm Tuesday to Saturday, with narrower opening hours on Sundays.
As for traditional Mexican food, look to La Lupita. Closed on Monday nights, the only time you won't see the restaurant packed with locals tucking into the extensive list of tacos. Drift Hotel's exclusive domain is open to the public on Thursdays and Saturdays when a food truck can be found puffing away to service the small selection of delicious bites.
Over on the other side of the estuary in a small enclave is Flora Farms and its younger neighbour, Acre. These two restaurants have a cult-like following, attracting celebrity status which comes with an absolute requirement to book in advance. Getting across the estuary is no mean feat – either fork out $25 each way or become your most athletic self and carve a casual jog across the bridge and enjoy an extra beer on arrival.
Sleeping & Logistics
The robust space in San José's arts district occupied by Drift Hotel makes for a good place to base yourself during training. The eight bedrooms are shaped from concrete and you can make up your own breakfasts in the communal kitchen. Secure bike storage is abundant.
Drift don't offer laundry service so make it down the road to Lavendaria y Planchaduria Cabo Express, where a turquoise facade will swallow up your laundry and get it back to you by 12 noon the same day, if you drop it soon after 8am. A dream.
Getting to Palmilla or to Cabo San Lucas is easy – the Ruta del Desierto bus picks up from a small bay 200 metres up the road from Seis24 (note the direction you're going in, not the large bay next to the basketball court, which takes you toward the airport).
Contact me if you have any questions, will@zafiri.com, and enjoy your trial of the full collection of City Guides for your upcoming urban training.