Salomon S/Lab Sense 6 SG Trail Running Shoe
Will Ross, September 17, 2017
Emerging from Salomon's premium S/Lab range of trail running shoes, the Sense 6 SG (softground) is the brand's most lightweight off-road shoe, offering enough grip and stability for a wide variety of situations. What's more, its slender design is packaged in a slick shoe with a rubrific dazzle worthy of Dorothy and a wizardly line.
When you pick up the shoe, the first thing you'll notice is that it has a pair of tread types, with a softer set of grippers set from the midfoot to the toe and a firmer group on the heel. The frontal squidgy material connects outstandingly with all rocky surfaces, while holidng up pretty well on tarmac. Meanwhile, the heel plate grabs more surely on the ground during descents, offering a firm platform that builds confidence in the shoe's foundation. I used my Sense 6 SGs across a craggy causeway in Gower, Wales and it held to the sharp, abrassive rocks with remarkable tolerance.
The second thing to note about the Sense 6 is how narrow it is, slicing forwards with a compact profile that feels more like a racing flat than a shoe designed to take the impact of the trail. The ability for Salomon to find a point of lamination between the sole and shoe cup is the win here, a fantastic connection that allows for an ambitious footprint. This package is sealed above the sole, keeping out water if you're splashing in shallow puddles – a reassuring fact that's easy to underestimate.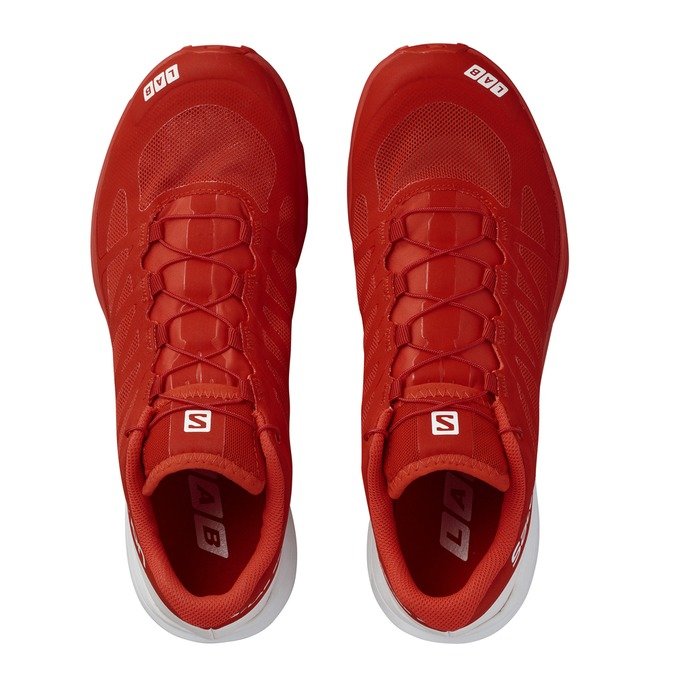 The third and final component which makes this shoe an outstanding choice is its lace system. Offering a simple spring-and-lock system on the upper, the tongue connects with an internal sock to provide a cosy vault for your sole, further bundling your foot into a slender setting to stay directly above the compact base of the shoe.
[flockler site_uuid="18671a0ff6605ce489a5e3f08dd20346″ embed_uuid="18671a929950d7e6bcc2524c97eefcc3″]
Find other angles of the shoe at salomon.com