Ever wondered where European athletes go during their cold winter to do off-season training? Obviously they'll be heading to warmer zones south of the equator, so perhaps Australia?  But such a very, very long flight. And South America? Bad jet-lag. I'll get to the point: it's got to be the R of SA. The Republic of South Africa. Specifically: Stellenbosch in the Western Cape.
Complete with winelands and dramatic mountain backdrops, Stellenbosch is a suitable setting for 'off-season' training. Just forty minutes drive from Cape Town, it's one of the country's big travel destinations. As for high-octane adventure, well there are triathletes, cyclists, mountain bikers, trail runners and a myriad of extreme sportspeople that get together annually between December and February to tap into the town's gems of nature. Calling all adventurers – Stellenbosch is AAA adventure sports territory.
For the off-road sportsperson, Stellenbosch is particularly famous for the well-known Jonkershoek Nature Reserve, a part that offers a selection of exciting trails and jeep tracks. The Jonkershoek Valley's attraction is so addictive that the town's other offerings can be overlooked. Coetzenburg, Eden Valley, and the Simonsberg Conservancy will provide the off-roader with a solid shot of adrenaline, but Jonkershoek remains the town's main portal to sport-in-nature.
For the purist adventurer, the action happens where no-one else goes: remote places provide an escape from urban life in a way that an indoor gym can't. Jonkershoek has and off-road remoteness that prompts utopian visions of life in the mountains.
Between Stellenbosch and Grabouw, in the Hottentots Hollands Nature Reserve, there's a mountain range offering countless route-options for trail running (sorry, no MTB here). The area exhibits upper level extreme mountain excitement; Solid climbing, downhills loaded with adrenaline.
Stellenbosch trail running routes
A friend and I set off on the trails on an overcast Saturday morning recently for a run in these promising mountains. From the Jonkershoek Reserve, we started the run with a monstrous climb up Kurktrekker's Nek (read: Corkscrewer's Neck!). Living up to its name, the climb takes you 1.72 km on a zig-zag trail at an average slope of 34.4%. With a max slope of 77.5%, and total elevation gain of 607 meters, this hill always reminds me that you can never underestimate the Mountain Monster. As we neared the top we saw a problem gathering overhead: clouds were being sent from 'the other side'. I wasn't carrying any warm clothes and knew that this was going to be a long day.
Beneath the summit of Kurktrekkersnek we decided to take a break to get out of the strong wind's way coming from 'the other side', actually known as Boesmanskloof (read: Bushman's Kloof). This beautiful valley takes the runner/hiker into the heart of the Hottentots Holland Nature Reserve, where you find open (but technical) trails, river-crossings and plenty of waterfalls. As we went over the top of Kurktrekkersnek a freezing gale struck our faces, drastically affecting our vision. We negotiated the rocky singletrack unscathed. Legendary.
Below the valley the trails bordered and crossed through a river. We were carrying a new Sea to Summit Ultra-Sil Dry Sack so relished the opportunity to put the product through a testing in the rivers and pools.The river and pools provided a perfect opportunity.
Weighing in at 1.7 oz,  the Dry Sack was a trusty accomplice throughout the day. The 20 litre sack comfortably accommodated my hydration pack and shoes. With the sack submerged we swam through a pool or two, kept it underwaterfalls, and even threw it down waterfalls – nothing disturbed the very durable Siliconized Cordura. This very useful sack is super versatile. Shooting rapids in a canoe, missioning in the snow – for any activity involving water with dry goods or valuables onboard – this user-friendly sack is highly recommended.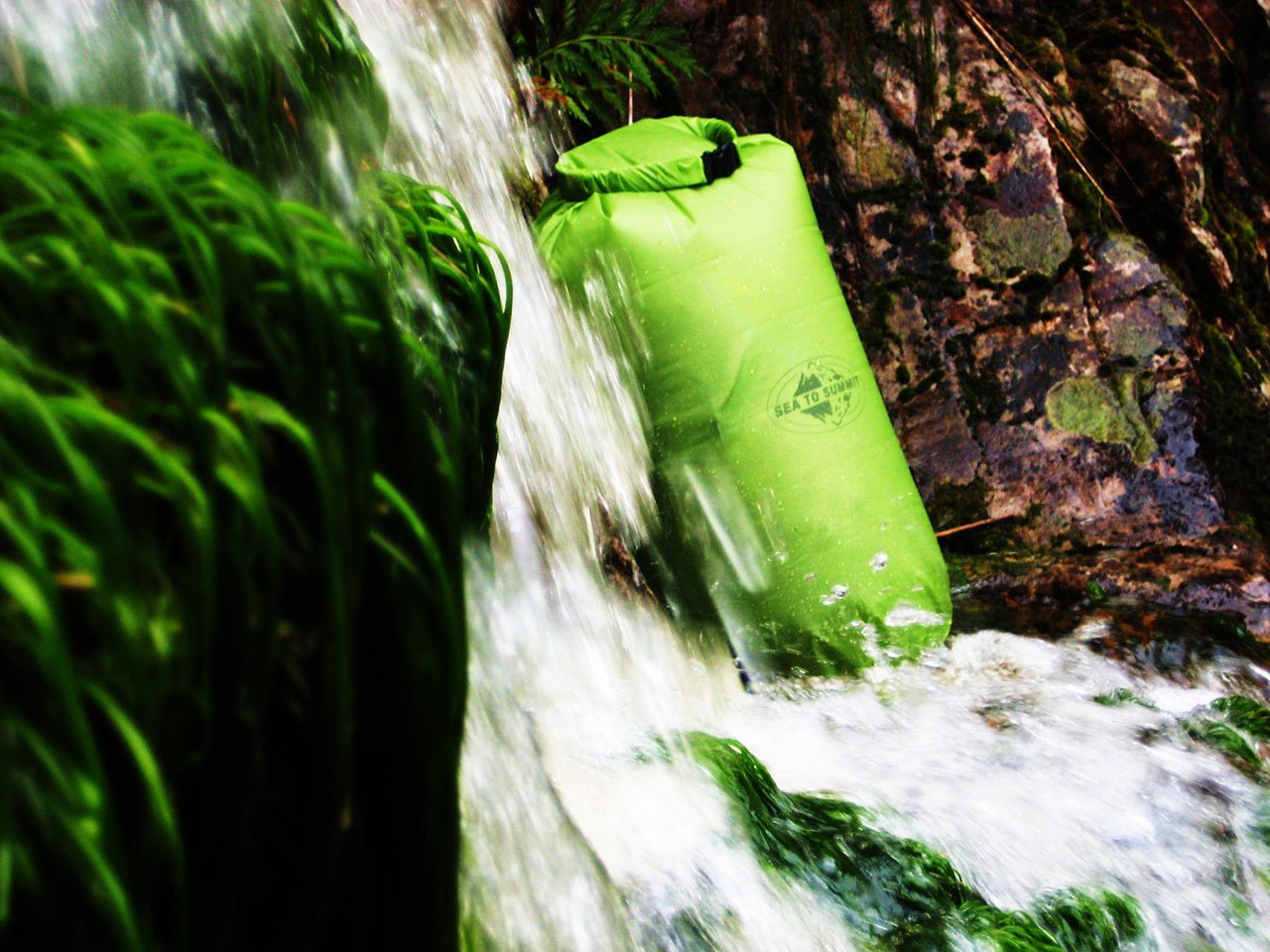 After drying ourselves off, we took to the trails again. A few river-crossings later we hit the real open trails at the start of Suicide Gorge – famous for its many rockpools, waterfalls, and even natural waterslides. For a fun day out filled with adrenaline, this is your destination. On this occasion we passed it, deciding to keep it for another day. We still had trails to do.
Excited by the Bushman's Kloof trail 10 km from the end of our journey at Nuweberg Station (header photo). The path there was a downhill scramble consisting mainly of jeep tracks and an odd technical trail here and there. This passed quickly, and soon reality struck in the form of the Nuweberg Forest Station. The dream was over.
This 25km trail run/adventure can be done in a quick 3 hours, depending on how much you want to be sidetracked by the beautiful surroundings. Getting back to Stellenbosch can be done via public transport, or a pick-up by a friend. Then go run it again.