Seattle City Guide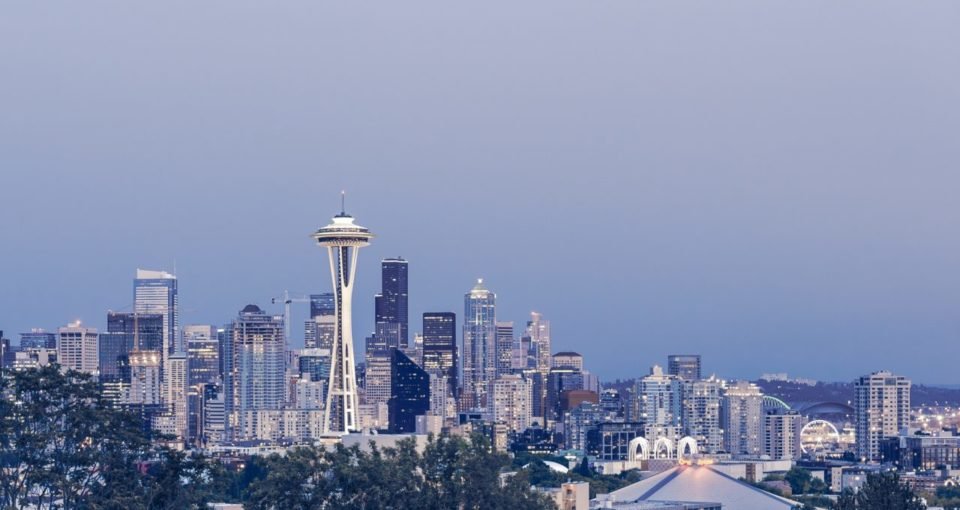 Occupying the north-west corner of the contiguous United States between the Puget Sound and Lake Washington, Seattle is endowed with spectacular surroundings. A series of gentle hills provide residents with accessible vantage points to enjoy their Washingtonian backdrop, made up of the Olympic National Park to the west and the Cascade Mountains further inland. This landscape helps to remind the city of its priorities and though economic growth from tech companies like Amazon and nearby Microsoft have been met with rising rents and a busier downtown area, the city remains athletic, bounding between cycling, running and swimming throughout the year.
To make the most of this Seattle City Guide, note two patterns within this post. The first concerns sections, which follow in this sequence:
The second pattern is to do with the detail on each venue. Exact hours aren't indicated alongside venues unless very restrictive or seasonal, and prices are also omitted in the knowledge that no listed facility charges more than $25 for day access. Instead, a full directory of telephone numbers is provided in the final Directory section, so you can call ahead to confirm your intended training time. The place names in the Directory link to the venue's Google Maps profile – click on the venue's name to generate directions with the actual app.
Orientation & Logistics
Seattle is orientated from north to south over a distance of 10 miles, with its width being under two miles in some places. The shorelines of Puget Sound and inland Washington Lake remain accessible, with walkable trails built alongside the shorelines of the city. The water and topography make for easy orientation, even as skyscrapers keep in step with the economy's growth.
Three cycle-friendly bridges connect to the city of Bellevue across Washington Lake, the Evergreen Point Floating Bridge and a parallel pair of memorial bridges that connect with Mercer Island, Lacey V. Murrow in the Easterly direction and Homer M. Hadley back into town. These reach over to geographical boundaries beyond the city limits.
Seattle has no underground public transport to speak of, instead relying on the street level for its trams and buses. Link Light Rail is operated by Sound Transit, helping connect the Seattle Tacoma International Airport with the downtown area 10 miles to the north (journey time 40 minutes). King County Metro Transit run the bus lines in Seattle and the King County area more broadly, coupled with Seattle Streetcars. If you plan to use Seattle's public transit throughout your stay, think about grabbing an "All-Day Regional Transit Pass" from ORCA to provide full, unlimited access to all local public transit for $8 per day (except Seattle Monorail and Washington State Ferries).
Though the white caps of the Cascades are easily visible from Seattle's city centre, the city itself doesn't get snowed in. From November to April you can expect it to rain half the days of each month and see daytime temperatures hover between 3°C and 8°C / 37°F and 46°F on average. Summer months only get rain on a few days and temperatures record in the agreeable temperature range from 14°C to 24°C / 57°F to 75°F. Sunrise in the depths of winter is 7:55am, with the sun setting at 4:20pm. Summer daylight hours are significant, starting with sunrise at 5:12am and ending with sunset at 9:11pm.
Running
Seattle's extensive waterfront has largely been developed to create uninterrupted flat routes for runners, whilst a few bumps within the city serve as invitations for hill interval sessions. Athletics tracks aren't in ample supply, though just about sufficient for a solo training sessions. And though the city has a distinctly alpine edge that craves winter sports, social groups have emerged to provide support for runners willing to slog it out throughout the darker months.
Seattle University is located in the Capitol Hill neighbourhood, roughly one mile from Pike Street Market. Despite being made of a pair of lanes with long lengths and tight bends (see above), the 400m athletics track is accessible to the public during daylight hours. For regular dimensions, Garfield High School is the place to go, only seven blocks on from Seattle University. Sports facility enthusiasts might be tempted by the purple track at the University of Washington (Huskies) but unfortunately non-students aren't able to use the facility unless they visit as a guest of a member.
Two continuous routes are worth bookmarking and including into you schedule ahead of arrival in Seattle, each navigable without a map and within reach from the Belltown / Pike Street area. One starts by the Puget Sound at Vine Street and drives north along Alaskan Way and into the green slither of land that borders the water – Elliott Bay Trail. A mile-long segment has been recorded in the northerly direction, but the trail extends for five miles in total.
A second loop for continuous running is made by the paved trails that wrap around Lake Union, located to the north of the downtown area by 1.5 miles. If you start at the southern tip of the Lake and head clockwise through West Lake alongside the bike track, you'll be setting out on a 10km loop that returns to Lake Union Park. Gas Works Park on the north end of the loop marks 5km, and if you get peckish, drop into Custom Smoothie at 462 N 34th St just before you hit the midpoint of the run. After crossing Ship Canal Bridge, close out the loop by running down Fairview Avenue.
The few bumps that lie beneath Seattle's foundations are sturdy enough for those runners visiting the city looking for hill intervals. The verdant surroundings of Interlaken Park provide the best place to get your hill intervals in, catering for a wide variety of inclines either side of the central Interlaken Boulevard (a 2.5km / 4% Strava segment). Either direct yourself up this tarmac strip and break up the road's length according to your training, or look for the ramps on the north of Interlaken Park for shorter sections.
There are a few running groups in Seattle, with most catering for road running as well as trail running. Seattle Running Club is well organised, pinning their weekly schedule on their website. Find them at Garfield High School from 6:30pm on Wednesday for a track workout, or join for Sunday morning trail run in the Cougar Mountain / Squak Mountain terrain to the south-east of Seattle (make contact to arrange a carpool from town).
Cycling
Seattle's maritime climate and cool winters might not immediately conjure notions of long bike rides in all seasons. Yet as with any tech-focused city, the surge of road cycling has pulled in a few businesses that operate for the benefit of the sport. Consequently, city riding in Seattle isn't a chore, and with serious outdoors within 15 miles of the town centre, nor is a weekend ride into the interior.
You can't visit Seattle without passing through Métier, perhaps the most formidable cycling hub in the United States. Since opening in 2015, Métier's Capitol Hill warehouse property has developed into a fortress for the sport. Set on two levels, a cafe serving solid meals, a retail store, gym area, workshop and changing rooms with showers demonstrate the extent that founders Todd Herriott and David Richter have gone to impress road cycling on Seattle (see photo above for another dimension). Each rider has raced professionally, and continue to push performance while they hold the reigns on the corner of E Union and 10th Avenue. Richter's background as a coach, director and exercise physiologist combines with Herriott's personal trainer credentials, creating a tour de force for the membership-orientated cyclists in the Pacific Northwest.
See Métier's developed riders schedule, including local races and fast laps with the group. During the winter months, Métier's Rocket Ride is famous for setting Log Boom Park ablaze each Saturday morning, moving at such a blistering speed that completing the ride is evidence of good form. From Spring, the Seward Park Series starts, setting itself as one of the pillars of Seattle's competitive cycling scene.
Other group rides set out from Rapha's cafe, located less than half a mile from Métier. Weekend rides from Rapha generally set out from 9am, with routes such as the 30km Mercer Island and a loop to Lake Forest Park being two signature options. Other routes dive south to Renton along Maple Valley trail, returning via May Valley for 50 miles.
If you're looking to get in some hill work, consider cycling south-east in the direction of Cougar Mountain and its neighbour Squak Mountain. Here you'll find 4.3km at 7%. Climbs within Seattle itself are short, though three might be helpful for focused training and hill repeats:
You would be overly optimistic to hope for clear weather throughout your stay in Seattle, so make a note of Flywheel Sports' indoor cycling studio between South Lake Union and Belltown. Their bikes are compatible with SPD and LOOK Delta clips and their online booking system is easily navigated – worth checking into once you know your travel dates.
Swimming
The vast supply of water surrounding Seattle glistens in the summer, easily encouraging locals to dip in the outdoors, especially if winter training has gone well. In the meantime,  a more realistic approach can be taken by visiting Queen Anne Pool, a 26-yard tub that welcomes visitors and located in the centre of town. In the summer, outdoor swimming pools are at Colman and Mounger Pool, the former being a 50m salt pool.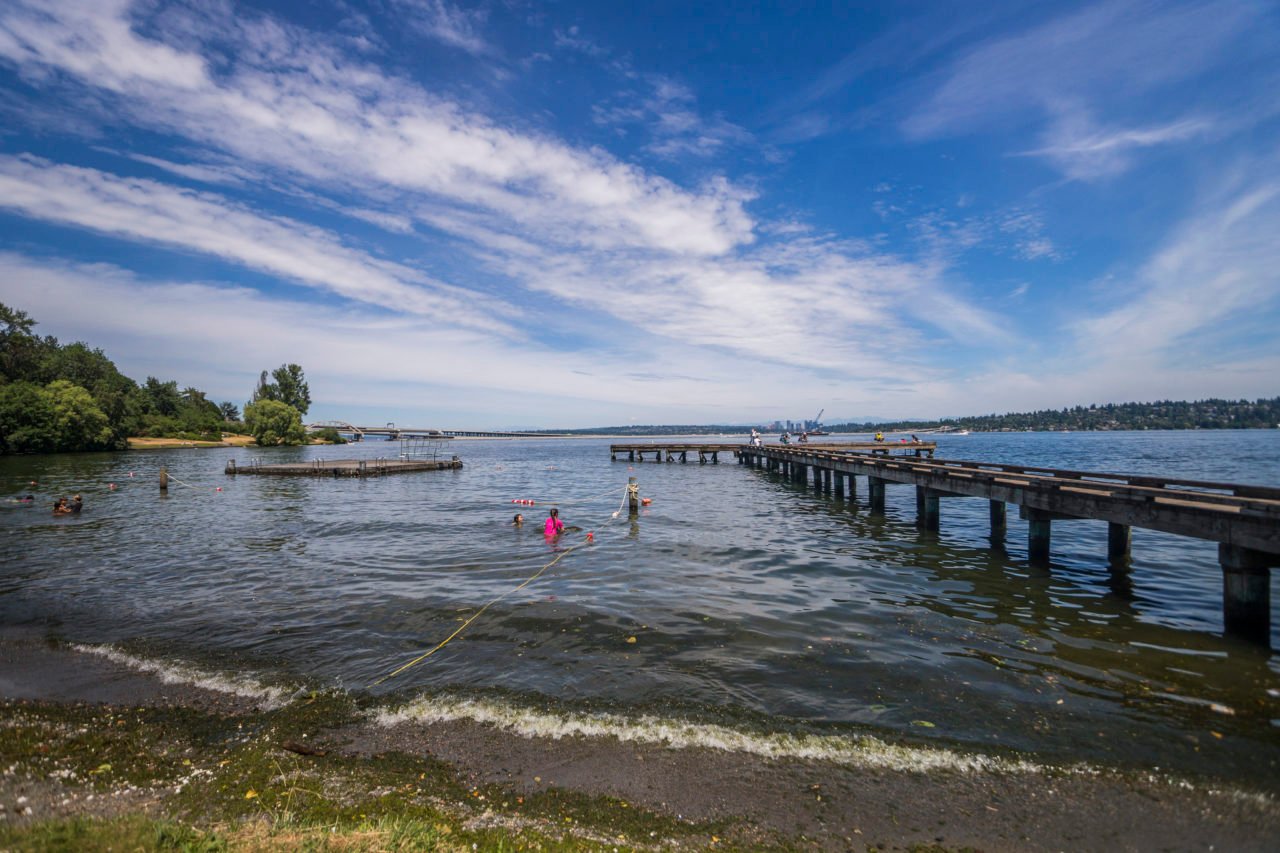 Seattle's parallel water bodies of the Puget Sound and Washington Lake have a number of entry points. Washington Lake access points are at Seward Park (used for triathlon), Mount Baker Park (photo above), and Madrona Park, while those happy to brave the salty, wavier waters in the Puget Sound can look to Alki Beach Park.
Gym
Gyms in Seattle aren't widely accessible to visitors, but Belltown is fortunate to have one excellent CrossFit box that is happy to have outsiders drop-in during open gym hours. CrossFit Belltown is one of the sport's more discerning institutions, taking care to fit out its venue on 1st Avenue with leather chairs. The workout area is typically spartan, loaded with all the equipment you would need for your own session (weight bands, barbells, cages), as well as the motivation for group workouts.
Cycling-orientated visitors to Seattle will appreciate that Métier do have weights facilities, including a rack, weight band, kettle bells and barbells, in case you are happy with training alone. Métier also organise classes and have a Wattbike on-site. Finally, those who want to get on with their workout in a more private way, head to 24 Hour Fitness whose vaulted ceilings and scores of machines pass no judgement on how you conduct your conditioning.
Sleeping & Eating
Though Pike Street might appear to be the clearest tourist trap in town, it's also the best for food and accommodation if you're visiting for a few nights. The Downtown area is also within the vicinity, with Amazon being the main occupant of commercial real estate. Fortunately the retail giant hasn't swallowed up the hospitality and restaurant scenes – these remain vibrant and service any kind of food preferences, and even have coffees ready for the pour at 6am on weekdays.
Homegrown's three central Seattle locations are well worth marking down in Google Maps. Their healthy salads and smoothies can be found in Capitol Hill, South Lake Union and Downtown, venues that pull in seasonal produce from the company's farm at Woodinville, a mere 20 miles away. As well as meeting high standards in animal ethics and organic produce, Homegrown also have compelling stats on their environmental impact, published in an annual report. See the "Wasabi Chicken Crunch" salad (above), as well as their full menu on their website.
Around the corner from Homegrown are Rapha, who opened a venue in Seattle a few months before their acquisition by RZC Investments. Rapha's interest in coffee and plywood interiors is well known, also good furnishings for a long and blustery winter. More established is Anchorhead which is nearer Belltown, and Monorail Espresso, is a small kiosk-like pocket on Pike Street. Of course you would be forgiven for visiting a Starbucks given Seattle's founding role, the most impressive venue being the Starbucks Reserve around the corner from Homegrown.
Thompson Hotel have recently put in some heavy lifting on one corner of Seattle, so opening in 2017 with a sought after rooftop bar, as well as a trendy restaurant at ground level. See one of their bedrooms below, and opt in for their rooms if you're looking for the full facilities of a hotel, including a modest gym area.
Five blocks away is Ace Hotel, the first location from the now expansive hotel group. Ace offer simpler accommodation than Thompson and a more relaxed vibe for those looking to escape the hype without foregoing excellent location next to the Sound. There is no restaurant at Ace Seattle, but a simple breakfast with yoghurts, bagels and granola is available for guests to help themselves, with coffee available from Stumptown too.
Directory
Anchorhead: no number
Belltown CrossFit: 206-420-6314
Garfield High School: 206-252-2270
Homegrown (multiple venues): 877-567-9240
Monorail Espresso: 206-422-0736
Seattle University Park: 206-296-6000
Email Will Ross (will@zafiri.com) with questions or comments, and have a browse of other Zafiri City Guides.