San Francisco City Guide
One frequently cited reason for the success of Silicon Valley and its peninsula city is the adorable weather and inspirational landscape. Though San Francisco is known for its thick summer fog, weather throughout the year is ideal for endurance athletes durable enough to brave very mild winters. Permeable soils keep trails runnable throughout the year, coiled and crossed by adorable tarmac routes for road cyclists. Outdoor swimming pools are open in all seasons and the annual Alcatraz Triathlon has at least some San Franciscans swimming in the Bay itself, if only through defiance of state-wide norms.
To make the most of this guide, note a few patterns and features. Facilities are broken into categories according to their running, cycling or swimming focus, with a separate section highlighting quality gym facilities in San Francisco. All facilities allow for drop-in visits during "open" hours, so you don't need to join an organised session to gain access. Exact hours aren't indicated unless very restrictive, and prices are also omitted in the knowledge that no listed facility charges more than $25 for day access. Instead, a full directory of telephone numbers is provided in the final Directory section, so you can call ahead to confirm your intended training time. The place names in Directory link directly to the venue's Google Maps profile – click on the venue's name to generate directions. Finally, an Accommodation & Eating section at the end of the guide provides an insight into good places for sleeping and fuelling during your time in San Francisco.
Orientation & Logistics
As for the layout of the city and its weather throughout the year. San Francisco's "downtown" area, FiDi, is made up of several blocks on the eastern flank of the peninsula, reaching from Embarcadero to Civic Center. The area south of Market is known as "SoMa", now a popular spot for startups occupying the city's former warehouse spaces. Residential areas surround these two industrial zones, with Mission Street striking a line south from where Market ends off.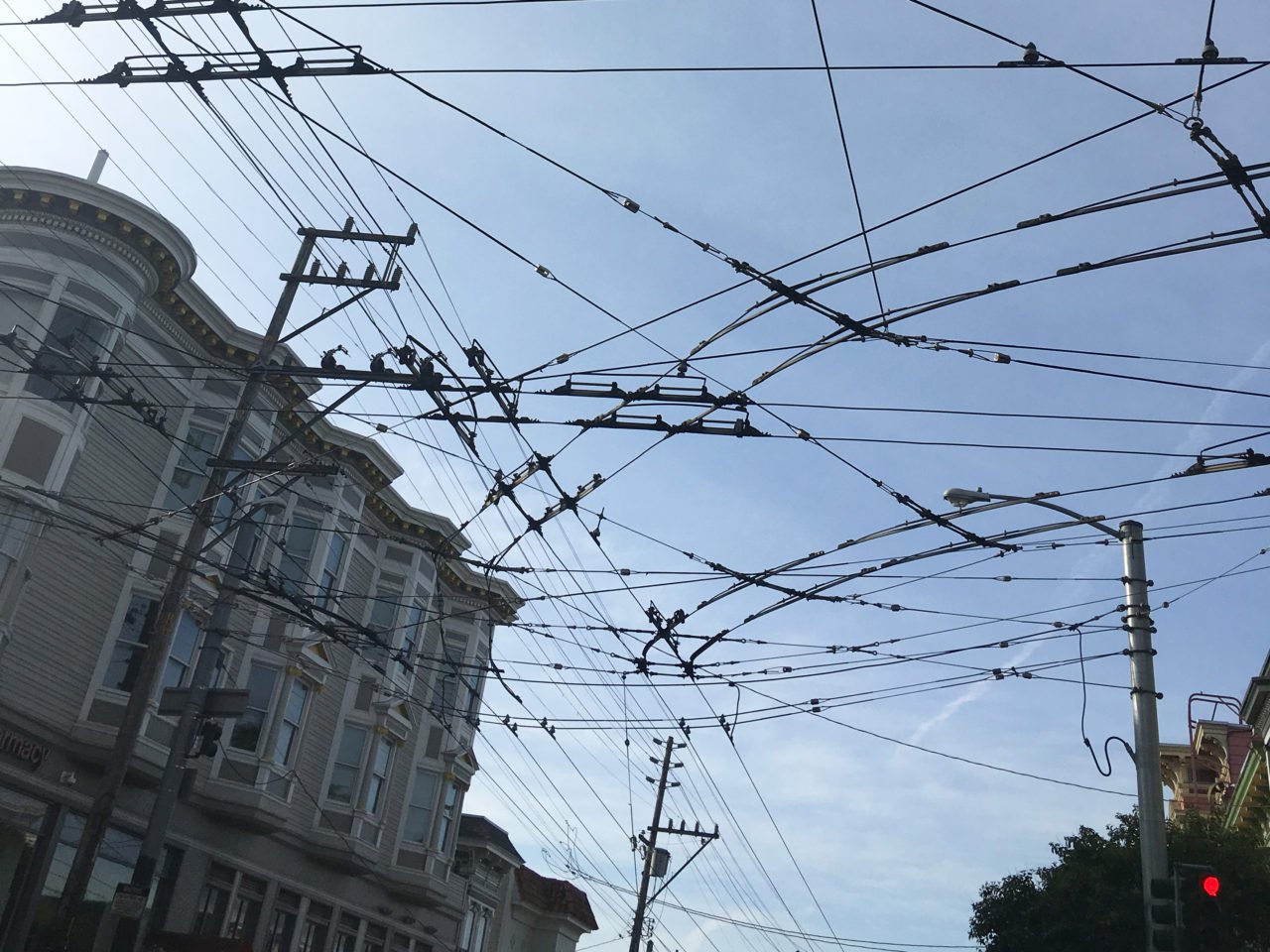 San Francisco's numerous hills are treacherous to walk up; even if you consider yourself highly tuned athlete-tourist, you'll soon be sweating. This guide hones in on the best for runners and cyclists, so look forward to them as waypoints for your training. These high points of land do their best to fend off the summer fog, with Outer Sunset renowned for its stoic endurance of the cloak that veils San Francisco during the summer months.
Daylight saving hours from the first Sunday of November to the second Sunday of March mean that the streets get dark around 5pm in December, though you'll still be able to get a short run in before work. For an idea of just how dingy the days can get: the sun will rise at 7:22am on the 2017 Winter Solstice (December 21st), setting at 4:54pm.
As you would imagine, carpool apps Uber and Lyft are perfectly optimized for travel within San Francisco. For longer routings, public transit is adequate, if infrequent at times. East Bay is linked by BART, and Caltrain links San Francisco's Fourth Street to San Jose via Palo Alto (Facebook), Mountain View (Google) and Sunnyvale (Apple). Transport systems aren't yet NFC-enabled for credit cards, so get hold of a Clipper from a Walgreens and CSV to allow to contactless / tap movement through BART, Caltrain, as well as the buses and trams that weave through the San Francisco neighbourhoods. Travelling with a bike is possible anytime of the day and no transport system charges for this additional freight.
Running
The combination of a hilly profile and patches of greenery alongside the built environment makes San Francisco a diverse place to run, even before you cross over the Golden Gate Bridge. We'll focus on the immediate city's best running routes, tracks and hills, starting with the pan flat before outlining terrain prized for its vertical meterage.
The easiest running route to navigate in San Francisco is along the pedestrianised waterfront, reaching from the AT&T Ballpark in the east to Fort Point at the base of the Golden Gate Bridge. This continuous stretch of tarmac is perhaps one of the most trampled in town, not least because of its popularity among tourists who act as a human cork in the Fisherman's Wharf section of the route, blocking runners the entire time. If you manage to wade through this group, continue through Fort Mason (large whitewashed buildings with a red roof).
Running from downtown San Francisco as far as Fort Point clocks you four miles with only one tiny hump around the corner near to Fort Mason. Once you're over in this part of town, it's a rite of passage to run through Presidio, once a military barracks and now home to classical Palace of Fine Arts Theatre, Lucasfilm and the mischievous Yoda Fountain.
There are gentle trails in the Presidio, with the tougher Lyon Street Steps leaping up several tiers with enough space for multiple ambitious attempts. From here you can either drop back down to the tarmac route all the way back to Embarcadero, or continue into town and route back to your accommodation using the grid system and Alta Plaza Park and Lafayette Park as your early waypoints.
Golden Gate Park is eight blocks south of Presidio and deserves its own visit, as the largest continuous piece of metropolitan greenery in the world. Taking a laissez-fare approach along the parks trails, tarmac and single-track is completely an option. But note: a rough perimeter loop comes to just over seven miles, Golden Gate Park Polo Field is in the belly of the park and has a 1000m dirt loop, and the pimple-like Strawberry Hill (0.5km, 6.7%) is likely the most unique hill interval you'll ever take on, fully surrounded by water but for a narrow bridge on the north side. Whichever route you take, note that Flywheel Coffee Roasters is on the eastern border of the Park, with a Whole Foods right next door.
The South-East corner of Golden Gate Park is Kezar Stadium, once the home of local American football team, the 49ers and now with broad access hours for residents looking for a 400m tartan loop. Drop into Flywheel if you're successful in your run, or sorry for it.
If you're happy to traverse across town to Outer Sunset and the site of San Francisco University's campus, then Cox Stadium is well worth checking into. Placed at the bottom of a hillside covered in Eucalyptus, this stadium is in fact "greener" than Kezar, and open to visitors outside of scheduled events. A trip to Cox Stadium could be linked with a casual tour of Outer Sunset where you can find coffee at Andytown and delicious food at Outerlands.
Numerous roads and stairways provide plenty of built infrastructure for hills. For something truly unique, head into Sutro Heights where you'll come across the 18-acre legacy of 19th century philanthropist Adolph Sutro. Dripping eucalyptus, ash, acacia, cypress, pine and maple greenery and five miles of trails make up Sutro Heights. More ascent can be found heading up Twin Peaks which is linked to Sutro Heights via the recently completed Clarendon Connector Trail (PDF map).
Though offering excellent viewpoints for seeing the city from above, Twin Peaks and Sutro Heights are exceeded in height by Mt. Davidson (232m). Mount Davidson doesn't cover a huge acreage, but its vista and cross dedicated to the Armenian Genocide (1915) make for a respectful trail run.
Cycling
Without doubt the most iconic photo is the one snapped from Hawk Hill, looking back to San Francisco with the Golden Gate Bridge spanning the width. Getting to this viewpoint takes less than an hour, no matter where you stay in town, so close that its the breakfast ride for many. Indeed, north and over the Golden Gate is the way to go for any rides from San Francisco, providing you with three main features: Marin Headlands, Mt. Tam(alpais) and the coast around Tiberon.
Routes within the Marin Headlands are viewable from San Francisco, jutting out from the coast north of the Golden Gate as a contrast to the gentle shoreline west of San Francisco. Sanctioned within the Golden Gate National Recreational Area, wild slopes are navigated by smooth, loopy roads with plenty of climbing but no major summit.
Access routes into the Marin Headlands via Hawk Hill and either take a right when you return to Rodeo Lagoon, skirting along Bunker Road and ultimately back to road over Golden Gate Bridge, or take a left at the junction junction and browse the Park further. Reaching Muir Beach comes with the reward of the Pelican Inn, a British-styled pub with warming dishes.
Muir Beach is a good launch point for climbs up Mount Tam, which can be tackled via one of two routes from the south. Either jump on Route 1 and take it from the south-east, initially via Pantoll Climb (2.9km, 5%), or continue north on Shoreline, taking a right just as you lick Stinson Beach, pointing your front wheel up Panoramic Highway (5.6km, 7%) to converge at Pantoll. From here, each entry point climbs to Ridgecrest (2.2, 6%) before covering the final strip of tarmac to the top of Mount Tam (2.1, 7%).
Glueing these sections together can be challenging and though thrilling, you can also get in a good North Bay ride without having to deal with two much elevation. Paradise Loop is the signature 26-mile clockwise route for coastal views, started by a dive into Sausalito after crossing the Golden Gate Bridge, and continuing over the marshes in a north-easterly direction before making a short climb up Camino Alto. Once you descend from the climb, take the first left natural for a flat and wide section before hitting an idyllic, rollercoaster section boarded by lovely homes and views over the Bay. Stop at Cafe Acri at the end of this section and Cafe Cibo when you're back in Sausolito.
Premium bike rental is available in San Francisco through Rapha ($200 annual membership required), Trek Bikes and Bespoke Cycles, who have a small but excellent fleet of high-end road bikes.
Swimming
Outdoor pools off the Mission and at Mission Bay are the highlights of San Francisco's swimming scene, with the latter including rooftop views of the downtown area. Mission Municipal pool, The 25 yard Mission Bay Outdoor Pool is part of UCSF's Bakar Recreational Center, complete with gym which is accessible to those getting the c. $22 daily drop-in. Towel use is also complementary.
At Embarcadero, YMCA have a 25m indoor swimming pool. Move deeper into town to Pacific Heights where the Jewish Center of San Francisco offers some of the best sports facilities in town. Just before Inner Richmond is the 50m indoor pool at University of San Francisco's Koret Center, found on the north-east corner of Golden Gate Park.
For open water swimming, San Francisco's Aquatic Park is outstanding and used by locals throughout the year. Temperatures fluctuate during the day according to the tide and the freshwater inflow, but approximate water temperatures can be found online. At the east end of the beach, Dolphin Club and the South End Rowing Club offer day-use lockers and allow access to bathrooms and steam rooms (bring your own lock).
Gym
When Downtown, grab a 24-hour pass at Crunch on New Montgomery who have showers and plenty of space for sessions throughout the weekend – unlike most Downtown venues, they're also open on weekends. Scan west to Polk Street and you'll find Golden Gate CrossFit who welcome to drop-ins. At 19th Street in the Mission is Mission Cliffs, a climbing wall where you can find an adequate selection of weights, about three times the offering of Dogpatch Boulders which also has a small resistance offering at the back of its gym.
Sleeping & Eating
The most recent and exciting development in San Francisco is Proper Hotel, wedged in a flatiron section of land formerly occupied by a dusty hotel. Proper sets the bar high, with some tasty design notes as well as the more functional aspects of a healthy breakfast menu, a small basement gym and a range of pricing options including a snug bunk room for travellers or colleagues on a budget. Secure storage can be arranged with the concierge.
Aside from bites at Proper Hotel, quick and healthy food comes in the form of automated options from eatsa when in the Financial District and Proper Food (unrelated to the hotel, but more a sign of the times). Making a note of Barry's Bootcamp FiDi, SoMa and Marina venues is a good way to signpost your peanut butter smoothie cravings. If you find yourself hungry in North Beach, indulge in a ciabatta at Molinari's (closed Sundays), and the Marina's healthy salads can be found at Blue Door.
Slower dining options include the ubiquitous sweetgreen and STEM near to Mission Bay's swimming pool. Within a block of Embarcadero is Homegrown, more popular in Seattle but also who sourcing locally from in California from Discovery Bay. The Mill is a café/bakery with pizza nights on Monday and Wednesday nights. Fort Mason has a famous vegan restaurant, Greens, and food trucks during the first Friday of each month.
San Francisco is brimming with coffee companies which fuel the city's hungriest workers into the early hours. Sightglass Coffee on 7th is the nearest option to Proper Hotel and they have bike storage. Flywheel is your treat after a track workout at Kezar, and Four Barrel Coffee on Valencia & 15th and after a swim at Mission. NorCal's Verve also have a venue at 2101 Market Street – they're have a constellation of venues in Santa Cruz, also home to their roastery.
Directory
Aquatic Park: no number
Cox Stadium, SFSU: no number
CrossFit Golden Gate: 415-609-4002
Kezar Stadium: no number
Mission Bay Outdoor Pool: 415-514-4545
---
Email Will Ross (will@zafiri.com) if you have any comments, and browse the rest of the Zafiri City Guides.