San Diego City Guide
Though the rise of surfing in San Diego predates triathlon, the marriage works well with a shared interest in this last slab of the American south-west. San Diego's mid-century growth its place American military manufacturing as well as the country's foremost tuna town, industries which began to dwindle in the 1960s. The town soon earned a reputation as a surfing hub for a rapidly growing sport, an athletic wave that broke a second time in 1974 when the town gave birth to triathlon. Visitors to San Diego benefit from this heritage with ample access to built and natural infrastructure for uncompromising training.
To make the most of this San Diego city guide for endurance athletes, note a few patterns and features. Facilities are broken into categories according to their running, cycling or swimming focus, with a separate section highlighting quality gym facilities in San Diego. Exact hours aren't indicated unless very restrictive, and prices are also omitted in the knowledge that no listed facility charges more than $20 for day access. Instead, a full directory of telephone numbers is provided in the final Directory section, so you can call ahead to confirm your intended training time. The place names in Directory link directly to the venue's Google Maps profile – click on the venue's name to generate directions. Finally, the Sleeping & Eating section towards the end of the guide provides an insight into good places for sleeping and fuelling during your time in San Diego.
Orientation & Logistics
San Diego's footprint resembles a compact, peanut-shaped cluster. To the north (nearest Los Angeles) is La Jolla marked by Prospect Street. One neighbourhood south of this is the separate but similar Pacific Beach, also orientated on the popular Pacific breaks with Garnet Avenue serving as a spine. Downtown areas hinge around the city's estuary and Mission Bay – the Gaslamp Quarter is the most vibrant. Finally, North Park is a residential neighbourhood north of Balboa Park – worth noting but not a central focus for this guide.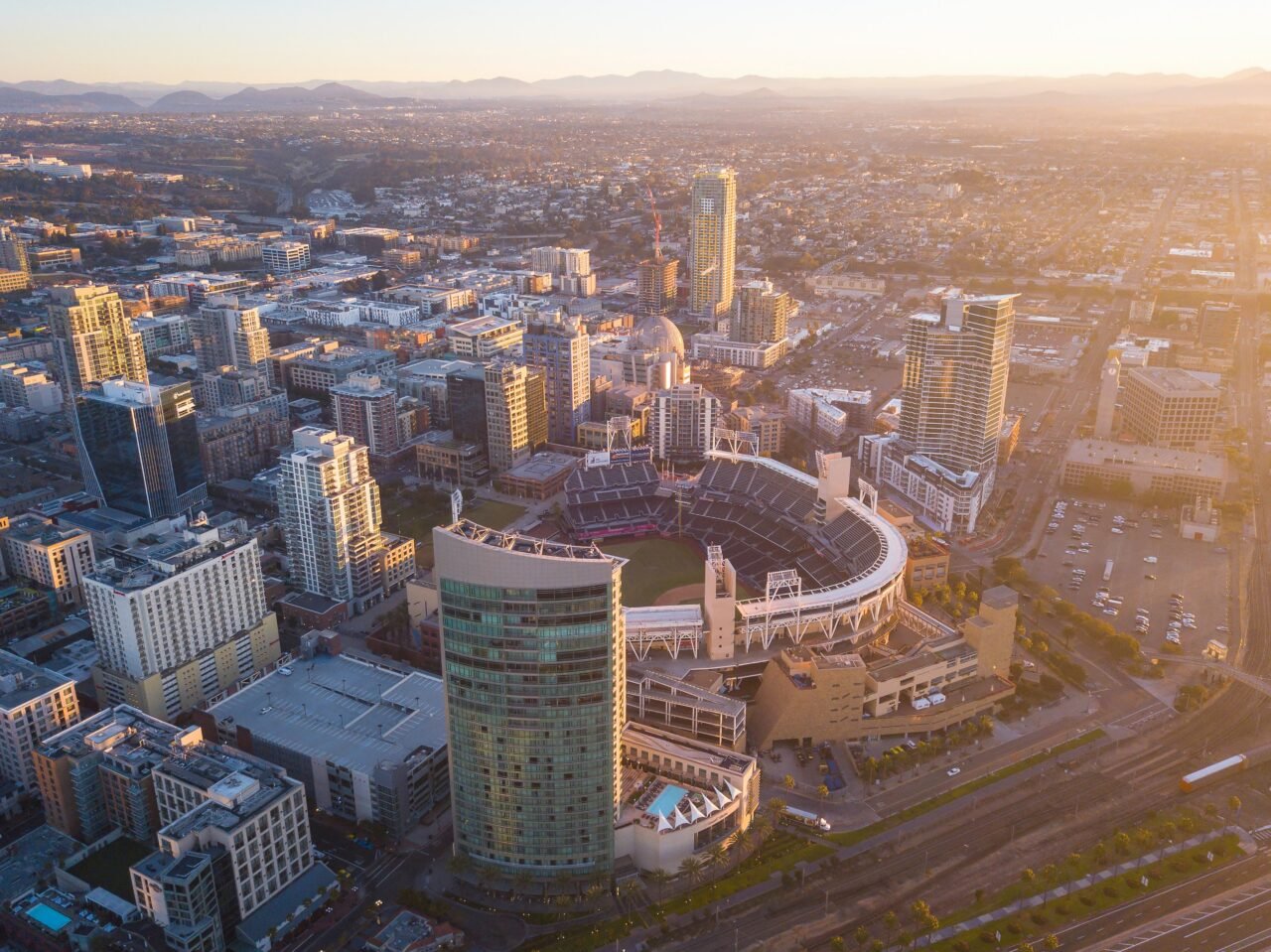 Flat topography makes San Diego easy to traverse on foot or in the saddle – more compact than Los Angeles and shorn of the lumps of San Francisco.  Travel time from La Jolla to the Gaslamp Quarter is 55 minute by public transit – matching Los Angeles' definition of glacial – but a mere 22 minutes by car during the day (a distance of 14 miles).
The year-round temperatures in San Diego are ideally suited to training for triathlon, with hot summers and a short, mild winter. If you're cycling up into the hills in the middle of winter, you might encounter snow, but otherwise shorts and t-shirts is the order of play for running and cycling by the sea. Swimmers might think to pull on a wetsuit for the winter – temperatures at La Jolla can dip below 15 °C / 59 °F between December and March (view latest water temperatures here). Sunrise is 6:47am on the darkest day of the year, setting precisely 10 hours later at 4:47pm. Summer days reach until 8pm, with daybreak at 5:41pm.
Running
San Diego's access to trails from the city is heavenly, rivalling that of small towns in variety and mileage. Whereas Santa Monicans need to commute to their trailheads, finding canyon from San Diego is within the realm of even the most religious middle-distance runners. Hit the beach for long, flat runs or hop onto running tracks for intervals or faster work.
The most central running track in San Diego Balboa Stadium, host to the glory days of the men's US outdoor track and field championships in June 1965 when both Billy Mills (gold) and Gerry Lindgren (silver) broke the 6 mile run world record, clocking the same time (watch the sprint finish). If you're staying over in Pacific Beach or La Jolla, cut across University of California, San Diego's campus to their athletics track.
For long, continuous runs, you have three options. For the signature beach run, head to Mission Bay Park / Tecolote Shores / South Shores Park and use the bike path. Go early or else don't complain about the crowds. If you're looking for less crowding, opt for Lake Miramar, the go-to spot for flat speedy runs – a lap around the water is exactly five miles. For a parkland session, take a third vector and head along San Dieguito River Park which is flat and runs along the river by the same name – try this Strava Route.
A drive north of town is the spectacular Torrey Pines for trails. The Guy Fleming Loop and Broken Hill Overlook trails aren't arduous but make for scenic and short routes (think repeats). They're also no secret – parking on weekends can be busy so get there early if you are self-driving.
Four canyon options should be considered when staying in San Diego, two within the city with the highlight cutting out to the east in the direction of Rancho Peñasquitos.
The Peñasquitos trail extends for six miles and isn't too rocky – you can get away with running in your road trainers. The trails extend further, dropping onto singletracks which are harder to map, so here is the 7-mile out-and-back. If you are looking to reduce the mileage, turnaround at Peñasquitos Creek Waterfall found midway along the route from the trailhead at 4300 Sorrento Valley Blvd. 
For canyons with the city, look to Tecolote Canyon which runs for 2.5 miles from Old Town in the south up to Clairemont in the north. From La Jolla, Rose Canyon and San Clemente Canyon splice away from each other, Rose heading north then east, while San Clemente drives due east. (All trailheads are linked in the Directory section below.)
Cycling
The growth in road cycling is well accommodated by San Diego layout, both flat with nearby access to hills. Routes heading directly inland to the mountains get challenging quickly while carving up and down the coast balances out inner city loops for early morning rides. Local groups have scheduled rides if you're looking to tag into some social settings and worry less about navigation.
For inner city routes with some elevation gain you have two options. If you have limited time and are looking to climb, point your front wheel to Mt. Soledad in La Jolla. There is an annual thanksgiving ride called 5 Faces of Soledad that goes up and down five different routes – take your pick. Alternatively cut across to Point Loma and Cabrillo National Monument to claim some climbing miles (example route here).
For flatter routes within the city, head onto Fiesta Island's 6.5km loop early in the morning, the location of the first modern triathlon – cars are a problem from 9am on weekends.
For longer rides to get the most out of road cycling from San Diego, take a look at these three options. To the north and the simplest in terms of directions is to cycle up the I-5 to Oceanside, using Steel Mill Coffee as your turnaround. Looking inland and to mountains, Mt. Palomar and the Great Western Loop are other good options for longer rides – here is an anti-clockwise Segment on Strava starting out from the eastern edge of San Diego and including 800vm of climbing.
A third option is to head south to Coronado and the border along The Strand (Highway 75) all the way down to Imperial Beach via Chula Vista. You can make it a loop by going back up through Barrio Logan and taking the ferry in one direction for $5 (bikes are allowed, no extra cost). See this 90km Route on Strava for an idea. For a cultural touchpoint, continue south to the border with border with Mexico by looping around Border Field State Park / "International Friendship Park" – extension.
If you're looking to join a group for rides, connect with San Diego Bicycle Club (rides on Saturday morning from UC Cyclery) or Swami's on Saturday mornings.
Rental carbon road bikes in San Diego requires a choice. Hire with Moment Bicycles if you want to ride a Pinarello ($90 for the day with reduced pricing for multi-day rentals). Alternatively get your bike rental through Livelo who set up customers with Fuji wheels for $85 per day.
Swimming
San Diego is graced with swimming pools both in the city centre and alongside the coast. Bud Kearns Memorial Pool to the north of Balboa Park. Further south for midday swims, Memorial Pool may be easier to get to if you're spending time in the downtown area. Bud Kearns has 12 lanes and is 22 yards by 44 yards, so plan for sets involving 20m. Memorial Pool's dimensions are 25m by 25 yards, 10 lanes in total.
Open water swimming in San Diego's various waterways is worth scheduling. Note down La Jolla Cove, La Jolla Shores and Glorietta Bay in Coronado and check Surfline so you're aware of the swells. Go independently or reach out to La Jolla Swim Club if you want to drop-in and join members. Mission Bay offers safer swimming if you're concerned about swells – start your swim at 1030-1298 W. Mission Bay Drive in Ventura Cove.
Sleeping & Eating
San Diego's hotels divide between glowing beachside venues and the more downtown settings in Little Italy and the Gaslamp Quarter. Mexican influences comes through strongly in cuisine, and the city hasn't forgone California's commitment to specialty coffee.
Restaurants are well represented on the seafood and vegan front, with special attention paid to craft beer. Head to Kindred for both, staying to browse their drinks menu. Crack Shack is worth noting for its locally sourced California fried chicken and egg options – they are an institution in Little Italy with half a dozen other venues in the South-West. For Mexican food in Gaslamp, note Pokez, or scan Google Maps for Taco Stand and Tacos El Gordo who each have locations across town. For breakfast, head to Swami's Cafe in North Park and if you're in Pacific Beach, grab something quick at Board & Brew who have locations across town – they have a secret sandwich sauce which draws a cult following.
For coffee, note down Hawthorn Coffee, Lofty Coffee, Heart Work Coffee Bar, Bird Rock Coffee Roasters, Zumbar and Pannikin. Dark Horse Coffee Roasters is a popular location in the trendy North Park neighbourhood, also with a venue several blocks east of Gaslamp.
Sleeping by the coast is an obvious choice when looking for hotels in San Diego, especially for those who have don't normally have access to coastline. Staying downtown has its perks though – you're on the doorstep of a vibrant culinary scene, and can cut east for bit rides more easily. Make your choice knowing that they're a short drive from each other – maximum 20 minutes in a taxi.
For those looking to remain coastal, stay at Tower23 which sits right on walkway at Pacific Beach. There's no pool there but a useful gym and having the coastal trail on your doorstep is a dream. Hotel Z is the place to stay if you're looking to go downtown – they're based in the Gaslamp Quarter so still some water frontage, but much more urban than Tower23.
Directory
Balboa Stadium: +16195257464
Dark Horse: +16199557447
Hawthorn Coffee: +16195429221
Hotel Z: +16193306401
Crack Shack, The: +16197953299
Lolita's, nr. Torrey Pines: +18588747983
Pokez: +16197027160
Rose Canyon Trailhead: no number
San Clemente Canyon Trailhead: no number
Swami's, North Park: +16192693797
Tecolote Canyon: no number
Tower23: +1 858 270 2323
UCSD Athletics Track: +18585347884
---
Email Will Ross (will@zafiri.com) with questions or comments, and have a browse of other Zafiri City Guides. This San Diego City Guide was last updated in December 2021.