Patagonia Primo Down Jacket
Will Ross, February 28, 2012
Every season a series of 'must get' products emerge from the looms of the top adventure brands around the world. This winter, Patagonia has placed a major focus on its new line of breathable and waterproof shells, teaming up Gore-Tex to ensure that the quality of their garments stay at the top-end of adventure apparel and manufacturing ethics.
With a number of shells to choose from, I went for the warmest and most durable offering from Patagonia, the Primo Down Jacket. By combining a 700-fill-power goose down and Gore-Tex 2-layer Performance Shell, Patagonia have managed to maintain a reasonably streamlined look for a down jacket, while maintaining a level waterproofness that goes beyond your normal puffy down-filled jacket.
Typical to Patagonia's commitment to creating lifelong garments, this jacket is loaded with a number of features that make it perhaps the most technically advanced jackets out there. Beyond pit zips, removable powder skirt, velcro adjustable cuffs and five exterior pockets, the Primo Down Jacket is finished with a durable water repellent lining to pitch for maximum life-length. As a unique feature, Patagonia's patented Touch Point System and embedded cords ensure quick adjustability of the waist and hood closures.
The Gore-Tex 2-layer Performance Shell used in the Primo Down Jacket is 100% recycled, and 100% recyclable.
Patagonia has for years been at the forefront or responsible retail. Check our their extensive collection of environmental projects on their website for more information.
With so many features to digest, I focused on the swift usability of the jacket over the season.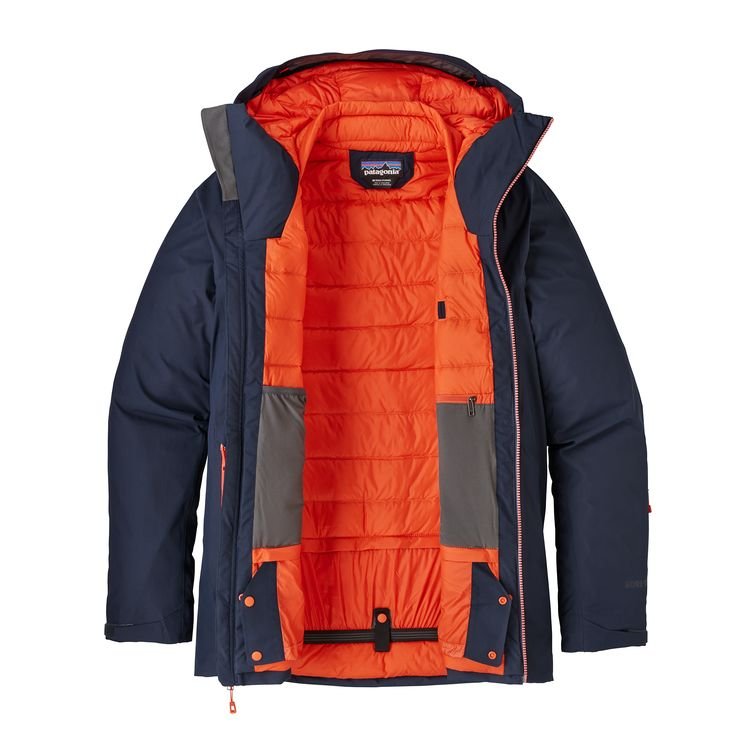 During testings in Whistler I was confronted with conditions that challenged the Down/Shell combination, forcing me to opening up the pit zips to vent the cavity. Though the vents worked really well in shifting moisture and heat flows within the jacket, the twin zips under each arm were hard to open, often requiring several tugs to pull the flyer fully open. I would like the string-pulls extended in length to allow a greater leverage down the waterproof zipline. That being said, the down was remarkably effective at retaining heat when I was static on lifts and lineups.
Other more conveniently located zips opened with predictable ease and proved waterproof during some miserable downpours on the lower slopes of Whistler mountain. Additionally, a fold of material at the head of the central chest zip and soft internal material were welcome features during blustery snowstorms the cut hard on various peaks during my trip.
Given the generally progressive features of the Primo Down Jacket, I was surprised that Patagonia didn't include a water/sweatproof compartment within the jacket's insulation to protect a phone. Though there is an internal zip within the lefthand chest exterior pocket, this isn't kept warm by the body's core temperature. Adding an internal, waterproof compartment seems to me an obvious feature given that a) everyone carries a phone with them on network-enabled slopes and b) a mobile phone's operability declines in cold temperatures.
Nevertheless, despite these setbacks, the Primo Down Jacket is a highly impressive piece of cloth. Sewn together to a pristine degree of detail, it stands as a testimony to quality and durability – the hallmarks of a responsible brand. If you're looking for a technical jacket to handle the warmest of conditions, keep an eye out for the blue and shocking orange version and enjoy functional fashion for many seasons to come.
Head to patagonia.com to find out the latest about this evolving thread. Patagonia Dealer Locator.