Manhattan City Guide
The heave of business life in New York City hasn't prevented its forefront borough for keeping up with the best in urban infrastructure for cycling, running and swimming. Despite the tremendous density of Manhattan, a competitive spirit and progressive approach has made the city a melting pot for the latest trends in fitness, with historic clubs providing a deeper connection for endurance sports. Those with loyalties on the other side of the East River might reference our Brooklyn City Guide, but weekday training is well catered for from Manhattan, with longer weekend runs and rides accessible from the island's exit point to the north.
To make the most of this guide, note a few patterns and features. Facilities are broken into categories according to their running, cycling or swimming focus, with a separate section highlighting quality gym facilities in Manhattan. Exact hours aren't indicated unless very restrictive, and prices are also omitted in the knowledge that no listed facility charges more than $20 for day access. Instead, a full directory of telephone numbers is provided in the final Directory section. The place names in Directory link directly to the venue's Google Maps profile – click on the venue's name to generate directions. Finally, a Sleeping & Eating section towards the end of the guide provides an insight into good places for sleeping and fuelling during your time in Manhattan.
Orientation & Logistics
Manhattan (Island) is orientated on a slight tilt, but generally runs north to south in length, with Central Park at its heart, roughly at the northern frontier of the main tourist attractions. From Central Park to the southern tip of Manhattan is just over five miles, a length which is punctuated by the following landmarks at mile intervals, each located near to the spine of the landmass. Neighbourhoods are in italics.
Central Park (59th)
Midtown
Times Square & Grand Central (42nd)
Korea Town
Madison Square (23rd)
Washington Park Square (4th / Noho)
Lower Manhattan meets Tribeca
New York City Hall (Brooklyn Bridge)
World Trade Center / Wall Street
Battery Park
Though New York Metro is yet to accept NFC / contactless payments, their magnetic cards are easy enough to use and top-up. Don't necessarily grab one at the airport but get hold of one when you get into the city and find a metro stop (Uber Pool works out at roughly $40 per rider from J.F.K., with public transit being c. $15 and often double the travel time). Transit agency MTA don't require you to swipe your card on exiting the metro – payment is deducted on entry only. Download a New York subway map on your phone and spend two minutes familiarising yourself with the layout of the networks before you arrive. If you are looking to cross the East River to get to Brooklyn, note these rough navigations:
To Williamsburg: the L reaches east-west into Manhattan beneath 14th Street.
To Gowanus from Uptown: The D slices south through Manhattan beneath 6th Avenue, before traversing once it hits Lower Manhattan at W Houston Street.
To Gowanus from Lower Manhattan: The D, F, R and N come into play.
From World Trade Center: 4, 5, A and C are available, with R still being an option.
Despite New York's reasonable southerly latitude, it bears the brunt of an Eastern seaboard winter very harshly. December through until the February can be chilly, with air temperatures sub-zero for prolonged periods. The in-city snow of the winter is contrasted with warm-hot summers, with June, July and August daytime temperatures hovering in the high 20's degrees Celsius.
Running
As one of the most famous parks in the world among perhaps the densest populations on the planet, Central Park does well to take the strain of tourists and local athletes doing their rounds in the Big Apple. From this central point of greenery, a number of routes reach out across Manhattan, with the Hudson being a natural focal point.
Aside from the natural slicing and dicing of Central Park, there are two continuous routes worth noting for longer and shorter runs. A longer route is the Central Park Loop, just under 10km in length, with a modest amount of vertical gain (120vm). Take this tarmac perimeter loop clockwise to integrate a shallow climb that rises over 300m at 3.7%, measly for most cities but mighty for Manhattan.
A shorter route threads a loop around the Jacqueline Kennedy Onassis Reservoir, a 2.5km flat, cinder surface that is vehicle-free and wide enough for passing in both directions. The official segment starts at on the East side at the end of E 89th Street – continue anti-clockwise. The entire loop can also be broken into a 1500m / mile section, allowing for a gentle jogging recovery back to the start, for those looking to do a structured interval session.
The simplest way to pursue a long continuous run in Manhattan is to connect with the east bank of the Hudson and head upstream along a pedestrianised strip, Hudson River Path. The path is also used by cyclists but terms are amicable and tourists few. Either double back on yourself or cut across town and into Central Park for loops mentioned above – you  only need to traverse over four blocks before arriving in the south-west corner of the park, Columbus Circle.
Athletics tracks can be found on the East River, Uptown and at the renowned indoor centre. Notorious for its poor quality and the delays surrounding refurbishment, the East River Park Track is used by running group Lost Boys, so you at least can have confidence that it's taken seriously by New York City's running crowd [Note and track surface restoration until September 2018]. Asphalt Green is an impressive endurance facility, with a 50m pool and 400m track for runners. Their $35 day rate suggest that you might want to make the most of their gym alongside and running or swimming. Finally, for indoor track, head to The Armory, once home of the National Guard and now the off-season stowaway for some of the East Coast's swifter athletes.
Runners are able to find some short ascent for hill intervals, with perhaps three forming the créme. Starting one mile upstream from the East River Park Track is a 700m climb along the Esplanade, with varying pitches but an overall gradient of 12%. To the north-west, find Harlem Hill at the top of Central Park, also 700m but a gentler 4% gradient – the first half of the climb tackles the shallower portion of the hill, with the road climbing at 6-8% as you take on the final 300m. South of North Hill is a third climb, Central Park West Climb, another 700m at 13%. For a comprehensive breakdown of hills in Manhattan and other boroughs, see a list on nycc.org.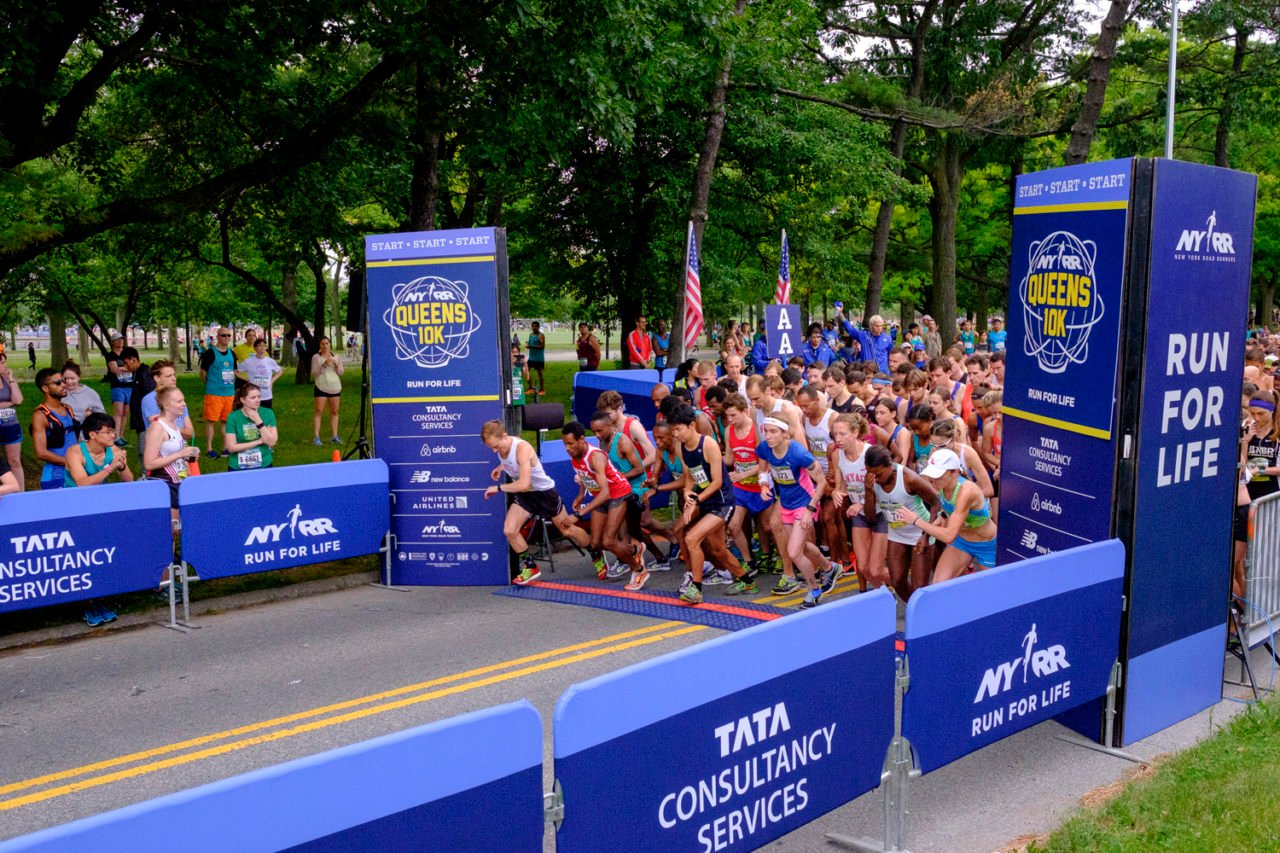 The competitive streak of locals is well defined in the area, not least because the New York Marathon's metronomic pulse. If you're in New York for business during the summer season, you're bound to find a road race within the five boroughs.
The winter race calendar moves off the road and into cross country terrain, with the notorious Van Cortlandt Park taking most of the strain. Races are held throughout Fall with the massive Manhattan College Cross Country Invitational (MCXCI) hosting around 12,000 high school students from across the country. The course opened in 1913 and has been re-routed slightly over the years, without disregarding the hilly outcrops that sculpt the tougher sections of the circuit, and the most notorious being "The Wall". Here are some races that punters can enter in VCP: The FRNY Cross Country Meet in September and the Fred Lebow 5K Cross Country Champs in November.
New York's other point of inflection – unburdened cool  – also means that running crews have developed alongside the fleet of legacy running clubs, with the mighty New York Road Runners being the standout race and community organiser for the city. Over in Manhattan, Orchard Street Runners organise Tuesday night runs for good runners familiar with running at night and on streets – they meet at 7:30pm and promptly set out promptly at 8pm.
Cycling
Cyclists also make their own rounds, just as they do in Central Park over in Manhattan. But to get a proper ride in, you need to head over Brooklyn Bridge and do as Manhattans do and head up the Hudson, crossing the George Washington Bridge and continuing up into the Palisades.
Here's a route to fix as your first: Set The Market as your first stop before continuing through Haverstraw, Stony Point and the east fringe of Bear Mountain State Park before crossing the Hudson. You'll then have a final climb (see photo below), before diving in Peekskill where The Peeskill Brewery acts as your gateway and terminus if you're happy to take Amtrak back to town from there. Full route details.
Whether you find yourself cycling up the Hudson or riding more locally in Manhattan or Brooklyn, checking into Maglia Rosa is a must for any two-wheeled tourist. As well as having an outstanding selection of bikes passing through their doors each week, Maglia Rosa have been a guiding force for Brooklyn's road cycling scene for years.
Also based out of Brooklyn are Kissena Cycling Club who are a serious but welcoming club, and an organiser of races. A third touchpoint for local knowledge would be to recruit the help of The Domestique, A.K.A. Jamie Phillips. Jamie is an Australian transplant living in Brooklyn and taking cycling enthusiasts through a two-wheeled tour of Manhattan and its eastern neighbour. Groups regularly set out from the Rapha Cafe on Princes Street.
NYC Bike Racing put on races at Floyd Bennett Field during the summer, as well as the Castelli NY Cycling Series which takes place over five events out of Prospect Park in Brooklyn. Further upstate is the Bear Mountain Classic, for those looking for more long-range racing rather than loops.
As for indoor cycling, Flywheel Sports have half a dozen bike studios in Lower Manhattan.
Swimming
Two excellent swim facilities are managed by Asphalt Green who allow for day access to their facilities for $35. One 25m pool is in Battery Park City, convenient for those in Lower Manhattan and content with a 25 yard pool with morning and evening swim times. Further away uptown in Lower East Side is a 50m pool, with lap swimming schedule allowing for full 50m usage on weekends (25 yards the rest of the time). Asphalt Green's Upper East Side also allows for access, within the $35 day use.
The full range of New York's climate is harnessesed in the Lasker Pool facility, which doubles as an ice-skating rink in the winter. The pool is located in the north of Central Park and operating lap swimming during from July to September. Another outdoor pool open in the summer is Hamilton Fish Park (165ft), two blocks north of the slip onto the Williamsburg Bridge.
Serious swimmers looking for a structured session should organise to link with Red Tide, a swim team who welcome out-of-towners for $10 a session. See Red Tide's swim times and note that they train out of three different swimming pools in Manhattan.
Gym
Manhattan's selection of gyms ranges from the pampered and pristine to the more minimal offerings that dip into the realm of CrossFit boxes. In Lower Manhattan, Bowery CrossFit puts on a good show and allows for drop-ins. Most other CrossFit boxes aren't so welcoming, so opting for 24 Hour Fitness' Midtown / Madison Square and Lower Manhattan / Soho venues in the next best option. Continue further south and you'll come across Oculus, another CrossFit gym near to the hum of the World Trade Centre. Make use of open gym hours at Oculus to try out their barbells, cages and weight bands.
Sleeping & Eating
You'll be hard pressed to find cheap accommodation in Manhattan, so you're best off making your choice wisely and selecting a location that makes the most amount of sense for your training and general agenda. Thankfully the spread of neighbours is extensive, meaning that you're bound to land up somewhere interesting if you stay in Lower Manhattan.
With location-first in mind, runners might want to be near to Central Park at the East River track, so could opt for Freehand which have the best value rooms in town. Swimmers wouldn't be out of their depth to do the same – Red Tide have their morning swims around the corner, and 50m laps 31-33 minutes away when taking the 6 north to Asphalt Green, Upper East Side. In the summer, laps at Hamilton Fish Park are also an option.
Cyclists might opt to be around Midtown, staying at Hotel Americano (Chelsea, E 27th Street) and grabbing bike rentals at Rapha before heading up the Hudson River to take on a The Palisades. Those who are generally agnostic could check into the centrally located Public, off Bowery and E Houston. The new hotel serves healthy breakfasts and shares the block with a Whole Foods.
Fortunately healthy food is scattered about town. sweetgreen have multiple venues. Also with numerous doorways, Barry's Bootcamp is always an excellent place to drop into for a healthy smoothie, with the pretence that you have just finished a class.
For those deeply committed to bunting, Bubby's is a must for breakfast, located a the south end of The High Line and also in Tribeca. Similarly, morning breakfast runs can pass through a  Zucker's Bagels & Smoked Fish, located in Tribeca, Upper West Side and Grand Central.
Manhattan's supply of coffee stops is staggering. Those NY-first spots with multiple venues include Third Rail Coffee, La Colombe, Cafe Grumpy and Toby's Estate Coffee, actually from Brooklyn. The Rapha Cafe is also a commendable spot for coffee and cycling.
Directory
Asphalt Green, Battery Park City: 212-298-2980
Asphalt Green, Upper East Side: 212-369-8890
Hamilton Fish Park: no number
Email Will Ross (will@zafiri.com) if you have any comments, and browse the rest of the Zafiri City Guides.