Urban Wandering in Los Angeles' Arts District
Will Ross, April 10, 2017
The likelihood of covering all of Los Angeles in a single week is low. Aside from the mighty distances you need to cover, the year-round sunshine pins you to a kind of zip-code-per-hour rate, piercing down whenever you venture from your primary domain to explore somewhere new.
Even with the help of Uber POOL, you're still bound to the perpetual sun and a frugal approach to air conditioning – leave the windows open. This tactic is so failing, and the traffic so sluggish, that opting to take the bus actually presents a more sheltered option, not least due to its wider awning. This series of photos covers my routings between Culver City, Downtown and the Arts District earlier in the month.
Sidestep off the major boulevards and you find yourself wandering down desolate sidewalks where objects are discarded with a stylish, perhaps symbolic touch.
Many of the sidewalks are being overrun by nature, especially at this time of year. Seems as though every living thing is fighting to maintain its own space, with fake-grass astro gardens being the ultimately nod to sustainable gardening.
Though I had originally planned to visit Bergamot Station solely for Corey Arnold's exhibition at Richard Heller Gallery, the whole complex turned into a fitting venue for a three-hour stroll, with numerous other spaces offering impressive work with no entry fee. If you're sensitive to the sun, Bergamot's dense opportunity is virtually ideal.
Outstanding cuisine can be found in clusters, here in Culver City enjoying the new Destroyer restaurant from Jordan Kahn. I dropped in for a delicious lunch where natural ingredients take centre stage among discerning folk from nearby production houses. I took my seat next to a trio talking about projects in Virtual Reality, while I scrapped every last piece of cauliflower from my carefully milled crockery.
But al fresco midday dining isn't for everyone. At The Line in Koreatown, you can take lunch beneath a roof dripping with foliage in Commissary from Roy Choi. The restaurant presents a cool offering that's only in conflict with another attraction…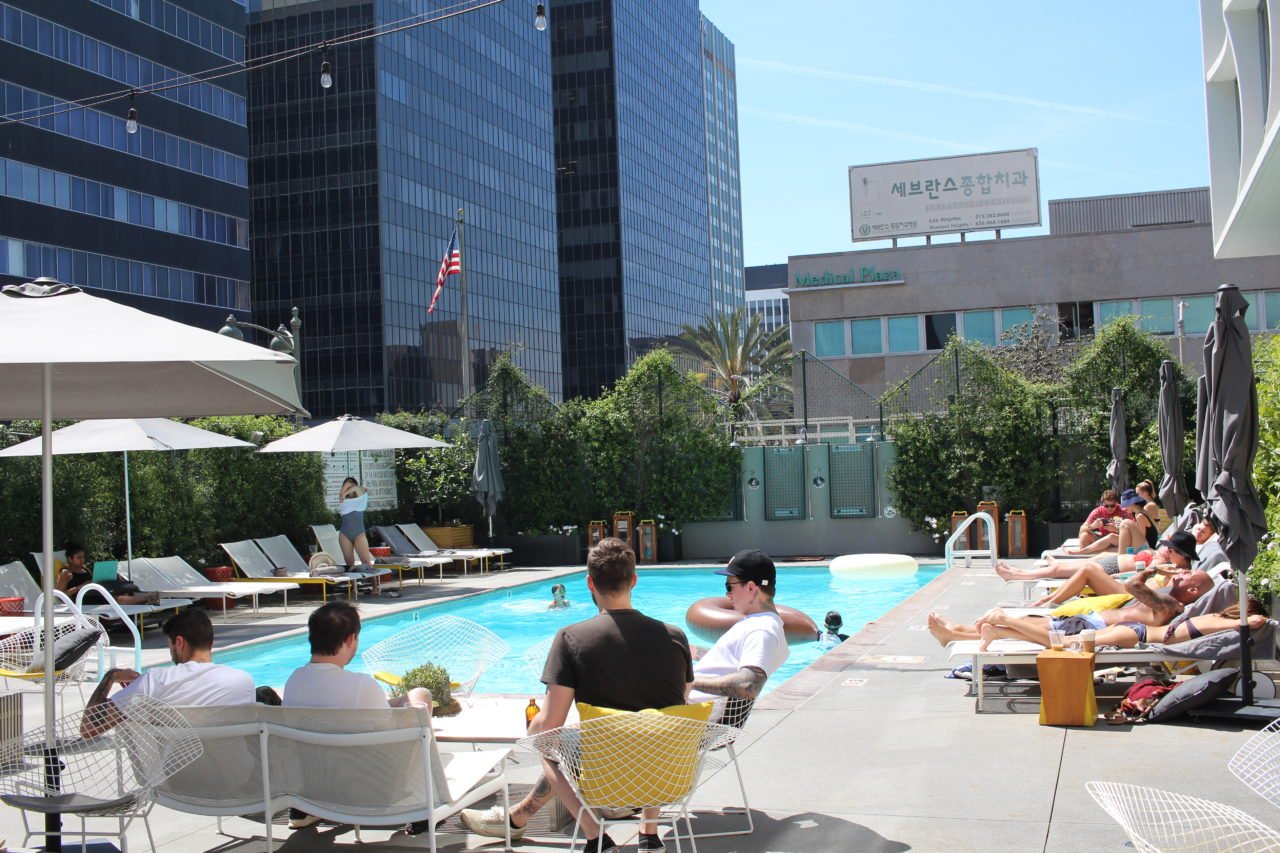 … the adjacent pool.
The girth of some of L.A.'s concrete structures is always impressive. Notable are the slabs of mortar that crade an the Los Angeles river to sea, along with the tasks of managing the grinding beat of hundreds of miles of inner-city freeways.
But there is some non-concrete facade here and there, notably in the Arts District which is actually walkable, especially with the promise of…
… Art District Brewing which I came across at dusk after ice cream at Salt & Straw. Who said you couldn't combine a pair of scoops with a delicious IPA?
For full training notes on how to run, cycle and swim in Downtown Los Angeles, see our DTLA city guide.