Hotel Paradox, Santa Cruz, California
Will Ross, February 19, 2021
Located at 75 miles of San Francisco between Silicon Valley and John Steinbeck's Salinas is Santa Cruz. The city pays tribute to its name as "Holy Cross" as a crossroads, also home to a University of California campus renowned for basing its planning regulations according to the highest redwood. Coastal frontage creates a shelf that draws surfers, while an increasing amount of high quality vineyards have started to claim plot in the lower reaches of the escarpment to the north.
The 80,000-population is divided by the mouth of the San Lorenzo River, also indicating two fronts for surfers – West Cliff defined with Steamer Lane and Cowell Beach, and East Cliff with a patchwork of smaller breaks starting just over a mile away as Monterey Bay starts to curve to the south towards Carmel and Pebble Beach.
Roadways to Santa Cruz come from two directions – the plumb line from San Francisco is the traditional Route 1 – a desolate drive during weekdays. The heaving rollercoaster 17 takes most of the traffic, looping over the hill to San Jose. Though San Francisco's density has centred some large workforces, Silicon Valley is home to Mountain View (Google), Palo Alto (Facebook) and Cupertino (Apple), each within reach for those willing to commute from Santa Cruz. WFH / remote-work might change that narrative.
Hotel Paradox forms as a connector, located alongside on the San Lorenzo where the 17 slows down as Water Street and into Pacific Avenue, Santa Cruz's high / main street. The hotel is part of the upper echelon of the Marriott portfolio, deemed respectable enough for the Autograph Collection. The 170 bedrooms are a consequence of the repointing of a Holiday Inn built in the 1960s, redesigned by Arris Architects.
The frontage applies a nostalgic welcome to a hotel that sits comfortably in the affordable luxury category. Bedrooms start at $140 per night and occupy the L-shaped orientation around the central swimming pool. The smallest room sizes are referred to as "Cozy" or "Petite", with step changes according to bed size and count. A Suite category exists, differentiated by having a sofa in a separate room – remote workers, descend.
The fitness centre includes free weights and some cardio equipment, hard to justify when there is so much to explore locally on foot or by bike. The 12m pool is also suitable for lengths – the halcyon days of the Holiday Inn are over and the pool is regularly treated.
The only challenging thing about balancing a stay in Santa Cruz is how to toggle between training and treats. Local coffee roaster Verve has several venues that make for a constellation of waypoints. Tag on Cat & Cloud for an alternative options, another breakthrough specialty roaster from the mid-2010s with venues on 41st Avenue in East Side, and also downtown at the library.
Breakfast at the canteen is good. Grabbing a sandwich on Pacific Avenue at Zoccoli's Deli sets you up for lunch, or try the Cobb Salad up the hill on Soquel Avenue at The Buttery. Verve's West Side venue isn't that central for tourists but if you're on wheels or want to set a running route, also note down Companion, a bakery also near to a small (Humble Sea being a highlight, new in 2017).
Training Notes
The first run is undoubtedly along West Cliff. Then head into trails above the town – cut up the north side of the Pogonip Open Space Reserve. The track at Santa Cruz High is accessible throughout the day, harder to access in evenings when team sports are being played on the central pitch. If you have a vehicle, driving north to Big Basin Redwoods State Park – renowned nationally for its tall trees.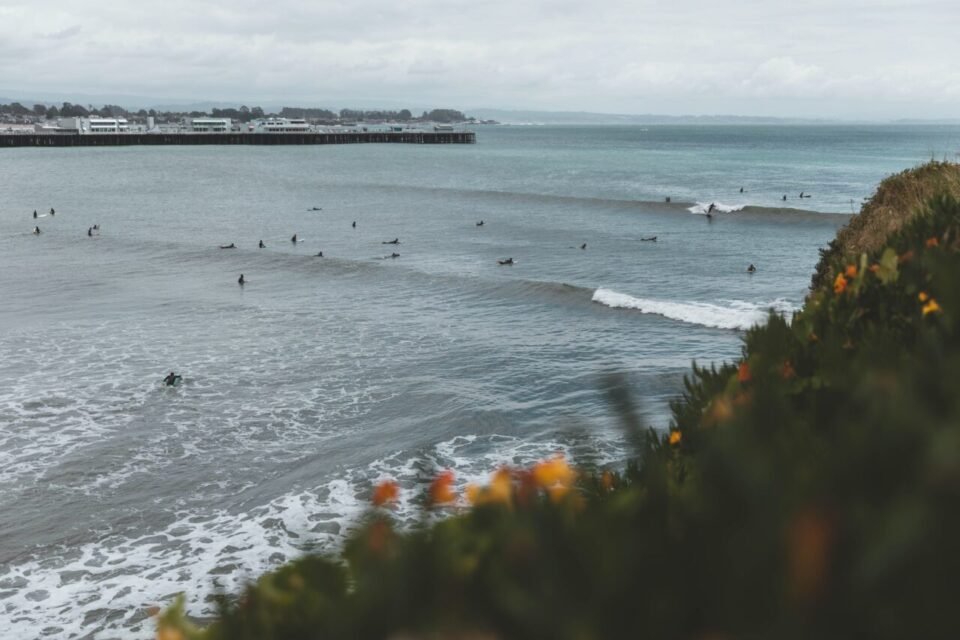 Cyclists can quickly find climbing miles by looping around the backside of campus on the west side of town. A loop with 40km can easily clock 600vm of climbing – see this Strava Route. Alternatively, head up the coast along undulating roads before cutting back inland and through redwoods return to campus – another option.
Swimmers can head to UC Santa Cruz – their 50m pool is open to the public. Check UCSC Aquatics Center for lane hours. Swimming in the open water at Cowell Beach is popular – the pier offers a helpful sighting point (see photo above). During the summer, swim buoys indicate a loop that's just under one mile.
For bookings and precise room pricing at Hotel Paradox, visit marriott.com.