Greenville City Guide
The 70,000 residents of Greenville, South Carolina enjoy some of the best is full of quality running and cycling routes, and attractive coffee shops. Located 70 miles south of Asheville near the Georgia Border, Greenville is known for the Swamp Rabbit Trail that connects town with Travelers Rest – the perfect location for a relaxed run or ride – and local Falls Park and over Liberty Bridge, two of the city's most iconic features.
To make the most of this Greenville city guide for endurance athletes, note a few patterns and features. Facilities are broken into categories according to their running, cycling or swimming focus, with a separate section highlighting quality gym facilities in Greenville. Exact hours aren't indicated unless very restrictive, and prices are also omitted in the knowledge that no listed facility charges more than $20 for day access. Instead, a full directory of telephone numbers is provided in the final Directory section, so you can call ahead to confirm your intended training time. The place names in Directory link directly to the venue's Google Maps profile – click on the venue's name to generate directions. Finally, the Sleeping & Eating section towards the end of the guide provides an insight into good places for sleeping and fuelling during your time in Greenville.
Orientation & Logistics
Greenville also offers 12 fixed bus routes that will take you to the most important locations. The buses are also equipped with bike racks.
Since Greenville is located in upstate South Carolina, the summers are hot and humid, while the winters are rather cold. The temperatures typically range between 34 °F (1 °C) and 89 °F (32 °C). The best time to visit Greenville are May and June, as well as August and October. On the winter solstice, the sun rises at 7:33 am and sets at 5:22 pm. On the summer solstice, the sun rises at 6:16 am and sets at 8:46 pm.
Running
If you don't want to miss your track workout while in Greenville, you have plenty of hoops to choose from. Most of them are attached to a high school or middle school, so make sure to arrive outside of school hours. There is a 400m track in Pine Hill Village just south of Greenville, part of Pine Hill High School. Another track that is closer to downtown is the Greenville Senior High School Track. Join the Greenville Track Club for a track workout on Wednesdays.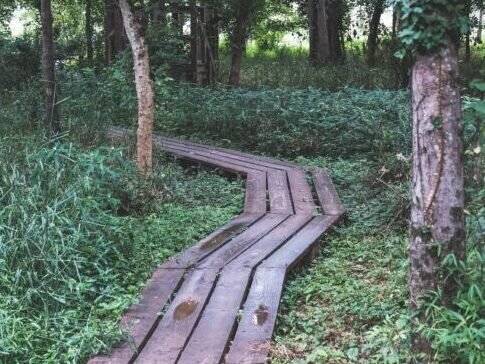 For your long run, aim for Lake Conestee Nature Park. The park offers six miles of paved trails and another six miles of trails, also located six miles from Downtown Greenville. It functions as a sanctuary for wildlife and is listed on the National Register of Historic Places. The park has multiple parking areas, and it is open from sunrise to sunset every day of the week.
Furman University is known for its beautiful campus, which also makes it a great place to run. There are several miles of trails right on campus, as well as a 5K cross-country course where the university holds meets twice a year. Another favorite is the 1.5-mile loop around the lake in the middle of the campus. The university is also located on the Swamp Rabbit Trail, a 22-mile multi-use Greenway that connects Greenville and Travelers Rest.
If you're here for the hills, you will find plenty of them in Paris Mountain State Park 10 miles south of Downtown Greenville. The park is the perfect place to get hilly fartlek runs or hill workouts in, especially if you like trail running. Paris Mountain State Park offers 15 miles of trails for hiking, running, and mountain biking. However, Saturdays are bike-free days, so if you want trails without bikes, that's the day to go.
About 20 minutes from downtown Greenville is Marietta where you can find Pleasant Ridge Park. While the park is a great place for running longer miles, it's also qualified as terrain for a tiring hill workout. The JFA trail loops around the park and is six miles long. Leroy Smith Nature Trail connects the shelter 1 parking lot with the fishing lake and Pleasant Ridge Falls. Mill Creek Path is an out and back paved trail that is 0.62 miles long. You can access the trail via the JFA Trail or the shelter 2 and 3 parking lots.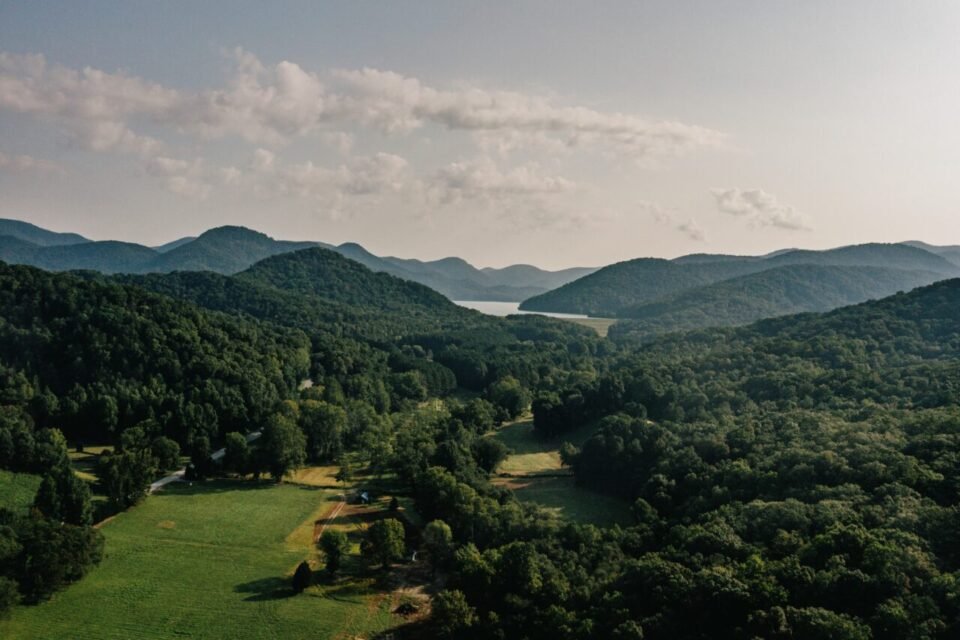 If you are looking for company on your runs and workouts, you can join the Greenville Track Club. Founded in 1972, the Greenville Track Club has been up and running for a few years. It currently has about 1,200 members and regularly organizes running events and training groups. The club is a USA Track and Field sanctioned organization and part of the Road Runners Club of America.
The Greenville Track Club meets for weekly track workouts at the Greenville High School Track at 6:00 pm. The club also hosts meets and events all year around, so make sure to check out their event calendar.
Cycling
Paris Mountain State Park is Greenville's best known recreational park. Whether you're road cycling or mountain biking, Paris Mountain State Park has it all.
Paris Mountain is a great experience for mountain bikers, offering many climbs and descents. The park features an 11-mile single-track intermediate trail with an elevation gain of more than 1,000 feet. If you're not ready to ride this much elevation, you can stick to the other trails in the park. When coming to Paris Mountain State Park, keep in mind that mountain biking isn't allowed on Saturdays. If you're visiting in the winter, you can do night riding on Tuesday nights.
Since the park has multi-use and hiking-only trails, be mindful of hikers or runners while riding. Three parking areas are available at the south end. From there, you can bike up the paved road and pass the park center and head towards the trails.
One of Greenville cyclists' favorite is the Swamp Rabbit Trail that connects Greenville with the town of Travelers Rest. At 22 miles long, the trail has plenty of sightseeing to offer. The website of the city of Greenville provides an interactive map of Swamp Rabbit Trail.
Along the trail are many options for branching off toward other roads or mountains. You will also encounter a ton of coffee shops and restaurants as you pedal down the trail. Scenic spots like Furman University or Cleveland Park are also worth a quick stop.
We have talked about Paris Mountain State Park before, but this time, we will talk about climbing it on a road bike, not on a mountain bike. You can access Paris Mountain from the Swamp Rabbit trail and the mountain is considered the signature Greenville climb as it is popular among cyclists.
If you climb from the Furman side, the mountain is steep at the bottom and the top, but not too challenging in the middle. From the other side, the climb is rather moderate, apart from a steep section dubbed "The Wall."
When you decide to ride Paris Mountain, you can extend your ride toward Travelers Rest on the Swamp Rabbit Trail mentioned above. Or, if you have Strava, you can follow this route. It starts on the Swamp Rabbit Trail in Greenville and follows it up to Travelers Rest. From there, the route follows a few countryside roads to Hightower Mountain, which is also the northernmost point of the route. After descending from Hightower Mountain, you will pass through the towns of Tigerville and Mount View before arriving at Paris Mountain. Once you're at the top, don't forget to take pictures. The descent consists of mostly rolling hills and will take you back to downtown Greenville.
Caesar's Head is another challenging hill in the Greenville area. While the climb starts out moderate, it continues getting steeper for the rest of the ascent. The route winds through woods and the roads are narrow, which makes it great for cycling, but also means that you have to be mindful of cars – especially on sunny weekends.
If you're in for a hill workout, Caesar's Head is the perfect place. At an average grade of 5.9% it isn't the most challenging hill, but you will certainly feel it in your legs after more than six miles of climbing. The steepest part of Caesar's Head is 9.2% for a quarter mile. You can also climb Caesar's Head from Cedar Mountain, which is shorter and not as steep.
The Greenville Spinners Bicycle Club is known for its weekly group rides from the South Carolina Technology and Aviation Center (SCTAC). On Tuesday nights, they host a group ride at 6:00 pm leaving from the SCTAC. The center offers plenty of parking space and porta-potties.
The first Tuesday Night Ride takes place on the first Tuesday in April and continues throughout the spring and summer months until mid-September. The A and B groups ride a 7.2-mile loop around Perimeter Road at race pace. They are escorted by a Greenville County Sheriff's deputy, which is why participants are asked to donate a small fee to cover the costs of the police, porta-potties, and property lease.
There is also a C group, which rides a loop around the countryside and low traffic neighborhoods. The ride is led by volunteers and will vary in distance and pace, but usually is about 30 miles long. The C-Country Loop is free of cost.
If you couldn't bring your own bike while traveling, you might have to rent one. Greenville's best bike rental company is located directly on the Swamp Rabbit Trail, so you can start your ride right from there. At Carolina Triathlon, you can rent bikes for half a day or a full day. They offer adult road bikes and helmets, if needed. You can book your rental bike online. After your ride, you can enjoy the restaurant and bars next door.
Swimming
Just like Asheville, Greenville also isn't a swimming powerhouse. The best place to get a swim workout in is the Greenville County Aquatic Complex. The indoor pool is Olympic-quality, with 20 lanes at 25 yards by 50 meters. There is also a heated 25-yard therapy pool with five lanes.
The facility allows for lap swimming and offers spacious locker rooms and private shower stalls. Next to the aquatic center is also a fitness center, in case you want to combine your swim workout with a gym session.
The Salvation Army Kroc Greenville is another indoor swimming pool in Greenville, but you have to make a reservation before visiting. To do so, you first have to create an account on their website. Both members and nonmembers have to make pool reservations before swimming.
Apart from the Greenville County Aquatic Center and the Salvation Army Kroc Greenville, there are no other public swimming pools. All outdoor swimming pools in Greenville require a yearly membership that isn't suitable for visitors.
A popular open water swimming location is Lake Jocassee in the Devils Fork State Park, where the Greenville Splash Masters hold some of their open water swimming practices on some summer weekends.
If you are swimming on your own, keep in mind that the beach has no lifeguards. On hot days, be prepared for large crowds at the beach. The parking lot fills up quickly, so make sure to arrive early.
The water quality of Lake Jocassee is one of the best in the Southeastern United States. It's very clear, which makes for great visibility while swimming.
Lake Jocassee is surrounded by mountains and water falls, some of which cascade into the lake. The man-made lake isn't only great for swimming, but also a popular destination for SCUBA divers. If you have time, we recommend camping at Lake Jocassee.
Another great sport for open water swimming is Lake Placid at Paris Mountain State Park. The lake is a little closer than Lake Jocassee, being only 17 minutes away from downtown Greenville.
Just like most lakes in the Southeastern United States, Lake Placid is a man-made lake. It was built in the 1930s and served as a drinking water reservoir before being turned into a recreational lake.
Lake Placid spans over 13 acres and is located in Paris Mountain State Park. You can easily combine your swim with a mountain bike ride or trail run around the park. The swimming area has a lifeguard available and public restrooms are just around the corner. However, swimming is only allowed in the roped off swimming area.
If you don't want to do your swim workout by yourself, you can join the Greenville Splash Masters, a United States Masters swim team. All of their practices are led by an experienced Masters Coach, offering advice on technique and fitness. Their workouts are an hour long, and they welcome swimmers of all levels.
The swimming club alternates between three different locations and practices during lap swimming hours. For more information, you can visit their website, where they have also published a workout schedule.
Gym
If you're looking for a barbell gym to get your strength and conditioning workout in, Core24 is worth looking up. The gym offers day passes, and is equipped with free weights and powerlifting racks, as well as cardio machines. To recover after your workout, you can relax in the sauna.CrossFit Potentia also offers drop-ins for Open Gym sessions.
Sleeping & Eating
Mountain Goat coffee shop in Greenville is the perfect place for a coffee stop during or after your ride. They serve coffee roasted by Methodical Coffee Roasters we have featured below. At Mountain Goat, you will also find the one and only Liege waffles in Greenville and if you're in the mood for a post-training beer, make sure to try one of their unique craft beers.
Attached to the coffee shop is a bike shop, so cyclists are more than welcome. They offer bike repairs and rentals, along with new mountain bikes. Mountain Goat is also highly engaged in helping underprivileged children by offering outdoor adventure programs and mentorship.
Spill the Beans is another perfect coffee shop for a coffee break on a ride. They are located in Falls Park next to Reedy River and has plenty of outdoor seating where you always have an eye on your bike. The café offers great coffee and ice cream that will cool you down after a summer ride or run.
When it comes to good places to eat, Greenville has a lot to offer. From Southern cuisine to international specialties, the city has it all.
Takosushi, for example, is an interesting fusion of Southern American and eastern Asian cooking. Prepared with local ingredients, the restaurant offers menu items such as "Southwest Tuna Tartare" and "Augusta Roll.
Another restaurant that mixes Southern food with international cuisine is Sassafras Bistro. The Southern-French mix makes for interesting dishes such as the signature Sassafras Fried Chicken and Fondue Nachos. Both locals and visitors love the restaurant for its southern hospitality and European atmosphere.
Located in Falls Park, you can find Passerelle Bistro – another French-inspired restaurant. The name comes from the French word of "footbridge" because the restaurant lies on the banks of the Reedy River close to Liberty Bridge.
Passerelle Bistro is considered a hidden gem in Greenville, with its excellent food and great view of the falls. The menu features French specialties such as mussels, Croque Monsieur, and crème bruléé. The restaurant is open for lunch and dinner, as well as for brunch on the weekend.
One of the best coffee shops in Greenville is Due South Coffee Roasters – the perfect stop before, during, or after training, which is why the coffee shop is popular among cyclists and runners in the Greenville area. Their pastries will provide enough fuel to get you over the next few hills.
Methodical Coffee is another coffee shop you have to check out on your trip to Greenville. The coffee roasters have three locations in Greenville: downtown, at the Commons, and at Landmark. No matter if you're just strolling through downtown, or you just finished a run, Methodical Coffee will provide you with some of the best coffee you can find in Greenville.
For athletes, the best place to stay in near to Greenville is Hotel Domestique, located at Travelers Rest 30 minutes north and surrounded by the Blue Ridge Hills. The hotel is named after local hero George Hincapie, whose foremost role on the pro cycling tour was a a domestique, supporting the team leader by shielding him from the wind. Hincapie was the domestique for Lance Armstrong in seven Tour de France races.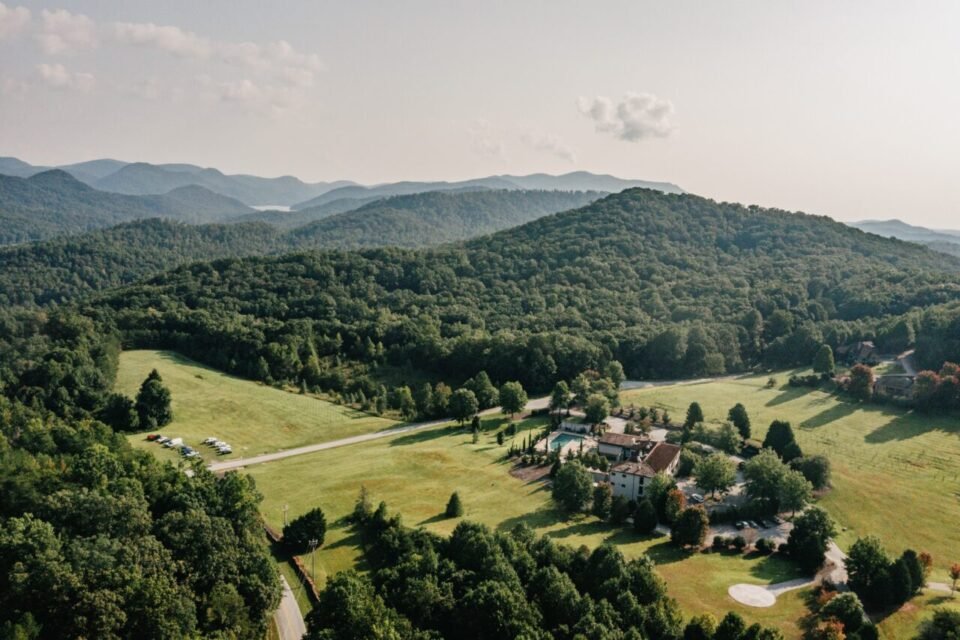 The two-storey hotel comes with a small library and fireplace, a saltwater pool and an unrivalled view of the mountains. The in-house restaurant offers European-inspired food and the café provides you with the perfect snacks for in between training.
Another great amenity of Hotel Domestique is its in-house road and mountain bike rental service. Many of their bikes are old bikes of pro cyclists, which gives hotel guests the chance to ride bikes they would usually never get their hands on. The bikes are equipped with Garmin GPS units and preloaded routes to choose from. Most routes follow backcountry roads with light traffic. Visitors can also sign up for group rides with Georgia Hincapie.
Mountain bikers can enjoy the endless trails in DuPont Recreational State Park, which is located between Asheville and Greenville. Not only cyclists but also runners are more than welcome at Hotel Domestique. There are plenty of running routes around the hotel.
If you like to stay in downtown Greenville, Embassy Suites by Hilton will be a great choice. The hotel is located right next to the Swamp Rabbit Trail – the perfect spot for a ride or run. Shops, trails, and coffee shops are also in immediate proximity with Falls Park, Main Street, and the Peace Center being only five minutes away.
The hotel also offers perfect recovery conditions with an indoor saltwater pool and rooftop restaurant and bar. If you don't want to miss out on your strength and conditioning routine, the fitness center is the perfect place for a quick workout.
Directory
Lake Conestee Nature Park: (864) 277-2004
Paris Mountain State Park: (864) 244-5565
Pleasant Ridge Park: (864) 836-6589
Greenville Track Club: (864) 271-0092
Carolina Triathlon: (864) 331-8483
Greenville County Aquatic Center: (864) 679-7946
Salvation Army Kroc Greenville: (864) 527-5948
Core24: (864) 349-1014
CrossFit Potentia: (864) 475-7099
Hotel Domestique:
Mountain Goat: (864) 735-0821
Spill the Beans: (864) 242-6355
Takosushi: (864) 271-5055
Sassafras Bistro: (864) 235-5670
Passerelle Bistro: (864) 509-0142
Due South Coffee Roasters: (864) 283-6680
Embassy Suites by Hilton: (864) 263-4800