Asheville City Guide
Highly ranked in quality of life indexes, Asheville represents North Carolina with an abundant scene for Southern cuisine, culture and outdoors. Winter attracts ski tourists, the summer is great for hiking and mountain biking. However, the best seasons to visit Asheville are spring and fall. When the trees and flowers start to bloom, they make Asheville light up in different colors. In the fall, the changing colors of the trees are particularly appealing.
To make the most of this Asheville city guide for endurance athletes, note a few patterns and features. Facilities are broken into categories according to their running, cycling or swimming focus, with a separate section highlighting quality gym facilities in Asheville. Exact hours aren't indicated unless very restrictive, and prices are also omitted in the knowledge that no listed facility charges more than $20 for day access. Instead, a full directory of telephone numbers is provided in the final Directory section, so you can call ahead to confirm your intended training time. The place names in Directory link directly to the venue's Google Maps profile – click on the venue's name to generate directions. Finally, the Sleeping & Eating section towards the end of the guide provides an insight into good places for sleeping and fuelling during your time in Asheville.
Orientation & Logistics
The best way to get around Asheville is either by bike or rental car. The city also offers bus routes that take you around town and around the surrounding neighborhoods. For shorter trips, you can also use a traditional taxi service or Uber.
The summers in Asheville are warm and humid – typical to the southeastern US. Average high temperatures reach about 29 degrees Celsius in July and August. On the summer solstice, the sun rises at 6:15 am and sets at 8:49 pm. Winters are rather short and cold. It's also wet and cloudy all year round. Average high temperatures are as low as 8 degrees Celsius. On the winter solstice, the sun rises around 7:35 am and sets around 5:20 pm.
Running
The only track that is open to the public is the Karl Straus Track which belongs to the University of North Carolina's Asheville campus. The eight-lane, 400-meter-long track is located directly behind the Student Recreation Center. When the track isn't used for classes or by athletic teams, it is open to the public.
Not quite a proper track, but a great place to run is the former Asheville Motor Speedway at Carrier Park. The raceway was a popular spot for NASCAR racing from the early 1960s before it was closed in the 1990s and converted into a recreational park by the City of Asheville.
The old raceway is perfect for getting hard workouts in. To warm up or cool down, you can expand your runs towards French Broad River which runs parallel to the Carrier Park trails.
If you are into trail running, Bent Creek is your place to go. It is one of Asheville's most popular spots for running and biking as it offers an extensive amount of trails. You can run on gravel roads or small, technical trails winding through the woods. The trails are part of the Pisgah National Forest, which is located 15 minutes from downtown Asheville. Bent Creek spans almost 6,000 acres within the Pisgah National Forest.
The area is considered an experimental forest, which means that it is used for different purposes. From mountain biking to horseback riding to hiking and running, Bent Creek has something for everyone. The trail system offers more than 44 miles of public trails. It is also used by the US Forest Service to conduct research on sustainability and rehabilitation of abused land. Informational signs educate runners and hikers about different forest management practices, so enjoy learning something new while running!
There are three access points around the forest, but most people park at the North Carolina Arboretum or the Lake Powhatan Recreation Area. About 1.3 miles of the trail pass through the Arboretum, which features the National Native Azalea Repository. All three trailheads are located on Wesley Branch Road.
One of the best loops at Bent Creek starts at the Hard Times parking lot and loops around Lake Powhatan, where you can expand your run on several other trails.
The French Broad River is Asheville's best outdoor recreational venue for running, kayaking, stand-up paddleboarding, and tubing. Along its southern end, the river runs through Asheville, giving life to a series of lush parks with winding trails. The parks are connected by a paved path called the French Broad River Greenway.
The area makes for great long runs. The 2.7-mile asphalt greenway is mostly flat and also a great place for a workout. It passes through Carrier Park, which we already mentioned above, French Broad River Park, and Hominy Creek River Park.
When running along the greenway, you can expand your run by running a double loop at Carrier Park and French Broad River Park. This run is voted the best place to run in Asheville by local runners. While it is hard to find flat routes in Asheville, the French Broad River provides you with a great area for fast runs or long runs.
Another route to explore starts at French Broad River Park, where you loop to the river's shores and then follow the river upstream. The route loops to the west after passing under a bridge. From there, you will get a chance to explore the meadows at Amboy Road River Park. Before returning to the trailhead, the route follows a loop through Carrier Park, where you will pass the marshy grassland near the banks of Moore Branch. That's where you will also pass the park's picnic pavilions and cycling velodrome, which doubles as the former racetrack we mentioned above.
The best parking lots are located at French Broad River Park or Hominy Creek River Park.
Asheville is also definitely the right place to run hills. And one of the best places to run hills in Asheville is Bent Creek – more specifically Sidehill Trail. The trail features a rocky and steep climb with spring crossings. There is a short downhill at the end. The trail is 3.4 miles long and comes with 449 feet of climbing. If you decide to run the trail the opposite way, you might enjoy 580 feet of climbing. At a maximum grade of 17%, you will get some serious hill training in. Sidehill Trail starts where Laurel Branch Road and Green's Lick intersect.
Another great hill for hill reps is on Bartlett Street close to the River Arts District. The steep but not too steep gradient makes the street perfect for a hill workout. To give your legs a break after the workout, you can cool down along the French Broad River.
If you don't want to run by yourself, you can find a number of running groups in Asheville. One of the best is Jus' Running group which belongs to a running store of the same name. The store was opened in 1998 by two runners from Western North Carolina, who wanted to provide Asheville's community with high-quality running shoes.
Today, the store is a hub for running gear and a meeting place for the local running community. On several days per week, they meet for workouts and easy runs.
On Tuesdays, you can join the Maggot Tuesday Workout, where runners of all levels are welcome. Norm, the owner of Jus' Running, leads the workout. You can meet the group at Jus' Running Shop at 6:30 pm or at the Karl Straus Track at 6:45 pm.
The workout consists of 4 to 5 miles of interval-based speed workouts. However, you can run as much or little as you want to. Afterward, you will be rewarded with group beer and pizza at Jus' Running shop.
If you're looking for a fun run, though, the Wednesday Night West Asheville Pub Run might be for you. The run starts at Archetype Brewing West at 6:15 pm on Wednesdays. You can choose between two different routes: One is 4.5 miles long, and the other is 2.5 miles long.
Cycling
Asheville is not only great for running, but it is also a cycling and mountain biking hotspot. Mountain biking apparel brand Kitsbow is based 26 miles east Asheville at Old Fort, home to their Old Fort Ride House – a hub with cafe and departure point for group rides.
If you're planning to ride on the road, Elk Mountain Scenic Highway is the first vector to think about. Voted one of the favorite routes of locals, it is also one of the most challenging routes around Asheville. The 60-mile route will reward you with magnificent views of the Blue Ridge Mountains, though. From the Elk Mountain Scenic Highway, you can continue the ride on Blue Ridge Parkway which takes you all the way up to Mount Mitchell.
If you want to do a moderate-level loop around Elk Mountain Scenic Highway, you can start your ride at the Folk Art Center at Milepost 382 on the Blue Ridge Parkway. The route then climbs up the Blue Ridge Parkway before you turn onto Town Mountain Road and start descending into downtown Asheville. From there, you can do an easy spin through the city and go past the Omni Grove Park Inn before the next climb awaits. The route follows Elk Mountain Scenic Highway uphill before descending. In total, the route is 28 miles long and comes with an elevation gain of 3,200 feet.
If you prefer mountain biking over road cycling, you can look forward to a multitude of mountain biking parks in the area. One of the local favorites is DuPont State Recreational Forest, which offers trails for all levels of riders. You can ride easy forest roads and challenging single tracks with a lot of climbing. The forest has become one of the most popular mountain bike destinations in the southeastern US as it is well-maintained and offers almost 100 miles of trails.
DuPont State Recreational Forest is a shared forest, so be careful, especially when passing horseback riders. The forest is located 20 minutes from Brevard and 50 minutes from Asheville. If you're riding on a weekend, make sure to get there early because the parking lots fill up quickly.
Here's a fun fact about DuPont State Recreational Forest: The Hunger Games was filmed there in 2012. The park's name comes from the company DuPont which sold the original land to the state.
There are nearly 100 trails in DuPont State Recreational Forest, but a lot of them are only one mile or less. That leaves you with an endless number of possible loops. But to give you a sense of direction, here are two mountain bike loops that you can't miss out on.
The Ridgeline Loop follows the Ridgeline Trail, which is considered the best downhill at DuPont with high-speed lines and fun features. Starting from the Lake Imaging parking lot, follow the Lake Imaging gravel road to the intersection with Hilltop Loop on the right. Take a right and then take a left on Lake Imaging. After a short climb, turn right onto Locust Trail and left onto Isaac Heath. Then, take a right on Jim Branch and a left on Buck Forest Road.
Take the Buck Forest gravel road up to Hickory Mountain Road at the Guion Farm parking lot. Turn left and follow the Hickory Mountain loop. At the end of the loop, you will reach the top of Ridgeline, from where you can roll all the way down to the car and enjoy a flowy downhill.
Another loop you shouldn't miss is Slickrock Loop. The loop takes you to the famous Cedar Rock Trail, which comes with technical Slickrock riding on exposed granite. At the same time, you can enjoy magnificent views of the surrounding mountains.
While there are multiple ways to get to Cedar Rock, the following route is one of the best. If you're riding in summer, keep in mind that it might get hot because the trail isn't in the shade.
Starting at the Corn Mill Shoals parking lot, turn right onto Corn Mill Shoals Trail and follow until you reach the intersection with Burnt Mountain. From there, you can ride the Burnt Mountain loop (it's best if you ride it clockwise). The downhill section of the trail might be the most technical trail in the DuPont forest as it contains rocky ledges and water-bar staircases.
At the intersection of Burnt Mountain and Corn Mill Shoals Trail, take a right and then a left onto Little River Trail. The trail shares a loop with Cedar Rock, so take the second left onto Cedar Rock and climb the trail counter-clockwise. You will ride over some Slickrock, which is grippier than you might think. Once you arrive at the top, feel free to take a few photos of the view. To get back, take Big Rock Trail and enjoy the downhill on Corn Mill Shoals.
Overall, DuPont State Recreational Park shines with its diverse trails that range from flowy single tracks to gravel roads to Slickrock sections. On the way, you will pass beautiful waterfalls and mountain views.
While DuPont is rather far from downtown Asheville with 50 to 60 minutes of driving, it's worth a visit. With so many routes to choose from, you definitely won't get bored.
Blue Ridge Parkway was mentioned already, but it deserves another mention as the best place to train hills in the Asheville area. In total, the Blue Ridge Parkway spans over 469 miles from Virginia to North Carolina.
When riding the Blue Ridge Parkway, be prepared for changing weather conditions, no matter the season. The parkway is well-traveled by any kind of motorized vehicles, so be careful while riding, wear reflective gear, and put a light on your bike. If you plan to ride more miles on the parkway, bring a high-wattage headlight that will light your way through the tunnels.
Due to its high-elevation terrain, the road is not for everyone. You are either riding downhill or uphill – there are no flat sections. If you are well in shape, however, riding the Blue Ridge Parkway is a great idea.
Compared to other highways in the mountains, the Blue Ridge Parkway has a moderate grade of 6-8%. The steepest parts of the parkway are in between Cherokee and Asheville in North Carolina. At elevations as high as 6,000 feet, the parkway might lead you through low-hanging clouds, so make sure to bring warm clothing.
The best time to ride the Blue Ridge Parkway up to Mount Mitchell is the early morning during weekdays. The busiest times on the parkway are sunny weekend afternoons as visitors drive up to Mount Mitchell.
While the climb can be challenging, the descent won't be very technical. The road had a few twists and corners, but since it is a parkway, they don't require too much braking.
Another climb that is perfect for hill reps is Doggett Gap which is also known for the Hot Doggett 100-miler that passes over the mountain. The climb starts moderately at 3-5% and later turns into a 10% grade. In total, the climb is about 4 miles long.
Doggett Gap is located northwest of Asheville, about 25 miles from downtown. If your training plan asks for a longer training ride with hills, head towards Doggett Gap.
If you're still not quite sure where to ride, you can join one of the many group rides in the area. The Blue Ridge Bicycle Club organizes rides all around the Western North Carolina region. Their rides vary from week to week, so make sure to check out their website to make sure that the ride is taking place.
You might not be able to bring your own road bike on your trip to Asheville, but that's not a problem. At Asheville Bike Company, you can rent quality road bikes for $100 for 24 hours. The performance road bikes are from Giant Bicycles, which are great for riding longer distances on the pavement.
If you want to rent a mountain bike, you have the choice between a full suspension and a hardtail bike. The full suspension mountain bike comes at $100 per day and is perfect for riding the gnarly downhills around Asheville. The hardtail mountain bike can be rented at $65 per day, which is great for cruising around town or riding cross-country trails.
The bike rentals come with a helmet and you keep them for 24 hours. You can also rent a car rack to transport the bike for an additional $15.
Swimming
Asheville isn't a swimming powerhouse, with all these mountains right in front of the door. However, there are a few indoor and outdoor swimming pools that are great for getting a serious swim workout in.
The Buncombe County Schools Aquatic Center has ten lanes and 420 spectator seats, which makes it perfect for swimming competitions but also lap swimming. The Aquatic Center is located on the TC Roberson's campus next to the tennis courts. You can purchase a day pass at the counter.
If you are visiting Asheville between May 28 and September 5, you can get your swim workouts in at Patton Pool. Before you head over, make sure that lanes are available for lap swimming. Also, keep in mind that the pool only allows lap swimming on weekdays.
As an alternative to Patton Pool, you can also check out the City of Asheville's Recreation Park Pool. It is located on Gashes Creek Road.
If you prefer open water swimming over getting soaked in chlorine water, you can move your swim training to Biltmore Lake. The Asheville Masters swim team trains at Biltmore Lake during the summer, so you might be able to join them for an open water session on the weekends. They normally meet on Saturdays from 7 to 9 am, which is the only time they are allowed to swim there. The drop-in fee is $10.
The water temperature is between 67 and 71 degrees Fahrenheit, depending on depth. If you have one, feel free to wear a wetsuit.
There is a bathroom that is accessible with a code, but no locker rooms. That's why it's best if you arrive with your wetsuit on.
The best place to park at Biltmore Lake is on Lake Drive near the fence and clubhouse. Do not park in the parking lot at the tennis courts.
Asheville doesn't have a whole lot of places where you can do open water swimming. But besides Biltmore Lake, Lake Powhatan is also a great place to swim. The lake is open from 10 am to 8 pm and the lake is accessible for swimming from early April to late October. The lake doesn't allow for boats, canoes, or any other kind of watercraft, which makes it great for swimming.
The swimming area at Lake Powhatan is rather small, but it comes with a sandy beach that is great for relaxing after the workout. The forest surrounding Lake Powhatan is also great for any other outdoor activity such as hiking, trail running, or mountain biking. The lake is just a few minutes from downtown Asheville.
Swim workouts shared with a team are always better than on your own. The Asheville Masters Swimming team swims every Monday, Wednesday, Friday, and Sunday morning at the Asheville School. You can drop in in exchange for a fee.
Gym
If you're on vacation but still don't want to miss out on weightlifting, your go-to gym is Biltmore Fitness. The gym also offers a smoothie bar, sauna, and personal training. There is a power lifting room and lots of cardio equipment and free weights. Biltmore Fitness is family-owned and operated and you are welcome to purchase a day pass.
WNC Barbell is another Asheville gym that allows for drop-ins. The gym is locally owned and was opened in 1999. Since then, the exercise facility has been home to experienced gym rats and newcomers.
WNC is open 24/7, so you can stop by at any time. If you like taking fitness classes, you might want to check out the cardio, strength, or taekwondo classes.
Sleeping & Eating
The mountains around Asheville are tiring, so make sure to fuel up well. Sunny Point Café is one of the most popular cafés in Asheville and regularly attracts large queues, especially on the weekends. The family-owned café has outdoor tables, covered and heated patio dining, and some indoor seating. They don't offer reservations, so come early to snag a seat.
Sunny Point Café offers anything from breakfast to dinner and you can be assured that the quality is top-notch. With their farm-to-table approach, most ingredients are fresh and locally sourced. Some of them even come right from the garden adjacent to the restaurant.
If you're looking for a true cycling café, you might like Gravelo Workshop. The café is also a bicycle repair shop, also hosting race watch parties and a healthy cohort of laptop-bound remote workers.
Now let's talk about the best restaurants in town. Nothing is better than fueling up at a Brazilian Steakhouse after a long day of training. The salad bar provides you with much-needed nutrients while the fresh-cut meat helps you refuel with protein. The Brasilia Churrasco Steakhouse in downtown Asheville features a 35-item salad bar with hot dishes and offers different types of meats cut at the table. You can also get a glass of wine from the bar to accompany your dinner. The restaurant is very popular, so reserving a table is highly recommended.
If you are craving a more upscale restaurant on your trip to Asheville, Rhubarb will gladly have you. The restaurant's chef is also a passionate soccer player, so be ready for food that replenishes your body after training. The menu features amazing appetizers that make waiting for the main course pass in seconds. The restaurant is located at one of Asheville's bustling crossroads downtown.
But maybe you're more of a breakfast person and that's okay – Biscuit Heads got you. As the name suggests, the restaurant offers mainly southern biscuit dishes. Committed to quality and local ingredients, the restaurant expanded in the Asheville and Greenville regions in 2013. It has also been featured in media such as The New York Times, USA Today, and Bon Appetit. The menu features all kinds of biscuit breakfasts and some of them can be made gluten-free or vegan.
The perfect place to spend an afternoon is High Five Coffee, a small coffee shop in downtown Asheville. Whether you're craving coffee on your stroll through Asheville or want to chill in a relaxed atmosphere, High Five Coffee has it all. They serve Counter Culture Coffee brewed in Durham, NC.
The downtown location opened in 2015 and has since been the perfect spot for a coffee date with yourself or others. The coffee shop has two more locations in Asheville. One is located in the River Arts District, the other is on Broadway Street close to the Montford and Five Point neighborhoods.
Summit Coffee is located in the River Arts District, which makes it perfect for a post-run coffee stop. The coffee is roasted in Asheville and is known for its love of the outdoors. As an athlete, you will be more than welcome at their coffee shop.
Now that you know all the good places to eat and get coffee, the last thing you need is a good hotel. If you want to stay in downtown Asheville, the best place to stay is Hotel Arras, a Kimpton venue. Located on Pack Square, the hotel is within walking distance of shops, cafes, and art galleries.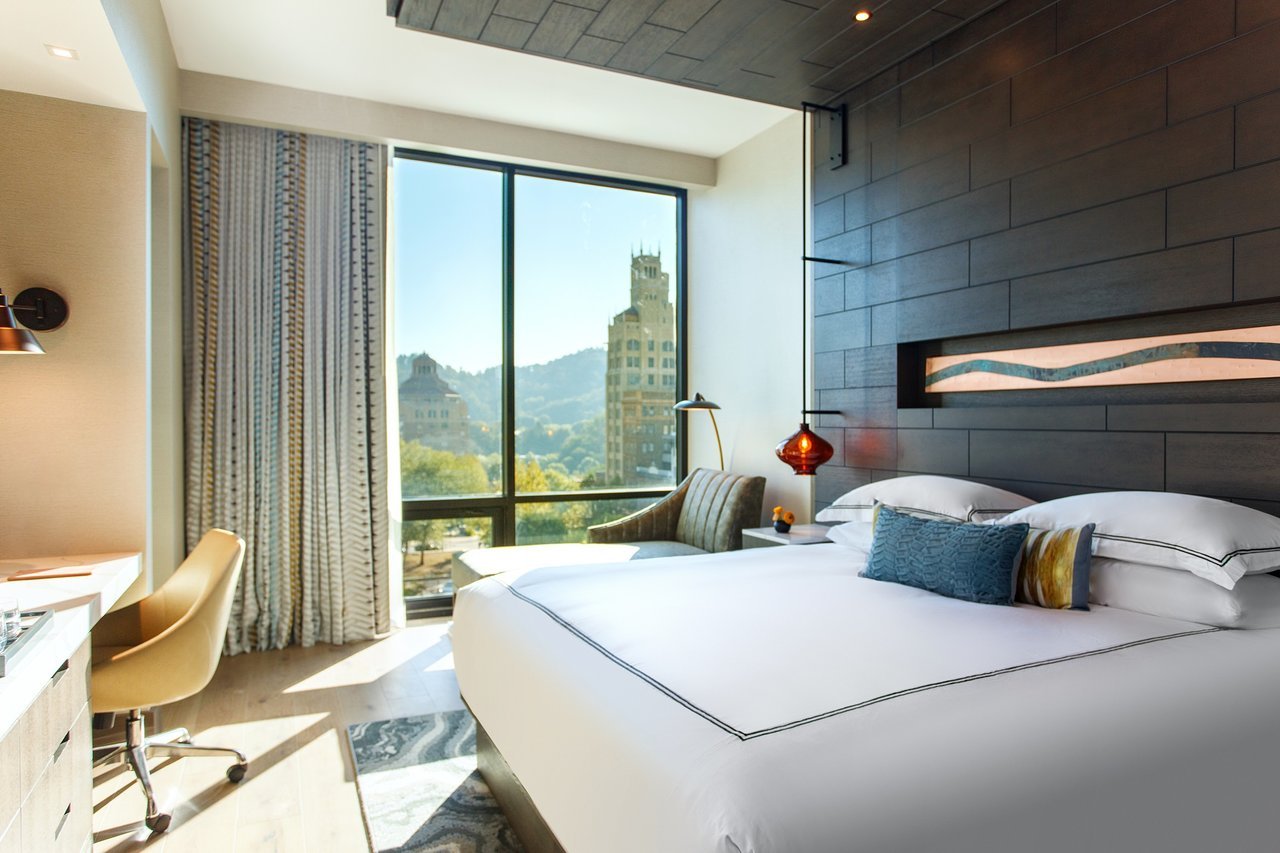 There is even a fully equipped fitness center with two Peloton Bikes and treadmills, which are perfect for rainy days. And on recovery days, you can enjoy a five-star massage from Asheville's Urban Exhale Massage Spa located in the hotel's massage room.
Less central and located on the southern edge of town are the Asheville Cabins of Willow Winds, a good option for group travel. The 25 mountain cabins are spread out on a 40-acre woodland garden close to the Blue Ridge Parkway. The trout fish pond with a fountain invites you to relax after training. Even more, some cabins come with a spa pool that is perfect for post-workout recovery on cold days.
Directory
Pisgah National Forest: (828) 257-4200
North Carolina Arboretum: (828) 665-2492
Lake Powhatan Recreation Area and Campground: (828) 577-7278
Jus' Running: (828) 252-7867
DuPont State Recreational Forest: (828) 877-6527
Asheville Bike Company: (828) 774-5215
Buncombe County Schools Aquatic Center: (828) 255-5874
Patton Pool: (828) 595-9952
Recreation Park Pool: (828) 298-0880
Biltmore Lake: (828) 209-5253
Lake Powhatan: (828) 670-5627
Biltmore Fitness: (828) 253-5555
WNC Barbell: (828) 665-2007
Sunny Point Cafe: (828) 252-0055
Gravelo Workshop: (828) 209-8798
Brasilia Churrasco Steakhouse: (828) 785-1599
Rhubarb Asheville: (828) 785-1503
Biscuit Heads: (828) 585-2055
High Five Coffee: (828) 713-5291
Summit Coffee: (828) 705-8071
Hotel Arras: (828) 255-0303
Asheville Cabins of Willow Woods: (800) 235 2472
---
Thank you to Julia Gralki for compiling this guide