Florence City Guide
Renaissance culture-vulture-athletes can easily justify a sequence of nights in Florence, tucking into the surrounding hills between the city's food, wine and architecture. As a stepping stone between Rome, one hundred miles to the south, and Milan, just 40 miles to the north, Florence has plenty to contend with, especially given its tiny size. The town packs a punch, with short travel times yet with an ample supply of good food and wine to reward time on track, in the saddle or thrashing lanes during your stay.
To make the most of this Florence city guide for endurance athletes, note a few patterns and features. Facilities are broken into categories according to their running, cycling or swimming focus. Exact hours aren't indicated unless very restrictive, and prices are also omitted in the knowledge that no listed facility charges more than €20 for day access. Instead, a full directory of telephone numbers is provided in the final Directory section, so you can call ahead to confirm your intended training time. The place names in Directory link directly to the venue's Google Maps profile – click on the venue's name to generate directions. Finally, the Sleeping & Eating section towards the end of the guide provides an insight into good places for sleeping and fuelling during your time in Florence.
Orientation & Logistics
The east-west orientation of the Arno sliced town, with three bridges reaching across to connect Florence's oldest buildings to less trodden bank to the south. Ponte Vecchio is the easternmost bridge and the most developed in terms of additional building construction. Ponte Alla Carraia is only 200m downstream, with Ponte Amerigo Vespucci being a further 300m. With these connections and the flat terrain of Florence, the city is best experienced on foot – the ergonomics of biking don't stack up.
The ancient layout of Florence is best navigated on foot, especially during the busiest. The cities cycle scheme is useful, but only when you can get beyond the narrow lanes and onto a main road to get across to your destination
Florence's climate includes a warm but seldom hot summer and a mild winter with occasional snow coverage. Sunrise on the shortest day of the year is 7:46am on the darkest day in December, setting at 4:41pm. By contrast, sunset in the summer is shortly after 9pm in mid-June, rising at a generous 5:33am.
Running
Florence's meandering streets and riverside walkways provide two axes for running, with no shortage of landmarks to ensure you don't get lost. Venturing beyond the immediate tourist centre pays off for getting more consistent routes in, but you don't have to go far for a hill interval or track workout.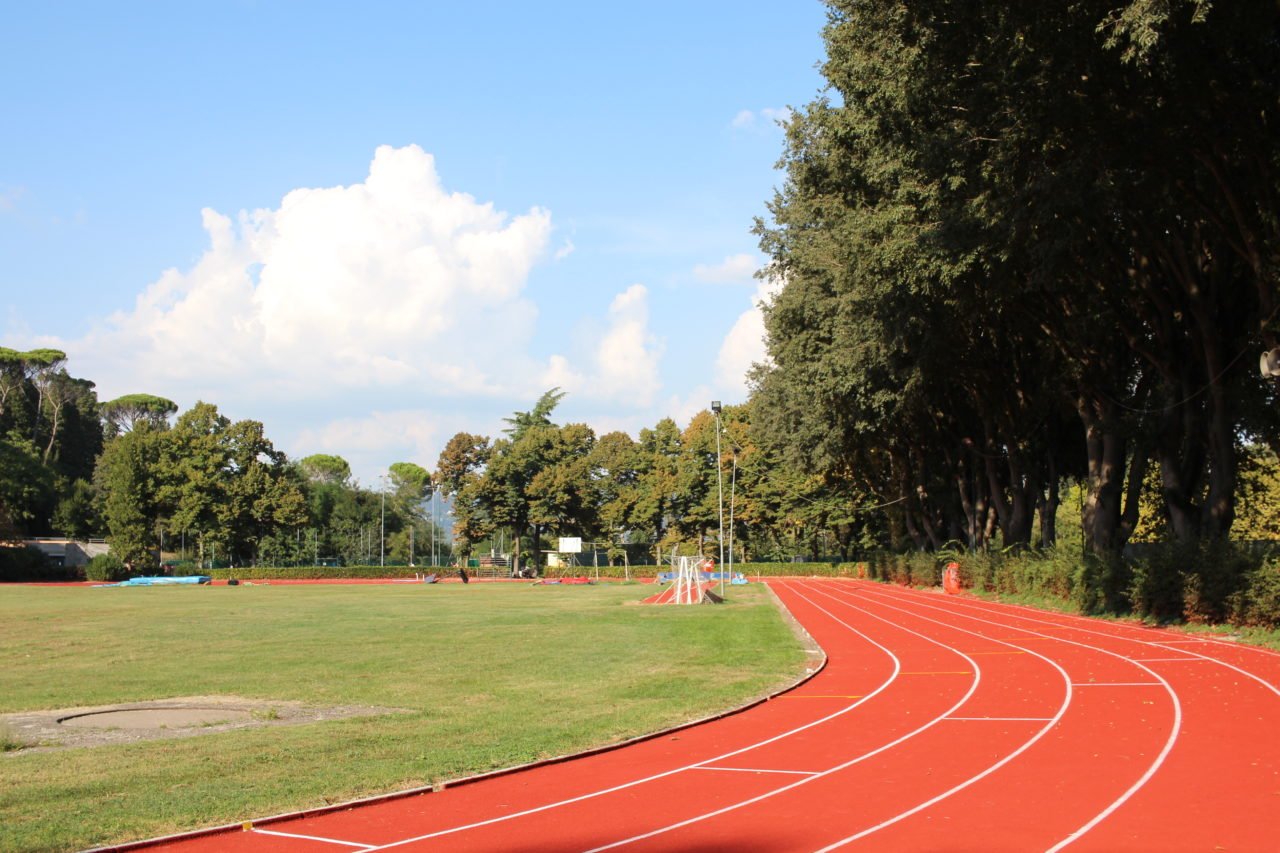 Florence's most famous running track, Athletics Firenze, is bedecked with records from Seb Coe, but is neither central nor welcoming. The track is located nearly two miles to the east of the town centre Firenze Campo di Marte train station. Dedicated runners might head there and attempt to squeeze into the restrictive running times. Right within the city centre and accessible throughout the day is a 400m track, ASSI Giglio Rosso. The track is run by a private gym who allow track access for €12 day with minimal time restrictions.
As in Rome, the waterway isn't fully utilised as a thoroughfare for walkers. There are sections of the river where you can find a good surface, and the banks are certainly cleaner than those of the capital, but to get a continuous run into your schedule, make a note of Parco Delle Cascine which surround the swimming pool to the west of town. This green lung is over a mile in length and contains enough shade to justify a long run in any weather.
Cycling
Stada Bianci has elevated the area's appeal, with frequent Giro d'Italia saluting the area. These roads roam over and around the lumpy terrain all around Florence, but with an emphasis on the southern parts of Chianti and the heart of Tuscan terroir for wine lovers. Side streets are also accessible for wider tyres – home to Strade Bianche (White Roads) pro races in early March. To get out of the city on a road bike, some waypoints should be set.
Rolling south from the heart of Florence includes only a couple of miles of, with the main artery being Via Senese. One route is to head in the direction of Castellina In Chianti, getting into wine country with rolling hills towards Siena.
Road bike rental in Florence is offered by Florence by Bike who have a fleet of Wilier wheels, true to their Italian heritage. You can rent for the day from 30 Euros, with reduced offering in case you want to keep the bike with you and ride it over a series of days.
Swimming
The cloistered city centre of Florence can overwhelm even the most calm visitor. To guarantee your own space and dive into some water to refresh, make a note of Piscine Le Pavoniere. This pool is a 1-mile walk or run west from the town centre, easily navigated along the Arno. Swimmers are served with a small cafeteria, welcome amenities to support a long session or start the day. To be fully welcomed, be sure to bring your swim cap – you're in Italy where this is the norm.
Sleeping & Eating
Florence might be known first and foremost for its art, but its food is worth mentioning alongside a well appointed hotel. The usual fares come find their places on dimly lit menus, with more airy coffee shops slowly rolling a third wave through this historic town. Good wine is easy to come by and a constant reminder with inner city vineyards harking back to a pre-industrial era and the heritage of the Chianti wine regions that flows from the south of town.
One dynasty is being formed but a trio of venues from Il Santo Bevitore, a cluster of hospitality offerings within the city centre. S.forno is the bakery (panificio), opening the day with freshly baked bread, Pasteis and coffee. If you're self-catering, pesto, pasta and a small range of provisions are also available. For coffees in other parts of town, note down two venues from Ditta Artigianale, one near Piazza Pitti and another half a mile to the East over Ponte Vecchio in Santa Croce.
Lunch venues include 4Leoni, located in a open courtyard and 5 e Cinque. For later, Il Santo Bevitore's main restaurant is worth noting for one or maybe multiple meals. Like the bakery, the venue has made the most of cosy ground floor settings, hewn into a series of arches. Photographed above is their Spaghetti alla chitarra with anchovies, capers, Thai chili and squi – a representative fair for this venue. For good measure, also note the third venue in the family for a glass of wine before dinner or a convenient place to grab a bite at the end of a ride or run – il Santino Gastronomia.
On south side of the river, Ad Astra is a converted aristocratic home, now one of the more impressive hotels in town. Balcony spaces and a garden surround the selection of unique rooms – a needed retreat from el Duomo and the packed streets around the main attractions. S.forno bakery is around the corner for getting your mornings going, and recommended running routes start at the doorstep.
Directory
AdAstra: +39 055 075 0602
ASSI Giglio Rosso: +39 055 681 0749
Ditta Artigianale, West: +39 055 045 7163
Ditta Artigianale, Santa Croce: +39 055 274 1541
Il Santo Bevitore: +39 055 211264
Piscine Le Pavoniere: +39 334 521 0999
S.forno: +39 055 239 8580
5ecinque: +39 055 274 1583
---
Email Will Ross (will@zafiri.com) with questions or comments, and have a browse of other Zafiri City Guides. This Florence City Guide was last updated in May 2019.