Caves and Tea in Jordan
Seb Fish, May 17, 2012
Jordan – home of the Dead Sea, Petra, tales of Lawrence of Arabia and countless historical religious sites. Despite being one of the smaller countries in the Middle-East, it certainly packs a punch.
As airlines open up routes from Europe to the region, Jordan's tourism infrastructure seems to be more geared to package or tour-based holiday deals. Still, there is still plenty on offer for independent travellers. The sites of greatest interest lie along the western side of the country, where three parallel highways, each taking slightly different routes, link the capital, Amman, to Aqaba on the Red Sea, via the Dead Sea, Petra and the Jordanian Highlands.
Bus services between these sites are infrequent, inconvenient and are best preferred for solo travellers who have more time than money. As a group of four, we found that it was only marginally more expensive to charter a taxi between towns. This gave us freedom to stop at locations of interest whilst giving us the benefits of local knowledge of the area, its history and suitable accommodation options.
Petra, one of the seven wonders of the world, holds much more then just the Treasury. The UNESCO site contains over 800 individual monuments over an area of 100km2 and can take as long as an entire week to see everything.
Petra Pricing
1 Day 50JD – £44
2 Days 55JD – £48
3 Days 60JD – £53 (4th Day free)
We found that 3-4 days would be enough time to see the major sites within Petra without having to rush about in 30oC heat ticking off experiences from a check-list. We came for the sights, but in doing so we also discovered the remarkable hospitality and unyielding friendliness of  the local Bedouins who have lived and maintained the area surrounding Petra for hundreds of years.
Enter Ghassab Al-Bedoul, a local Bedouin who for the last two years, who offered his property as a home-stay for independent tourists. He has advertised this through Couchsurfing, a website where users offer their couches for passing travellers as an alternative to staying in a hotel. It works as an exchange medium of culture, language and ideas predominantly over just having a free place to stay. Having used the site for two years and having had many incredible experiences, I was excited to use it again in Jordan. On the site, users whom you have stayed with, hosted or met leave a 'reference' of their experience with you, which is permanently on your profile for all to see. With almost 200 positive references, I knew that in Ghassab we had found the right guy.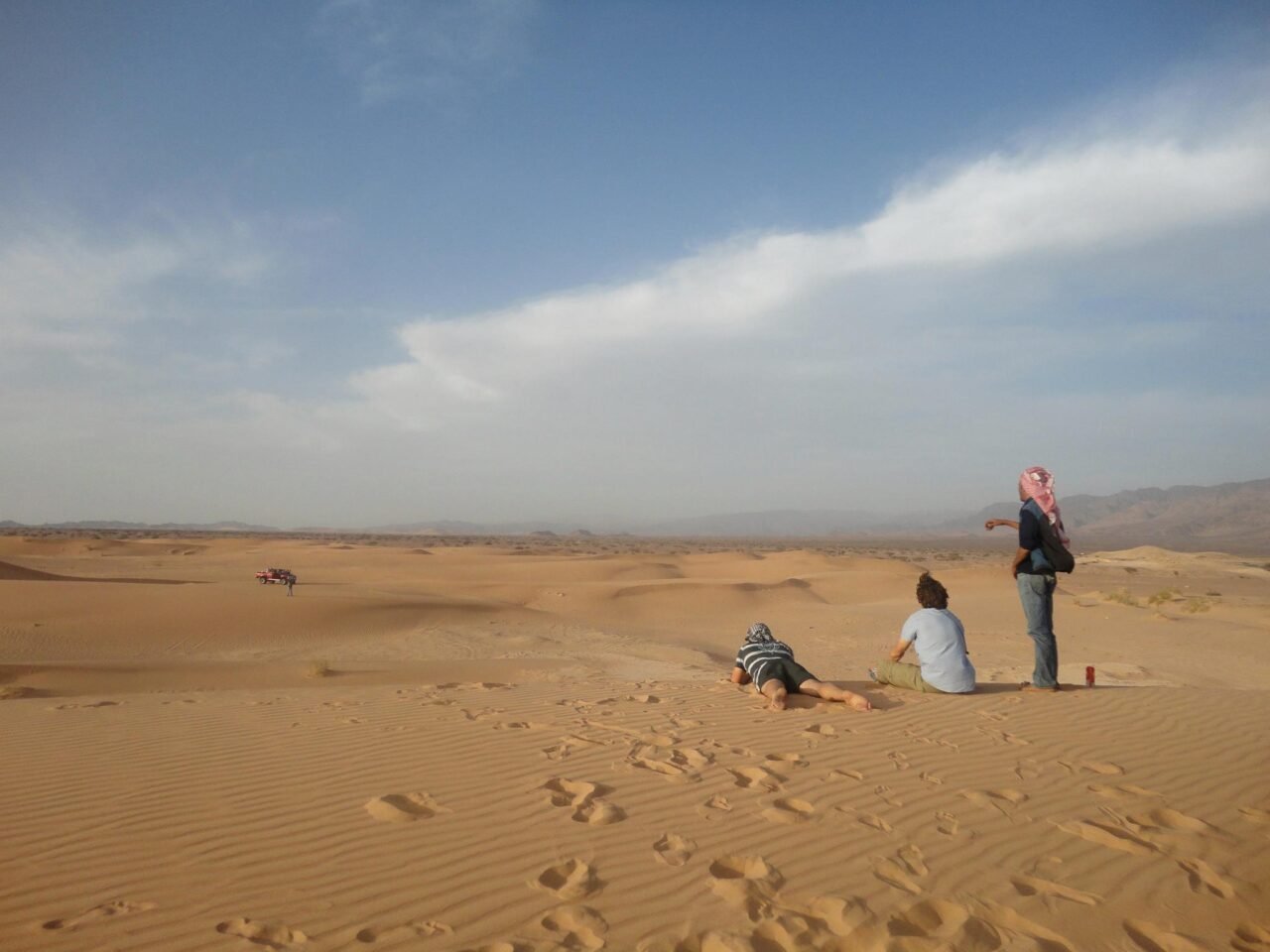 Unlike all of my other previous experiences with Couchsurfing, Ghassab didn't live in a regular home, but in a cave. It was similar to hundreds of others littered throughout the Petra area and where the Bedouins had historically lived for hundreds of years. Over four days we slept on mattresses, collected firewood, ate gigantic (and incredibly tasty) traditional meals and were immersed into the intimate Bedouin society of Petra. The Bedouins themselves effectively bring the ruins of Petra to life. Even though few have retained a traditional nomadic existence, their quirky sense of humour and steadfast dedication to hospitality and kindness ensures the principals of Bedouin life live strong despite all of the changes around them. By the fourth day, we were continuously being invited for sugar loaded 'Bedouin Tea' and shisha wherever we went throughout the reserve; in cafes, on rolled out carpets or in other caves!
Petra, despite all of its splendour, is lifeless without experiencing the energy and distinctive communal nature of its inhabitants. It is really what made this tourist site unique and is something  you can't read about in any guidebooks. For now I believe few visitors to Petra have realised this, with many only appearing for a day to see the famous sites before moving on to the next location.
Ghassab's brother Ghassan, also offered very affordable rates for desert treks and tours  into nearby Wadi Araba and similarly contributed to what was an unforgettable experience. Their knowledge of the area and its inhabitants are unmatched and without them, our stay wouldn't have even been half as fascinating as it was.
Contact Bedouin Eco-life (Ghassab and Ghassan)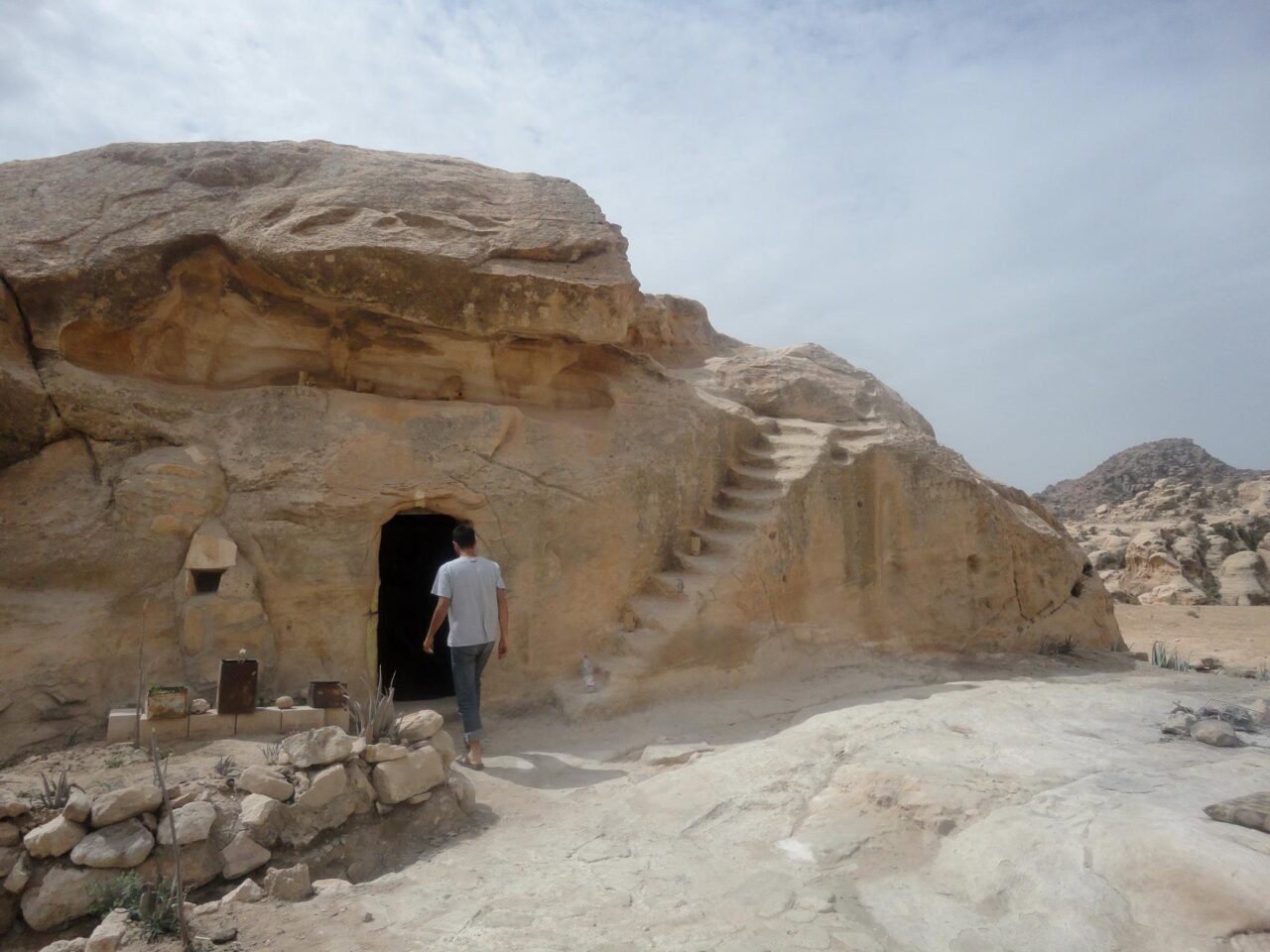 Costs
Expect to chip in for meals and petrol – 5-10JD (£4.50-9.00) per person per day.
Desert tours, 2 meals, transport and camping – 20JD (£17.50) per person.
The rest of our time was spent on the Red Sea and at the Dead Sea before returning to Amman. Jordan's modest 16km stretch of coastline gives fantastic views over turquoise water towards neighbouring Israel, Egypt and Saudi Arabia. Snorkelling can be done for as little as 10JD (£9) and diving from around 30JD (£26.50). Two artificial reefs in the form of a sunken ship (30 meters long, 20 meters in depth) and a former Soviet Tank (5 meters depth) ensure that Jordan can hold its own against the Red Sea tourism heavy-weight, Egypt.
More affordable accommodation is available 10-minutes drive south of the main city of Aqaba towards South Beach. Here the water is cleaner and the beaches are more secluded (preferable for female tourists). A taxi to Aqaba, where there is more on offer food and nightlife-wise, costs less than 2JD (£1.50).
The Dead Sea, is extortionately expensive as far as accommodation options are considered. For this reason we decided to spend a few hours at the lowest point on the planet (-423m) on our way back to Amman from Aqaba (5 hour drive). For 16JD (£14) it is possible to use the hotel facilities such as a private beach, pool and fresh water showers. This is important for the comfort of female travellers and to ensure that all of the salt can be washed off effectively.
At 31% salinity, the Dead Sea is the 2nd saltiest body of water in the world. It is virtually impossible to sink yourself and I cannot stress how much fun simply bobbing about can be!
The area is reputed for its health effects such as the high mineral content of the water and the therapeutic Dead Sea mud itself.
Rather than paying over £10 for a packet of Dead Sea mud at the tourist shop, it is much easier (and cheaper) to search and scoop up the stuff as you wade around in shallower waters and apply it there.
Religion in Jordan
Jordan is a moderate country by Middle-Eastern standards. In parts of Amman, you can expect to see women with their hair visible and couples holding hands in the street. However it is important to remember that ignorant stereotypes of westerners do exist, and many parts of Jordan outside of the main cities and tourist areas, remain quite conservative. These effects of this are felt more so by women than men. Either way, for less unwanted attention, it is important to bear this in mind when deciding what to wear for the day (such as long sleeve tops/trousers) or how to behave with members of the opposite sex (less kissing in public basically).
Respect earns respect, but do not allow one bad experience to ruin your trip, every experience can be a learning experience at its worst!
Many businesses can be shut on Fridays, and ensure that your travel plans do not depend on travelling within a certain timeframe during this day! If you are travelling to/from Israel, the border opening times are likely to be affected on Fridays and Saturdays (the Jewish holy day).
Get there and around
Visas are issued on arrival to Jordan, at land borders as well as at airports. Each single entry visa costs 20JD (£17.50).
Easyjet flies from London Gatwick for as little as £45 one way. Book ahead in advance for the best fares. A good alternative is Turkish Airlines or Royal Jordanian, although this is likely to be considerably more expensive, but a good choice if you are not planning to fly from the UK.
A driver who gave us a repeatedly good, affordable prices for transport throughout Jordan (and enthusiastic historical knowledge) was Aref Salamein. Our transport from Aqaba to Amman with stops at the Dead Sea, and two key religious sites (Mt. Nebo & the Madaba Mosaic) cost us 20JD (£17.50) each.
For more information, contact: 00962 777 439687, 00962 796 679396 or aref_petra@yahoo.com.