Designing an African safari compatible with marathon training
Will Ross, July 30, 2018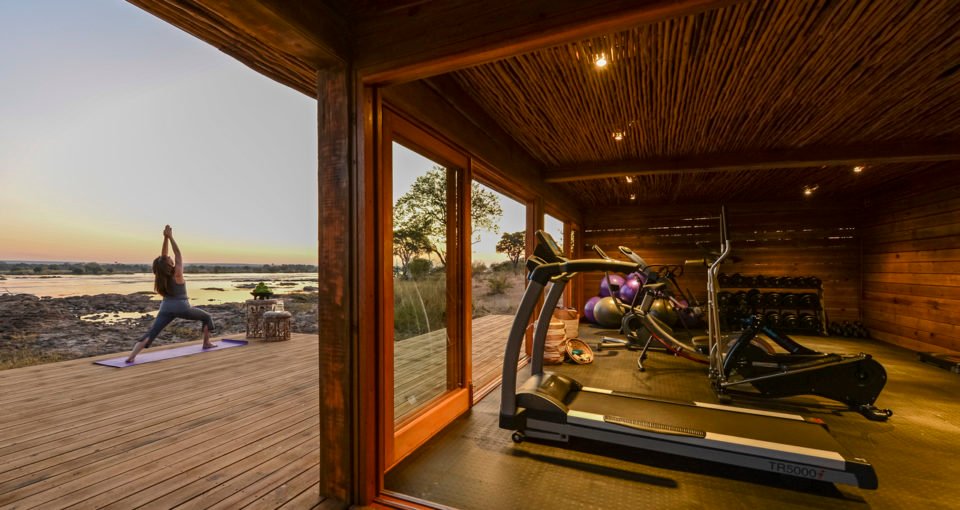 The lure of any retreat into nature is normally one of unhindered recreation, set aside from the fumes and traffic of the city. Yet to escape to the African bush usually means presenting a new disturbance for the continent's larger predators, especially irritated or else attracted by spritely humans bounding through their backyard. Though some mountain biking and walking is possible where wildlife is small or scarce, most national parks and reserves advise tourists to stay within their vehicles when not in camp.
Fortunately, property owner and operator Wilderness Safaris have made a concerted effort to meet the needs of athletic guests with exercise facilities at a selection of their lodges, making up a useful shortlist for combining safari with formidable, if not optimal training. Here are six properties in four countries, with locations and equipment indicated as a way to filter decisions for safari destinations in the coming seasons.
Mombo, Botswana
Botswana's Okavango Delta is home to three Wilderness properties, Mombo Camp, Abu Camp and Jao Camp. When it comes to gym equipment, Mombo Camp is the most robust with a stationary bike, two treadmills, a rowing machine, Pilates balls and kettle bells, located alongside at 12.5m chlorinated lap pool (photo above). There is also a full-time yoga instructor at the camp, who has a hybrid skillset by being able to offer kickboxing classes for the most active guests.
To the south-west of Mombo Camp, Abu Camp has a treadmill, rowing machine, yoga mats and free weights (2.5kg to 25kg). While the nearby Jao Camp has an elliptical cross trainer, rowing machine, stationary bike, and medicine balls, as well as a fleet of free weights (2.5kg to 25kg).
Segera, Kenya
Wilderness' only property in Kenya is in the central highlands region of the country, on the Laikipia Plateau overlooking Mount Kenya. Endurance-orientated guests will appreciate that the camp is over one mile above sea level, and can use this to sleep high and train at altitude.
The gym at Segera has a stationary bike, a treadmill, weights, a weight bench, and rowing machine, while the kitchen places an emphasis on homegrown, organic ingredients. Mountain bikers might also appreciate the 10to4 event held each February in Mount Kenya National Park, covering a terrain that is also accessible to trail runners.
Toka Leya, Zambia
Set alongside the mighty Zambezi River, Toka Leya has stunning frontage looking over a vast wetland. The lodge's gym faces over the water (featured image above), establishing an excellent spot for morning yoga classes reinforced by a treadmill, elliptical cross trainer, exercise bicycle, medicine balls, and a full range of free weights. The Victoria Falls Marathon takes place in the area in July each year, so just hop across the border for the start in Zimbabwe and return to the property afterwards (note visa requirements).
North Island, Seychelles
Floating 1800km east of Mombasa, the archipelago of the Seychelles is renowned for its azure waters and tropical flora. True to its name, the North Island has the lowest latitude of the islands and a landmass of no more than a single square mile. There are trails for runners on the island, and confident swimmers can also circumnavigate the island, and request to be accompanied by the diver master's support boat.
Wilderness' lodge is on the eastern side of the island and includes a gym with cardio and weights equipment from Technogym. Find a stationary bike, a spinning bike and a treadmill alongside a full cage with barbell and discs (therefore pull-up bar too). Kinesis classes are also organised by North Island, and Hatha yoga can be arranged on demand.
For more information and making gym work in the African bush, visit wilderness-safaris.com.