Vancouver City Guide
Dramatic geography and a mixed climate define Vancouver, a Pacific Northwest Coast city that has grown to become one the most sought after places to live in the world. Alpinism is embedded within town's design, with skiing slopes and granite walls within an hour of the office. Endurance sports come a close second, with runners and cyclists working through a mild but wet winter, to be joined by open water swimmers in the summer.
To make the most of this guide, note a few patterns and features. Facilities are broken into categories according to their running, cycling or swimming focus, with a separate section highlighting quality gym facilities in Vancouver. Exact hours aren't indicated unless very restrictive, and prices are also omitted in the knowledge that no listed facility charges more than $20 for day access. Instead, a full directory of telephone numbers is provided in the Directory section, so you can call ahead to confirm your intended training time. The place names in Directory link directly to the venue's Google Maps profile – click on the venue's name to generate directions. Finally, an Sleeping & Eating section towards the end of the guide provides an insight into good places for sleeping and fuelling during your time in Vancouver.
Orientation & Logistics
Vancouver sits on a pair of promontories, divided by a inlet of water which roughly marks the city centre from the more spatial neighbourhoods to the west near to the Pacific, and to the southern suburbs. The downtown area connects with trendy neighbourhood to the east, and the verdant Stanley Park to the west, providing the gateway across the Lions Gate Bridge to North Vancouver. Perimeter neighbourhoods including Kitsilano, leading out to the University of British Columbia (UBC), and to the south,
Vancouver is connected by a small metro system and a more developed bus network, each accessible with the help of a contactless Compass Card which can be purchased at London Drugs, Safeway, Shoppers Drug Market and Seven Eleven. Buses #4 and #84 connect the Downtown area with UBC, the main axis you may need to navigate for this guide. The #10 is also useful for runners looking to go south to Point Grey Secondary School's track (see below). Metro lines strike a diagonal line from the city center to the airport.
Although Vancouver might be known for its snow capped mountains, visible from the CBD, the town itself doesn't get overrun by snow storms (a mild issue during the Winter Olympic Games in 2009). That said, precipitation comes off the Pacific in the form of long spells of wet weather during the winter, while a short summer brings glorious warm weather and occasional heat waves. At 49.5°N, Vancouver's winter days are as short as 7 hour 58 minutes with the sun rising at 8:05 am and setting just over eight hours later at 16:15pm. Summer days span out to a generous 16 hours, with sunrise at 5:08am on 21st June 2018, setting at 21:20 pm.
Running
Vancouver's flat city footprint and extensive water frontage leaves routes for runners, with sharp slopes rising from North Vancouver. Infrastructure has been built to cater for the needs, while more measured athletes are appeased by a scattering of athletics groups. Though alpinism forms that backbone of the city's athletic culture, any town that is home to Lululemon is bound to promote running.
Stanley Park is the most renowned patch of recreational space within the city area, a 405-hectare allotment of land that starts not even a mile from the city area. The circumnavigation of the Park is a popular 10km option, dead flat on fresh tarmac running right up along the sea wall several feet above the high-tide line.
On the western edge of town is UBC and the so-called University Endowment Lands, first established in 1907. More than half of the 1200-hectare area is part of the Pacific Spirit Regional Park, teeing up plenty of trails for runners and walkers. Trails are predominately forested so it's best to organise your route before you head in –
Athletics tracks are in two locations, Point Grey Secondary School south of Downtown and University of British Columbia on the West side of town. UBC's track is named "Rashpal Dhillon Track & Field Oval", but it's hard to miss among the updated sports facilities on campus.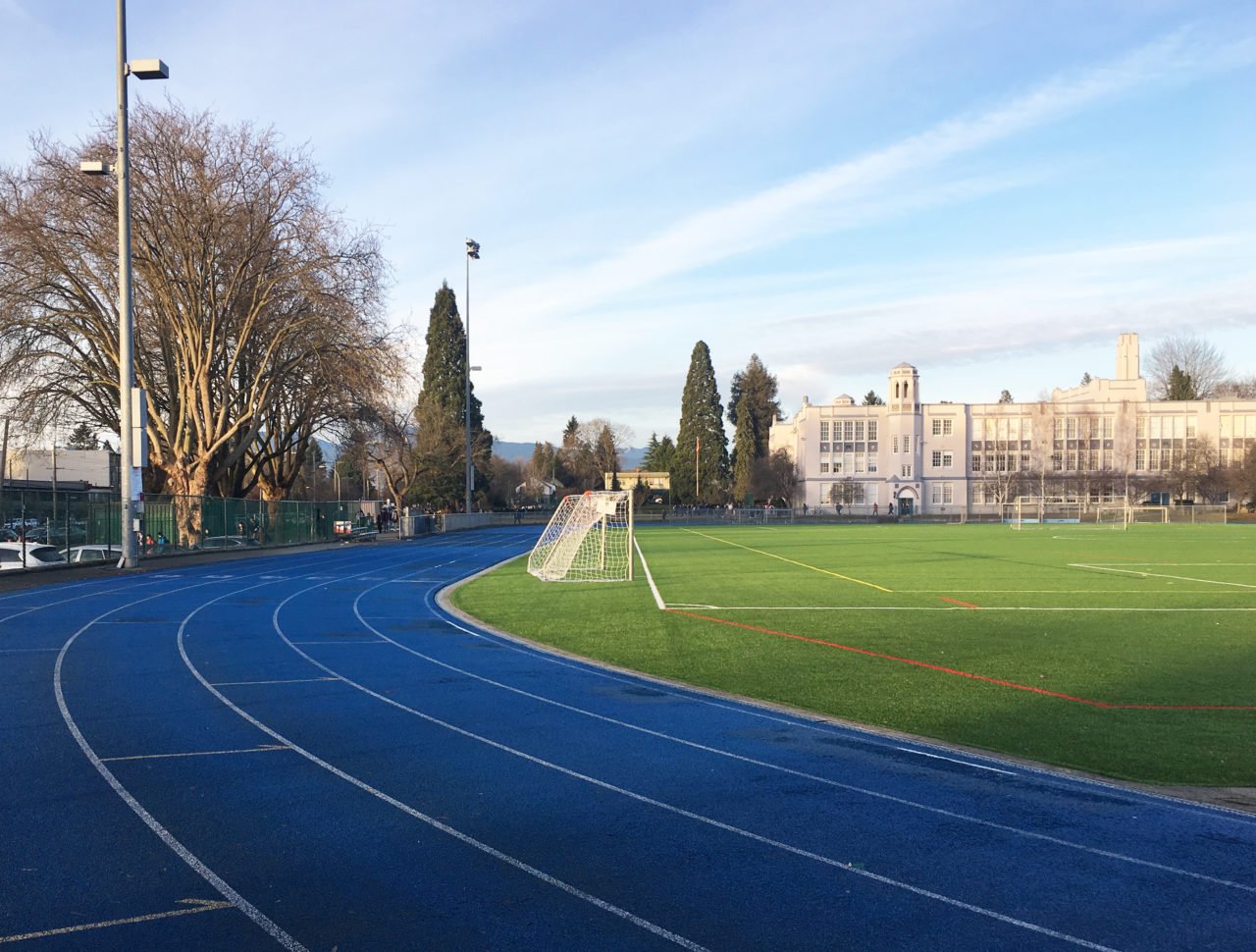 For hill intervals, head to the northern tip of Stanley Park in the direction of Lions Gate Bridge. Pipeline Hill Climb includes 500m at 3%, while 350m at an average grade of 17% can be found up Merilees Trail Climb. Real hills can be found in North Vancouver, either up the route to Capilano Dam or the Grouse Grind itself, though the route up the hill is essentially a stairwell.
If you arriving in Vancouver and are struggling to motivate yourself in adverse seasons, note a couple of social links. Musette is primarily a cycling cafe and hub for two-wheelers, but its in-house cycling guide, Sebastian, is also a capable trail runner, currently holding the record for the Grouse Grind [February 2018]. Get in touch with him if you would like to organise private guidance or figure out if he is leading a group.
A second social link is Vancouver Running Co., a delightful running store in Kitsilano and also a gateway to organised runs with ambitious runners. They organise mid-week track sessions, as well as more liberal loops in North Vancouver on weekends. Their VRC Flight Crew Strava Club page is exemplary and the team tight.
Cycling
Vancouver's maritime climate sits at a latitude of 49°N, which means it pulls in moist ocean air that settles as snow several hundred meters above sea level. Cyclists will be happy to note that the city itself remains snow-free during the winter, though temperatures can be chilly and roads do freeze over. This is made up by better than average cycling infrastructure, and a fairly simple navigation out of town through Stanley Park and Lions Gate Bridge.
Stanley Park might be seen as an option for some, but the sea wall trail is realistically too narrow for serious riding, especially given the regular pedestrian traffic. Cycling towards the city's western neighbourhood around UBC works well for its quiet streets and occasional hills, but the best cycling is to be had from North Vancouver.
Riding to Cypress Mountain requires some patience on the right shoulder of the Sea-to-Sky Highway, before taking a right at Cypress Bowl Road. The climb is broken into a lower section which finishes at First Lookout (5.4km / 4%), a car park that looks over the city, and an upper section (5.9cm / 7%). If you're looking to tackle Cypress Mountain, be sure to check the state of the road before hand – winter snow often blocks the full ascent.
A second climb to take on is Seymour Hill Climb, 12.2km at 8%. Getting to the base of the climb will require a similar tracking of the highway to the East.
Swimming
Vancouver's impressive set of indoor pools is matched by one massive outdoor pool and an entrenched open water swimming community. Gyms in the city centre have their own pools, but the Vancouver Aquatic Center certainly attracts serious swimmers with its 50m pool and competitive events. The UBC Aquatic Centre was completed in 2017, offering pristine facilities for those willing to make the 25-minute drive out of the city centre to the university's campus. Midway between Vancouver Aquatic Center and the UBC Aquatic Centre is Kitsilano Lido, a mighty outdoor pool that extends 137m in length and, open from May until mid-September.
Open water swimmers also congregate near to Kitsilano's waterfront, with the Vancouver Open Water Swim Association (VOWSA) leading the charge. They organise practices in the Kits Bay inside a powerboat exclusion zone – see a map of the 1.5km circuit. Swimmers looking to get the most out of their visit to Vancouver might note a few races that take place: Canada Day Challenge (1st July), Kits Challenge (second or third Sunday in July) and Bay Challenge (first Sunday in August). Each race has a range of distances for soloists, with the Bay Challenge offering a sure dip through 9.6km of Pacific water.
Gym
In the centre of Vancouver is the Robert Lee YMCA on Burrard Street. They have an efficient card system, and offer trials to new guests or else the ability to top the card up for daily or weekly passes. Robert Lee YMCA have a 25-yard pool in case either of the Vancouver Aquatic Centre or UBC Aquatic Centre are closed. Robert Lee YMCA is also impressive for its in-house cafe, serviced with healthy grab-and-go dishes.
Sleeping & Eating
With the Lululemon crowd comes a raft of healthy eateries, third wave coffee stops and a growing amount of appealing accommodation in the centre of town.
Originally a motor inn completed in the 1956, The Burrard renovated six decades later and now offers 32 bedrooms conveniently located on Granville Street, across from Musette Caffé. They have a restaurant at ground level, as well as coffee from Elysian. A few blocks to the north-west is The Loden Hotel, a little pricier than The Burrard but convenient for its connection with Musette for organising the delivery of a bike in advance of a guest's arrival.
Start the day with a healthy breakfast at The Bird & The Beets or Nelson the Seagull, each located in Gastown 8-minutes from The Loden and The Burrard. Over in Kitsilano is eatery-gym TurF, an impressive space which pulls together organised classes, healthy food and luxurious changing rooms – worth dropping in to see how exercise and food are finding a confluence in the Pacific Northwest. If you're stuck in Downtown, grab a healthy smoothie at MELU Juice & Health Bar.
As for coffee, note down Matchstick, a coffee shop located in Gastown and not far from another, Revolver, appealing to those who want to get some work done on a good internet connection with table space. Musette is the foremost cycling cafe in town.
Directory
Birds & The Beets, The: 604-893-7832
Loden Hotel, The: 604-669-5060
Matchstick Coffee: 604-336-0213
MELU Juice & Health Bar: +1 778-379-6358
Point Grey Secondary School: 604-713-8220
Rashpal Dhillon Track & Field Oval: 604-827-4142
Robert Lee YMCA: 604-689-9622
TurF: 604-428-9970
UBC Aquatic Center: 604-822-4501
University Endowment Lands: no number
Vancouver Aquatic Center: 604-665-3424