The Saguaro Palm Springs, California
Will Ross, December 5, 2017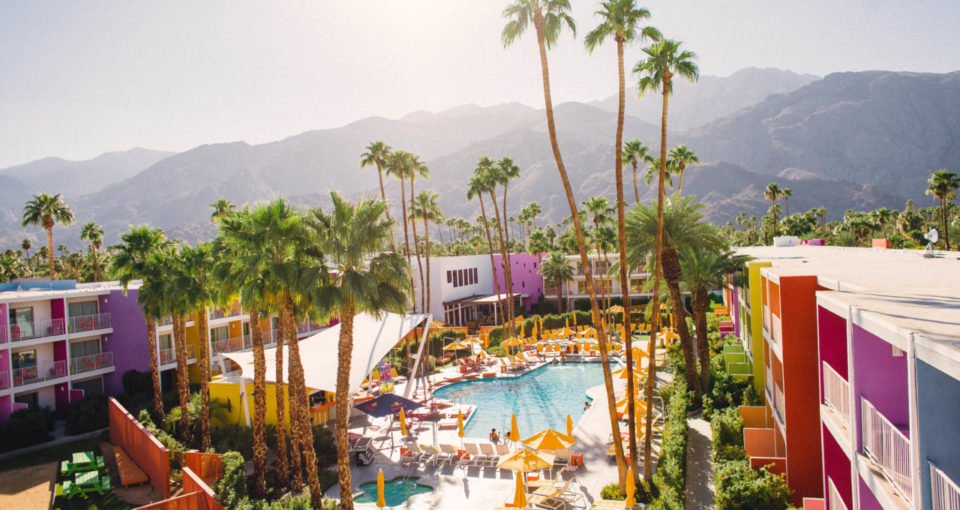 Glide into the shade of the beak-like awning at the entrance to The Saguaro, Palm Springs and you might mistake the ping pong table and cruiser bikes as treats of a startup office. Wander a few steps further into the property to get a feel for its shape and function becomes apparent – a fully enclosed pool confirms the building's motel design, signposting its maturity as a venue for eclectic hospitality.
Palm Springs sits at the an intriguing nexus in time and space, roughly 120 miles from downtown Los Angeles and part of a small renaissance for hoteliers harking back to the town's glamour as a mid-century getaway for the rich and famous. The town is suitably sublime, cradled by booming desert mountains and Sonoran landscape, a calm the likes of Frank Sinatra, Sammy Davis Jr. and Jimmy Van Heusen did their best to disrupt.
What exactly connects Sinatra's era to the current day global celebrity is hard to say, but a pair of developments in the past decade point to the future of Palm Springs and its 47,000 residents. Firstly, since 1999 the electronic music festival Coachella has created a swell in visitors during April, itself duplicating from one weekend to two from the 2012 version onwards. Secondly, a number of hotels have positioned delightful properties in the shadow of the San Jacinto Mountains, updating heritage architecture with a sensitivity toward a mid-century design which happens to be in vogue among discerning tourists.
At The Saguaro's Palm Springs outpost, a range of desert colours work their way out of the building's facade, merely as an introduction to overall aesthetic of the hotel. Flavours continue to flow at the corner of Palm Canyon Drive and Sunrise Way from the pair of in-hour restaurants, El Jefe and Rocco's Electric, which somehow manage to keep up the hotel's generous happy hours (Monday is a "happy day"). Move into your room and a spacious orientation allows for an indulgent stay, with outdoor seating areas looking onto the pool being ample and the prized spots during live music events.
These vintage hospitality plays run in parallel to the more novel health revolution which has built momentum since Sinatra's time (he and his entourage considered drinking to be a valid sport). The dual appeal of wellness and madness is taken seriously at The Saguaro, and just about squeezed into the 244-bedroom hotel. This calculation is clearly part of an efficient balancing act from the Sydell Group who purchased the dwindling Holiday Inn in February 2012.
Morning yoga sessions serve as a metronome for the property, while a 24-hour air conditioned gym fronts the property, practically looking at the entrance area. Iced water on a clothed table in the entrance is practically transubstantiation, infused with fresh fruit throughout the day and further reinforced by the spa where organic creams come with signature treatments.
But without doubt the best aspect to staying at The Saguaro comes in location, within a short jog of the running track at Palm Springs High School, an Olympic-sized swimming pool at Palm Springs Swim Center and a bike shop offering premium road bike rentals, Palm Springs Cyclery. Healthy food can be found across the road at Native Foods and half a mile down Sunrise Way at Nature's Food & Cafe, also a dispensary for an impressive amount of pills that might have pleased Sinatra's crowd.
Head to thesaguaro.com to book in your stay.
Header image: Mark Brooke