The Prestige Hotel, George Town, Penang
Will Ross, March 5, 2023
The Prestige Hotel on the island Penang off Malaysia is a Design Hotel which blends colonial architecture with modern interiors, and must-welcomed HVAC. Set in the UNESCO World Heritage listed George Town quarter of the island, The Prestige serves as a hub for exploring some of Malaysia's best restaurants, and some endurance infrastructure too.
The hotel's 162 rooms are divided into give types, embracing a theme derived from the 2006 movie "The Prestige" – expect illusions. The twin-able standard Deluxe room is 30m², enlarged to 36m² with the Premier Deluxe Suite. A premier Deluxe dwarfs the entry level rooms – expect 42m² of floor space and schedule your in-room stretching.
The 45 m² Loft Suite includes a lounge on the ground floor and a separate bedroom area on the mezzanine level. Finally, a Deluxe Trio room includes a smaller, separate bedroom for parents travelling with a child (auxiliary bed is a single bed) – all in 35m².
A gym is located on the fourth floor – dumbbells and an assortment of cardio equipment are available 24 hours a day without booking or access restricts (key card access). Breakfast is served in a tidy, all-day dining cafe on the ground floor – The Glasshouse. A rooftop pool offers a refreshing break in the day, but it's not long enough for swimming lengths.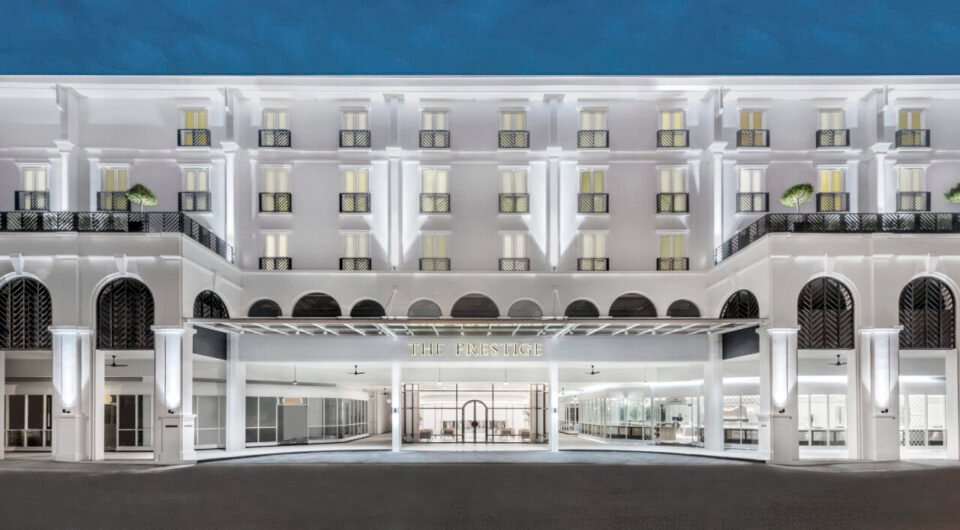 Neighborhood
Nearby restaurants highlights include communal dining at the outstanding Gēn. Around the corner from The Prestige is an unrivalled culinary event at Auntie Gaik (Google Maps) – the heritage Nyonya cuisine restaurant has earned Auntie Gaik a Michelin Star in 2022, an accolade which she takes in her stride.
Coffee can be found at Ome by Spacebar Coffee (Google Maps), while Norm Micro Roastery (Google Maps) is located opposite The Prestige – a brilliantly designed menu in an impressive piece of industrial reclaim.
Training Notes
Runners navigating Penang's roadways will have a hard time of it, so should route to linear running strips and parks. The Municipal Park (Google Maps) and Botanical Garden are two miles due north from The Prestige, offering some shade and hills to enjoy. The sea wall trail is located nearer to the hotel, connecting over three miles of seafront.
For faster, timed speed work there are two athletics tracks in Penang. The athletics track at City Stadium is sadly off limits to runner without issuing a formal request to the city [we're working on this]. The athletics track at USM is more accessible – get across to Stadium Olahraga at Universiti Sains Malaysia (Google Maps) and enjoy their lanes.
Road bike rentals aren't possible on Penang, though there is a large Trek dealer – Lim Cycle Outlet. To organise your rental:
WhatsApp David Xiong on +60 17-465 8646, indicating:
Date:
# days:
Model: Road or MTB:
Accommodation:
Equipment required: pedals, helmet
The rental model is a Trek Road Bike Émonda – Rm250 per day.
A 60-mile circumnavigation of the island includes cycling along the country road Jalan Gertak Sanggul on the south-west of the island. Make a note of SF+ Coffee Roastery (Google Maps), also in the south-west corner of Penang – a good turnaround with speciality coffee.
Swimmers might be excited when sighting the lanes at Penang Sports Club, but it's off limits unless you know a member. Instead, drive west or catch a bus to Permata Sports Complex (Google Maps). Permata's swimming pool has 9-lane, and is a full Olympic 50m pool. Entrance fee is RM5 for an adult, and lockers take Rm0.5 (coin).
Hours of access:
Mon – Fri: 9-11am and 4-9pm
Sat, Sun & Public Holidays: 9am – 9pm
For more information on The Prestige, visit theprestige.my. Review based on staying in Room 211 in January 2023