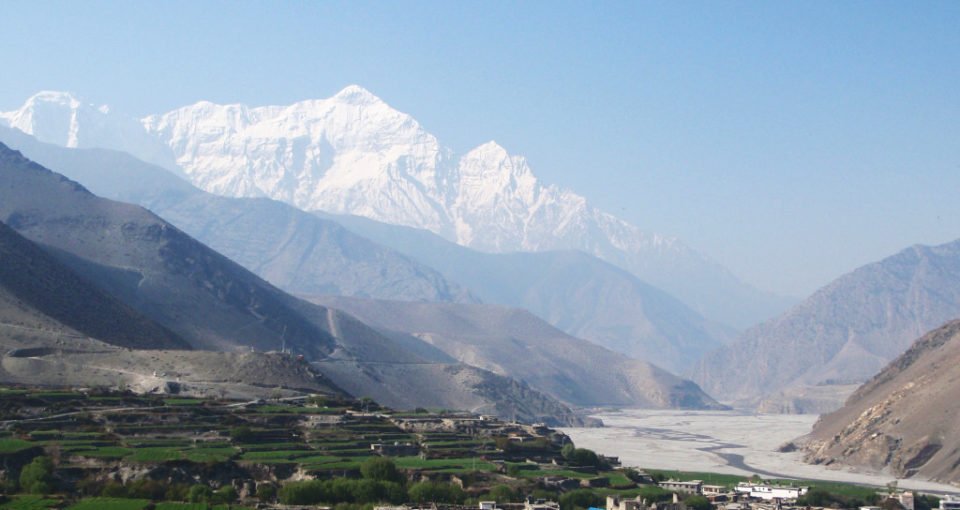 With countless peaks and trails, Nepal is a goldmine for epic trekking journeys. Besides its breathtaking mountains and endless vistas, the Himalaya Mountains have also helped preserve hidden communities to maintain a level cultural diversity that magnifies the adventure. One lost Kingdom is Upper Mustang, found beyond the 8000m peaks of the Annapurna and Dhaulagiri ranges. The region reaches far into the vast Tibetan plateau and a spiritual wilderness that's well worth visiting. I visited the region in 2008 as one of my first trekking experiences, setting my own standards right up high.
Only opened to tourists in 1992 for the high price tag of a $600 permit, Mustang's capital Lo Monthang is just a stone's throw from the Chinese border. The town has been slow to pick up a mass following and has only recently adjusted to the influx of trekking enthusiasts who stumble across this gem throughout the trekking season. The Tibetan speaking inhabitants of Lo Monthang have carved their living out of the land, irrigating small rivers and creeks as they flow from the central Kali Gandaki River to the Nepalese Teri. The settlement has survived since 1380 when the warrior Ame Pal established an independent kingdom underpinned by Buddhist teachings of the Tibetan Buddhist Ngorchen Künga Zangpo.
Archaic settlements like Lo Monthang are scattered throughout Mustang's landscape, defying description by their location and austerity. Trekking from one valley to the next is comparable to time travel; as one medieval society blend into the next, the landscape is studded with vertical cliff faces, home to inaccessible caves where prehistoric Troglodyte populations once lived. Climbing up into one of the small network of caves, I came across the markings of an ancient civilisation that were scratched onto the walls.
Officially declared part of Nepal in 1950, the Tibetan population in Mustang was able to escape persecution during the Chinese invasion of Tibet after World War Two. Legally practicing traditional Tibetan culture, language and religion, Lopas (as they are called) are members of one of the surviving Tibetan cultures, a saddening yet fascinating aspect of this adventure.
The route to Lo Monthang
Currently only accessible by foot and horseback, the route begins at the Northern Nepalese town of Jomosom. As a stop on the popular Annapurna trek, Jomosom is accessible via a particularly bumpy jeep-ride from Pokhara.
From Jomosom the trek takes you up via various villages and then on a steady incline as you begin to ascend towards the Tibetan plateau. As you climb, the backdrop of the Himalayas to your south becomes increasingly vivid.
The trek itself lasts roughly 10 days, with two nights in Lo Monthang. It is also possible to take an alternative route back via the Holy Hindu town of Muktinath, situated at the seat of the Thorang Pass (5416m), the highest point on the Annapurna circuit (something to do if your still have any energy after returning from Mustang).
Logistics
As a particularly challenging trek, all tourists venturing into Upper Mustang are required to have a guide.
I went for the cheapest option and found a young Nepalese guide named Bhakti. The company that he worked for was also able to sort me out with all the relevant paper work, streamlining a burdensome and confusing process; In order to obtain a permit you must firstly pay roughly $30 for an Annapurna trekking permit (very easily obtained in Pokhara), then an extra $600 (subject to change) for an Upper Mustang permit. The Upper Mustang permit is also only applicable for pairs of trekkers, a problem for me as I was traveling solo. If you are alone, the only thing you can do is wait for another solo trekker to apply for a permit.
For more information, contact Bhakti (bhakti8848@gmail.com), who after our two-week trek became a great friend of mine and someone who I would thoroughly recommend as a competent and jovial guide.
When to go 
A particularly popular time to go is for the Tiji Festival, which takes place in the walled capital city of Lo Monthang roughly around late May. The festival is centred around three days of Tibetan Buddhist rituals, focusing on the myth of a deity named Dorje Jono who must battle against his demon father to save the Kingdom of Mustang from destruction. As Upper Mustang becomes a more popular trekking destination, I would suggest to go any other time than Tiji if you want to prioritise on trekking over the festival.
In June, July and August the intensity of the sun becomes too great and from late November to the beginning of February, some of the mountain passes are still blocked by snow.
Getting there
The most accessible border crossing is from the Northern Indian town of  Sunauli that heads into Nepal at Bhairawa. Kathmandu International Airport is the nearest point of access by air. To get to the start of the trek responsibly, try to take public transport or jeep where possible. Not only is this cheaper, but often more enjoyable, as Bhakti and myself found out as we traveled by jeep to Jomosom, stopping frequently to pick up and drop off locals from obscure locations.
Trekking responsibly not only includes leaving Mustang with whatever waste you enter with, but also having the capacity and knowledge to respect the local people that you encounter in Mustang.
To prepare yourself adequately I would recommend reading Michel Peissel's "Mustang: A Lost Tibetan Kingdom".