Finding Fire: Swiss Alpinist Ueli Steck Back on Himalaya
Will Ross, February 18, 2014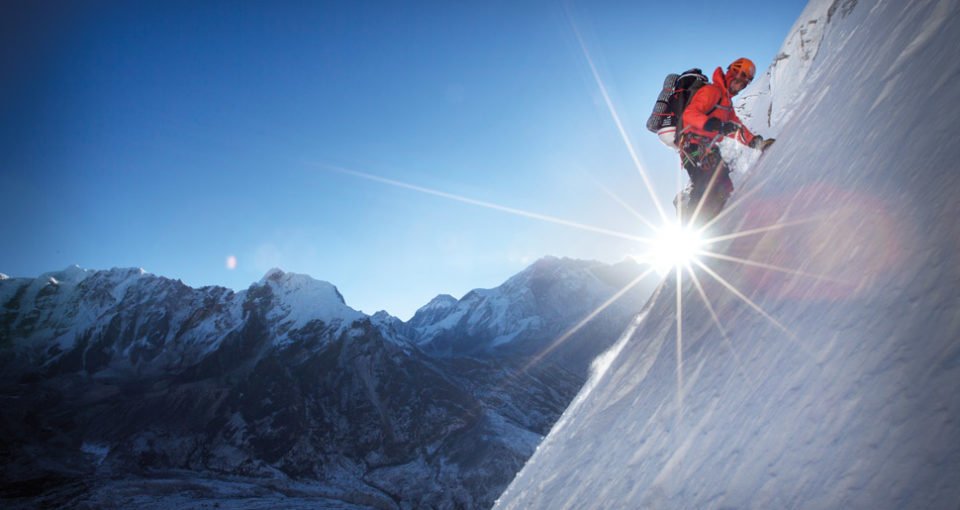 When most of your time is spent bounding up jagged, snow-covered peaks at blistering speed, it's hard to imagine that your life may be ended in the less perilous surroundings of a campsite.
After a widely documented and highly controversial incident sparked off at Camp 2 on Everest in April 2013, Swiss alpinist Ueli Steck ended a project to summit the world's highest mountain and nearby Lohtse, returning to Switzerland to take stock. What is most remarkable about Steck's handling of the event is how he responded, claiming back form in the best way by taking on another 8000m peak in October of the same year.
Nicknamed 'The Swiss Machine', Steck is known for his outstanding ability in alpine free climbing. Since setting a number speed records up Europe's highest mountains, the last few years have seen Steck focus on climbing in the Himalayas to peaks in excess of 8000m. The joint ascent of Everest and Lohtse was one of Steck's major high altitude bids for 2013.
From Everest, Steck returned home to Switzerland to recover and plan his next move. After deciding to take on the south face of Annapurna, the least climbed peak above 8000m, the climber began training from his base in Interlaken.
Steck originally got into alpine mountaineering through climbing but has learned to increase his trail running output to ultra marathon levels. In preparation for a day-long expedition such as Annapurna, he'll clock between 100 and 180 kilometers of running per week. Though he mostly trains alone, Steck points out that many of his complex projects rely on a team, both back at home and on the mountain.
"There are a lot of people helping me. It's not a one man show. There's someone who manages my office when I'm away, someone who works on my training. There's always a team around me. You can learn a lot through having a team. My coach comes from an endurance sport [cross-country] – I've learnt a lot from working with him. But in the end it's you, you're going to put it all together but you have to get influence from the right people."
For the Annapurna ascent, Steck was accompanied by team mates Dan Patitucci, Jonah Matthewson and Don Bowie who helped in training and kit preparations during the weeks leading up to the attempt.
Just after his thirty-seventh birthday, Steck and the team on Annapurna left basecamp at 5000m. Canadian climber Don Bowie continued with Steck until the Bergschrund, a particularly technical part of the south face. From this point, the Swiss alpinist continued the climb solo, easing through the section to get to 6100m where the team had left some equipment – rope, tent, cooker and food. Beyond 6600m, the wind picked up until Steck made it to the upper headwall where he took shelter and waited for the weather to settle. Once the sun had descended, the wind dropped and Steck made it to the 8091m summit, stopping briefly before returning to basecamp within 28 hours of setting out.
Two weeks after the successful ascent, Steck blogged on his website about the impact of the project.
"Now that it is over and the wall has been climbed, my focus is gone. It is very difficult to explain my feelings, only that I was at the limits of my physical and mental ability. To go to such limits changes your consciousness and so I need some quiet time to recharge my energy and strength, and to reflect and find my way in the "After"."
When it comes to climbing, there is a kind of reinforcing strength in what Steck does. While his alpine ambitions on Everest in April at least played a part in the troubles at Camp 2, they also acted as a major force in getting the Swiss alpinist back on the Himalaya. Perhaps it's the altitude or the complexity of the ascent, but it is certainly the speed. For when it comes down to Steck, climbing has always been a sport, "It wasn't just about being out, and time always matters when you're in the mountains."
Photo: Freddie Wilkinson