Squamish Sea to Sky Trail, British Columbia
Will Ross, May 30, 2017
Cut a line out of Squamish toward Vancouver and you'll soon find yourself beneath pristine trail running terrain overlooking the Sea to Sky Highway. Though most international visitors heading up the valley to Whistler hurtle past Shannon Falls and its burly neighbour the Stawamus Chief, these two impressive features are well worth discovering.
If you're in Squamish for a short visit, or are even just passing by, the Sea to Sky Trail presents an achievable route to the Summit Lodge and panoramic views overlooking the logging town and Howe Sound. Its conventional start point is at the base of new Sea to Sky Gondola, an impressive piece of kit that shoots visitors up to the Summit Lodge and its fully stocked bar. I planned to head down using the gondola, diving beneath its shadow just after 8am to get up before temperatures rose.
The total vertical gain of Squamish's Sea to Sky trail is 920m, across 7.5km of trail. Though the trail is very well marked, its routing is creative with a scrambling, swift trail sections and via ferrata all part of the journey. You'll mostly be working through covered trail, with a large chunk along plunging waterfalls that continue over the larger Shannon Falls.
Whether you're going slow or tackling this ascent at speed, make sure you plant yourself in a pair of solid trail running shoes or hiking boots. Sneakers are two soft for this rugged terrain and you'll find yourself sliding off tiny features which are the glue and glee for a good pair of trail shoes. (Full review of my Salomon S/Lab 6 6G to come.)
Since I was coming into the trail hot from a capuccino in downtown Squamish, I took a left after the campground and proceeded to heave up a steep set of natural and artificial stairs, on the backside trail of the Chief. This seemed to be a popular route, directing hikers the three peaks that sit atop the Chief, at 603m, 651m and 702m. It was very tough going – with those kind of stairs that aren't visibly vast, but just oversize enough to make you feel like you've shrunk to the size of a 5-year-old.
After about 200vm of climbing, the trail arrives at a fork where you can take a right to the Sea to Summit / Upper Shannon Falls. The brief description of it being "underdeveloped" must be outdated – the trail is marked all the way to the Sea to Sky Gondola and was very passable. If you're moving at speed, simply follow your momentum and the trail will guide you up the hill with its natural meanders and cambers.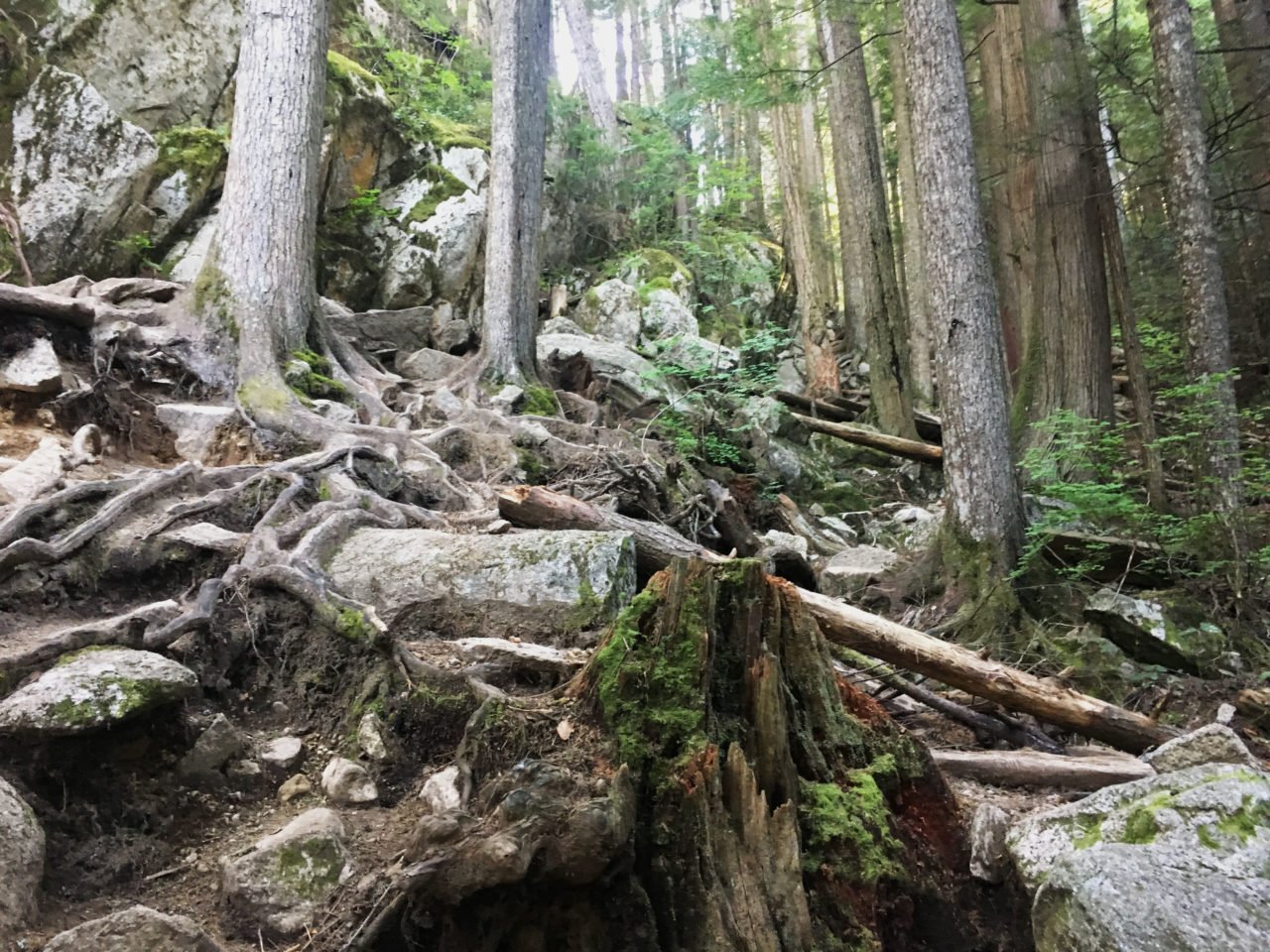 As you make this traverse across the mountain, you'll notice that the Sea to Summit Trail has markings indicating the distance to the top (only horizontal metreage). Until the 5km mark, the trails are narrow and enchanted, with a wider trail making up the final 2.5km. Shortly after starting this last portion, you'll have a choice to go up a steeper section (the left turn) or take a right up a gentle ramp to the Summit Lodge.
I took a right, considering the left fork to be Part II of the kind of due diligence which my quads had served at the bottom of the hill. Fortunately, this final section allows you to run continuously to the top, and pay respect to another outstanding piece of rock, Klettergarten.
The final shuffle covers 3.5km of 4-6% flat trail, just enough to justify grabbing freshly baked cookies and a lift down the gondola from Summit Lodge / Plaza.
Here's my Strava mapping and if you have a smartphone, it's worth downloading the Sea to Sky from the App Store or Google Play before you set out. You can purchase your downward gonola ticket for $15 at the lodge (card accepted).