The Society Hotel, Portland
Will Ross, December 18, 2017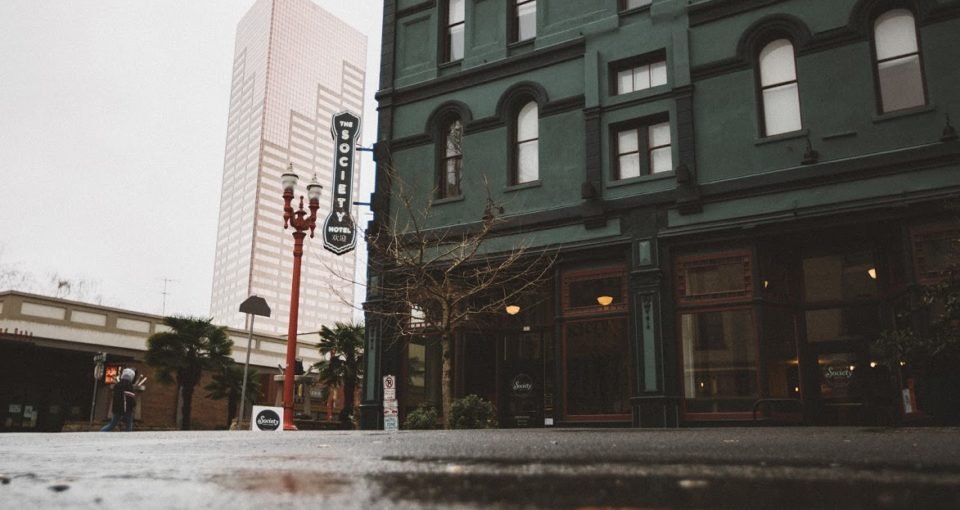 Portland's Chinatown is now the unlikely location of an exceptional design and engineering development, carved out in the shape of The Society Hotel, an innovative newcomer to the realm of boutique hotels. The recent renovation of the 19th-century Mariners Building is the work of four hoteliers and a spirited team who have combined the calculated spheres of advanced energy systems and clean, intuitive design. Now open for over three years, the refined LEED property has become is a hub for a broad range of travellers to the Oregonian centre of cool.
The great lengths taken to restore the 1881-built inn's faded interiors and furnishings were matched by a healthy list of updates. Air flow throughout the property is now managed by five pumps and extensive ductwork, meaning that ceilings retain a historic look while ensuring air regulation across all rooms. Essentially this means an overheated pocket of air in one property simply feeds into another cavity without the need of the heat pump, a system known as "variable refrigerant flow" (VRV).
Efforts have also been made in energy and water, as well as the strength of the building. Water fixtures have been designed to ensure that guests need not wait more than a 5-second for hot water, with a pressure pump that turns on and off in relation to hot water throughout the pump. Renovation also included a full seismic upgrade involving 454 metric tonnes (one million pounds) of new concrete to reinforce foundations and walls, also providing additional foundations for the placing of a 5.55kW Solar PV system on the roof. The role of solar is minor, contributing around 4% of the hotel's annual operating costs.
The renovation has been the joint effort of four owners who each bring a unique contribution to the project. Jessie Burke enters with a background in hospitality and can be blamed for the intimate community feel at the property. Meanwhile Jessie's husband, Jonathan Cohen, used to work in aeronautics so has contributed that experience to The Society Hotel through integrating an impressive set of new organs (outlined above). Third partner Matt Siegel owns a general contracting company specialising in historic preservation, so helping the upgrade with cosmetic improvements that retained the heritage of the building and its cast-iron frontage. The construction and real estate expert is Gabe Genauer, a vital component in ensuring the listed four-storey building could undergo such a massive update in 2012.
The most unique offering is a sturdy bunkhouse, the kind rarely seen in hotels but rather dreamed up in the cosy creative heyday known as childhood. The Society Hotel have clearly gone to great lengths to stay in keeping with its history as a resting place for mariners in the late 19th century, inventing a bunk experience that is comparable in quality to the rest of its property. Robust ladders with sturdy frames and wide rungs enable a three-tiered bunk system, with each bed fitted with a spacious lockable storage area as its headboard, and plenty of space overhead.
A tiny detail which demonstrates the full thought of the design process is the dim lighting system which not only spotlights major obstacles, but also provides enough ambient light such that guests don't ever need to flick on the lights and alert jet-lagged travellers. Further, draw-string curtains around each bunk block out light and extend with generous length to a point below the comforter.
Other more obvious bets are the bunks' solid construction with zero creaking or shaking (it does help that the ladder is propped up against the wall). Head upstairs to use one of the three bathrooms and a shallow set of stairs inspires a chalet-like ease of ascent, drifting you to and from your ablutions with stately care.
Moving into The Society Hotel's private suites and formidable design is extended. Plywood beds frames allow for storage beneath your mattress, with a generous foot of clearance beneath which you can kick any loose traveling items. Windows have been reinforced to improve insulation and muffle noise from the street, two salient principles for window manufacturers, Indow, also from Portland. Private bedrooms follow a similar set of principles, with the difference that their bathroom is shared with other guests.
A communal area around the reception includes a pair of comfy sofas and cafe seating. The area is serviced by a healthy all-day menu and of course ample supply of coffee and beer. This is matched by a rooftop deck that's heated in the winter to extend Oregonian sundowners whatever the weather. 360-degree views reach from the nearby Lan Su Chinese Garden, over the Willamette River and over to the Cascade Mountains and Hood River's peak, 50-miles to the west and viewable on clear days.
The Society Hotel are already deep in the burgeoning hotel scene in Seattle and are looking to open a new venue in the more rural Bingen, Washington for May 2019. If their work in Portland is any measure of how they'll apply local engagement to a commercial project, their Bingen project will provide hoteliers with a informative model about developing "boutique" in more far-flung destinations.
Read more about the history of The Society Hotel, and book your next Portland stay at thesocietyhotel.com.