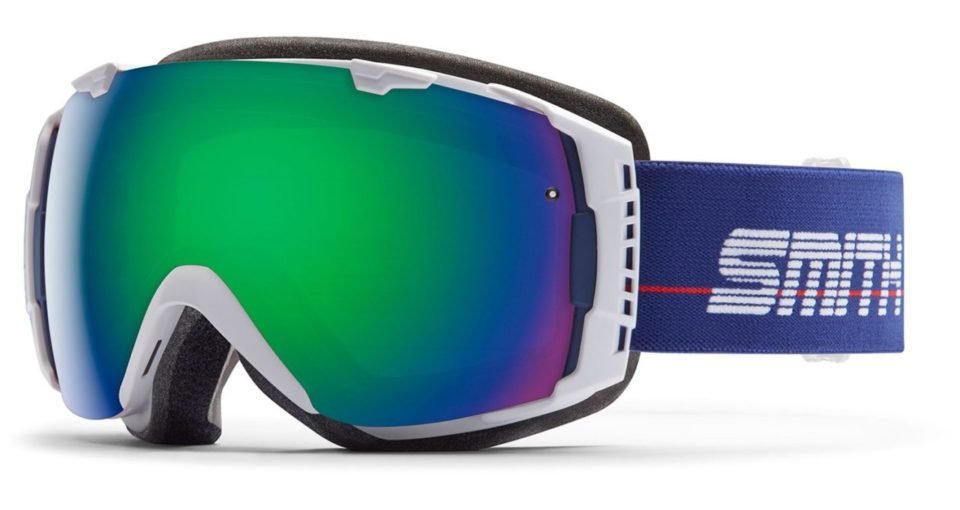 As a number of brands jostle for a leading stake in performance optics, Smith have done well to surpass expectations in design and sourcing. While Smith products have always been designed for performance excellence, the brand's recent attention to the environmental side of manufacturing is commendable. As an example of this commitment, the I/O is one of the signature products in Smith's ever-growing Evolve range. By using bio-based Pearlthane and recycled urethane, the I/O helps boost the ethical credentials of the global brand. Given the attention put into the design of the goggle, I got hold of a the Glacier Gray Legacy design to test this season in Colorado.
One of the major features of the I/O are its interchangeable lenses, an important consideration for long days on the mountain in varying light conditions. Using the I/O, I could remove, replace and secure a lens in seconds, forcing me to rethink the way I coordinate lens technology on the move. Quick adjustability is reinforced by the handy QuickFit Strap Adjustment System which enables you to unbuckle the goggles without having to elbow your way to a perfect fit.
Another feature that aids direct visibility can be found in the rigid design of the frame. Fitting flawlessly into any Smith helmet, this snug setup gave me a wide and clear angle of vision without sacrificing comfort or design. Though larger than your average goggle profile, the I/O's spherical carbonic lens with TLT optics minimises distortion to create that feeling of liberation as you hurtle down the mountain in stealth.
To prevent fogging, Smith have planted a small pore in the corner of the goggle's lens, allowing air to circulate between the frames (see product image, top right on lens). Though discreet, the pore is in fact part of a patented 'Vaporator' lens technology that removes moisture from the goggle cavity. The vent system did still prove ineffective on the most sweaty of hikes, the ultimate scenario that goggle manufacturers have not yet managed to overcome .
The only flaw I experienced with these goggles was the durability as the strap connection point snapped when I took a hard impact at the beginning of January. Given my state afterwards, I'm surprised the goggle came out the other end in such a cheery state. The product does have a lifetime warranty, affirming Smith's confidence in the quality of the goggle.
While a number of brands channel their energies towards big lenses and minimal frames, it's important that Smith gathers support for their Evolve range, if only to differentiate the brand's values from those of others. As a reflection of this commitment, the I/O represents a good balance between practical performance and ethical practice. Keep an eye out for them on the shelves this season to ensure your adventures have a wide and clear perspective.
For more information on lens and frame variations, visit smithoptics.com.