Sea Kayak Northern Helgeland, Norway
Will Ross, August 10, 2017
Thrown up on the left hip of Norway, straddling the Arctic Circle, the district of Helgeland has been suitable chewn up by the Norwegian Sea. A weaving contigious coastline connects with thousands of islands that float delicately off the coast. With such a majestic backdrop, varying around every corner, Helgeland is a popular destination for sea kayakers attempting both day trips and multi-day island hopping expeditions.
A natural starting point in the region is Mo i Rana, one of the administrative centres in Helgeland from where a number of island clusters can be reached. To the south, Brønnøysund and Sandnessjøen form two launch points for coastal tours, with the UNESCO-sanctioned Vega presenting the most coastal and sizeable island to visit in the district. West and slightly north-west of Mo i Rana are another two other kayaking routes, around the Nesna Islands to the west, and a second grouping to the north, around Tonne and Rødøy.
A route through the Nesna Islands includes a scattering of small patches of land, Tomma, Hugla and Handnesøya. The western shore of Tomma is the furthest point in the tour, and also where you can find accommodation at Tomma hytteutleie. Sunk into the north shore of Tomma is an attractive bay, Finvikvågen. On your return, the northern shore of Nesna is home to Havblikk Camping Nesna where you can spend the night.
Hav & Fritid at Nesna and Helgeland Kajakk on Tomma offer courses and guided excursions, for beginners as well as advanced kayakers. You can also rent kayaking equipment from them if you hope to self-guide.
A Tonnes-Rødøy navigation takes you further north, within view of some of Helgeland's signature topographical and a neat shuffle into the outer margins of the Arctic Circle. You'll need to drive up Fv17 to get the launchpoint from Oscarbygga pier, or else jump on the bus.
Work your way through the two fjords, Melfjord and the Nordfjord to capture a view of the Svartisen Glacier. At Vikingen Island, you're passing into the Arctic Circle, while the mountains of Hestmannen ("the horseman") and the 440m high Rødøyløva ("the lion of Rødøya") offer land-based hikes.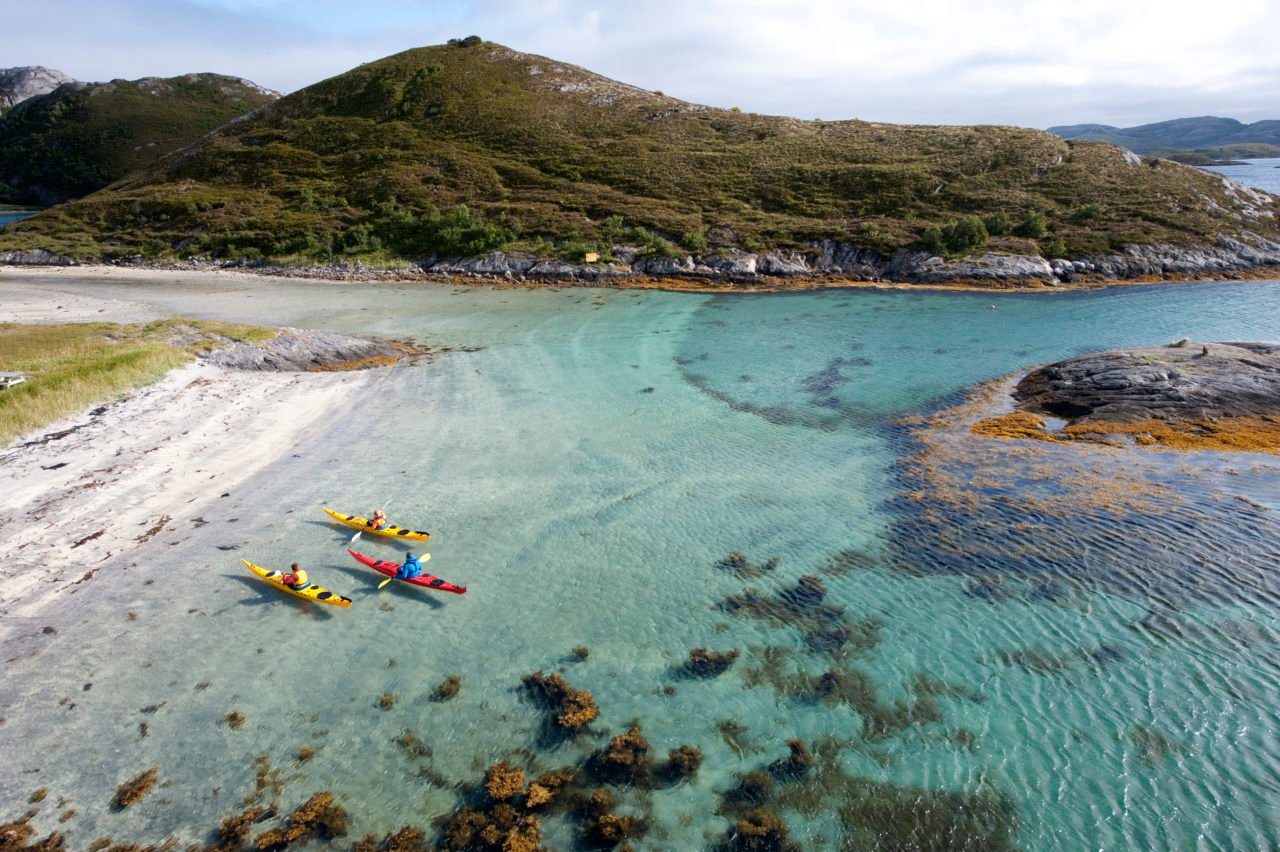 Breisundet is a lunch spot at Klokkergården, where you can also pitch a tent. Rana Spesialsport can fix you up with equipment for your Tonnes-Rødøy kayak.
If you're in the neighbourhood and want more land-based activities, think about hiking the enchanting Seven Sisters from Sandesssjøen. This is a single-day hike, pulling you high above the islands. Allegedly you can see thousands from their peaks.
More information on these kayak routes and kayaking in Helgeland. Header photo: Terje Rakke.