Savannah City Guide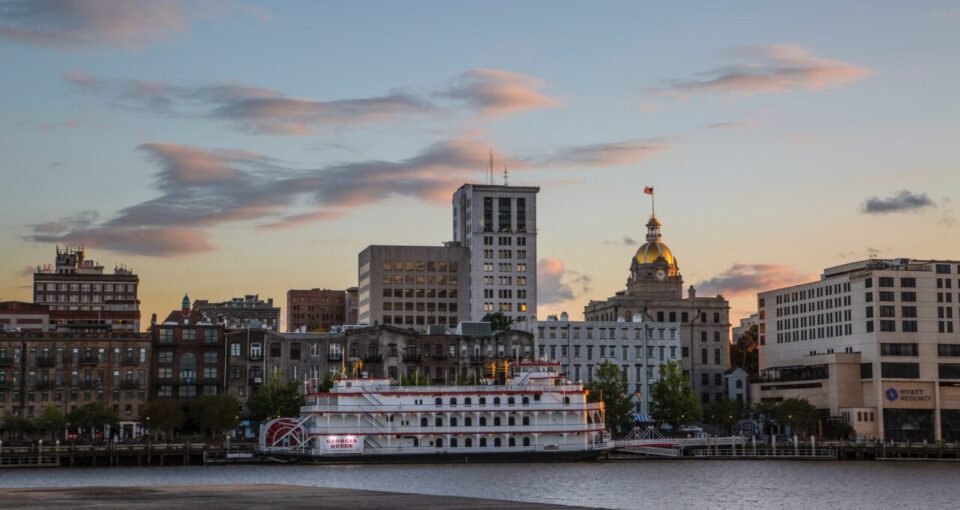 Savannah, known to many because of its rich US history or movies like Forrest Gump, also offers a great destination for training purposes. If you're one of those athletes, who love to train in the heat, the southern location along the coast won't disappoint. The best months to visit are March to July or late-September to late-October – if you're not specifically looking for heat training. Nevertheless, you might want to wake up early to avoid the burning midday sun. With Tybee Island being only 18 miles from downtown, the historic city also offers the southern, beach-bound feeling.
To make the most of this Savannah city guide, note a few patterns and features. Facilities are broken into categories according to their running, cycling or swimming focus, with a separate section highlighting quality gym facilities in Savannah. Exact hours aren't indicated unless very restrictive, and prices are also omitted in the knowledge that no listed facility charges more than $20 for day access. Instead, a full directory of telephone numbers is provided in the final Directory section, so you can call ahead to confirm your intended training time. The place names in Directory link directly to the venue's Google Maps profile – click on the venue's name to generate directions. Finally, the Sleeping & Eating section towards the end of the guide provides an insight into good places for sleeping and fuelling during your time in Savannah.
Orientation & Logistics
Savannah's city structure makes it easy for anyone to find their way. The streets are laid out in a grid, with 22 squares which provide shade and invite visitors as well as locals to walk instead of drive. Even on days with skyrocketing temperatures, the city is pedestrian friendly so there is no need to rent a car if you're visiting. In the heart of the historic district is Forsyth Park and from there you can either go towards the river, which is very touristy and crowded especially during holidays or head towards the south. There you'll find the locals and students in the Starland District which offers lots of places to eat, drink and socialise. Savannah is located along the Savannah river which is the natural border to South Carolina.
With temperatures rising up to 32 Degrees C, the summer month feels even more oppressive because of its high humidity. The temperatures overall typically won't drop below 6 degrees which means you won't have to worry about snow or ice at any time of the year.
Running
Running on a track in Savannah is tricky. The closest one is at Savannah State University also called the Wright Stadium. It is a 5 min drive from the city center or a 15 min bike ride. There you'll find a 400 m tartan track in great conditions. You might have to check in with the Track and Field head coach though, to make sure you are granted access.
Another track, not too far away, is located at the Calvary Day School. Even though it is closer to the historic district of Savannah it is harder to plan your workout since the loop is slightly less than 400m and on concrete. Nevertheless it is a great place for a Fartlek or Intervals if the GPS on your sport watch is very accurate.
Probably one of the best places for any type of running workout is Daffin Park. It is only a 5 to 10 min bike ride away and offers the perfect shaded, less crowded and measured loop, which is also great for tempos. To find your way, just take any street towards the south (away from the river) and turn left on Washington Street. The loop around the park starts at Waters Road crossing Washington and is very obvious to discover, once you pass it. It is a 2.4 km (1.5 miles) loop around the park and features a tartan surface next to a paved path. Along the loop, every 400 m (¼ mile) are marked and provide the perfect conditions for a successful workout.
Finding a hill to train on in Savannah is nearly impossible. Since the city and the surrounding area is like Florida, pancake flat, the closest you can get to a hill are the bridges which connect the roads over the river or creeks. If you're brave enough you can run across the bridge to South Carolina which is roughly a mile in total and has a marked path on the side. Just make sure you don't go during times with heavy traffic since it can get a bit scary with big trucks on one side, and the river on the other. Nevertheless the view from top of the bridge is breathtaking. Pro tip: Try to make your way up there during sunrise or sunset.
If you're thinking about a great loop for a long run, head out to Daffin and then run further to Savannah State following E 52 Street. At the end you'll get to Thunderbolt where you can run along the wilmington river towards the Bonaventure Cemetery and then back to the city center. Depending on where you start it can be a 20 to 26 km run.
If you're looking for some running company, check out the Fleet Feet Running Club. They run every Tuesday and Thursday at 6:30 pm and Saturdays at 7am. Another great running group is organized from Perc Coffee group runs. There you can meet every Tuesday and Thursday at 6:30 am the legend Patrick Reagan, a local professional ultramarathoner.
Cycling
If you're looking for an out and back route with a beautiful destination, a ride out to Tybee Island won't disappoint. Just head towards thunderbolt, and hop on the 80 freeway and follow it all the way through Talahi Island towards Tybee. You can also hop on E President street in case your hotel is close to river street. The street hops on Island ExpressWay and takes you all the way down to the island. An out and back loop is around 60 km. It is completely flat and with no stoplights once you're out of the city.
Another great loop follows along Louisville Road and turns right on Chatham Pkwy and then left on Ogeechee Road. Then turn on Little Neck Road to the right and make another right turn onto Pine Barren Road. From there you can ride all the way back on State Route 26 and turn back right onto Louisville Road. The loop is 80 km long and also pancake flat. Get prepared for some stop lights and heavy traffic but overall it is a great loop to go fast.
Sadly there are no hills for workouts around Savannah. You would have to drive at least two hours to get to a hilly area so you might be better off, doing a session in the gym in order to get a good and hard effort on the bike.
The local bike shop Perry Rubber organizes several group rides with different routes. You should be able to hold at least a pace of 29km/h but you can decide which group you join for which route. The rides range from 50 to 80 km and are a great way to get to know the locals and have some fun during long hours of training.
If you decide to travel without a bike and need a rental (road bike), Trek is your spot. There are several other rental locations closer to downtown but none of them rent out road bikes. Just call ahead and make sure they have your size available.
Swimming
The best place to get a good pool session is the Chatham Aquatic Center. It is located 15 minutes by car and is the closest public swimming pool to downtown. Just take the Harry S Truman Parkway and exit on Eisenhauer Drive. The pool offers several 25-yard lanes which are turned into Olympic-distance lanes (50m) on the weekends. Just make sure to check the Chatham Aquatic Center Facebook page before you head there, to make sure the pool is not closed for a swim meet or classes.
During the summer months, the ocean also offers a great spot for some open water sessions. Just be prepared for some waves and muddy water. Also be aware that during the warmest months, August and September, jelly fish are most active so a wetsuit is always a good idea. The best spot to get parking and avoid an overcrowded beach is at the Tybee Island Light Station and Museum. From there you have easy access to the beach. Another tip is to swim along the coast but avoid the pier since fishing is very popular there.
If you're looking for a group to join during your stay in Savannah, check out the Savannah Swim Team. They offer practice sessions every day of the week, except Sundays according to your fitness level.
Gym
Planet Fitness is another great gym. It is much bigger than Fitness on Broughton but located further out on Eisenhower Drive which is a 15min drive from historic downtown Savannah. The perks are, you have any machine or equipment you need, can choose from a vast array of gym classes and even have access to an app which gives you more ideas for new workouts.
Sleeping & Eating
No matter whether you're finishing a bike session, run or swim, if you are in desperate need for coffee, Foxy Loxy is the spot in Savannah. Located on Bull Street, it is easily accessible regardless of where you decide to end your training. Not only do they provide all your favorite coffee drinks to give you some energy back, but they also have amazing pastries, tacos, and salads for when the hunger kicks in. Plus, it has a nice courtyard where you can also take your bike without collecting weird looks. Even some of the baristas are passionate riders so you'll feel like a celebrity if you enter with your cycling bibs.
Another great coffee spot is Gallery Espresso. Conveniently it is located right next to Perry Rubber Bike Shop also on Bull Street, where most of the social rides start and end. They also offer outdoor seating, but the interior is a classic. It features paintings of local artists, and wind your heart with their pastry specials and comfortable seating.
It you're looking for a great spot to get good food, Savannah won't disappoint. Downtown is packed with delicious restaurants but one that stands out is Coco & Moss. It is located near in the heart of Downtown, near Broughton Street and offers hand rolled sushi, the most amazing poke bowls, and handcrafted cocktails if you're in the mood to celebrate. The fresh and chic boutique eatery offers a variety of healthy meals for locals and tourists alike.
For a special meal and one of Savannah's gastronomical highlights, look to The Grey. The converted Greyhound Bus Terminal has been a labor of love for Mashama Bailey who cut her teeth in New York before returning to Savannah. Accolades from James Beard chef awards and Netflix's Chef's Table haven't distanced Mashama from a core commitment to home cooking. Find dished like Hoppin' John (rice and vegetables) and Country Captain (curried chicken) on the menu, and bring your appetite.
If you're the first time in Savannah, make sure to visit the pirates house located on one of the most historic spots of the city. Even though it is very popular amongst tourists, it offers authentic southern food and drinks and preserves the history of the town. Established in 1794, the historic restaurant and tavern even displays the old structure and celebrates its past. Make sure to put in a reservation early enough, since it is quickly booked out.
Another great place is Collins Quarter, which even has two locations in Savannah. One on Bull Street cross Drayton Street and the other one in the center of Forsyth Park. No matter if you decide to go for breakfast, lunch or dinner, their menu won't disappoint. The elegantly designed café integrates Australian Café vibes in the historic atmosphere of Savannah. Pro tip: If you're into salmon, make sure to try the Everything Bagel.
For all the Coffee Lovers out there, Henny Penny is a must visit. It not only offers the most amazing coffee, matcha, chai beverages, but also has a art space where you can find cute projects, and even bring your kids, to craft their own artworks. Additionally, they serve top notch baked goods, which make you come back for more.
Another great coffee shop to try is Perc Coffee. Even though it is located a bit further out on East Broad Street, it is worth the drive/walk. They roast their own beans and contribute them throughout Savannah, while focusing on sustainable and ethical working conditions ranging from the farmers to the distribution. Their mission to share good times and awesome coffee is omnipresent form the moment you enter the shop. Also, like mentioned earlier, they offer group runs with the local legend Patrick Reagan so make sure to check out their social media for updates.
If you're looking for the ultimate Savannah experience and money is less of an issue, there is nothing like a stay at the Mansion on Forsyth Park. Not only do they amaze with their design inspired by European elegance mixed with southern charm, but they also offer live music, an art gallery, a spa and even a cooking school. Their restaurant and the locations are an additional bonus if you're deciding to give it a try.
Another place with a great location is Desoto, located on Liberty Street. It not only offers luxurious amenities but also a rooftop pool and authentic southern restaurants. There, you can experience the local flavors of Savannah local farms, artisanal bakeries and fishing docks. The locally sourced ingredients and chef-inspired cuisine is a must try even if you're not staying at the hotel. If you have some time and energy during your training sessions left, make sure to visit the art gallery within the hotel. DeSoto partners with the Savannah College of Art and Design and showcases impressive work from their graduates and emerging artists.
Directory
Calvary Day School: +1 912-351-2299
Chatham Aquatic Center: +1 912-652-6793
Coco & Moss: +1 912-999-8697
Collins Quarter (Bull Street): +1 912-777-4147
Collins Quarter at Forsyth: +1 912-298-6544
Fitness on Broughton: +1 912-236-3331
Fleet Feet Savannah: +1 912-355-3527
Foxy Loxy Café: +1 912-401-0543
Gallery Espresso: +1 912-233-5348
Henny Penny Art Space & Cafe: +1 912-328-5497
Mansion at Forsyth Park: +1 912-238-5158
Perc Coffee: +1 912-209-0025
Perry Rubber Bike Shop: +1 912-236-9929
Planet Fitness: +1 912-250-5995
Savannah State University (Track&Field Coach): +1 912 358-3070
The DeSoto Savannah: +1 833-635-4268
The Pirates House: +1 912-233-5757
Trek: +1 912-239-0588
---
Email Will Ross (will@zafiri.com) with questions or comments, and have a browse of other Zafiri City Guides. This Savannah, Georgia city guide was last updated in August 2022.
Thank you to Lemi Wutz for contributing