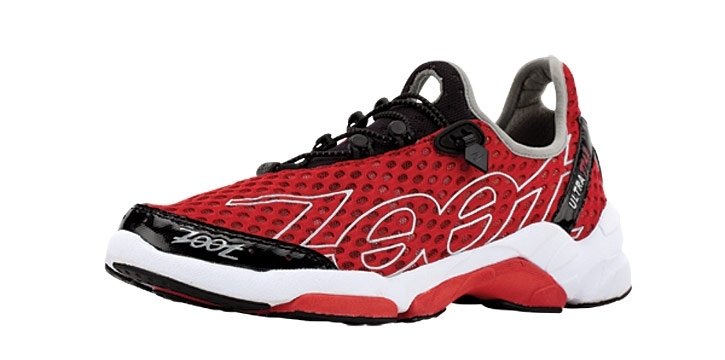 Finally there is a company that realizes triathlon is not just swimming, biking and running crudely pasted together, but a complete sport all to its own. No longer are we doomed to use "hand me down products" from traditional sports as Zoot, one of the few triathlon specific brands, has created products definitively designed to perform under triathlon race conditions. Even though they are best known for their competition wetsuits, they also make triathlon specific cycling gear, travel equipment (race bags, airplane luggage) casual apparel and footwear. I got hold of pair of the TT 4.0s for my winter training, here's what I thought.
As the TT 4.0s emerged from the package I gazed at them with one eyebrow cocked and gave them the sort of look that I usually reserve for pretty girls and fast cars. "Man, these things are Siiiiiick!" I muttered under my breath. Those were the smartest words I could put together in their shockingly red presence. In my possession, these shoes will never be the first to cross the finish line, nor will they ever propel me to break that coveted 2 hour mark in an Olympic Triathlon; but damn they are going to make me look good trying. If you are a triathlete, you are well aware that if you place somewhere between the 5th and 95th percentile, this is really the most important thing. If you disagree, try to count the number of oversized cheques you've won.
Features
As you might have guessed by now, Zoot shoes are designed specifically for triathlon. Does that just mean that they are more expensive than a normal shoe? Well, that too, but they have a couple of features that will take minutes off your T2 time. First of all, they are designed for sock-free running. No longer will you have to decide between finishing 2 minutes sooner with blood oozing from between your toes, or sacrificing the time to put on socks. On the inside they feel more like slippers than shoes. The lack of a tongue and prominent seams give a soft uniform upper that creates very little friction when running.
Even though they are equipped with elastic laces, the glove-style upper holds your foot even without tightening. Zoot have made a few excellent design changes from older models by adding two finger holes, both above the laces and at the top of the heel, allowing for quick entry and a wonderfully snug fit. I have been training in my old Zoots ever since the barefoot running craze took off around two years ago (no longer is it considered cool to train in heavy wedge-shaped cushiony things) and have been quite impressed with their durability. I expect the same build durability from the TT 4.0s.
Weighing in at 8.7 oz, the TT 4.0 is a great all around race shoe. If you flip them over you will find a carbon fibre chunk imbedded in the sole. You will have to check out Zoot's blog to find out exactly why it's there but it sure makes you feel faster, and your friends don't have it.
Just put these shoes on your feet and I dare you to not start sprinting. When, about 3 miles in, you realise that you can't run a 35 minute 10k and turn around completely exhausted wondering why you can't keep pace, take heart in the fact that at least you looked fast…even on the way home.
Useful information
UK RRP £90 (men's and women's) | US MSRP $140 (men's and women's) | In South Africa contact Troisport
Zoot Dealer locator
Craig Fellers is based out of Santa Cruz where he is the owner and optometrist at Midtown Optometry.