Thule Paramount 24L Backpack
Will Ross, January 1, 2015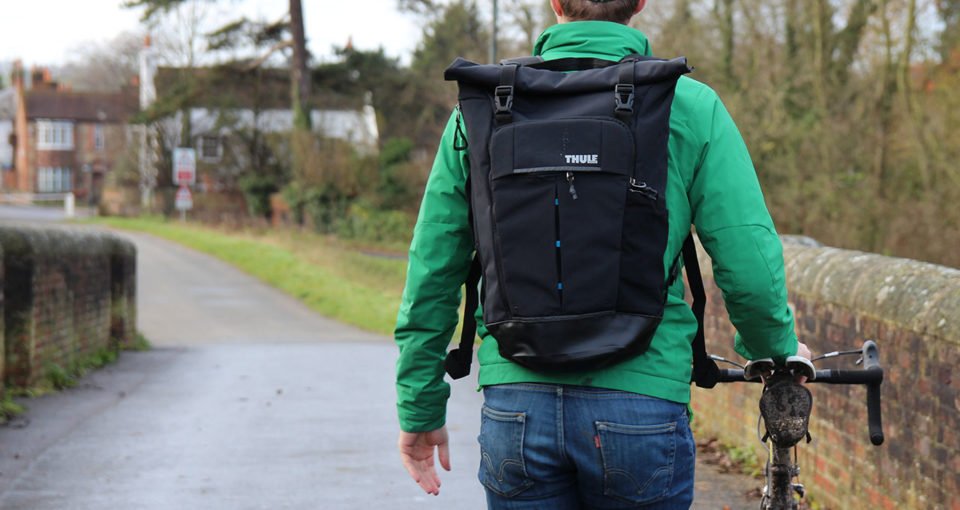 Known for their roof racks and for being impeccably Scandinavian, Thule also put together a comprehensive collection of wonderful packs that work for city and outdoors use. Built to be robust and ergonomic, their small day packs come in all shapes and sizes with offerings for photographers, regular commuters and adventurers alike. In an effort to plug a gap in my pack armoury, I went for Thule's Paramount to review something that would keep my belongings dry and secure during cycle commutes and city shower shuffles.
The Paramount sits like a regular backpack with two straps and comes in three sizes (24, 27 and 29 litres), all differing in configuration according to their capacity. I got hold of the 24L version to see how much Thule could pack into the rough profile of your regular backpack. As I removed the bag from its packaging and dutifully handled its masterpiece labels, it became immediately clear that the design details ran deep with this one.
I'll start with loading and unloading, two tasks you can expect to be doing on a regular basis with a pack of this size. To insert things into the pack, you can use the rolltop loader which funnels items into the main cavity. Aside from a tablet-sized sleeve in this main compartment, it is otherwise cavernous and suitably robust. Flip the Paramount on its side and you've got a side-entry zipper that allows you to get to the main cavity without having to unload from the top of the bag (by uncurlling the rolltop). Of course this is a massive time saver, and an altogether simpler task during moments when you're trying to pretend you've go things under control.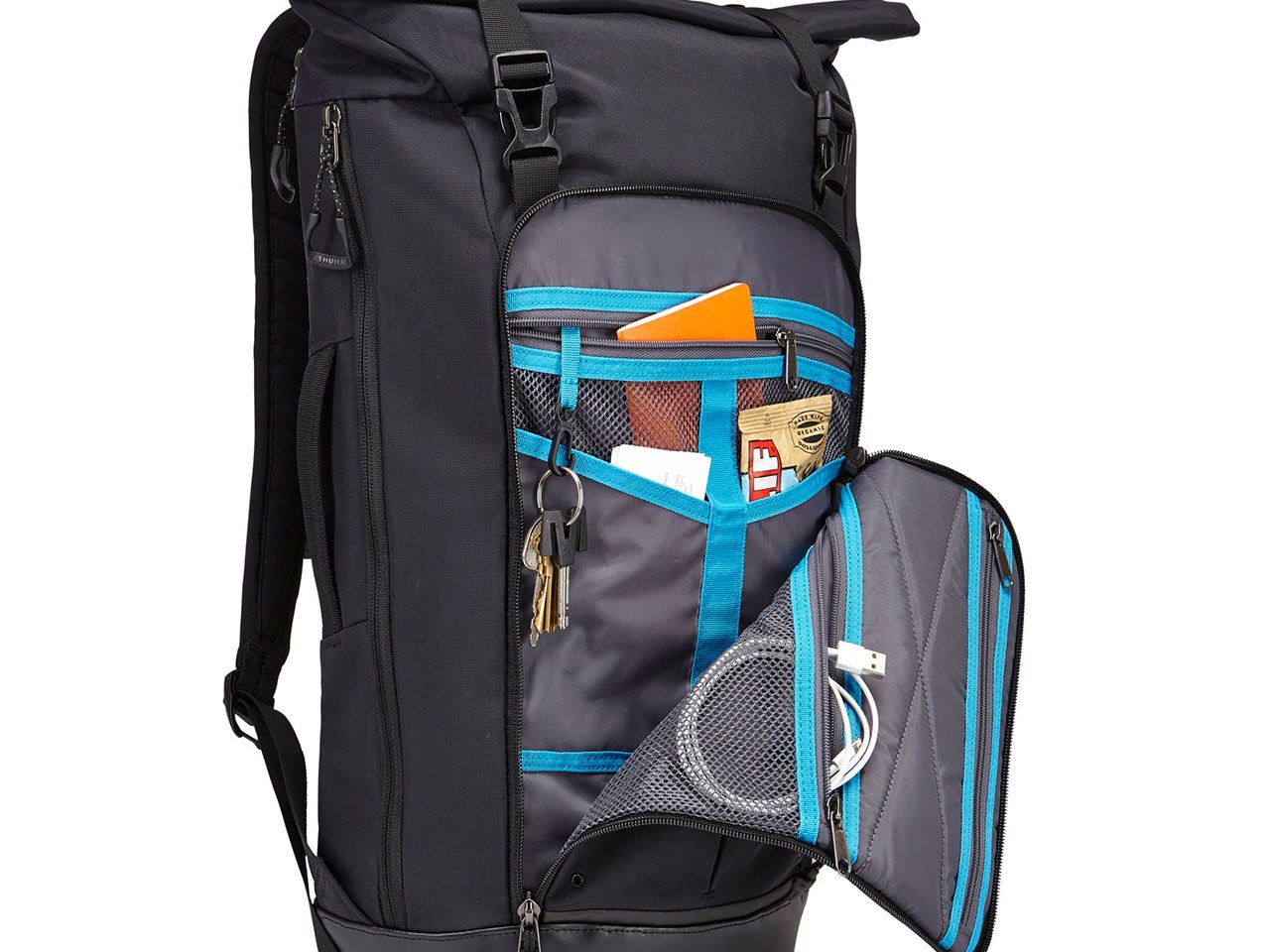 Outside the Paramount's main cavity is a colony of small sleeves and pouches. A 13-inch laptop can fit in the zipped sleeve that sits between the back plate and the main cavity – this also being accessible from the top of the bag through a velcro flap. Then to the right-side, you've got your 500ml elastic pouch which will house and hold your hydration over cobbles and bobbles. Then daisy chains on the outside of the pack allow some purchase points for a flashing bike light, helmet or other similar size items that you don't mind leaving outside of the main pack.
Located at the front of the bag is a collection of the kind of small, intricate pockets that you'd come to expect from one of Sweden's geekier brands. In total, there are two iPad mini-ish zipped areas, two sleeves (which are a little saggy, and could do with elastication), a zipped pouch that would fit a pair of sunglasses and of course the area between all these pockets (photo above).
As for handling the pack, there are two neat features that stand out. First, outer zips have these easy-to-grab pulls that match the shape of your finger – ergonomic details that actually go a long way when you're open and closing the hefty tips. Then on the side of the pack, between the laptop side zipper and the laptop sleeve is a handle where you can hold and transport your Thule pack like you would a briefcase (photo below).
When properly closed and buckled, the Paramount's 420D (hardy) nylon outer makes it highly water resistant (we tested this, see our Vine below), so during cycle commutes in the rain, water drips off off the front material like a gutter. The base is reinforced and waterproofed, so you don't have to worry about leaving the pack on top of a pristine of dry surface when you're scurrying for your possessions.
The Verdict
A versatile pack that solves plenty of problems for your average commute. Absolute waterproofing would be a plus, but for the bag's relatively modest aesthetic and impressive portability, we give it top marks for use from the office to the mountain.
The Paramount 24L comes in at £110 from roofracks.co.uk in the UK, and $130 in the US from REI. If you're not satisfied with our Vine, take a look at Thule's demo video.