Icebug Acceleritas Trail Running Shoe
Will Ross, March 8, 2015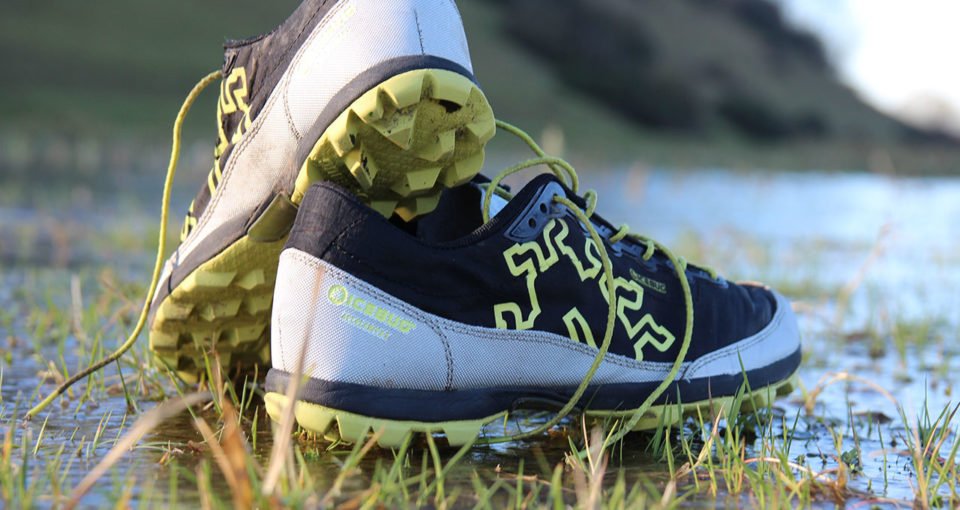 Running muddy trails in the winter can be a maddening experience. Unless you're training for a Tough Mudder, or something similarly apocalyptic, the idea of sliding in all directions as you wade through sludge is going to put off working out altogether. Whereas you can get away with a low profile shoe on trails in the summer, the same aspect, when attacked in the winter, demands a more aggressive tread, something that will do the chewing so you can focus on the running.
For this task, I've been throwing on the Icebug Acceleritas, the predecessor of the Acceleritas4 RB9X. The shoe's clearly omnivorous sole and Swedish design intrigued me. Icebug is a lesser known brand in the world of running but states an outright commitment to fitting out trail runners with footwear for the winter. The Acceleritas looked suitably off-road, so I gave it a go in the Chiltern Hills, my regular stomping ground near London.
The delightful woodlands of the Chiltern Hills throw out a brilliant dark, earthy mud that does its best to hang to the chalky hills and collect on flatter bridleways. It's a festival of mud, and the last place you would want to end up with a toothless shoe.
Along flatter segments, the Acceleritas glides and grips well. Its 'Rubber 9 Extreme' sole is flat enough to allow you to work it hard and gather speed, and its diagonal tread makes light work of the ripping and unloading of mud during your backwards heel flick. But be warned, you can expect to come home with a pair of shorts caked in crud, a trade-off for running mud-free between dry and muddy sections.
But it's up the hills that the shoe really comes into its own. Built with a stiff sole and a particularly sturdy bridge, the Acceleritas does well to keep its form as you clamber up hill, ensuring you apply as much of the sole to the ground while maintaining solid power transfer.
The aggressiveness of the sole is however pretty ineffective on concrete, wooden or tarmac surfaces. Because the shoe uses such a stiff rubber, and acts much like a football or rugby boot, it is far from ideal on flat, mud-free surfaces. You can tolerate it for 20% of your run, but if you're looking to run over half of your route on hard surfaces, look to go with a milder offering.
Above the sole, you've got some handy features suited to wetter days. A sturdy, silvery tinman-looking material straps the shoe in place, offering some waterproofing and minimal water adsorption. Laces are also non-absorbing. (The Acceleritas4 has done away with this Wizard of Oz theme).
Finding your fit
Irritatingly, the left shoe causes me blisters when barefoot so I have to wear socks. If your foot matches the curved heel piece, you may get away with going barefoot. Since the shoe is also particularly narrow underfoot, look to go half a size up from your normal shoe size.
For a winter running shoe, the Icebug Acceleritas line is a sturdy warrior. Drag it through the depths of winter and it's bound to serve you through some deep, thick treacle.
Icebug are still emerging in markets outside of Northern Europe. Unfortunately, Icebug are hard to find in the UK through bergfreunde.co.uk and are more widely available in through US stockists.