Old Favourite: Rab Vapour-Rise Jacket
Rich Lawes, October 12, 2014
This review is first of a short series of blogs covering 'old favourites,' the sort of gear that not only works superbly, but is durable and reliable for any adventure. As an ex-gamekeeper and ex-paratrooper, currently employed as an outdoor instructor for Adventure Aberdeen, it would be fair to say that the majority of my working life has been spent outside, often in bad weather. I spend enough of my spare time ice-climbing, running and cycling that my 6-year-old daughter asked recently, "Don't you have any normal clothes Daddy?" As I head towards my mid-thirties I'm fairly fixed on what kit works for me, however I do recognise that what's good for Jack (or Richard), is not necessarily what's good for Jill. The following reviews aim to select non-specialist, but in my opinion, superb pieces of equipment that will work for most people, in most conditions.
Rab are an established British-based brand that until recently did all their manufacturing in Sheffield, England. Rab historically concentrated on manufacturing high-quality down and Pertex clothing and sleeping bags. Following the retirement of founder Rab Carrington (one of Britain's best alpinists of the last 30 years), the brand has expanded its product range into mountaineering-focused hardshells and softwear. This review examines the Vapour-Rise Jacket, one of their classic products that has been in their range for almost fifteen years. Constructed of a wind- and water-resistant pertex equilibrium shell, with a soft, thin microfibre liner it is an effective softshell piece with exceptional breathability for mountain sports.
I was told as a young soldier that without Pertex and Ventile windproof cotton half the British army would have died of exposure in the bitter winter weather of the Falkland's War. I have been fortunate enough to interview Rab Carrington for research purposes, who mentioned that his first major order after founding Rab was to supply Pertex items for this conflict. To me the Rab Vapour-Rise Jacket is like a civilian version of the Ventile arctic windproof smock designed for special forces; it is cut long, has large well-placed pockets, is windproof, warm, highly water-resistant and creases in silence. The latter feature is not often mentioned in outdoor gear reviews but when I very infrequently substitute this jacket for a hard shell, the sound of crisp packet rustling is deafening and no good for sneaking up on the enemy, wildlife watching or creeping up on my daughter to scare her for slanderous comments.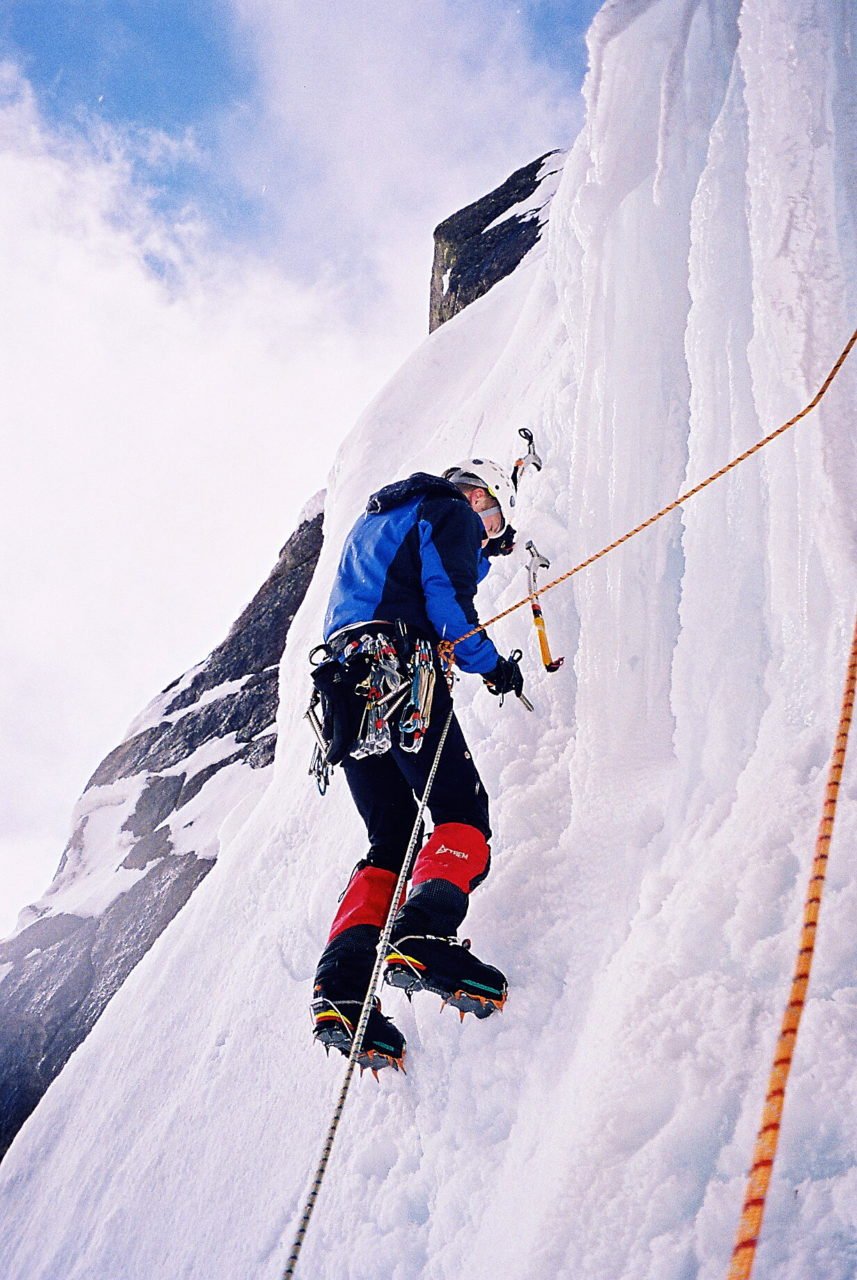 In terms of Ayurvedic body types I have been informed by my hippy colleagues that I am a pitta, that is I am a 'hot body'. Sadly this does not mean that I have a 'hot body' in the Becks-in-underpants advert sense but rather that I run hot, and don't feel the cold much. To this end Buffalo and Montane 'pertex and pile' garments just don't work for me if I'm doing anything more than standing still. The Rab Vapour-Rise Jacket is a lightweight version of these in that it combines excellent weather resistance with a light insulating and wicking liner that promotes breathability and comfort. It can be worn next to the skin (and many of my colleagues do this) for highly aerobic activities such as biking and running, but I admit that I rarely do. To me it is the perfect jacket for medium intensity activities such as Scottish crag-climbing, ice-climbing and all weather hillwalking.
The jacket I currently have is 5 years old and I wear it almost daily at work; considering the workload it looks remarkably smart. Since buying this jacket I have gradually given up wearing hardshell waterproofs except in torrential downpours, as I'll happily trade being slightly damp for the breathability which surpasses any other softshell or hardshell jacket I've worn. It dries quickly too which means a shower dousing can be burnt off by my 'hot body'!
It is not perfect though. Aside from it not looking that 'cool' and being far from 'funky,' I had to have alterations made by outdoor clothing made-to-measure specialists Hilltrek to improve the sleeves cuff Velcro and fit a hood volumiser. I paid £20 for these and to my mind they have made the difference between me loving and liking this jacket. As I was sourcing a replacement recently I noted that Rab have improved those features in the latest version of the jacket and such alterations are probably now no longer required. Perhaps the next 5 years in my new stealthy black one will be the true test, but till this arrives I'm just off for a wander up the hill one more time in the 'old favourite' with the dogs and kids.
In conclusion, this jacket would make the perfect garment for those looking for one item to perform lots of duties. Windproof fleece – tick; softshell alpinist jacket – tick; winter aerobic outer layer – tick; stealthy wildlife spotting top – tick. Please Rab, don't stop making this classic; if you do half the outdoor instructors I know will be lost as to know what to wear!
For more information, visit rab.equipment
Thanks to Adventure Aberdeen instructor Andy Green for modelling the jacket in the header image. Browse my other old favourites