Review of Patagonia Black Hole Duffel 120L
Will Ross, November 22, 2017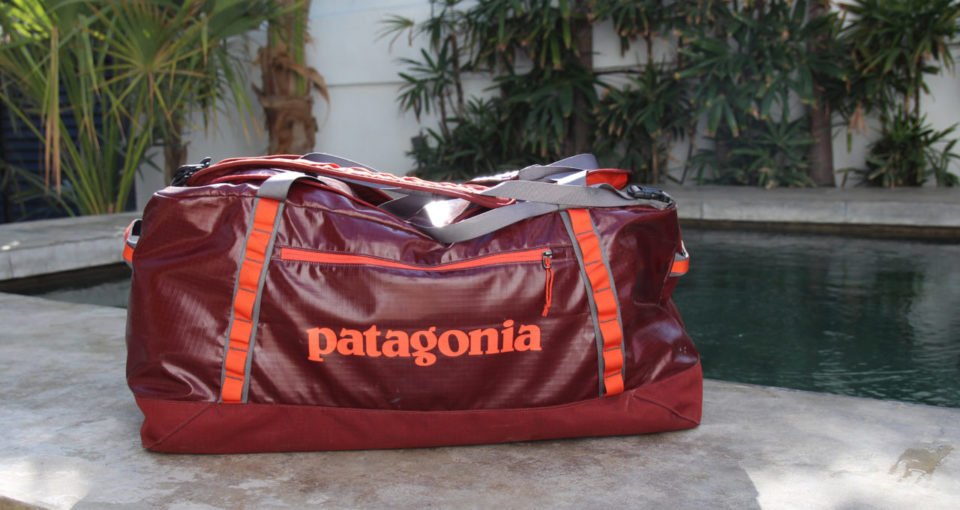 Stroll through any airport or major train station and one thing becomes clear very quickly: even the most well travelled haven't mastered their baggage game. Bags clumsily follow in the wake of their owners, or dock at arm's length to the side in a feeble matrimony. Whenever a surface is anything than less than billiard smooth, wheels proceed to spin in a frenzy of independence. Only baggage company Trunkie managed to see the hopelessness of these endeavours, offering a rodeo-like journey for infants wanting to start (or more likely end) their journey with some enthusiasm.
It's for this reason – the inconvenience of attending to wheels – that I've opted for wheel-free bags since 2013. Backpacks and messenger bags are of course slung on the shoulders, but even a more bag the size of my more hefty Osprey Porter 46L weekender handhold can be seen hobbling on wheels at terminals around the world.
My most assured holding is the significantly larger 120-litre Patagonia Black Hole Duffel Bag, the most spacious sack from the brand's series. So large is the 120L version of the Black Hole that it can only be filled by multi-disciplinary trips catering for more than one season, or by a very liberal approach to your travelling wardrobe. Fill it to the brim and you'll find lifting it an athletic event.
Despite the Black Hole's sheer volume, the duffel bag excels in its self packability / squash-ability. With no frame or back plate, the duffel bag can be tucked into the corner of any hotel room and flipped open to reveal two zipped pouches in the roof. Unpack the bag entirely and it will ingest itself fully and stowaway into a neat, zip-able shell just like it's sold in store / arrives through online delivery.
This party trick is merely a starting point to the bag's more serious features, reinforcing the robust design principles from that's become a hallmark of Patagonia design. Padded shoulder straps adjust to allow for fair positioning on the back, though there's no hip belt to relocate the weight of the pack lower than the shoulders so you'll need to employ the travellers hunch forward when carrying the loaded pack.
Beyond the internal mesh pouches, an external zipper reveals a side pocket large enough for a wash bag and a couple of other items. This third pocket completes the duffel's set of compartments, which might seem ultra-minimalist given the bag's vast size. Regular briefcase straps clip together to form a handle if you're carrying the bag by your side, and strong straps are attached to either end of the pack to allow for lifting from below when you're looking to prop the bag somewhere above eye height.
These simple principles mean the duffel bag is bound to last, but also means it comes with drawbacks for those who want their packs to have external padding. Though there is a subtle difference between the padding on the bag's base and its sides, the shell can't be seen as a substitute to protect fragile objects. A durable water repellent covers you pretty well for rain and damp conditions, but the Black Hole is by not means an ocean-faring bag (its zips are not laminated).
What's more worth celebrating is the insane durability of the pack – be assured that pulling at the zip to squeeze in your final possessions isn't going to ruin your trip. Weighing in at a lean 1672g (3lbs 11oz), the Black Hole's minimal agenda is trustworthy and defined, with daisy chains looped to the size to invite the neighbours.
Head to patagonia.com to find out more about the Black Hole and view comparisons with smaller sizes.