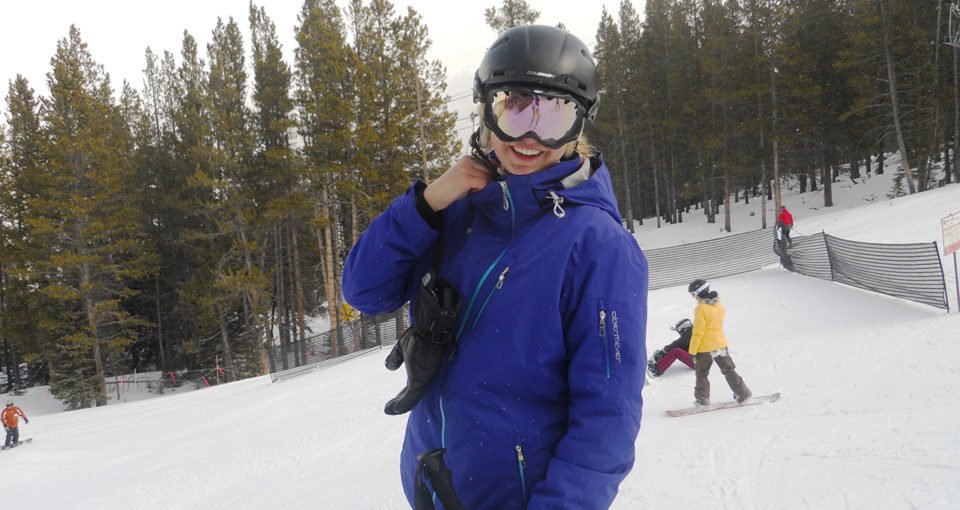 Since 1947, Obermeyer has endeavored to create the finest gear for the inexhaustible snow adventurer. For women looking to invest in an outer layer that will not only keep up in the harshest of conditions, but function as a lightweight wind barrier on warmer days, the Coco Jacket's array of versatile features make it a necessary addition to your snow get-up.
This winter, I had the opportunity to test out the Coco's features in the unpredictable Rocky Mountains of Colorado.  With a slow start to snowfall and almost spring-like conditions, the jacket's incredible light weight and underarm ventilation zippers allowed for the quick regulation of my core's body heat on those warmer days or after a relentless run through the moguls. However, paired with a solid fleece mid-layer, this jacket's thinsulate and satin lining will keep you exceptionally warm and dry in the most frigid of temperatures.
Perhaps the most intriguing and innovative feature of the Coco jacket is its ecologically sourced Cocona Breathable Waterproof fabric which prides itself on a trifecta of essential standards: accelerated breathability, odor management, and UV protection. The 10,000mm/35,000g microporous laminate provides an 800% increase in particle surface area from other standard jackets, subsequently taking advantage of your body's heat production to speed up the evaporation of unwanted moisture. Thus, the Cocona fabric allows the jacket to boast an outstanding 20,000mm waterproofness and a 40,000mm breathability.
The Coco jacket also includes an adjustable powder skirt, stretch inner cuffs with thumb holes, and waterproof exterior zippers to prevent the entry of snow. Although the zippers can become particularly stiff in colder conditions, rest assured that no moisture will ever leak inside.
Some of my favorite features include the adjustable helmet compatible hood, perfect for particularly windy and cold days on the mountain, and the multitude of interior and exterior accessible pockets that allow for ideal stashing of your pass, phone, iPod, keys and other small objects.
If you are not yet impressed by the Coco's extensive array of luxurious and flexible features, it is also equipped with RECCO Rescue System technology. A growing list of resorts and mountain rescue teams now carry specific detectors that can intercept signals released from a small reflector built into the jacket's lining. Even if you are an experienced backcountry skier with proper avalanche beacons, the RECCO system provides an additional level of protection and increased peace of mind against the worst case scenario.
Ultimately, the Coco jacket combines unparalleled technology with functional style that not only surpassed my expectations but solidified it as my go-to jacket of the season.
Useful Information
US MSRP $400
Obermeyer dealer locator
Colors available: black, jade, sapphire, true red, waterfall and white
Available in Women's only | Men's Cocona equivalent Kenai Shell
Environmental initiatives made by Obermeyer.