Native Hotel, Malibu, California
Will Ross, November 13, 2017
An overview of American history during the 20th century is hardly complete without mentioning the role of the automobile. Mid-century novelists wrote about the mystics of early engines, federal planners arranged for the rapid conquering of the continent by interstate freeways and very soon the country's citizens saw passage by car as a constitutional right. Along the edges of this psyche and its broad tarmac pathways is the hospitality component of motor life, captured most conveniently in the roadside motel and its rapid subordination by the underbelly of individual freedom.
The motel turned into a fringe place, with parking spaces best designed to reduce the overnight separation between vehicle and owner. Motels near enough to cities were summarily welcomed as off-limits zones where morals hung in suspense and rooms could be rented by the hour.
A short, 20-mile drive up the coast from Los Angeles lands you at one such site, a patch of roadside which is both the source of intrigue and hope. Known to be a den for illicit activity for decades, the 1947 Malibu Riviera Motel became a black mark on the otherwise idyllic Malibu County, until recently.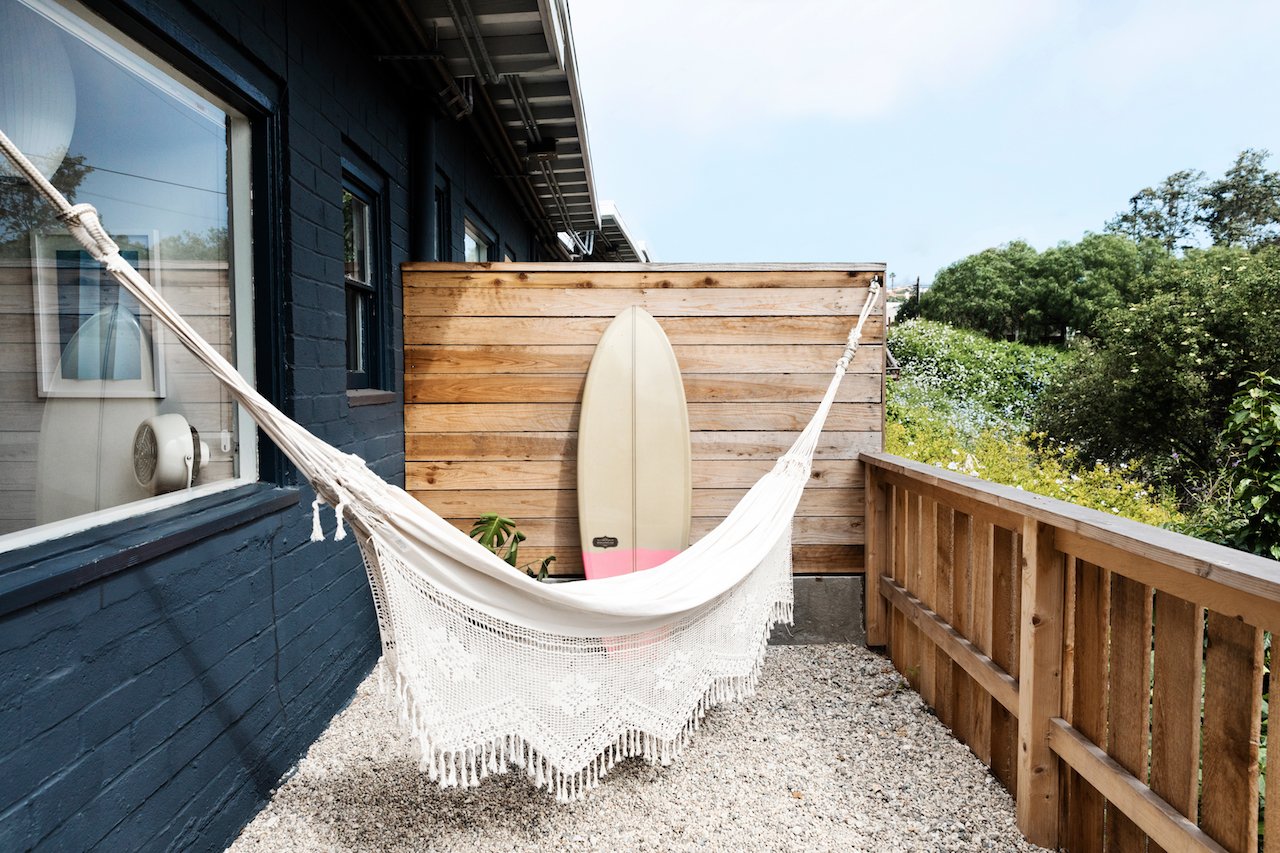 Property group SKG partnered with Folklor to update the motel, using the Los Angeles-based creative agency to inspire a new sense of motel chic within the set of 13 terraced motel rooms, now collectively known as Native Hotel. Folklor are familiar with this type of introduction, having paved the way for Sydell Group's LINE hotels in Los Angeles, and two of the most sought after eateries in Venice, Gjelina and Tasting Kitchen.
Rooms have been updated with ocean hues, clean interiors and airy rooms that sweep away any sense of previous promiscuity with a streak purity. Eclecticism is evident: bed frames from Design Within Reach uphold king-sized Casper mattresses. Kimonos hang in bedrooms as lounge gowns, items to wear as you sweep across the polished concrete flooring and fiddle with the unfinished brass fixtures. All these furnishings are founded upon a creative heritage – Bob Dylan wrote the album Blood on the Tracks in room 13 after all.
Beyond these refined sleeping quarters, Folklor were also able to come up with other premium experiences on the 4.5-acre patch of land allotted to them with the acquisition. A roadside trailer, Coffee & Waffle, serves up a menu from one of Los Angeles' most renowned chefs, Chef Ludo Lefebvre. Nearby, the welcoming reception and lounge area sits at one end of the building, adjacent to a small wellness center offering massage, facials, acupuncture, Ayurveda, reiki and yoga. On the opposite flank of the complex, HABITAS are due to enter with a set of canvas tents that resemble their Tulum, Mexico hotel.
Within a short, sub-10-minute walk of the hotel are three other venues worth noting. A gym, Diamond's, is across the road – they sell day passes, just be sure to use the marked crosswalk when you traverse the busy Route 1. Further up the hill on the same side of the road as Native is a small mall with a cafe serving Intelligentsia coffee, Le cafe de la plage, which is a few yards from a healthy smoothie spot, SunLife Organics. SunLife also vend a range of potions which either work as gifts to test on unfavourable family members, or indeed enjoy for yourself – Four Sigmatic mushroom coffees add to the craft road trip.
Training notes
Malibu's surf breaks are widely known as some of the best in the world, but its nearby mountains and canyons are also worth exploring extensively. Malibu Creek and Santa Monica Mountains National Recreation Area are golden for trail running and are sliced by some smooth tarmac for road cyclists.
The nearest trail access is Zuma Canyon Trailhead, a 2-mile drive from Native. Park your car, then get up the trails to grab vistas looking over the Pacific. Some routes are challenging – the Zuma Ridge is reached via a 500m climb at 13.7% (Zuma Ridge Mtwy Climb), while the Ocean View Trail in the opposite direction climbs at an average of 11% over 1.6km (Kanan Edison Rd Climb).
Cyclists can use Latigo Canyon as a central spine for their climbs – the 14.8km / 4.0% climb ranks as a Cat 2 ascent. Another option is to head toward Los Angeles, taking a left at Pepperdine University and heading up Malibu Canyon Road before taking a right onto Piuma Road (7.1km at 6%). A descent down the one-way Tuna is for the bold, with Las Flores offering a milder option. Either way, seek out the pier that props up Malibu Farm Cafe – an exceptional viewpoint for a mid-ride coffee and snack.
Once you're done, wander down to the swimmable Zuma Beach or continue along beachside trail to Point Dume, due south of Native – Malibu's new centre of gravity.
Head to nativehotel.com to book directly and get a feel for this cosy Malibu oasis.