Nathan TrailMix 4 Bottle Belt
Will Ross, June 23, 2011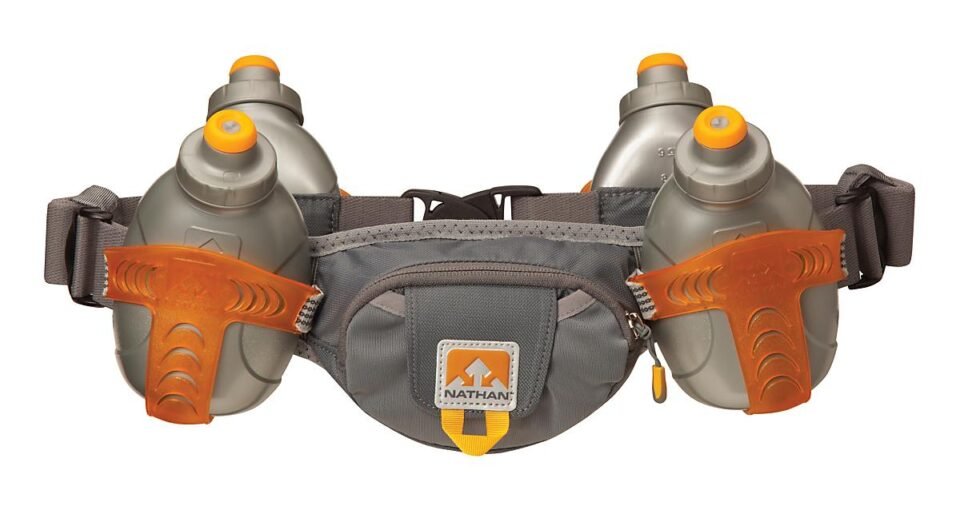 Any runner has got to love a brand that goes by the slogan of 'Human Propulsion Laboratories'. Nathan Performance Gear, aware of the growth of running and multi-sports activities, design gear to aid the ambitious and tempt the timid through their collection of accessories, hydration and reflective gear. While Nathan do feature backpack hydration systems, they're particularly well-known for their waist and belt packs such as the TrailMix 4 which I tested in the Verdon Canyon Challenge earlier in June 2011, weighing in at 360g.
Unlike some of Nathan's other race products, the TrailMix 4 is a comparatively luxurious hydration system. Fitted with four 300ml bottles, the TrailMix 4 also includes a spacious zipped pouch for food and possessions. I managed to fit a Mule Bar, GoPro (in housing) and my iPhone in the main pouch, using the outer sleeve for empty packets and any other food I picked up at stations during the race. If you're the type of person that wants to be prepared for 1-3 hour runs, the TrailMix's capacity is spot on. For shorter runs you can always unload on water bottles whilst longer runs can be supplemented with additional food and energy drinks.
In terms of performance on the trail, the front pocket opens up reasonably well. Nathan could certainly work on the zip to the main compartment to make sure its contents are easy to get at in an instant.  I was testing the Nathan on a trail that had prolonged sections of tricky terrain making food and liquid intake a little tricky, even at moments when I was running on steady terrain. However, despite the terrain, the TrailMix 4 held really well on my hips, not slipping at all. The moulded holsters for water bottles are particularly well designed with single-direction ribbing to prevent involuntary movement out of the compartment.
Despite the slightly tricky zip on the main pocket I'd go for the Nathan Trail Mix 4 for it's capacity and security, meaning you can hit the trail with all your goodies, or none at all. The security of bottles and the ease at which they are accessed is magnificent, and prompts my other great like  – the overall flexibility of the belt. Now that I'm keen to take more photos on longer runs, the TrailMix 4 will be with me for much of the season.
Head to nathansports.com to find out more.