Mount Skuta Alpine Shelter, Slovenia
Will Ross, August 18, 2017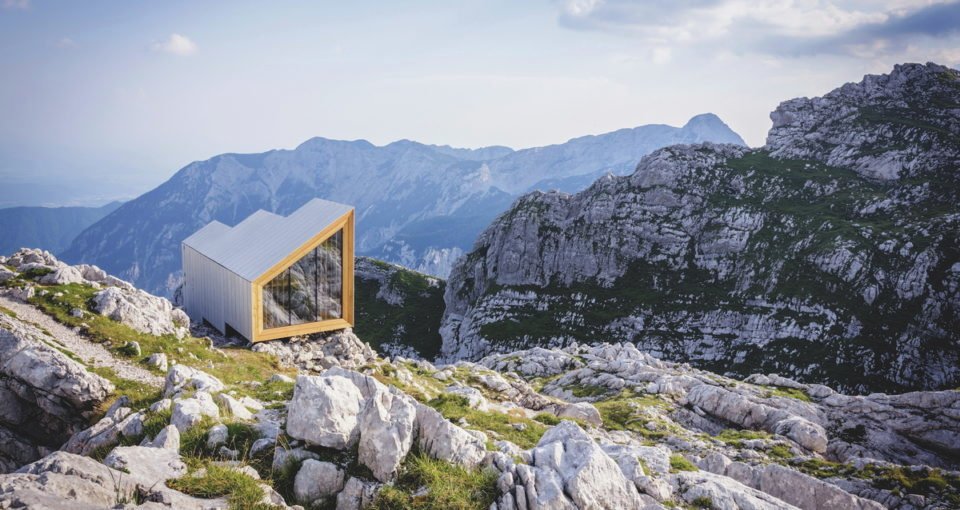 Dropped in place in a single day during August 2015, the modular Skuta Alpine Shelter is also the story of a multi-disciplined international effort with an emphasis on minamalist essentials.
Slovenian architects (OFIS Architects), American students Harvard Graduate School and British engineers (AKT II) came together to meet the needs of the concept, delivering a magnificent shelter that offers protection from the harsh weather that wraps around Skuta Mountain (2532m), the third highest mountain in the Kamnik Alps.
A total of five hoists was made by the Slovenian Armed Forces, orientating the three modules on carefully placed pins to ensure a strong anchor with minimum impact on the ground.
The first module is designated for entry, storage and preparation of supplies and simple meals. The second module allows for both sleeping and socialising, with beds that face each other doubling as benches for comumunal eating. The final module at the far end of the shelter is mainly for sleeping, offering two levels of bunks. Windows at both ends open up beautiful panoramic views of the valley below and Skuta Mountain above. Replacing a 50-year-old rusty old bivouac, the new refuge can accommodation eight hikers in a welcoming wooden interior.
This comfortable interior is wrapped in formidable layers of protection from cladding experts Rieder, with a silver-grey "öko skin" outer shell made from fiber-reinforced concrete, a steel core and Larch timber panels. Triple-glazed structural glass windows and 160mm of insulation make up a robust shell, that's also ventilated through air gaps.
Rieder's öko skin is pretty neat in itself, offering an alternative to wooden cladding that can be screwed in place and applied on a sub-structure vertically or horizontally. The material has an A1 non-combustible rating according to DIN 4102 and fulfills the ISO 9001 and ISO 14001 standards for sustainability. What's more, the "ö" in its title stands for Österreich (Austria), ökologisch (ecological) and ökonomisch (economical).
As well as encouraging alpinists to take on the Slovenian Alps with greater security, the project included some 60 volunteers and contributors, stamping a collaborative theme to a refuge that finds its home in a spiritual part of Slovenia.
Have a look at this video of the Skuta hut's installation to get a feel for the operation and the shelter's stunning location. This route guide is also worth bookmarking for taking on the mountain.