Mexico City Guide
The thought of living and training at 2,200m above-sea-level might not appeal to every endurance athlete, but those visiting Mexico City even for a short time should make the most of the scarce oxygen and amplify their stay. That said, this strategy isn't complete without considering levels of pollution in the Mexican capital. Nevertheless, well organised runners and cyclists can navigate outdoor areas in the city to a degree of success, while swimmers have their own isolated tubs set aside from main thoroughfares. These facilities are stitched together by a handful of small neighbourhoods where hotels, food and drink can be found in ample supply.
To make the most of this city guide for endurance athletes visiting Mexico City, note a few patterns and features. Facilities are broken into categories according to their running, cycling or swimming focus, with a separate section highlighting quality gym facilities in Mexico City. Exact hours aren't indicated unless very restrictive, and prices are also omitted in the knowledge that no listed facility charges more than $20 for day access. Instead, a full directory of telephone numbers is provided in the final Directory section, so you can call ahead to confirm your intended training time. The place names in Directory link directly to the venue's Google Maps profile – click on the venue's name to generate directions. Finally, the Sleeping & Eating section towards the end of the guide provides an insight into good places for sleeping and fuelling during your time in Mexico City.
Orientation & Logistics
The vast sprawl of Mexico City and the movements of its eight million residents can be hard to come to term with. A flight to the International Airport in the north-east of town reveals the breadth of the megacity. With only distant mountains to provide geographical references, getting orientated on the the flat terrain of Mexico City can be tricky. Visitors should note a small handful of central neighbourhoods hinge around Downtown, also the historic part of the city. Stike west from Downtown to find Roma and then Condesa which hold up the south-eastern edge of Chapultepec Park, a saving grace for the city's runners. Roma and Condesa form the focal point for this guide, matched on the north side of Chapultepec by Polanco, another sought after neighbourhood.
Despite the furiously busy arterial roadways, smaller roads off to the side are remarkably quite and often well appointed with leafy pathways. These are easily navigated on foot, and the low-slung topography of Mexico City might tempt to try on ECOBICI, the city's sanctioned bike-sharing system. For longer range, a developed Metro system is functional and cheap, if a little tired. For navigating the Metro from Roma and Condesa, two main lines are needed. Number #1 (pink) reaches out from the central Baldares station, heading in a south-south-west vector through Cuauhtemoc, Insurgentes, Sevilla and Chapultepec. The other line to note is the #9 (brown), skirting the the southern edge of the Roma and Condesa neighbourhoods.
Mexico City's altitute lends itself to cooler evenings so that, like Johannesburg, winter temperatures can dip below freezing at night. Given its latitude, swings in daylight between the winter and summers is narrow. At the peak of summer, the sun rises at 6:59pm, setting at 8:18pm. In winter, the sun rises at 7:06am and sets and 6:03pm. Temperatures are similarly compresseed, peaking at 27°/13° Celsius during the summer and the only marginally cooler 22°/5° Celsius in the winter.

Running
Steering clear of Mexico City's congested roadways is an absolute must for runners doing any kind of workout. Though air pollution has drastically reduced in the past 10 years, such that streetside pollution levels a comparable to periods of poor air quality in London and Paris. Fortunately, the two welcoming neighbourhoods of Roma and Condeas border the broad green lung of Chapultepec, establishing a site and setting for runners in CDMX.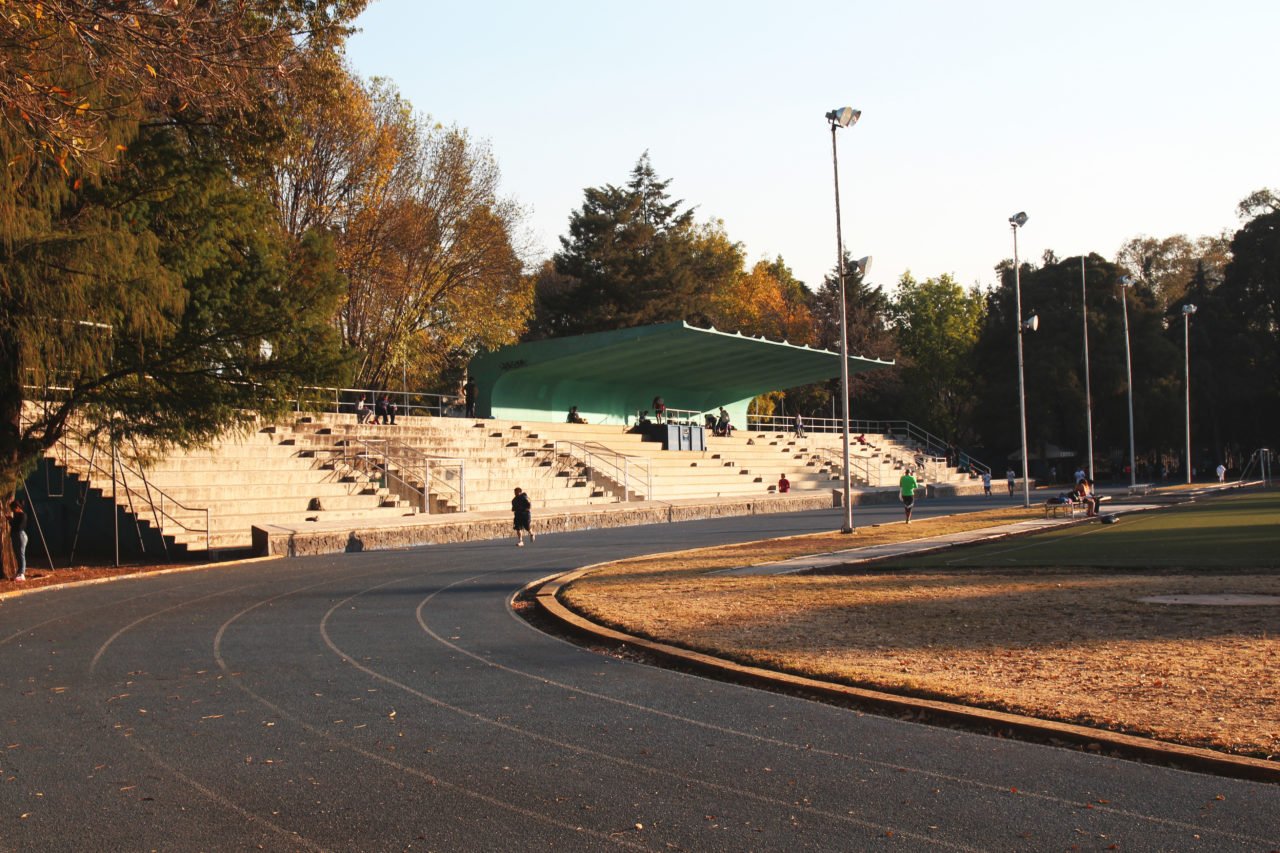 Finding an accessible 400m track isn't easy – Mexico isn't a huge nation on the track. To find an athletics track, you're best off getting the metro to Deportivo Plan Sexenal, a sports complex two miles from the Roma and Condesa. Grab a taco at the diminuitive but spectacular Nicos as part of your cool down, just under a mile north of Plan Sexenal.
Intead of making the trek to Plan Sexenal, runners in Mexico City complete laps of Circuito Gandhi, found in the northern portion of Chapultepec, the city's main central park (photo below). Chapultepec itself can be used for continuous runs – a 3.0k segment starts on the eastern edge of the park, practically pan flat and away from traffic throughout. 
In the south-east corner of Chapultepec is Chapultepec Castillo, providing a consistent ramp for hill intervals. There ramp isn't open to vehicles, and is also shaded, tagged within a 500m / 4% segment. More hills can be found on the outskirts of town – Parque Desiero de los Leones has plenty of hills, with a section, La Pila, that is about 9.5km flat but over 3,000m above-sea-level (segment for return leg).

Cycling
Mexico's City's size and traffic does road cyclists no favours. That said, the pioneering cycle-friendly shop Distrito Fijo Clud de Ciclismo. They have a small fleet of road bikes to rent – send them an email to assess available. Their sandwiches, cafe setup and range or products provide an oasis in an otherwise dense city quarter.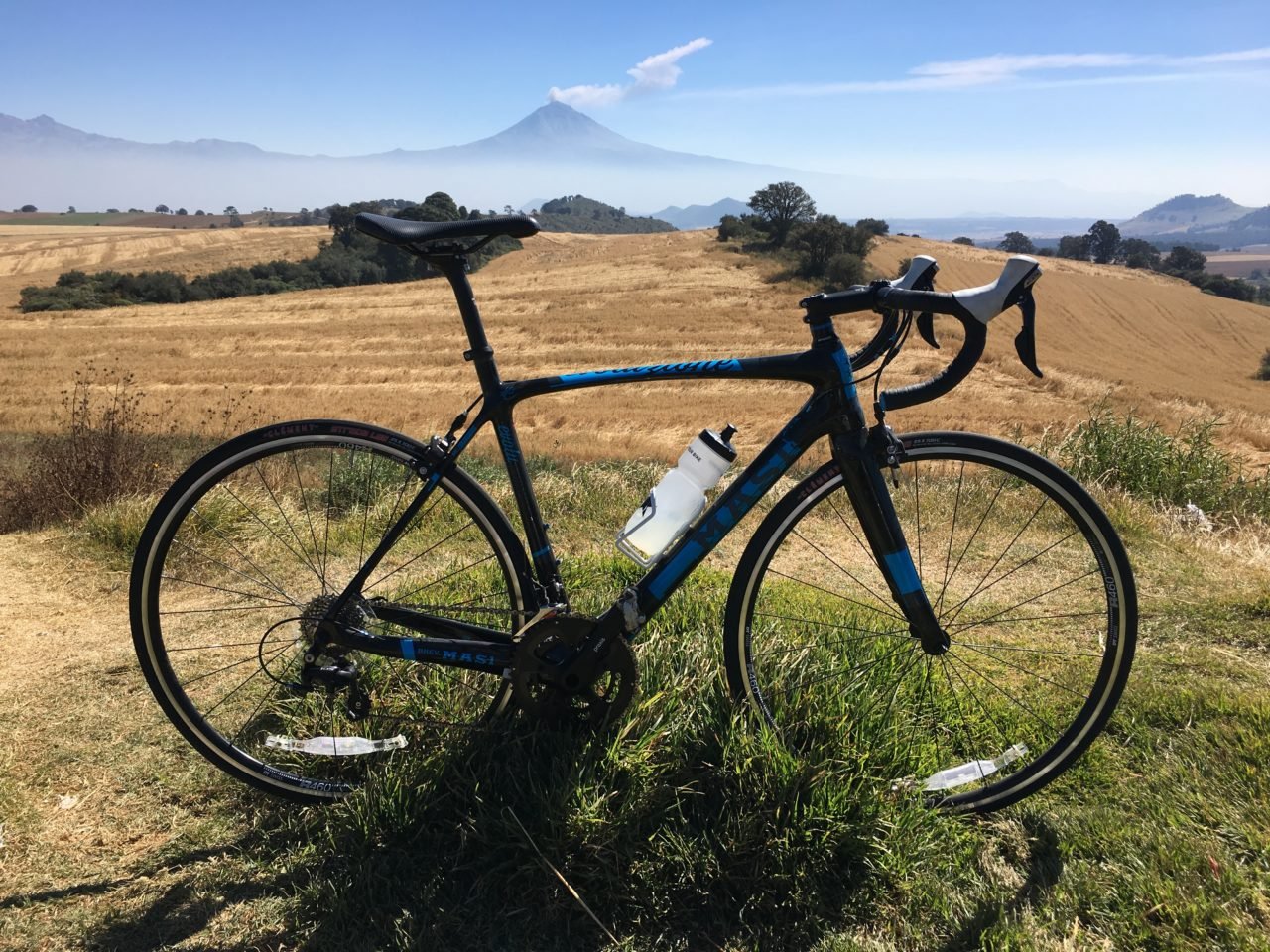 We rolled in Autumn along a busy road towards the southern suburbs and the erupting Popocatépeti (the 2017 earthquake took place a few weeks before my visit). Despite a few potholes that threatened a quick passage to hell, most of the tarmac might have you thinking you were riding on Europe's finest. The group of ten rode more or less as a pack and returned to the cafe for a deserved beer – the return through town in the early afternoon was enough to fray the nerves.
Swimming
Pan over Mexico City's and you'll see two vast outdoor tubs on the eastern end of Chapultepec – this is the members-only Deportivo Chapultepec. Unfortunately these are reserved for employees and employee family members of the nearby bank. A 50m pool can be found eight miles south of the city at the Olympic Park, for those with time or interested to explore those facilities. 

Instead, swimmers staying Condesa should grabt the metro three miles south to pool (balnerio) at Centro Deportivo Joaquín Capilla (photo above). Taking public transport can be arduous – the #1 and #7 to Estacion Mixcoac gets you there in 35 minutes.
Gym
Outdoor gyms in the corners of parks are a done thing in Mexico City, with simple equipment being made freely available to the public. For anyone used to training with barbells, the outdoor gym El Sope on the western edge of Chapultupec is a joy. There, weights up to 110kg have been created by moulding concrete blocks onto the ends of steel poles (photo below). Dumbbells can also be found, as well as a few bars for dips and pull-ups, all surrounded by a curved running track that makes the most of the gentle slope.
Formal gyms haven't totally been taken out of business because of the likes of El Sope. On the north edge of Condesa, a CrossFit gym can be found beneath the freeway, UnderCover 400. They allow drop-ins to classes for roughly $10.
Sleeping & Eating
Mexico City's megacity scale includes pockets of hospitality, in the shape of tiny, outstanding restaurants and a handful of excellent properties that defy the norms of Western hotel design. Roma and Condesa can be orientated using a dozen restaurants and hotels, traversing international cuisine and unusual Mexican delights.
An absolute insitution is the double-fronted Lardo in La Condesa, a must-visit and frankly also a kitchen which serves as a platform throughout a stay. The restaurant was opened in 2015 by chef Elena Reygadas, who set up Rosetta in 2010. For Mexican, a requirement is Pujol but if you have time, also grab a dish at Quintonil (Pujol requires bookings weeks in advance). For more low-key affair in La Condesa, take a table at Los Loosers a Japanese-themed vegan restaurant, around the corner form Seven Buddas who serve up healthy smoothies (also, a venue in Polanco).

For coffee, make a note of Blend Station which has venues in both Roma Norte and the heart of Condesa (see Directory for directions to each). Distrito Fijo Club de Ciclismo is the foremost cycle cafe in town, two blocks north of Avenue Chapultepec.

Around the corner from Los Loosers and Lardo is Hotel Condesa df (below), from the Mexican owned Grupo Habita family of hotels. The design hotel is bolted onto the tip of a block wrapped in greenery, maintaining its 1928 heritage. Trees are made the most of by the 40 bedrooms which either reach onto patios or from balconies that look into adjacent tree canopies – a total of six room types with the smallest offering 21m² of floorspace.
Edging out of the Condesa-Roma axis offers better value, at Hotel Carolota three blocks north of Roma, and in Polanco to the north of Chapultepec is the modern Habita Hotel. If you're in Mexico City over a weekend and want to be nearer the trails in Desierto de los Leones, stay at Distrito Capital which is in a revived, skyscraper district of Santa Fe in the south-west corner of town.
For longer stays without hotel services, look to Sonder who have several locations apartments in Roma and Condesa – best to search and book through their app (App Store / Google Play)
Directory
Balnerio Deportivo Joaquín Capilla: +52 55 5563 0262
Blend Station, La Condesa: +52 55 5086 6590
Blend Station, Roma: +52 55 5086 6590
Desierto de los Leones: no number

Distrito Fijo Club de Ciclismo: +52 55 5511 7817
Habita Hotel: +52 55 5282 3100
Hotel Carlota: +52 55 5511 6300
Hotel Condesa: +52 55 5241 2600
Hotel Distrito Capital: +52 55 5257 1300
Seven Buddas, Condesa/Roma: +52 55 5211 4644
Seven Buddas, Polanco: +52 56694892
UnderCover 400: +52 55 5211 7771
Email Will Ross (will@zafiri.com) with questions or comments, and have a browse of other Zafiri City Guides. This Mexico City Guide was last updated in December 2019.