Johannesburg City Guide
For most international visitors to South Africa, a short stay in Johannesburg is enough, with the majesty of the Cape Town beaches, vineyards and Table Mountain presenting a more appealing destination for recreation, not to mention the Kruger and Durban. Africa's fourth largest city has however conserved an impressive amount of green space, with sports facilities in adequate supply. While most South African cities rely solely on overground transport to get around, the recent boring of Gauteng's foundations has set in motion some progressive urbanisation that compares with other formidable megacities. Entering from the flanks are the shining hallmarks of healthy produce, good coffee and comfortable hotels, each falling in line with South Africa's go-hard approach to athletics and year-round training.
To make the most of this Johannesburg city guide for endurance athletes, note a few patterns and features. Facilities are broken into categories according to their running, cycling or swimming focus, with a separate section highlighting quality gym facilities in Johannesburg. Exact hours aren't indicated unless very restrictive, and prices are also omitted in the knowledge that no listed facility charges more than $20 / R250 for day access. Instead, a full directory of telephone numbers is provided in the final Directory section, so you can call ahead to confirm your intended training time. The place names in Directory link directly to the venue's Google Maps profile – click on the venue's name to generate directions. Finally, the Sleeping & Eating section towards the end of the guide provides an insight into good places for sleeping and fuelling during your time in Johannesburg.
Orientation & Logistics
Since the 1960s, Johannesburg's original CBD has been matched by Sandton, another hub located six miles north of the historic central point of the city. The Johannesburg's Stock Exchange re-located to Sandton in September 2000, rubber stamping the suburb and providing a stepping stone for larger businesses on the city's Midrand perimeter, also marking a halfway point to Pretoria, the political capital of South Africa. The leafy neighbourhoods of Melrose and Rosebank service visitors to the northern Suburbs, with a noticeable ridge offering a lip to mark the division between the northern suburbs and the city centre. Though the CBD has been broadly neglected by post-Apartheid South Africa, the more recent development of a few blocks on the city's eastern edge has prompted an urban revival in Maboneng.
Though the Siemens-powered Gautrain has been in action since the 2010 FIFA World Cup, public transit remains a niche transit method in Johannesburg, mostly used by businesses people to connection across to Pretoria, 50 miles to the north. Most popular is Uber which is in ample supply and irritatingly the only way to reliably cover the sometimes vast distances needed to navigate the full breadth of the city. UberX is the cheapest riding type in Johannesburg – Uber Pool isn't available.
Johannesburg's annual temperatures are among some of the most liveable in the world, certainly from a city home to nearly 10 million people. Warm, wet winters at least organise their showers around the evening, when the day's convection heats mount into sometimes torrential outpours with lightening striking the city's high rise buildings and ferrous soil. Unless humidity is high, the altitude of Johannesburg does a good job at allowing the day's heat to dissipate, meaning the morning training is ideal. During the winter, prolonged dry spells change the landscape's hue towards beige-brown, with daytime temperatures hovering around a pleasant and sunny 15 degrees Celsius, dipping to around freezing during the night. Sunrise during the Summer Solstice is around 5:12am, with the sun setting at 6:59pm, while sunrise during the Winter Solstice (in June, not December) is 6:54am, setting at 5:24pm.
Running
Johannesburg's expansive, suburban development has left corridors and patches of greenery for runners to enjoy, often with delightful glimpses of wildlife and rolling trails. The altitude plays a large part in making recovery harder, challenging even the most sharpened athletes to bank some endurance workouts during their time on the Rand. Running tracks are, unfortunately, in poor supply, but some compromises can be made by those staying in Melrose or Maboneng.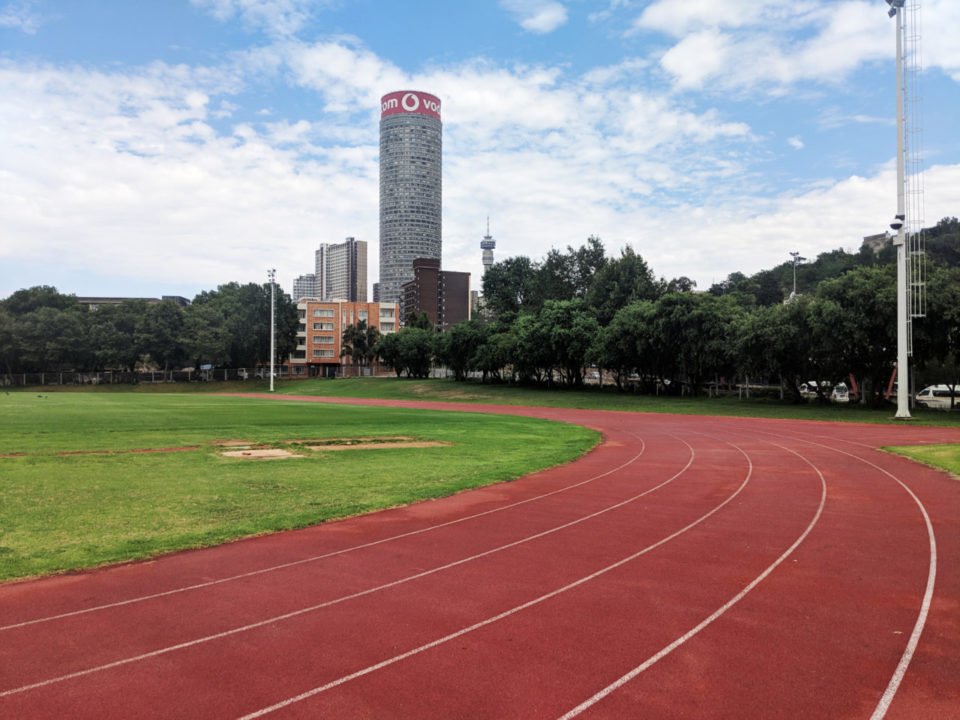 Between Johannesburg's CBD and the suburbs, there are two running tracks worth noting. The more central loop being made of 400m tartan (photo above), located to the north of the Ellis Park complex, a combination of a rugby stadium, football stadium and swimming pool. The track is open and free to use throughout the day, subject to runners getting a laminated access card at the Ellis Park kiosk. The security guards at the gate on the west of the stadium complex may let you in the first time you turn up to run, but look to get full authorisation to make sure you can enter unhindered from day break to dusk.
The suburbs of Parktown North, Melrose and Rosebank aren't serviced with an athletics track. Instead, those looking for a structured workout should head to the cricket pitch at Wanders Club, where a c. 400m line is painted into the grass. The oval doesn't conform to your typical athletics track bends and straights, but the grass is a delight to run on and you stand a chance of coming across some good runners from Wanderers Running Club who organise a weekly 5km / 8km time trial on Tuesdays.
Johannesburg's sprawling design to the north of the CBD has left plenty of avenues and parks for continuous running. Those staying out of Melrose or Rosebank can use the park at James & Ethel Gray Park north of Melrose Arch, or Zoo Lake which is south of Parktown so nearer Rosebank.
James & Ethel Gray Park includes a rolling hill which is ideally suited to intervals, with 200m path ramping up at 5%. Zoo Lake on the other hand is pan flat and a 1km perimeter look around the lake makes for honest intervals.
Cycling
As with most of South Africa, mountain biking dominates the two-wheeled scene in Johannesburg, with iconic routes and city circuits available for those with knobbly tyres. You will see road cyclists doing the rounds, but the majority of mileage is done off-road. Most prominent is an area to the north of town, Cradle of Mankind which is a closed off park that presents safety in numbers and reduced traffic.
For group rides out of Johannesburg, Concept Cyclery are the best store and cycling community, located out of Melrose Arch in the northern suburbs. They the Melrose Arch Concept Cyclery store at 5am and do various routes on Tuesday and Thursdays. The distances range from 38 kms to 42 kms and they always meet back at The Grind for a coffee afterwards. They have a support vehicles on every one of our rides as well as a first aider, bike mechanic and ride leader. Rides on Saturdays depart from Concept Cyclery's Cedar Square store.
Road bike rental is harder to come by in Johannesburg – watch this space.
More controlled riding can be found at an indoor cycling studio not far from Concept Cyclery, at Pain.Cave, also within the Melrose Arch development. They ride on actual bikes with spinning wheels linked to computers via Wahoo. Single class sessions cost R120 – simply send an email to marcel@paincave.co.za to book your place.
Swimming
Johannesburg's appetite for swimming doesn't quite compare with that of outdoor sports, though pools are open in the summer. Regardless of where you are swimming, be sure to bring your own padlock and towel – these aren't provided at even the most exclusive gyms and pools. The northern suburbs have it better than the CBD, with a pair of pools to choose from.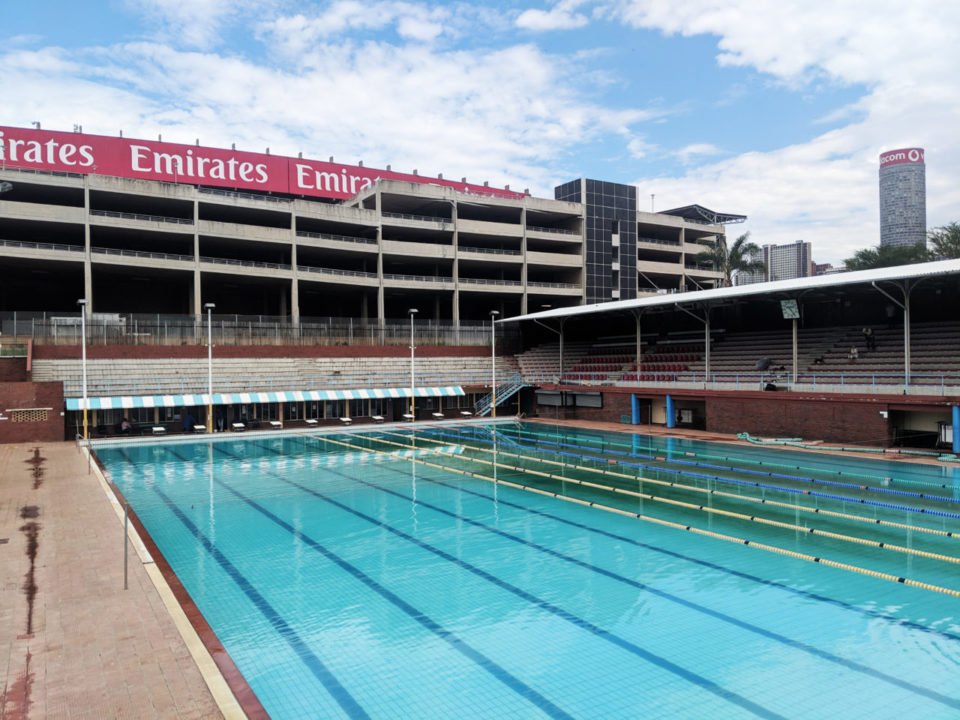 One mile south-east of Rosebank is the outdoor pool, 25m Zoo Lake, charging a very modest R10 fee for day access, an outdoor option to pair with the indoor 50m pool at Planet Fitness in Melrose. Those near the CBD only really have one option, the 50m pool at Ellis Park, open from 7am until 6pm. An annual pass allows for 24-hour access.
Gym
Those staying in Melrose have the luxuriant Planet Fitness, a hub with a spacious weights area to reinforce its excellent setup for swimmers. Distributed across the northern suburbs are Virgin Active gyms which allow drop-ins for the rate of roughly R250 per day. As with the swimming pools, bring your own towels and padlocks. If you're looking for a gym and staying in Maboneng, walk five minutes to Heath Wake Up Gym for a simple yet sufficient facility.
Sleeping & Eating
The development of Rosebank and Melrose into walkable, porous hubs has helped create a number of appealing hotels, with heathy food and good coffee working as satellites to centrally arranged commercial areas. A second, far more urban hub is Maboneng, part of a revival story which has started to draw a young, creative class back to the city centre. The hubs of Rosebank-Melrose and Maboneng differ in location and style greatly, with the main consideration being proximity to continuous running, indoor cycling and of course location itself, when compared with your routings throughout your stay.
Throughout the northern suburbs, it is worth noting venues from Kauai which is a kind of sweetgreen in South Africa, for Americans familiar with fast food with fresh ingredients. They prepare salads and smoothies in front of you, providing a good foundation of nourishing, caloric dishes. The suburbs are also blessed with venues from tashas and if ever you're near a Woolworths, their off-the-shelf salads are outstanding, with their cafes worth dropping into (Sandton's primary Woolworths has a cafe attached). In Maboneng, Canteen is outstanding for healthy and eclectic dishes – they don't have a website but are open all day, seven days a week.
Coffee shops speckle Johannesburg, a city which has amazingly avoided the onslaught of Starbucks which has only a small handful of venues. Local chains include Motherland, Bean There Coffee and Seattle Coffee Company, with the former's Rosebank venue and HQ offering a good hotdesking spot. Smaller footprints from Father (Rosebank), Terbodore (Sandton) and Foakes (Victoria Yard) add some welcome diversity to the city, with Origin recently displaced from their Maboneng venue on Fox Street – thankfully Maboneng Coffee Company remain in place at the front of Bridge Books.
Johannesburg has its fair share of large, chain hotels, catering fully to a tourist looking for a decent amount of protection during their stay in the city. Discerning tourists staying in either Maboneng or Melrose should opt for one of two hotels, each within the boutique realm and fairly priced – The Peech in Melrose and 12 Decades in Maboneng – each have helped to define their respective areas in the past 10 years.
Half a mile from Melrose Arch, the verdant Peech Hotel maintains a leafy enclave, even when surrounding properties have developed into garden spaces. The hotel has a small restaurant and bar area, serving healthy dishes to guests, starting with breakfast from 7am. This area fronts the build, backing onto two parcels of land which includes the original plot (photo above), and a recently renovated section, which came into operation at the end of 2018. Interiors relate to local, authentic South African themes with rooms occupying townhouse-like units throughout the garden (there are a handful of rooms in the original house too). The hotel also has a small workspace for laptops and phone calls, and the pair of outdoor swimming pools are hard to miss. Beyond all these facilities, The Peech is also one of the most environmentally sound hotels in South Africa, with solar PV panels built into the original architecture.
In Maboneng, 12 Decades is the place to stay, occupying floors above the street level. All rooms are unique, designed by renowned artists from the city, reaching into the creative character of the recently revived Maboneng Precinct. There's not the space of The Peech, but drop to street level to browse the lively nightlife to sharpen your double-edged sword as you continue to meet endurance goals through alongside more mainstream urban pursuits.
Directory
Bean There Coffee, Braamfontein: +27 87 310 3100
Bean There Coffee, 44 Stanley: +27 87 310 3100
Concept Cyclery, Melrose: +27 86 179 6757
Ellis Park Swimming Pool: no number
Father Coffee, Rosebank: +27 82 513 4258
Father Coffee, Braamfontein: +27 82 513 4258
Health Wake Up: +27 11 402 0116
Maboneng Coffee @ Bridge Books: no number
Motherland Coffee, Parktown North: +27 10 900 4771
Motherland Coffee, East Rosebank: +27 10 900 2426
Motherland Coffee, West Rosebank: +27 10 900 2426
Planet Fitness, Melrose: +27 11 327 0606
tashas, Rosebank: +27 11 447 7972
Wanderers Cricket Oval: no number
Zoo Lake Swimming Pool: no number
Email Will Ross (will@zafiri.com) if you have any questions or comments. Browse other Zafiri City Guides.