Interview with NYC-based Running Coach Sam Renikoff
Will Ross, September 10, 2023
New York is capital of running – a melting pot for new grassroots trends and a sought after marathon that bookends the racing season. It's also now home to Sam Renikoff, a Minnesota-raised professional running coach and guide who offers online training plans and in-person sessions. In this interview, Sam outlines his approach to coaching, the malaise of running "pretty hard" too often and what makes for successful training and fulfilling racing.
What is your background in running?
I started out running as a kid, going on casual runs with my parents and even a few short races for fun. Eventually, I joined what was at the time, a pretty small cross-country team in high school, where I learned the benefits of training with other people. But my passion really began when I signed up for my first marathon as a college student. Since then, I have raced distances spanning the mile up to 50 miles. Most of my training has been focused on the marathon distance, and I've now run over 20 official marathons, including the Boston Marathon four times (and counting!).
Incorporating variety into my racing experience has not only made me a better runner, but kept me in love with the sport. I've now raced everything from an unsanctioned one-mile race through Times Square at 1:00 a.m., to 50 miles on a dirt trail and 5k's on a track.
In my time as a New Yorker, I've trained with several groups, including the Dashing Whippets, As Is Run Club, and Orchard Street Runners. I am also a running tour guide with City Running Tours.
How long have you been in New York?
I moved to New York City in early 2019. Despite the notorious traffic in New York, I've found it to be a great running city. The parks, river pathways, and bridges make for a great training ground, and the combination of both social and serious running groups really makes this a special place to run.
Prior to moving, I lived in Minneapolis, Minnesota, where I grew up. The winters were testing, but the city's river, lake, and creek paths were pretty hard to beat. I also trained for a few triathlons while living there, as easy access to the lakes for open-water swimming, and long bike paths in and out of the city made it logistically feasible.
I also spent a semester during college in Barcelona, Spain, where I trained pretty seriously for a half marathon and marathon. It was a great way to see everything and explore that magical city! Now whenever I travel, I make it a point to get out and run as a way to familiarize myself and discover new things about a place that I'd never otherwise come across.
What's your training approach?
I approach training with an emphasis on consistency, balance, and flexibility, and I believe that those three pillars are intertwined. Improvements or success in running is contingent upon consistent, incremental growth. This means that training plans need to be sustainable for each athlete, both in volume and intensity, and they need to work within the realistic confines of everyday life.
When I work with an athlete, the first thing that we do is identify the priorities in their life – what we'll need to work around. In my experience, athletes who make time to enjoy and pursue other hobbies, or spend time with friends and family, tend to have more success than athletes who are more singularly focused. This balance helps keep the joy of running alive, creating a more sustainable training plan that avoids burnout. To me, the training process is as much part of the goal as the end result itself, and enjoying that process is incredibly important.
Not only does balance apply to incorporating training within the constraints of daily living, but it also applies to specific workouts. My training includes plenty of workout variation in order to keep things fresh and engaging, in addition to getting the body used to adaptation. This means a training block might include fast-finishing long runs, a few mid-season races, hill work, and a rotating cast of speed work interval distances.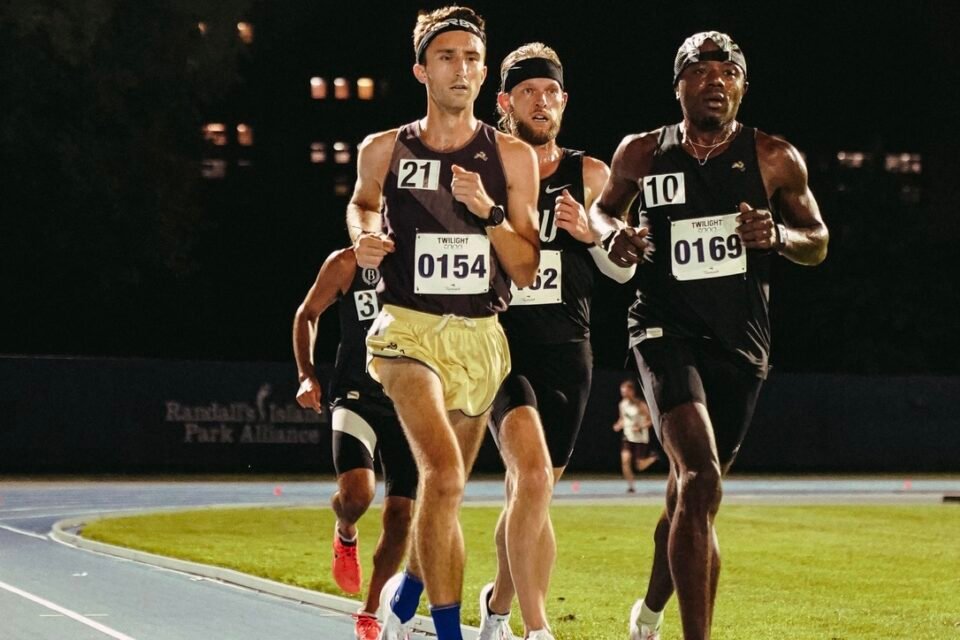 In a similar vein, I always try to instill a mindset of flexibility with athletes. In addition to the obligations of everyday life, injuries, aches, and pains can pop-up during training. I always listen to the athlete and encourage them to listen to what their body is telling them. Tweaking a training plan to add an extra day of rest is much better than pushing through and getting injured.
Lastly, building consistency is contingent upon having a strong base, and I always like to begin training with a solid base-building period. This establishes a foundation upon which we can later stack longer and more intense workouts. This period includes significant easy mileage based on time rather than distance, strength work, some fartleks to informally incorporate speed, and the occasional time trial to gauge current fitness.
Once these pillars are established and embraced, the athlete and I can carry them throughout the rest of training, allowing us to work together in fine-tuning and progressing towards whatever goals may lie ahead.
How are you setup? What services and pricing do you offer?
I work through a company called Team RunRun, where my coaching profile is listed and prospective athletes can find me. Additionally, I create training plans and interact with athletes through an easy-to-use, integrated training platform called Final Surge.
I offer two levels of coaching services. The first is an online-only option, which includes individualized, customized training plans built through Final Surge, ongoing communication and feedback, guidance with goal setting and race selection, and access to a number of online community groups through Team RunRun.
The second level of service includes everything from the online-only option, with the addition of a once-per-month in-person training session. These in-person sessions are tailored to the athlete, but can include form work, warm-up drills, pacing through a specific workout, and catching up on all things training. I work with athletes to find a convenient place to meet in New York, at a time that fits their schedule.
Check out Sam's Team RunRun page for updated pricing.
What common mistakes do you see from runners when they're compiling and executing their training programmes?
The most common mistake that I see, which is common for runners everywhere, is simply running too fast too often. You'll often see this advice, but easy days should be easy, and hard days should be hard. Runners often get stuck in this middle ground of running "pretty hard" all the time, which accumulates fatigue, and ultimately leaves potential progress on the table.
The other mistake that I see runners make is not listening to when they might need rest. It's okay to take recovery days, but sometimes it takes having a coach to give you permission to fully acknowledge and take it.
Lastly, I'll sometimes see runners without coaches fail to sufficiently plan ahead, which can lead to missing key workouts or throwing a training build out of rhythm. While acknowledging that life happens and some workouts may have to be missed, a simple weekly look-ahead can help in adapting a training schedule that'll allow for the bulk of the work to still take place. This might include planning a run for the afternoon rather than the morning, or moving a long run up a day to accommodate for an upcoming late night.
What's the 3-5 year plan for your own coaching and racing?
On the coaching side of things, in three to five years, I would like to be able to look back at a long list of accomplishments from athletes who have worked with me. I want to see comebacks from injuries, PRs in 5k's and half marathons, some people completing their first marathon, and others having rediscovered a joy for running.
Another goal of mine is to establish a group run to help build community. Having others to run with is not only more enjoyable and a fun social outlet, but it is also one of the best ways for athletes to get faster.
I would also love to continue long-term relationships with my athletes. Ideally, they will look to me not only for the immediate race training, but also for how to navigate the off-seasons, brainstorming for new races, and overall long-term success and enjoyment.
For my own racing, I would like to shave off a few minutes from my current marathon personal best. I also would like to continue to expand my range, including committing to train for a mile track race, in addition to going after a trail or mountain ultramarathon.
Contact Sam through Team RunRun to learn more

Header image: @mccarthyvision (Brendan McCarthy)