Coastal & Mountain Running in Hermanus, South Africa
Will Ross, July 1, 2018
It was in Hermanus that I first got truly lost. After spending dozens of hours in the surf off the town's foremost surf beach, Voëlklip, the challenge of scaling its cascading mountains prompted a half-day amble, back in January 2005 when long-distance running still felt Herculean.
Known as being one of the world's premiere land-based whale watching sites, Hermanus acts as one of Cape Town's key satellite towns for tourism. Whereas South Africa's mother city is water depleted, responsible tourists will appreciate that Hermanus has its own reservoir that remains healthy.
This foresight is mirrored by the town's advanced effort in building infrastructure for its high-energy visitors and resilient ageing residents. Abundant trails on the mountain are matched by robust infrastructure along the coast, primarily with a paved but varied strip that connect the town's main beaches, continuing from Grotto to the New Harbour.
Running trails in Hermanus can be organised in three categories, with road running shoes being adequate gear for the whole set. At just over 200m above-sea-level, the two peaks that loom over the town are home to the marked mountain trails. These are complimented by a contour trail at their base, and the winding path that skirts the coastline.
Up the hill
This route is accessed at the north end of 7th Avenue from where the gravel path shoots up to the peak overlooking Kammabaai and Voëklip beaches. To take the summit, head up the trail that zig-zags in a north-westerly direction from the face that looks away from the town centre. The climb to the pinnacle beacon (284m) shouldn't take more than 15 minutes at a gentle jog, or 30 minutes with a gentle hike.
From the summit, double back along the ridge before heading north on a new trail that wraps down the north side of the mountain before reaching the contour trail. Either continue north along the contour trail, or take a left to trace back to your original entry point on the mountain.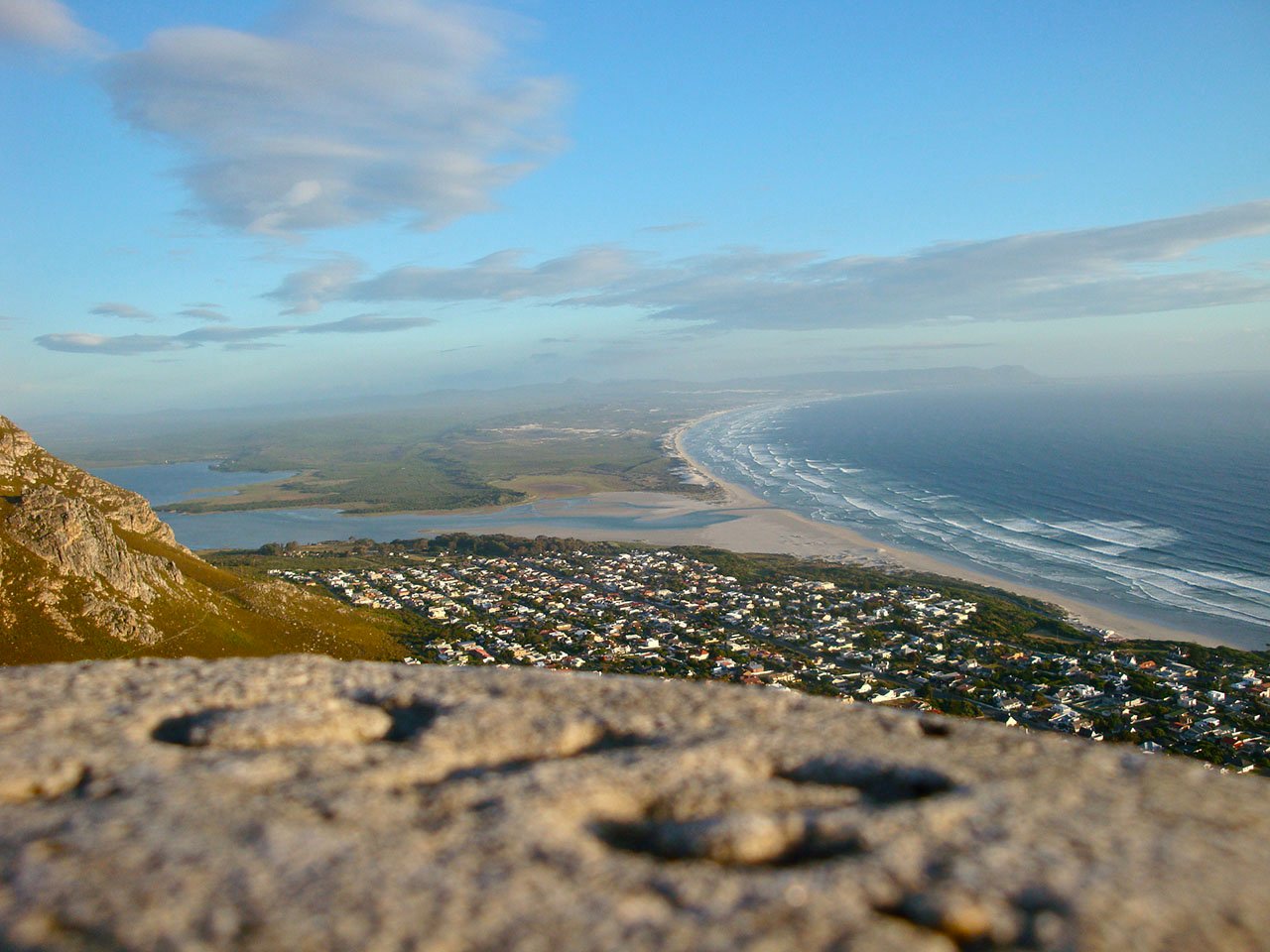 I've created a Zigzag to beacon is a segment on Strava, plugging it into an overall Route which amounts to 4.3km and 342vm. The snap above is looking south-east from the summit, with Klein River Lagoon in the mid-ground and the Gansbaai peninsular just above visible top-right.
Contour trail
Heading up 7th Avenue connects you to a contour trail that slices along the base of Fernkloof Nature Reserve, before making its way above the golf course. Dropping down at Hermanus High School directs you to the town centre but by continuing east above Mountain Drive, you'll add a further 3km to your time on the trail (9km being the shorter distance). Go early and finish with brunch at Die Plaaskombuis (no website).
Coastal trail
An immaculate paved trail winds its way from Grotto Beach on the east side of Hermanus to the town's New Harbour, south-west of the town centre by two miles. Covering the ground between these two points accounts for an 9km trail. Don't think about wearing trail shoes – concrete slabs or else pavement at the dominant surfaces along this route (see modular blocks in the photo below).
This Strava Route map includes the full route, 8.7km and 99vm. You won't be bored at all, with coastal views changing with each new orientation of the trail. The task is to maintain a rhythm and handle gentle bends with a continued pace.
Track running
Head to Hermanus High School to use their 400m grass track. You'll find smoother grass tracks out there, but this at least provides a good workout and is easily reached within a 3-minute jog of the town centre. Aim to go after school hours, from 4pm.
Events & athletic extras
Those runners interested in some Saturday morning competition can check into Hermanus parkrun four miles from town (a drive). The course includes a twisty loop that's fun but impossible to PB on. Another organised set of races are arranged around the annual Hermanus Whale Festival at the end of September, with a 22km (525 vertical metres) and 14km (505 vertical metres) available.
Mountain bike and road bike rental is available at 18 Long Street through Hermanus Cycles. Email hermanuscycles@hermanus.co.za and – their website is disappointingly terrible but trust their fleet of decent Giants and get your bike reservation in early. The mountain biking in Hermanus is far better than the road biking.
Sleeping & Eating
Most people visit Hermanus for its land-based whale watching, which is world class and especially accessible given the coastal trail. For accommodation that makes the most of oceanside views, aim for Harbour House if you want to be in the town centre, or Birkenhead House if you're happier out of town but within stumbling distance of Hermanus' beaches.
Two restaurants and one eatery are worth checking into during your stay in Hermanus. Bietang's Cave is perfect for lunch within the town centre, and Harbour Rock is ideal for sundowners and dinner. Lizette's Kitchen is your all-day healthy food spot, albeit in a strange location at a midpoint between town and beach.
Have any comments or suggestions? Email Will Ross (will@zafiri.com).