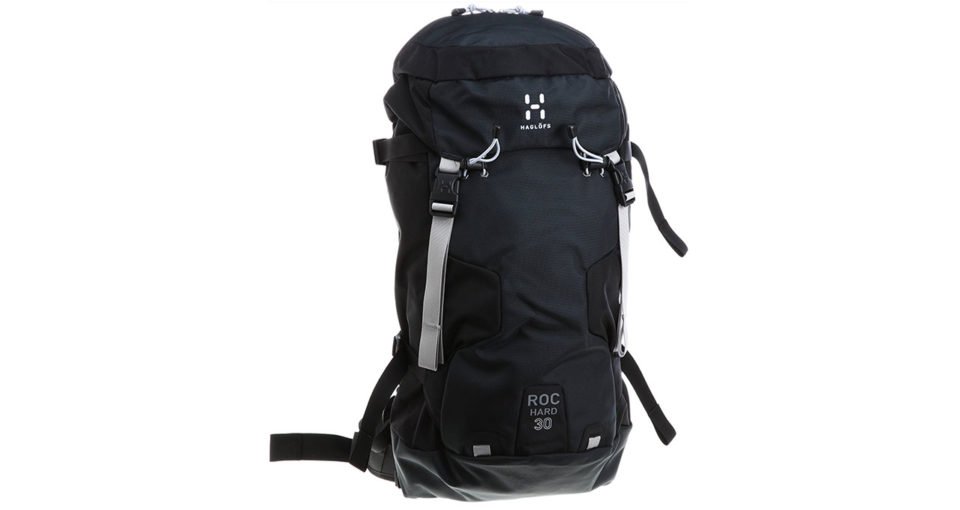 Haglöfs started in a shed in Torsång, Sweden in the spring of 1914. The very first product Victor Haglöf made was a backpack which sold for a mere SEK 0.9 (GBP 9p) and the rest, as Haglöfs say, is history. Nowadays Haglöfs is the largest outdoor equipment manufacturer in Scandinavia and has over 500 top end products on offer. 96 years in business has earned Haglöfs a reputation for producing innovative, minimalist designs, whilst maintaining a strong commitment to the environment and sustainability.
Weighing in at 1400g, the Roc Hard was designed as a tool for hardcore users and utilises the most robust fabrics and materials. The bag is made from two grades of Ballistic® Polyamide which are treated to make them water repellent up to 1500 mm. It also features the Interact™ suspension system, a tuckable hip belt, ice axe loops, rope carry, compression straps, a safety whistle and a floating/detachable lid.
The quality of the materials is immediately apparent, and the simple tube design does away with unnecessary extra pockets and straps. One downside to this feature is that it can make frequent use items difficult to reach, and although two pockets in the lid provide an elegant solution to alleviate this problem, you do still find yourself unpacking the whole bag to get at something at the very bottom.
For a 30 litre pack you can carry a surprising amount of gear and it has enough room for weekend camping trip or even, with some inventive packing, a week trip. It is also small enough to count as hand luggage when flying or to use for a day hike.
The Interact™ suspension system fits extremely well to the shape of your back when the bag is worn properly and the hip belt is used. However I have found that the shoulder straps can become uncomfortable especially when in casual use as the close fit of the back plate offers little in the way of ventilation. The water repellent materials work well to protect you kit from light showers but offer limited protection from extended or heavy rain making a cover or liner a necessity.
In summary the Roc Hard is a tough, stylish and functional pack and the quality certainly lives up to Haglöfs' reputation. It could be improved if the pack was totally waterproof and back plate better ventilated but this does not detract from the overall impression, which is one of outstanding quality.