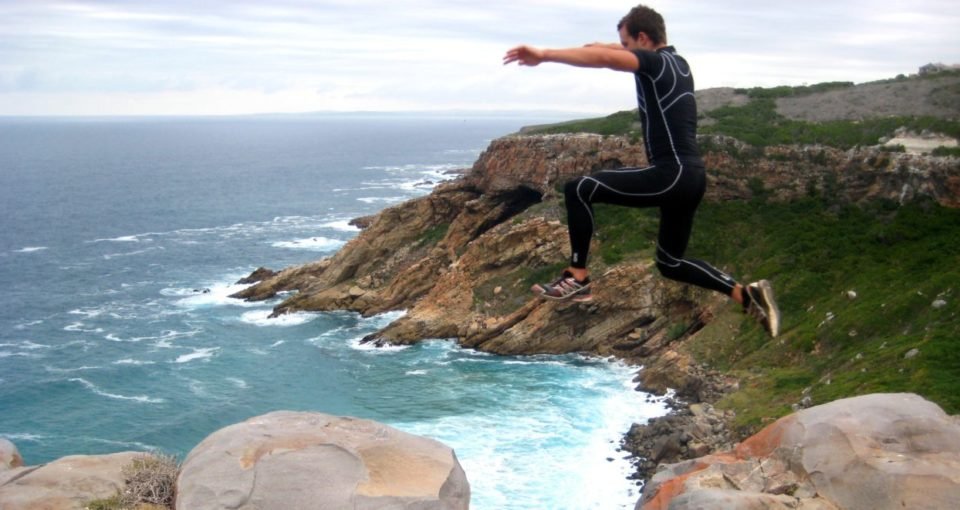 First Ascent is the leading specialist outdoor gear manufacturer in South Africa, and has been around since 1989. Up until now, they have provided the South African outdoor sports scene with 'performance tested gear', which means that each product you see with their significant lizard- logo has been tested by worthy athletes, and it works. Their new range of compression garments was given to me to see how well they do in the Stellenbosch mountains while doing a trail run or mountain bike ride.
Never being budged by any injury during my many years of doing running/biking/triathlon, I used to think I was immune to any strain. Then slowly, along came a spider, which crawled up my leg and nestled in my achilles-tendon. Doctors give this pest the name of Achilles-tendonitis, reminding me day in and day out that I was also but a mere mortal. Coincidentally, just as I developed this injury, I got hold of some compression garments from First Ascent, hopeful that the hype would bring back my superhuman-status.
I was trying out two pieces of garments: one being the First Ascent Compression Performance Recovery MENS SHORT SLEEVE, and the other being the First Ascent Compression Performance Recovery MENS LONG TIGHTS. In the product descriptions it is stated that these garments 'can reduce muscle fatigue and DOMS (Delayed onset of muscle soreness),' suggesting that these garments seem to be ideal for using over a couple days of hard training/racing, such as multi-day stage races/events.
The products also prevent the build-up of lactic acid in your muscles, further enhanced by improved blood circulation through the targeted muscles, as the applied pressure forces blood back to your heart, and flushes any lactic acid that has built up. Wow, so far so good.
What the garments also do is they brace the muscles against jarring and excess vibration, confirmed by my personal physiotherapist to prevent injuries in your muscles, such as small muscle-tears that flare up during exercise. Given their credentials, an our bipedal status as humans, it seems like everyone should have a pair of these.
What I experienced
Firstly, they athletic and slick looks is fantastic – always a must with skin-tight products. When I got over looks, it was time for the mountains to see if these clothes perform as well as they appear. As the two pieces of gear are separate and provide support to different parts of the body, I decided to evaluate them individually.
I found that the short sleeve shirt provides support to the core-muscles that play an important part in most sports. Wearing this shirt while running and biking did make my upper body feel more stable and stronger, providing more than enough support, however, the constriction caused by the high pressure the shirt applies to the torso, made this a less comfortable experience compared to other shirts First Ascent offers. I would recommend this product for any runner struggling to find good balance, and who is not strong in the core-muscle region. The shirt didn't irritate me as much on the mountain bike, as less movement in the upper body is required. Fundamentally though, the top helped maintain a core body temperature as I experienced during windy or cooler sessions on peaks and ridges.
The long tights tell another story though. From the moment I fitted these on my legs, I was superman yet again; Immediate support to all the major muscles was notable, and a shot confidence right through me. During longer runs when my legs would normally start wearing out, the CPR long tights were there to help. The long tights was also very comfortable, whether it be cold or warm weather.
Verdict
Both of these products are made from 80% nylon and 20% spandex. This elastomeric fabric is literally the most durable fabric I have ever come across. Bushes, rocks, grasslands, you name it – nothing came close to piercing through the material. The long tights, weighing in at only 153g (size Medium), and the short sleeve shirt at 163g (also size medium), prove that the fabric has a lot of power or such lightweight products.
I was skeptical about how these garments would react in the warm summer in South Africa. When it came to testing, the warmer weather was welcomed by both these garments. The mesh panels under the arms in the shirt provide enough ventilation to keep you cool, even in the hot December sun in the Cape. In colder temperatures (rain included) both the long tights and the shirt reacted well, providing the needed comfort.
I found each garment particularly useful while training for a triathlon as they can take the strain of multiple training sessions per day while in preparation for a race, and shorten recovery periods between sessions. As it is currently the off-season in the Southern Hemisphere, have a good think about getting hold of compression garments to get on top of your training, or give you that competitive edge while racing.
Learn more at firstascent.co.za