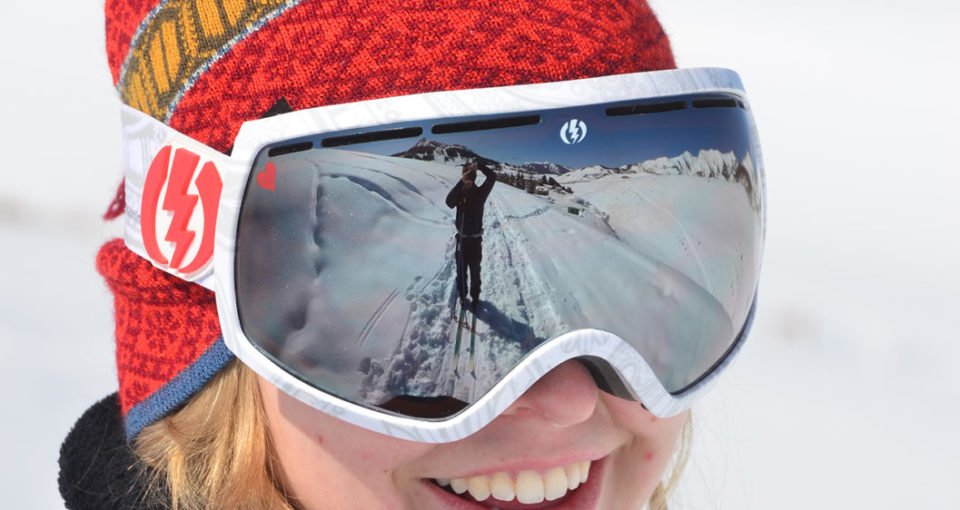 When it comes to eyewear, maximizing performance and style is essential. Based out of California, Electric Visual are a team of innovators, investing in the production of sunglasses and snow goggles. As one of the brands at the forefront of optics design, Electric bring together the latest and greatest high performance technology with unique designs that reflect the youthful and fun spirit of today's adventurers.
This winter I got my hands on a pair of the EG2 Goggle, intrigued to test out Electric's concept of 'more lens, less frame.' It did not take long for me to relish the bigger vision, most specifically the increase in my peripheral sight, accomplished by the oversized dual spherical polycarbonate lens. While many other goggle brands are experimenting with smaller frames and larger lenses, the EG2 is one of the biggest goggles you can find on the market.
Complete with 100% UV protection, the goggle is also made with a mould-injected thermo-plastic urethane frame, which not only ensures a comfortable and snug fit to your face, but also maintains superior flexibility in the event of a jostling crash or face plant. Trust me, these goggles can take a beating.
While the goggle includes a 43mm adjustable strap, it was not big enough to stretch over the outside of my helmet, and consequently had to be worn on the inside over a hat. Because of the size of this goggle, helmet compatibility may be an issue and after lots of toying with my Salomon Diadem helmet, I came to the conclusion that the goggle was just too big and would not work. However, I managed to steal my sister's K2 Rant Pro, a much bigger helmet, and the goggles fitted just fine. Electric also makes a smaller version, the EG2.5, which may be more compatible with a wider range of helmets and for those with smaller faces. Make sure you take into consideration the size and fit of your helmet when considering this goggle.
The EG2 also includes an anti-fog and anti-scratch hard coating, and is the only Electric goggle to boast anti-reflective technology, which allows the lens to absorb light and reduce glare. I took the opportunity to test out the goggle's anti-fog element during a cross-country skiing jaunt in Crested Butte. Over the course of three hours, six miles, and shedding layers in the warm sun, I was pleasantly surprised that the visibility held up just as well as wearing a pair of sunglasses. Only toward the end of the trip did I notice the small accumulation of moisture at the top of the lens.  However, what moisture there was never impeded my sight.
Electric also offers a wide range of lenses for varying conditions. I opted for the silver/bronze chrome because of its enhancement of shadow contrast and high performance in overcast cloudy, partly cloudy, and bright sun conditions. If you are looking to expand your quiver of goggles, check out some of Electric's more specialized lens, however, if you are interested in a lens that can get you through a wide range of weather, the silver/bronze is a safe choice.
If you are on the quest for a new pair of snow goggles, the EG2's increase and superior maintenance of vision definitely make it a goggle worth looking at.
Useful Information