Edinburgh's Innertube Cycling Map
Will Ross, March 4, 2011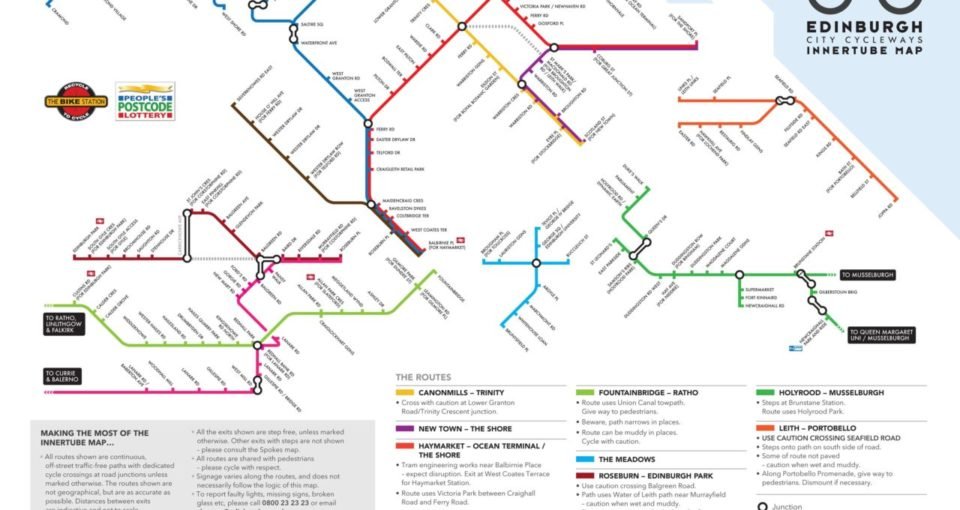 Local cycling enthusiasts at Edinburgh's The Bike Station and Hillside Agency have developed an innovative map of the city's off-road cycling paths. The map outlines the car-free routes throughout city, unveiling many less known paths that make crucial traverses of Scotland's capital.
Designed in the style of the London Tube Map, Edinburgh's Innertube map displays routes around the city including exit points, connecting road links and details on paths that are still under construction. Unveiled for the first time in a single map last week, the extensive network of off-road paths makes commuting on foot and bicycle within Edinburgh more accessible than ever.
The idea to design, publish and develop the map came from cyclo-commuter Mark Sydenham of the Bike Station. Representative of The Bike Station's commitment towards making cycling sustainable, Innertube aims to promote commuter cycling through soft measures such through its Climate Change Fun 'Better Way to Work.'
Taking the project further, The Bike Station have teamed up with Edinburgh and Lothian Greenspace Trust to manage funds of £98,000 given to the partnership by the People's Postcode Lottery's Dream Fund. Over a twelve month period beginning April 2011, conservation work will patch up paths in the North of Edinburgh and further improvements shall be made to update and develop signage along the route. The conservation phase of the project shall provide volunteering opportunities for locals and enthusiasts keen to promote this new feature of Edinburgh.
Head to innertubemap.com to for updates and download the Innertube.