Durham, North Carolina
Alongside its reputation as the foodie capital of the American South, the home to Duke University also has a full set of facilities for runners, cyclists and swimmers. Durham's original economy was rooted in agriculture, sparked in the late 19th century when George Washington Duke's tobacco lead to the initial growth of the city. In 1924, his son, James Buchanan Duke, donated a significant sum of money to what is now Duke University. As the tobacco industry failed and the city began to deteriorate, institutions such as of the Research Triangle Park combining the resourced of Duke, UNC-Chapel Hill, and N.C. State, allowed for the city to thrive once more. Today, many of Durham's most chic venues are located in old tobacco warehouses, legacy features that are surrounded by rolling countryside and healthy pursuits normally associated with a liberal town held up by an academic backbone.
To make the most of this Durham city guide for endurance athletes, note a few patterns and features. Facilities are broken into categories according to their running, cycling or swimming focus, with a separate section highlighting quality gym facilities in Durham. Exact hours aren't indicated unless very restrictive, and prices are also omitted in the knowledge that no listed facility charges more than $20 for day access. Instead, a full directory of telephone numbers is provided in the final Directory section, so you can call ahead to confirm your intended training time. The place names in Directory link directly to the venue's Google Maps profile – click on the venue's name to generate directions. Finally, the Sleeping & Eating section towards the end of the guide provides an insight into good places for sleeping and fuelling during your time in Paris.
Orientation & Logistics
Downtown Durham and 9th Street are separated only by Duke University's East Campus. Restaurants, shops, and markets abound in both areas. Duke's picturesque and gothic West Campus is in close proximity and well worth a visit. Durham's Research Triangle counterparts, Chapel Hill and Raleigh, are within a twenty-five and forty-five minute drive, respectively. All three towns boast major universities that support much of the economy and culture in the region. For those flying, the Raleigh-Durham airport is only twenty minutes away from downtown Durham and is best accessed via Uber or Lyft.
Every place in downtown Durham and on 9th Street are within easy walking distance of one another and always connected by sidewalks. Roads downtown and on 9th Street both include bike lanes, but be sure to bring a bike lock as bike theft is somewhat common (though this is most likely the worst crime, if any, you would encounter in Durham). Commuter bikes from dockless bike-share programs also dot the sidewalks; users can rent bikes for 30-minute increments on their smartphones and leave them anywhere within the city. While there is a bus system in Durham that can take you around the Triangle, it is much easier to drive yourself or take an Uber or Lyft to any destination outside walking or biking distance.
Though there are four definitive seasons, Durham weather is relatively mild year-round. July is the warmest month, with an average high and low of 87 degrees and 68 degrees Fahrenheit, respectively. January is the coldest month, with an average high and low of 48 degrees and 27 degrees Fahrenheit, respectively. Though these temperatures are not prohibitive to cycling or running, you should pack gear and apparel accordingly. Outdoor swimming is generally not favorable between October and May, but there are plenty of indoor pools to use. Durham averages only four inches of snow per year, spread out over a few storms. However, the roads ice often and, like most Southern locales, the county lacks adequate equipment to clear ice and snow. Thus, cyclists should be especially careful when it comes to precipitation. Day length ranges from a little under ten hours during the winter, to well over fourteen hours in the summer. For example, on the summer solstice in 2017, sunrise was at 5:59 AM and sunset was at 8:35 PM, and on the winter solstice, the sun rose at 7:22 AM and set at 5:05 PM.
Running
For those looking for a good place to train their speed, the Morris Williams Track & Field Stadium at Duke University is open to the public for several hours each day. It is free and well-lit in the early mornings and at night.
One of the best hills to run in the area is on Cameron Boulevard, from its intersection with Science Drive to where it underpasses Highway 15. At roughly a 5.5% grade and about half a mile long, this hill is particularly challenging when performed as repeats or at the end of a long run. Run it either on the sidewalk of the road, or on the Al Buehler trail, which it parallels. Duke University's campus also offers several running paths. The Al Buehler Cross Country Trail is a forested path just under three miles that loops around the Washington Duke Golf Course. It is made of soft gravel and offers several hills of varying grades. Few parts of this path are truly flat, ensuring you never fully relax and increasing the effects of your training.
The Sarah P. Duke Gardens is also a beautiful place to run, especially in the spring when flowers are blooming. We would be remiss not to mention the abundance of trails that run through the Duke Forest. You can explore more trails in the Duke Forest here. They range from 0.5 to 6.9 miles and can be combined for longer runs. Further out of town is William Umstead State Park, is another local favourite trail run that begins 20 minutes from town (drive time). There are no entry fees for the park, and you can run up to 13 miles on its multi-use trail, or up to 7.2 miles on hiking-only trails (or even more if trails are combined).
Just a short jog away from downtown Durham is the American Tobacco Trail, a 22.2-mile trail that runs along a former railway through Durham, Wake, and Chatham Counties. It begins at the Durham Bulls Athletic Park on Morehead Avenue and is mostly an asphalt at its northern end.
Carolina Godiva Track Club offers group runs open to the public nearly every day of the week. These runs vary in distance (anywhere from 5 to 20 miles) and location. Some are on the trail and some are on the pavement.
If you're looking fo supplies during you stay in Durham, 9th Street Active Feet is located close to downtown Durham, and they carry running shoes, socks, orthotics and insoles, running accessories (think Bodyglide and running earbuds), apparel, physical therapy equipment, and even some swim gear. Take a look at their website if you are interested in joining any races nearby. Additionally, Bull City Running Company is the most popular running store in the area, and will be able to advise on routes specific to your training.
Cycling
Most routes in the Durham area are variations on the same set of popular loops that take riders almost immediately from the busy town and residential neighborhoods to beautiful, expansive countryside. Here, you will experience the rolling hills typical of the Piedmont area with very few extended sharp climbs. Roads are generally quite well maintained and weather is normally conducive to riding year-round, though be sure to bring warm gear and toe covers for your cleats if you are visiting in the winter.
If you are staying in downtown Durham, your best source of cycling routes is this list compiled by the Duke Cycling Club on Ride with GPS. You can pick from routes ranging from 18.3 miles to 113.3 miles (the latter takes you all the way to Virginia and back). Perhaps the most beloved route is the "Maple View Ice Cream Ride." At 34.7 miles, this is the perfect introductory ride for first-time visitors, with the added bonus of an optional stop halfway for farm-fresh ice cream at Maple View Farm.
If you are looking for some good climbs, you can try out the Pleasant Green Road Climb (5% grade over .74 miles) as part of a longer route like Pleasant Green to Hillsborough, or you can take a ride on Mt. Sinai Road (4% grade over 1.09 miles) just outside town.
The Durham Cycling Club leads rides several days each week between April 1st and October 31st. Rides progress in length from 25 miles in the spring to 60 miles in the summer. They offer two free trial rides to non-members.
Durham Cycles on 9th Street is one of the most popular cycling shops in the city. They sell over a dozen bike brands, and rent carbon road bikes for visitors looking to loan a ride for a day or longer.
Swimming
There are plenty of indoor pools in Durham for swimming during the cooler months. The Downtown Durham YMCA has a full-size lap pool that is open for most of the day during the week and generous hours during the weekend. YMCA members from North Carolina can visit for free, and YMCA members from around the country are allowed a limited number of visitor passes. The Campus Hills Pool, with eight lap lanes, is another great option.
If you are in town during the summer or early fall, it is well worth a 30-mile drive south to Jordan Lake for an open water swim. Perhaps the best swimming spot is Ebenezer Beach, which offers bathrooms, parking, and a picnic area and is less crowded than the other swimming beaches in the park. To make a double day of training, you can combine your swim with a nice run on the park's fourteen miles of trail. A small park fee applies on weekends, holidays in April, May, and September, and daily from Memorial Day through Labor Day.
Falls Lake is another option for open water swimming, slightly nearer to town – 25 miles to the east. The Beaverdam Beach is generally ideal for swimming, complete with bathrooms, parking, and picnic areas. There are also mountain bike trails in this part of the park which can be used for trail running. The same park fees apply here as do at Jordan Lake.
Gym
There are a few gyms around Durham, most of which require memberships. However, a few offer day trial passes. The Downtown Durham YMCA has an open gym and a plethora of classes every day. As mentioned earlier, North Carolina YMCA members can visit for free, and YMCA members from other states have a limited number of visitor passes. Planet Fitness also has a few locations in Durham, including one just two miles from downtown. You can purchase a guest pass here or use the gym an unlimited number of times if you are already an eligible Planet Fitness member.
Sleeping & Eating
Durham has been dubbed the "foodie capital of the South," and for good reason. Residents pride themselves on the Southern cuisine that largely defines their heritage. This cuisine entails a large variety of fried foods, cooked greens, and sweet tea. Recently, a strong demand for local food has resulted in farmers markets and farm-to-table menus. As an up-and-coming town with a considerable constituency of college students and immigrants, however, there are also many ethnic and plants-based options.
Happy + Hale is a perfect fuel stop for endurance athletes, with a wide variety of protein-packed smoothies, breakfast bowls, and salads. It is ideally located at one end of 9th Street and is attached to Yoga off East, for those looking for full regeneration. The Durham Farmers Market offers fresh and local produce every Saturday morning and makes for a great post-bike food stop. Food trucks are often present, as they are at regular "Food Truck Rodeos" that occur five times throughout the year.
Guglhupf Bakery, Café, & Biergarten is an excellent stop for coffee and German food, especially for their breads, baked goods, and meat & cheese plates. Cocoa Cinnamon is another coffee shop and cafe with three Durham locations; it has one of the largest drink menus in town, featuring specialty, often obscure and exotic, choices. As mentioned in the cycling section of this guide, Maple View Farm is famous for its ice cream and is situated in a beautiful part of the country. You can lick ice cream or sorbet on the creamery's porch with a gorgeous view of the Piedmont's rolling hills.
Another 9th Street staple is Elmo's Diner, well-known for its ambiance and breakfast items; it has won over a dozen awards for "best breakfast/brunch" over the past decade. Its menu also offers classic North Carolina barbecue items for lunch and dinner. For a unique meal, head to Goorsha on Main Street. This Ethiopian restaurant serves food in the traditional family style, but you can also order food individually. Luna Rotisserie and Empanadas is another great option for healthy, ethnic food, and it has several vegan options. Their South American cuisine is complemented by cocktails, making it a stylish downtown stop.
Hotels in Durham and range in amenities from the bare minimum to chic and luxurious. You can expect to pay over $100 if staying in the downtown area. Unscripted is one downtown hotel that sits neatly in the realm of boutique motel-conversion, with 74 bedrooms and a Toby's Estate Coffee venue plugged into the ground floor. The hotel has a rooftop pool providing an expansive view of the city and a location for organised yoga sessions in the summer (good for relaxing, but not suited to laps). The hotel also has a restaurant and frequently hosts activities (such as poolside yoga during the summer). Importantly, the hotel's fitness center is open 24 hours.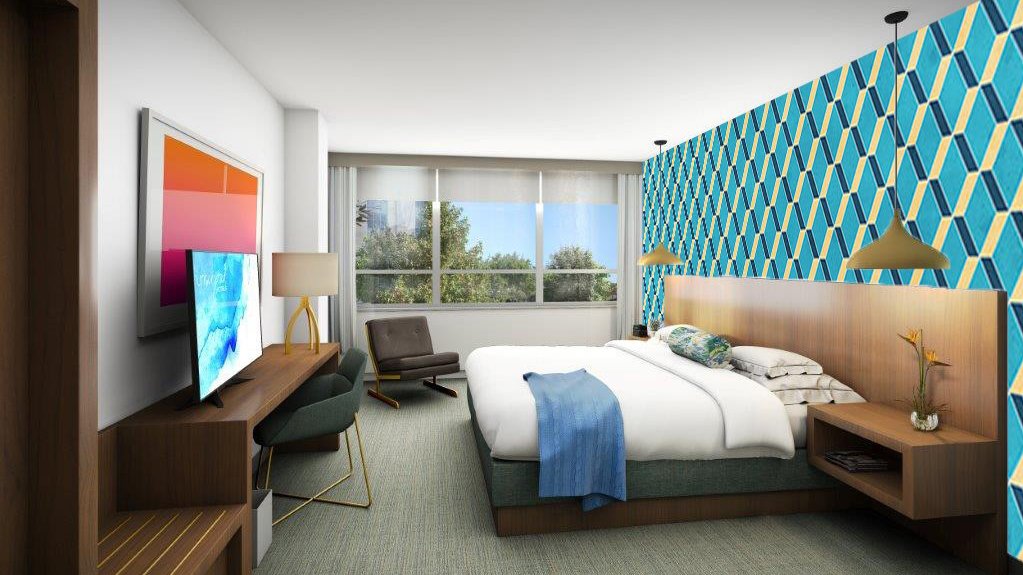 Alternatively, Aloft is another click hotel with a 24/7 fitness center and outdoor heated leisure pool (dipping only). The hotel is also located in the downtown area and though you may shudder when you see that the hotel is owned by Marriott, know that the venue is tasteful and on par with other independent or smaller chains that brand themselves as bona fide boutique. 
Directory
Al Buehler Cross Country Trail: no number
Beaver Dam Park: +1 919-676-1027
Bull City Running Company: +1 919-265-3904
Cocoa Cinnamon: no number 
Downtown Durham YMCA: +1 919-667-9622
Ebenezer Beach: +1 919-362-0586
Guglhupf Bakery, Café, & Biergarten: +1 919-401-2600
Luna Rotisserie and Empanadas: +1 984-439-8702
Morris Williams Track & Field Stadium: No number
Sarah P. Duke Gardens: +1 919-684-3698
William Umstead State Park: +1 919-571-4170
Email Will Ross (will@zafiri.com) with questions or comments, and have a browse of other Zafiri City Guides. Thank you to Sierra Winters for sharing this guide.