Dantebad Outdoor Swimming Pool, Munich
Will Ross, August 22, 2017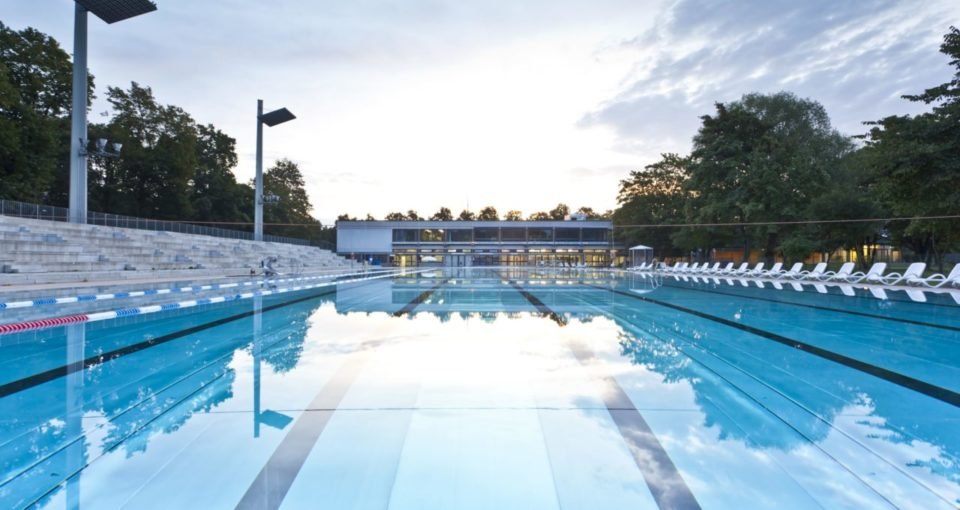 Moving to Munich in the middle of February is a daunting prospect. Knowing no German and presented with a deep Bavarian winter, I was totally out of my depths until coming across Dantebad, an impressive outdoor swimming facility in the north of town. Heated throughout the year, a prized 50m stainless steel tub can be included in the list of premium training facilities that surround the athletics venue for the 1972 Olympics.
Alongside the main pool's 50m length is a warmer relexation or rehab area with a whirlpool and submerged lounge chairs. A restaurant, small cardio area and sauna are open throughout the year, with the option of an auxiliary pool that's several degrees cooler than the main tub (25°C), open only on weekends during the summer (May to October).
The summer season also welcomes the opening of a cafeteria with ice creams and simple snacks, occupying a small building that borders a football field-sized grassy area with shady spots for proper tanning. It's also worth noting that a descreet nude area is sectioned off next to the auxiliary pool, complete with its own 25m pool. The concrete grandstand banked up against the main pool also makes for a noble, if exposed, tanning perch.
Prices in winter hover around eight Euros, an entry fee that is halved in the summer. See website for opening times. Thanks to Robert Goetzfried for the header photo.