Cycle Tour of South London's Breweries
Will Ross, July 23, 2015
Any carefully structured plan for a Saturday beer tasting tour of South London's breweries is bound for collapse. With a clear route in mind, and five breweries to hit, I headed out from King's Cross on Saturday with my brother on our Scott Speedster road bikes, in the tucks all the way to our first stop in Battersea.
Stop #1: Sambrook's Brewery
Though we arrived outside of an official tasting tour, Sambrook's treated us to the Wandle, Pale Ale and Junction to crack into the day. The two bitters and single ale began to dissolve any measured approach to the day as we explored the brewery's next batches with Tom, who works weekends at the Brewery outside of a job in film. Put all of London's 82 breweries on a timeline and Sambrook's is the eight oldest, founded way back in 2008…
Unit 1, Yelverton Road. Open from 11am to 1pm on Saturdays before tastings begin.
Stop #2: Brixton Brewery
The ride to Brixton Brewery turned out to be the longest of the day, enough of an effort to work up a substantial thirst to sample the Effra Ale and Atlantic A.P.A. Just two years old, Brixton Brewery spawned from a great friendship between couples Jez and Libby, Mike and Xochitl, a collaboration that's now bustling beneath the railway arches in the heart of the neighbourhood.
Arch 547, Brixton Station Road, Open from 12-4pm on Saturdays.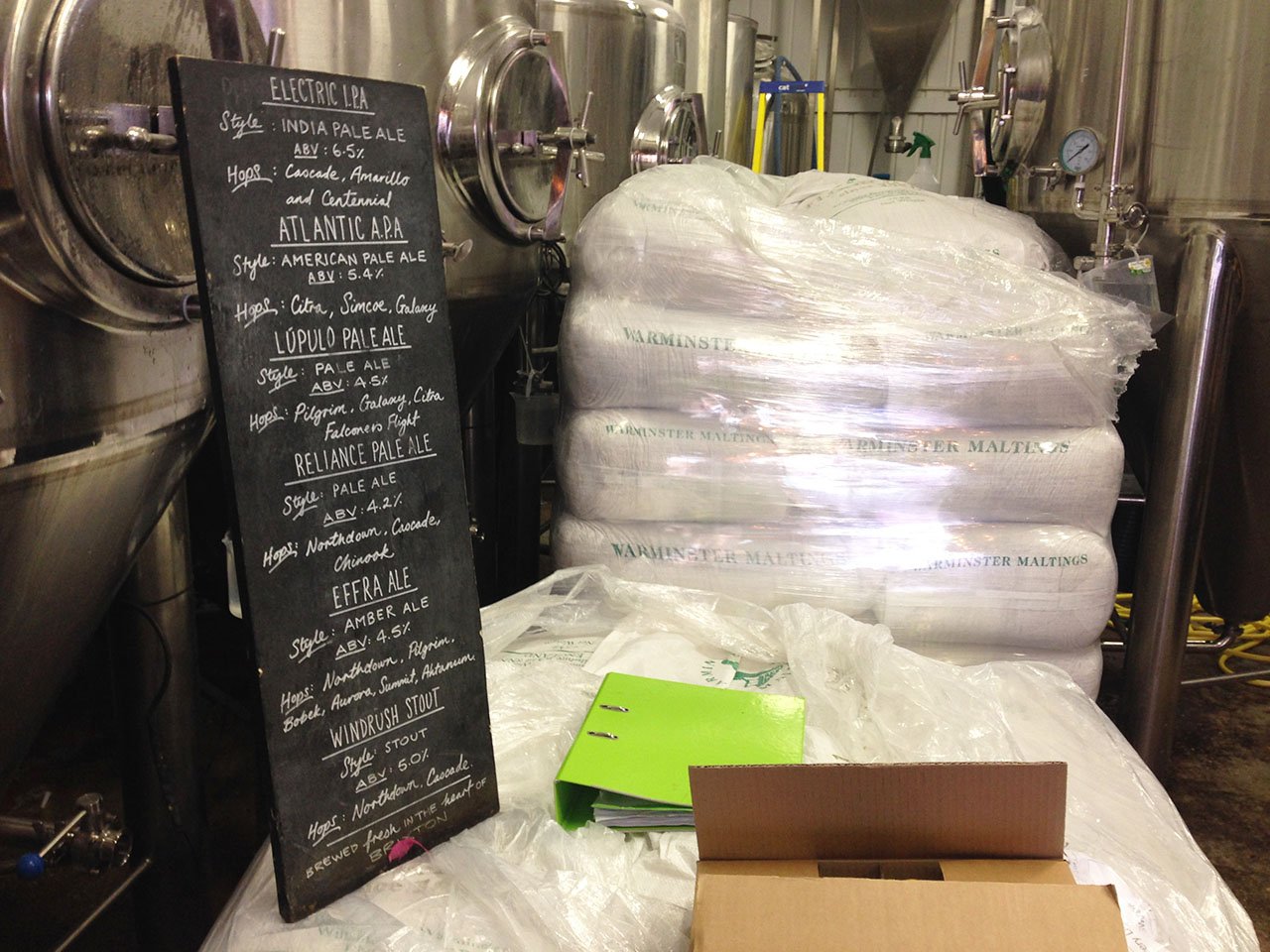 Stop #2.5: The Beer Hive
When taking on a beer tour with such lacklustre preparation, there's always the danger of being led astray by locals. Brixton Brewery expertly weaved a narrative about a collaborative spot nearby, one that merged Clarkshaws and London Beer Lab in a space just around the corner at Loughborough Junction. So after winding our way through to the other side of the tracks and the less busy but considerable more spacious holdings of The Beer Hive, worthy refreshments came in the form of the Gorgon's Alive from Clarkshaws and the Tip Top Citra APA from London Beer Lab.
Arch 283 Belinda Road. Open noon t0 dusk on Saturdays.
Stop #3: Orbit Beers
Navigating our way north-east towards Fraser Park/Kennington, we found our way to another railway arch and seating area, the domain of Orbit Beers' Saturday setup. I grabbed the Neu and my brother had the Ivo, all while the vinyl player spun some American country music. Fortunately Get Wurst had gravitated to Orbit for the day, so we treated ourselves to some food, portions that were much needed.
Railway Arches 225 & 228, Fielding Street. Open noon to dusk on Saturdays.
Stop #4: Partizan Brewing
Located at the south end of Bermondsey's famous beer mile, Partizan Brewing is subject to Saturday crowds, those that flock to the prestigious quarter to complete the full strip. We were in the line for over 25 minutes and though our Pale Ale and IPA refreshments went down well, it's hard to justify the wait unless you're in a big group.
8 Almond Road, South Bermondsey. Open Saturdays 11am to 5pm. 
Stop #4.5: Maltby Street Market
From Partizan, we turned our bikes against the grain to grab some food at Maltby Street Market (Ropewalk), another bustling scene on Saturdays for foodies and celebrities. We ended up sharing a steak sandwich from The Beefsteaks, a suitable top-up.
Stop #5: Meantime Brewing
After the intimacy of our first few stops, Meantime seemed considerably more commercial, or at least industrially efficient. TV screens and a stocked memorabilia shop selling baseball caps, wrist bands and t-shirts were a little much for me, partly because by this stage in the day – now 4pm – I was exhausted, so much so that I resorted to making SABMiller's latest holding a nap-zone.
Lawrence Trading Estate, Blackwall Lane. Open 11am to 11pm Saturdays.
Tour Verdict
Worry less about mileage and look to spend time west of Bermondsey. Check to see if there will be food at Orbit (once every few weeks) or else look to feed in Brixton. When it comes to bike storage, lock up against the blue railings at Sambrook's; slide alongside the entrance at Brixton; Beer Hive is quiet and off-street; Orbit have plenty of room to stow a few pairs of wheels; Partizan is busy, but try rest your rides to the side of the seating area; Meantime has railings out front. Maltby Street Market bike storage isn't fantastic – normal bike rails, but plenty of foot traffic.
This 25km South London beer tour was carefully mapped using Strava. The start point is marked in the Google Map below.