Cosmo Hotel, Mitte, Berlin
Will Ross, May 14, 2018
For all its credentials as a trendy European city, Berlin can be an exhausting place to spend time. Keeping up with the locals requires an unrelenting appetite for late nights and a fortified ear drum. Fixing a comfortable retreat in the central district of Mitte at Cosmo Hotel is sensible choice, for combining city pursuits and athletic pursuits with the refinements of a design hotel.
Cosmo Hotel's occupation of eight floors alongside the Spreekanal began in 2010, adding a new location to the quieter south side of Mitte. Privately owned by Axel and Gösta Gassmann of Europe Hotels International, Cosmo and its 84 bedrooms orientate themselves around designer details with custom furnishings, excellent HVAC (ventilation) and a pleasing set of organic toiletries.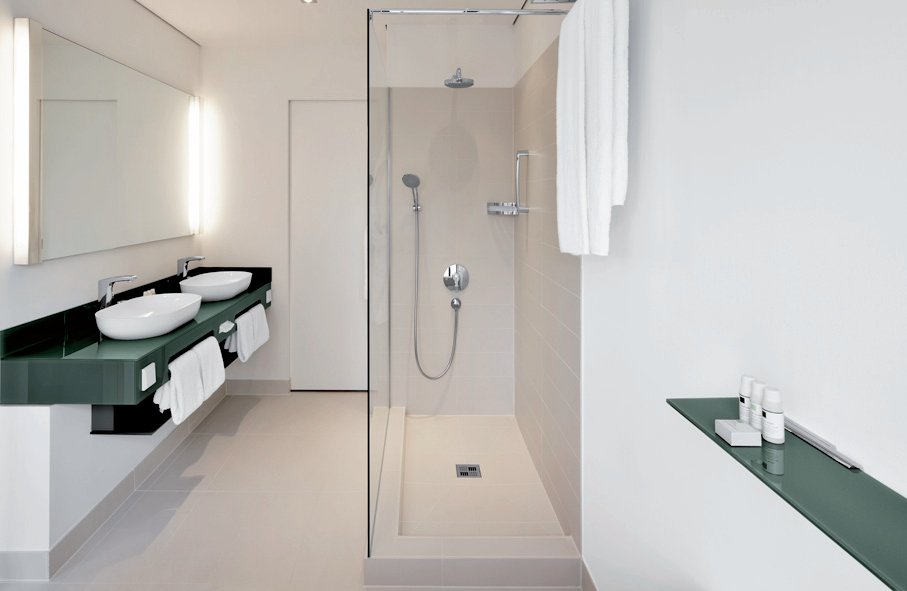 Each of Cosmo's bedrooms is fixed together with a clear attention to detail. Delightful bed frames and adjustable, electrically-controlled blinds allow for a softened light throughout the day, or else a complete blackout at night. Room types fall under five categories according to orientation, with bedrooms and suites splitting the pack. Standard (19-22m2), Comfort (23-28m2) and Deluxe Room (30-32m2) are your bedrooms with varying bed size, each with a monsoon shower. The Junior Suite (32-39m2) and Suite (50m2) are most unique for their inclusion of a bath and, thankfully, a separate toilet.
Cosmo's additional facilities include the holy trinity and nothing more: gym, sauna and restaurant. The gym is just about adequate, with a treadmill and cycling machine but no space to do effective weights (dumbbells only) – this is remedied in the Training Notes section below. The sauna is similarly cosy and clean, all that's needed if you're looking to get an early night during the winter and don't want to leave the hotel (there is no plunge pool).
Yet the highlight of Cosmo's auxiliary assets is undoubtedly its Scent Restaurant, which maintains the highest standards and is set outside the per night pricing for good reason. Regional produce is selected on a seasonal basis, brought together in a broad breakfast from 6:30am with fresh bread, jams, peanut butter, scrambled egg options. Yoghurt and muesli are of course available, alongside fresh orange and grapefruit juice. I didn't wander by for dinner but noticed a few earthy visitors, evidence of similarly discerning farm-to-tableness during the evening.
Training Notes
Cosmo's location on the southern side of Mitte puts it right next to the runnable Spreekanal and a 25m swimming pool, Fischerinsel. For another indoor pool and a proper gym, head to Fitness First two blocks north of Cosmo Mitte – they offer a free tryout and will try to convince you to a number of things, but the weights are sturdy and the showers clean. See their website on desktop to get a sense for the space, and note that they their repeat visit rate is €25 for full day access (think double days).
Half a mile south of Cosmo is a running track that opens in the evenings for football practice – drop in to use the 400m track. Tiergarten is Berlin's largest park and is found one mile west of Cosmo – an easy stroll over and an opportunity to see the Brandenburg Gate just beyond the north-east perimeter of the park. Cyclists can always head two miles north to Rapha to get a Rapha Cycle Club membership, then rent their Canyon bikes and join for rides to the north of the city, or else find indoor classes at Ride.bln – clip-in shoes are provided.
I stayed in a Comfort Room (#707) on the corner of the building – highly recommended. For more information on Cosmo Hotel, head to cosmo-hotel-de.