Copenhagen City Guide
Now nearly one a thousand years old, Copenhagen continues to maintain its heritage as a fishing village and commercial harbour, a function after which it takes its name. In more recent times, "Merchant's Harbour" has become popular among  international travellers, namely for its first-class infrastructure for getting around on foot, by bike or by public transport. Cycle paths reach out for over 375 kilometres – a true mecca for cyclists of all type. Runners can enjoy its wide walkways and inner city parks, while determined swimmers can make the most of the city's seemingly endless harbour frontage, or else its impressive swimming pools.
To make the most of this Copenhagen city guide for endurance athletes, note a few patterns and features. Facilities are broken into categories according to their running, cycling or swimming focus, with a separate section highlighting quality gym facilities in Copenhagen. Exact hours aren't indicated unless very restrictive, and prices are also omitted in the knowledge that no listed facility charges more than 130 Danish Krone / $20 for day access. Instead, a full directory of telephone numbers is provided in the final Directory section, so you can call ahead to confirm your intended training time. The place names in Directory link directly to the venue's Google Maps profile – click on the venue's name to generate directions. Finally, the Sleeping & Eating section towards the end of the guide provides an insight into good places for sleeping and fuelling during your time in Copenhagen.
Orientation & Logistics
It is virtually impossible to get lost in Copenhagen, with the major attractions located within a radius of less than 4km from the city hall. Copenhagen has two main squares located at either end of the pedestrian street Strøget, which also serves as the city's major shopping artery. The City Hall square (Rådhusplatsen), adjacent to the Tivoli Gardens, is within easy reach of the main railway station, with a swift and direct connection to the international airport. The Meat Packing District (Kødbyen) is 400m to the South-West. The Kings New Square (Kongens Nytorv), dating back to 1670, is the city's largest square and located close to the harbour front to the East.
When in Copenhagen, do as the Copenhageners do by getting around on bike. Choose between renting a bike from one of the abundant bike shops or make use of the network of city electric bikes with GPS, called Bycyklen. You can pick up and return the e-bikes from any of the locations shown on the provider's web site. Public transport is also quick, cheap and easy to use, comprising the Metro (underground line), the S-trains (local trains) and city buses. You have the choice of buying single tickets from vending machines at all stations and in a number of convenience stores, or using the convenient "DOT Mobilbilletter" app.
Located in the relatively far north of Europe, the daylight hours in Copenhagen vary greatly between winter and summer. Along with this the average temperature changes greatly with the seasons. As the North Sea is not far away, the city also often experiences strong winds. The summer months of July and August are usually the warmest, with average temperature around 20 degrees C (high sixties in Farenheit). The temperature drops to a mere 2 degrees C (35 degrees F) in the coldest winter months of January and February.  On the longest day of the year, around midsummer and the celebration of Saint Hans festival, the sun rises at 04:26am and sets again at 10:56pm, offering a whopping 17 hours and 29 minutes of sunlight.
On the opposite end of the scale, just around Christmas, the sun rises at 8:37am and sets 3:37pm, offering a mere seven hours of daylight. The perfect time to light the candles and snuggle up with mulled wine. This is what the Danes refer to as "hygge".
Running
Though Copenhagen's running tracks aren't typically open to the public outside of club membership, numerous flat and measured locations are available for running a full assortment of workouts. Hills are accessible beyond the city centre, and you'll also be able to find good company by joining sessions of local running clubs.
Access to running tracks in Copenhagen isn't excellent, so look to join AK73 sessions for free for one month and make the most of their access to facilities for interval workouts and strict timing. They train at Østerbro Stadion on Tuesdays and Thursdays 5:30pm – turn up a little early if it is your first time, to make sure than your attendance is acknowledged.
Perhaps the most popular public running route in the city is the 6.4 km loop that circumnavigates The Lakes (Søerne). The loop is made of five rectangular lakes, connected by a continuous gravel-tarmac surface (see above). Complete the loop in a clockwise direction, starting from the south-west corner where Østerbrogade intersects with Øster Søgade. The undulating tracks of the connected Frederiksberg Gardens and Søndermarken Park offer a slice of typical parkland area, a second option to pair with The Lakes.
For running on trails with some hilly parts you're best off to go to Dyrehaven (Deer Park) on the northern outskirts of Copenhagen. To get there, hop on the S-train and get off at the Klampenborg Station, 25 minutes later. This vast recreational area is made of forest areas and grasslands, populated by free roaming red and fallow deer. A warm up through the park running north gets you to the base of a 3% / 600m effort, heading west on Søndre Eremitagevej from the junction with the north-south path, Chauseen. Shorter, steeper climbs can be found around Marek's hill, on the southern edge of the park (marked in map below). Copenhagen's town centre does have two options along Strandboulevarden, if you're short of time.
Copenhagen also has three parkruns, if you're looking for a timed 5km dash on Saturdays. One parkrun course routes through Amager Fælled, with a second along the coast, Amager Strandbad. The third is to the city's north, around Fælledparken. Your native parkrun barcode will work at each finish funnel, and races set out at 9am.
To find running groups, join Mikkeler Running Club, a group with chapters around the world, catering to the international runner. They organise sessions on multiple days each week, ranging from intervals to track runs. The group is social and competitive, using one of the town's microbrewery pubs, Warpigs, as its clubhouse, also where Mikkeler beer is brewed.
Cycling
Road cycling is enormously popular in Denmark with the greater Copenhagen and North Zealand area offering endless possibilities for planning cycling routes, albeit on relatively flat terrain. What Copenhagen lacks in altitude gain, it compensates with strong wind most days of the year. Some signature routes are worth checking into, while the local cycling community is welcome to visitors looking for some protection in the peloton.
A short ride South from the city is a neat route circumnavigating the island of Amager, where Copenhagen's airport is located. This is popular both with cycling clubs and triathletes, especially for evening rides when getting in the miles is the priority; a single loop is just short of 45km. This route is practically mirrored by another loop to the north of Copenhagen, a 60km triangle with over 400m of elevation gain – mountainous scenes in these parts.
Looking to reach out a little longer? Copenhagen Ironman takes place in August and its full loop can be accessed via a scenic ride along the coast. The 90km (56-mile) route features a series of smaller hills, with a total altitude gain of 180m (540 ft.). The Start is on Amager Island and finish downtown Copenhagen at Ofelia Pladt across from the Opera House. Just before entering Humlebæk, the route goes inland through lush fields and enchanting forests, adding some non-coastal variety.
The Rapha Clubhouse in Copenhagen is the place to hang out and meet other cyclists. They organise weekly rides and special events for road cyclists, with ride times and distances published on their website. Additionally, bike shop Soigneur organises weekly evening cycling on Wednesdays at 6:30pm in the period from April to August. Start and finish at their store location at Strandvejen 8, joining for free for their first ride (repeat joining requires membership with their club, SRC11).
The best gym for indoor cycling is at Fitness DK (changing name to " SATS" as of 1st of January 2019). Try the venue at Nygårdsvej 5 and rent SPD shoes through the reception. As with most cycling studios, Fitness DK require that you sign up for a class in advance. Price for a single-day training fee with access to the gym and all class (yoga etc…) is currently DKK 99.
There's an abundance of bike rental locations in Copenhagen, but only a handful of them provide premium road bikes. Joining the RCC (Rapha Cycle Club) can be a cost effective way to access brilliant rental bikes. Annual membership prices in the order of 160 Euros, granting you access to bikes for as little as 20 Euros per day (each country has their own exact pricing, but these ballpark prices stand true globally). Membership also comes with the additional perk of two free coffees (or prepared drinks per day) – compelling if you find yourself living in the 18 or so cities where Rapha cafe's are located. Alternatively, daily carbon road bike rentals range range from 250 to 700 DKK, roughly $35 – $100. Copenhagen Bicycles is located right in the heart of the city and has a fleet of bikes that can be rented for single or or multi-day use.
Swimming
Copenhagen is home to a total of nine indoor swimming pools, open to the public during from roughly 8am until 6pm throughout the year, with limited access evenings and weekends. Some pools don't accept credit cards for payment, so try to bring hard cash as well as a swimming cap for your sessions. 
Two miles north of the city centre in Østerbro is Øbro Hallen, part of a community with a running track (mentioned). The 25m pool is open from 8am to 8pm and, as the name alludes, the facility also houses a spa and wellness area. The most prestigious, and the only 50m pool, is the Bellahøj Swim Stadium. In Frederiksberg, a separate but neighbouring municipality, you with find the Water & Wellness Flintholm facility, and a 25m pool constructed entirely of stainless steel.
The waters in and around Copenhagen are perfectly fit for open water swimming. In fact, the city boasts four harbour-swimming facilities: Islands Brygge, Fisketorvet, Sluseholmen and Nordhavn. During the summer season the majority are manned with a lifeguard daily from 11am to 7pm. To celebrate the fact that the capital of Denmark has such remarkably clean water, a 2km open water swimming competition, known as Copenhagen Swim, takes place every year at the end of August. It attracts some 16,000 participants from near and far.
For the real open water swimming experience, the Amager Strandpark area is the perfect spot. Protected by a man made island, the lagoon area offers safe swimming conditions with easy navigation. This is the swim venue for the Copenhagen Ironman competition. The water on the outer side of the park's artificial island offers somewhat more challenging conditions with more swell and current. Take the airport Metro line (M2) and get off at either at the Øresund or Amager Strand station.
If you're looking for a cold plunge, head to La Blanchina. There waterside venue serves up a simple breakfast of pastries, coffee and boiled egg. A sauna can be reserved for group bookings – 1 hour 45 minutes for 400 kr ($40).
Gym
Fitness DK is a gym chain in Copenhagen with 13 gyms in the city. It caters to the somewhat more demanding market segment. A day pass will cost you DKK 99. This gives you access to training with free weights, machines and the standard classes. The gyms all offer sauna and steam room, and free soap in the showers. You can rent towels and padlocks for the lockers in the reception. Find the full set of gyms at fitnessdk.dk/centre.
The Fitness & Health Club at Charlottehaven is one of Copenhagen's premium gyms, reaching into the realm of spa and wellness. A day pass costs DKK 199, which gives you access to all of the training facilities as well as the gym's 20m swimming pool and sauna.
Sleeping & Eating
The Danes are renowned for their architectural design and healthy produce, each punctuating the city with reliable consistency. Local delicacies are also worth sampling, as well as hotels adorned with Scandinavian design and interior inspirations to take home with you.
Breakfast enthusiasts should look to The Union Kitchen, located at the Nyhavn inlet of water. The menu continues throughout the day, with salad bowls and egg-orientated dishes abundant. Choose the Green Bowl masala spiced lentils, shaved broccoli, roasted sweet potato, poached egg, pistachio, pea shoot, onion chutney, while the Brunch Plate comes with an inspired scrambled egg mixture, hummus & falafel, vesterhavs cheese, salad, mini avocado toast with feta, yogurt & granola, mini waffle & berries, fruit, mini croissant bread basket, jam.
Make your way to Nørreport Station to Torvehallerne, a covered market with stalls providing local produce and coffee. Copenhagen's green profile extends throughout other culinary spots, including in lesser-known Amass, found in the harbour area Refshaleøen. Table reservation is a must. 
When in Copenhagen, it's an absolute must to savour the traditional fare, "Smørrebrød", i.e. the Danish open-faced sandwiches. A mouthful for a foreigner to pronounce but an absolute feast for the pallet. Christianshavns Færgecafe serves this lunchtime treat, as well as a wide variety of other Danish dishes within easy access of the metro.
On the topic of coffee: Café Europa is located in the heart of the city's pedestrian area, at the Amager Square – erfect for a a coffee and a quick bite to eat. Wecycle, Islands is another cycle-cafe-store venue, located on the opposite side of the harbour (the Amager side). Drop in for a cup of coffee, browse through their selection of clothing and cycling must-haves or check out their range of vintage style bikes. Finally,  Conditorie La Glace dates back to 1870, serving traditional cakes and layer cakes with a selection of coffees and teas. A must-try experience! 
To complete your Copenhagen experience with stable and stunning base, calibrate your experimental-easy scale and choose one of these three options. Hotel Alexandra the ideal central solution, with tasteful interiors and inspirations for your own apartment. The 61 bedrooms each have their unique notations, and are available to guests with a liberal 2pm check-in and 12 noon checkout. Breakfast is served from 7am in the hotel restaurant. Note there is no gym at the hotel, so you'll need to find weights and indoor cardio at Charlottehaven or one of the SATS venues.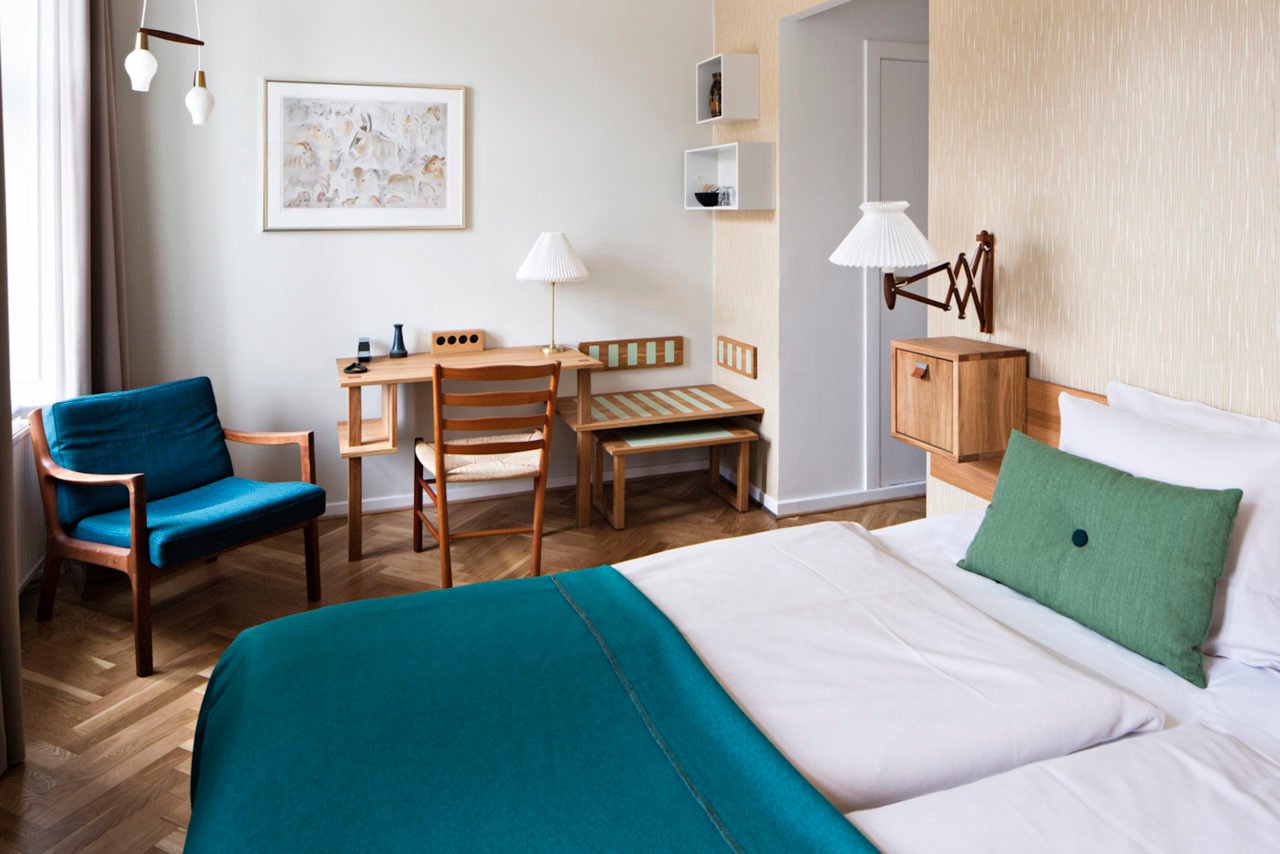 When you're looking for that special hotel that also caters to your workout needs, then the Manon les Suites is the place to go. This boutique hotel features a spacious, fully equipped gym with free access to guests, as well as an indoor pool with a jungle theme and several saunas. It's located at the Lakes area, providing the perfect venue for running. 
For a more peaceful location set back from the city centre within reach of more spacious training facilities, opt for the Ocean Hotel, 8km to the south-west of downtown Copenhagen (25-30 minutes by public transit). The Ocean Hotel is a charming historical villa dating back to the 1860s, with airy bedrooms looking out to the sea. Location is also excellent for running and open water swimming at the Amager Strand leisure area. 
Directory
Amass Restaurant: +45 43 58 43 30
Bellahøj Swim Stadium: +45 33 66 33 70
Charlottehaven: +45 35 27 15 00
Conditori La Glace: +45 33 14 46 46
Copenhagen Bicycles: +45 33 93 04 04
Hotel Alexandra: +45 33 74 44 44
Manon Les Suites: +45 45 70 00 15
Øbro-Hallen Swimming Pool: +45 82 20 51 50
Rapha Clubhouse: +45 33 33 03 34
Water & Wellness Flintholm: +45 69 15 85 20