As I worked my way through Tanzania in July this year I was utterly alone, with little knowledge about the country, its people or even the value of its currency. What I did know was that I would need to remain flexible to a number of different situations and possibilities, ranging from the wickedly awesome to the wildly uncomfortable.
My trip began around 2am at Dar es Salaam Airport. Small and poorly organised, the airport was a long way from the slick reception offered by South African airports. I quickly made my way to a cheap hotel with the intention of waking early for a transit to Zanzibar on the first ferry. I brushed my teeth and mindlessly downed a few glasses of tap water before bed, a lapse in concentration that I was to regret the following day.
A 2 hour ferry ride in the morning took me on a pleasant journey to Zanzibar – a truly fantastic place. The island was far larger than I thought, bustling with interesting sights, friendly people and fascinating architecture in Stone Town. For snacks, I can recommend the roasted sweetcorn that locals make on open fires with tenderly drizzle salt, pepper and lemon juice . This food is very cheap – one serving will set you back 500 Tanzania Shillings, or around 20 pence.
I then ventured to Kendwa in the North East of the island by public transport, a common way of getting around the island. This method of transport is tuned to perfect efficiency in the form of a mini-bus called a dala-dala, designed to service an exceptionally cramped and often overloaded freight. I found myself in the very front with my face pressed up against the windshield. The glass was fairly cool and refreshing on my first, but became increasingly uncomfortable as the bus bundled on.
Kendwa is a magnificent location along a white beach that tinges the shore's crystal blue sea. I negotiated 2 scuba-dives through a company called Spanish Dancer Divers. The sea was warm, the equipment excellent and the sea-life phenomenal. I saw an array of eels, scorpion fish, lion fish, a sea horse and shoals of brilliantly coloured fish, just like in the films.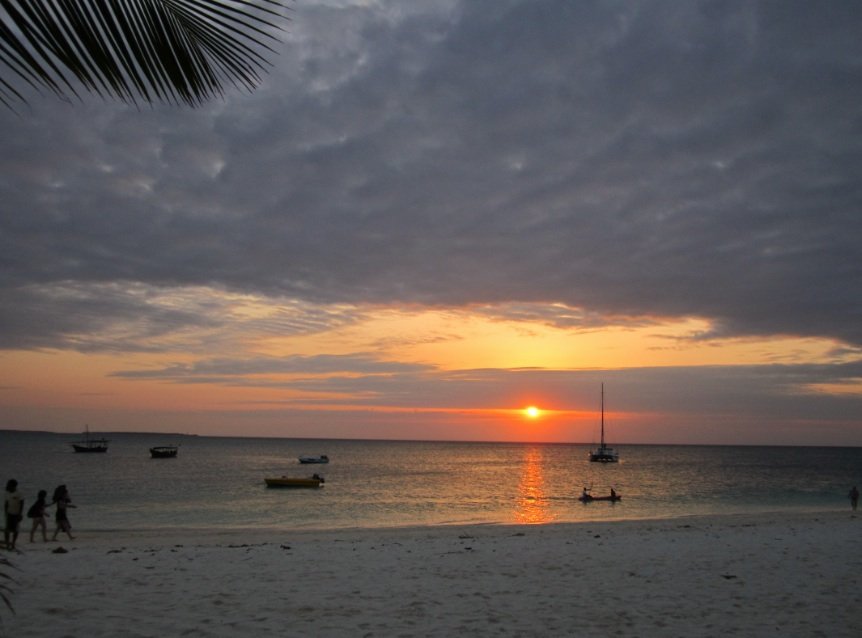 It was around this time that I felt the repercussions of drinking the unbottled water from the night before. An intense pressure in my bowels began as the mistake from the night before decided to start knocking on my digestive system. I addressed the situation with the dive master as soon as we surfaced who told me it was entirely psychological and that I should spend some time off the boat. Needless to say, he was very wrong.
A quick 3 days in Kendwa passed with beach volleyball, soccer with the locals at sunset and a party at the resort called Kendwa Rocks. A highlight was the American and German tourists dance side-by-side with Masai men that had decided to attend the party and perform international courting conduct. The resort was fun, very touristy and dotted with young locals who were trying to sell anything from wooden key-rings to A-class drugs.
Climbing Mt. Meru
I decided to make my way back to the mainland, hopping onto the return ferry the next morning to pay for my causal embarkation in tremendously high seas and a sickening voyage. On arriving in Dar es Salaam, I immediately booked my bus for the next day to Arusha, paying 25 000 TZS (£11) for the 640km trip.
The next day I set out at 8am armed with a broken iPod and a bumpy road ahead. Though the bus I used was the Rai Express, I had previously been recommnded the Dar Express which would have reduced my 11 hour journey somewhat. It is on trips likes these that one can appreciate the luxuries of developed countries as I was squashed in my seat, with people in the aisles sitting on buckets, children standing and chickens clucking anonymously from the carry-on luggage compartment. The slow journey gave me time to reflect on my ailments from the last couple of days, alerting me to make a new resolve beyond the bus.
With a strengthened gut and new outlook, I decided to summit Mt Meru (4566m), 70km west of the more famous Mt Kilimanjaro. Climbing Mt. Meru is substantially cheaper, cleaner, quieter and in some ways more challenging than Kili. My guide Godfrey Chigumbura constantly reminded me  of the Colobus monkeys, buffalo and sensational bird-life and of his presence as he had a strange throat infection that rendered him clearing it grotesquely loudly every minute. He also announced many times that Mt Meru, a dormant volcano, was at parts dangerous and at others more difficult than Kilimanjaro in terms of steepness.
Ascent
I chose to do this hike in three days, which meant that I would have to walk hard and long, no chore in the constantly changing landscape of the Meru National Reserve. The first day of five hours walking presented a magnificent trail though a rainforest with an enormous fig tree, imposing Yellow Woods and an absolutely titillating waterfall hidden in the crest of the foot of this mountain.
On day 2 I ascended to the saddle of the mountain, past thinning shrubbery as conditions became dryer and harsher. On this ascent I enquired about a fairly stringy batch of faeces in the path, and was told that it belonged to a leopard. I felt wild. After 5 hours to the saddle up some fairly relentless wooden steps in the early section I was advised to ascend 'Little Meru' to acclimatise. This short 90 minute walk is pleasant, laying a precedent for the next day.
We began the hike to the summit at 2am over a fairly dangerous stretch that took us right along the rock face for about 1km. There is a fine line between safely negotiating this trail and not finishing it at all. I strongly advise a headlamp and a pair of proper hiking boots before attempting this section. I safely negotiated it and then set about reaching the summit at sunrise. I may have slightly over-estimated my altitude acclimatisation and found myself dizzy and dry-retching from a pleasant hint of altitude sickness. Godfrey offered me a cold and extremely over-sweetened coffee which did the trick as I returned quickly back to normal. I reached the summit just after six in time to see the most spectacular view of my life.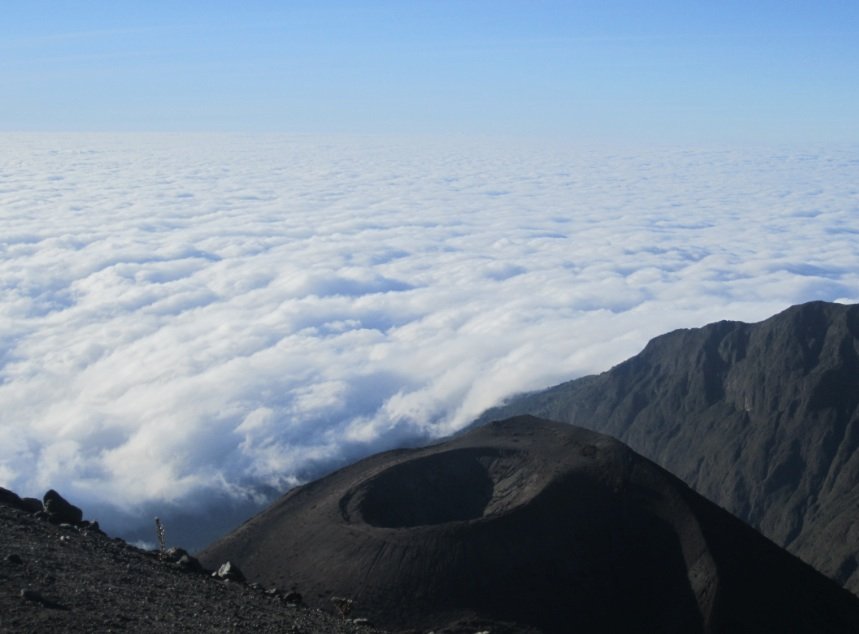 As I stood above the clouds, the sun pushed its way gently from behind Mt Kilimanjaro, replacing the full moon on the other side and casting a shadow of Mt Meru on top of the clouds. This is the reason I travel, hike and explore. This was at least worth 10 lonely bus trips, 15 ferry vomits and 18 sea diarrhoeas. Finally, the sum of the trip added up.
Descent
After 7 hours of descent and a bus shuttle I found myself in Arusha for the weekend, straight back into society. The city is underdeveloped, with very limited electricity, barely any running water and only a few tarred roads. It is a travesty that a place like this, with so many natural resources hasn't been able to grow a solid economy. People really struggle to make a living, and can be seen carrying massive loads of bananas on their heads or pushing extremely heavy and over-loaded carts to the market. It is however, a good place to buy gifts for friends at the Masai craft market to support the local crafts men and women and to sort out final travel plans back to Dar es Salaam.
To get to Mt. Meru, route via the nearest airport, Dar Es Salaam, then continue by bus with Dar Express to Arusha.