Cinque Luxury Rooms, Verona, Italy
Will Ross, May 25, 2019
Had Romeo ever been an ambitious athlete, his banishment to Mantua and beyond the endurance facilities of Verona would have represented a double curse. Though the quiet town on the border of Sud Tyrol finds itself caught between the urban primacy of Milan and the natural bounty of Lake Garda, its idyllic setting on the gentle curve of River Adige makes for a walkable town with a healthy spread of options for the visiting endurance athlete. All the romanticism of Shakespeare's tragedy remains intact, with the regular rub of brakes on carbon wheels and the tap-tap of trainers offering a renewed metre.
Set slightly outside the main tourist thoroughfare of Verona, Cinque Luxury Rooms make up a boutique-style property with a series of rooms falling somewhere between Airbnb and serviced hotel. This awkward categorisation might put off those unable to blend the characteristics of two camps. Yet thees modern times our willing to reward those who can do without the concierge facilities of a hotel, as well as the self-catering options of an apartment.
In Cinque's case, guests are met with an electronic keypad for check-in, punching in a communal code for the external door before using a private numerical code for their own bedrooms. No receptionist is on-hand to handle payment – this happens online. And no bloated facilities get in the way of your bedroom – a place to rest and nothing more.
Five bedrooms vary in decorative themes, each sharing roughly the same configuration (no baths). The titles of the sequence of bedrooms defies today's gender conversions, named Mr. Pink, Mr. Gray, Mr. Blue, Mr. Purple and Mr. White. These characters of course link to the the variant interiors of each room, and although the hotel's website refers to a "myriad" of features, be assured that in fact only the essential are in place, the most indulgent aspect are the Rivolta Carmignani. The only noteworthy difference between the rooms, is that the Suite-standard Mr. White has a sofa bed that can be made up to sleep four guests. I stayed in Mr. Pink during a September 2018, a deluxe king room on the ground floor facing the street – a space that was both peaceful and well ventilated during a sweltering afternoon, especially welcome after completing a session at Barry's Bootcamp in Milan that morning.
Cinque Guesthouse offer in-room breakfast but with no restaurant, I decided to head out for a morning run then grab food at Boutique del Gusto WeineWolf, not even 200m from the hotel.
For later in the day, restaurants worth noting are numerous and can all be reached with a 12-minute walk of Cinque. In the centre of town, Locanda 4 Cuochi is a prime spot for dinner and Osteria Ponte Pietra for lunch. Start your coffee tour by placing an order at Caffè Borsari and if your training programme allows it, sneak a glass of wine at Signor Vino beforehand heading to dinner.
At the premium end of Verona's gastronomic scene is Casa Perbellini, a restaurant from multiple-Michelin starred chef Giancarlo Perbellini. Perbellini launched the concept at the end of 2014, seating just 24 people around the kitchen. Sommelier Giulio Chini has racked up an impressive cellar, taking on the role of Shakespeare's Friar Laurence as resident mixologist. Casa Perbellini have lunch and evening sittings, and given they are closed on Sundays and Mondays, you'll definitely need to book well in advance (I showed up midway through a lunch sitting after sweating my way from Milan, only to be very politely rejected).
Training Notes
Verona's core endurance facilities are all within a walk of the town centre. An athletics track is due south, Pista Athletica A.Consolini, and a swimming pool in the west of town, Piscina Comunale Giacomo Conti (50m, outdoor).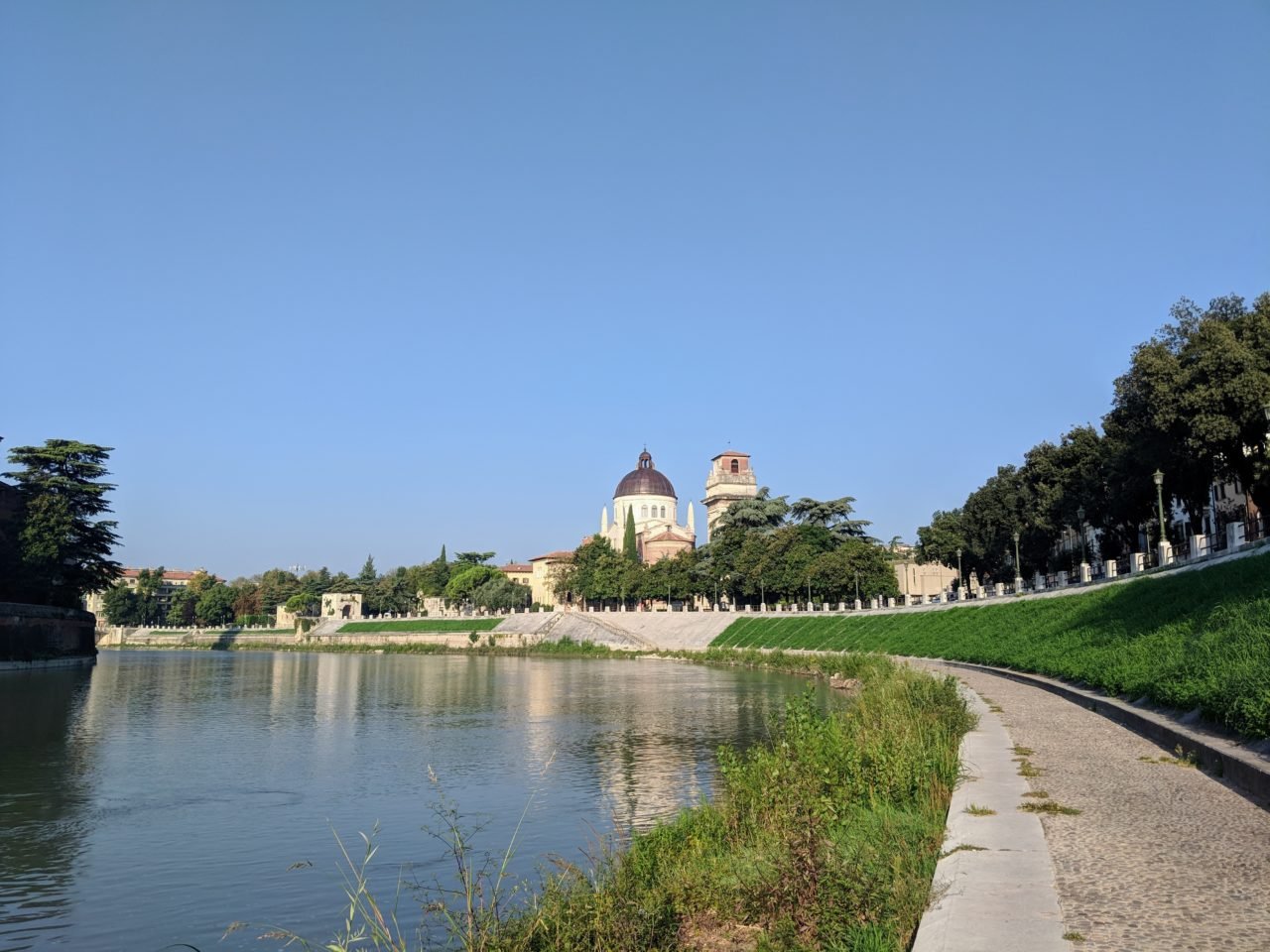 Those ready to venture further from the city walls can either do so on foot by taking the river path, or hop on a bike and ride out of town. Carbon road bikes can be rented through Presto Bike (email info@prestobike.it) and for group rides and guidance, contact SPK Cycling Team by following their Strava Club.
I stayed in the Mr. Pink in September 2018. For more information on Cinque Luxury Rooms, visit cinquerooms.it.