Cape Town City Guide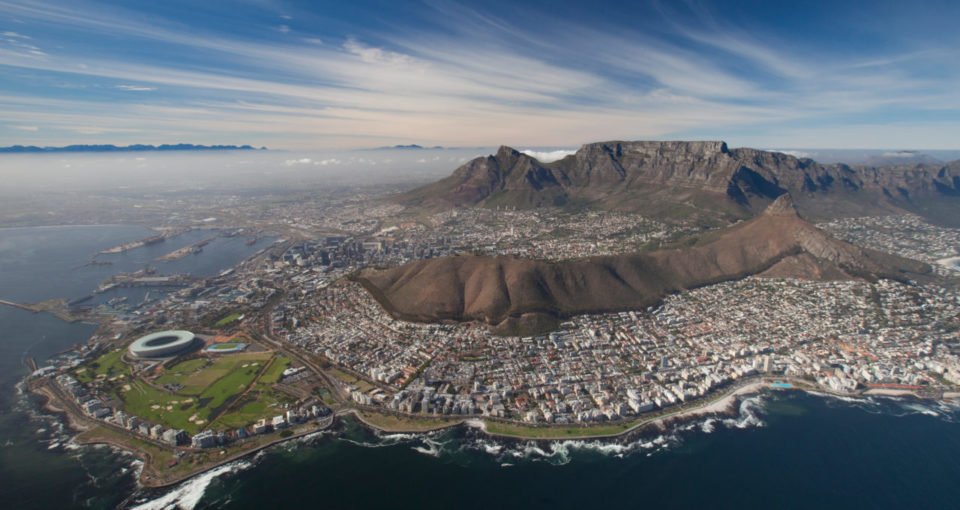 Since the spice trade first started to tug European mariners around the southern tip of Africa, the establishment of the city in the lap of Table Mountain has created one of the world's more unique economic hubs. Just over four million people continue to live within sight of the looming rock, providing ample terrain for runners and cyclists, with swimmers just about satiated. When Cape Townians aren't out and about, the long summer season delivers plenty of fresh produce to the city, and of course ripens vines throughout the region.
To make the most of this guide, note a few patterns and features. Facilities are broken into categories according to their running, cycling or swimming focus, with a separate section highlighting quality gym facilities in Cape Town. Exact hours aren't indicated unless very restrictive, and prices are omitted in the knowledge that no listed facility charges more than R150 for day access. Instead, a full directory of telephone numbers is provided in the Directory section – it's always worth calling ahead to confirm opening hours and guarantee your session. The place names in Directory link to the venue's Google Maps profile – click on the venue's name to generate directions. Finally, a Sleeping & Eating section towards the end of the guide provides an insight into good places for sleeping, feeding and caffeinating during your time in Cape Town.
Orientation & Logistics
The city of Cape Town is centred around Table Bay which overlooks the Atlantic side of Cape Point, the peninsula which dives due south and marks the technical dividing point with the warmer Indian Ocean. A few neighbourhoods are worth knowing to help with orientation. The V&A Waterfront surrounds Cape Town's old harbour, sitting at the base of "City Bowl" which continues up towards the mountain through the CBD and into the more leafy Gardens neighbourhood. To the west of V&A Waterfront is Green Point followed by Sea Point before the beach-fronted alcoves of Clifton and Camps Bay start, working their way south in the direction of Cape Point. Head east from of the V&A and you'll pass through some of Cape Town's developing quarters, most notably Woodstock which continues to gentrify.
Reliable public transport in Cape Town is in its infancy, serviced by MyCiti buses which connect the town on a number of handy routes. Riding on the buses requires collection and pre-payment of a MyCiti card, only available at MyCiti stops. Since services aren't regular on weekends, and the process of collecting a card is arduous, justifying Uber for shorter stays is entirely acceptable (Uber POOL is not yet available in Cape Town – March 2018).
Few cities have such favourable weather as Cape Town, at least for those who enjoy a long summer. Temperatures from December to March are regularly in the high-20s and though spells of fog and rain do graze the Cape during these months, it's always worth considering the sun index if you're committing time to being outdoors. A half day on the mountain or along the seaboard is best accompanied by a visor and suncream.  Weather during the winters can be horrible in Cape Town, with the wet and wind during June, July and August exacerbated by the thin insulation and broad windows of Cape Town's architecture.
The good news with Cape Town's latitude is that the depth of winter the city receives 10 hours of sunlight, with latest sunrises being just before 8am on the shortest days of June. Summer light spills over the city for over 14 hours, breaking the horizon at 5:30am when the city's cyclists and serious runners make their advances.
Running
The slopes that reach down from Table Mountain complicate running options. While its steep escarpments offer challenging routes for ambitious trail runners, finding flat-ish routes within the city's built environment isn't easy. Some contour routes are navigable in road shoes, but the majority of continuous running can only be had on the sea wall and coastal pavements that wrap a wide grin from Camps Bay to the Waterfront. A few select spots tee up interval options on the track and, for hills, the welcoming slopes of the mountain present good options.
The Western seaboard of Cape Town oozes health, the Malibu of South Africa where tanned torsos and slender swimming costumes define the dress code. Starting in Camps Bay, a route through Clifton on to Sea Point connects a good sampling of this scene, aided by long portions of pavement. From Sea Point, a pedestrian-only path skirts the sea wall to the Waterfront, drifting past Green Point Stadium in its shadow before navigating a few mini-roundabouts.
Flat running  routes can also be guaranteed in Gardens around the Molteno Reservoir, which makes up for its unattractive design with a pan-flat, tarmac loop of just over 800m. Alternatively, the adjacent De Waal Park offers some focused training in the shade on some new tarmac – not the most exciting loop but the slight elevation change makes for a disciplined 600m interval absent of roadside traffic.
Next to the Green Point (Soccer) Stadium is the more recently completed Green Point Athletics Track, formally referred to as Green Point Athletics Stadium. The City of Cape Town can be excused for their two-year delay on the construction – the brilliant blue tartan is a delight, its spacious bowl accompanied by easy parking, restrooms and showers. Gaining access to Green Point's athletics track requires some navigation, since the stadium itself isn't operated with regular hours for individuals. To get around this, email the city to to confirm access to avoid bitter disappointment – the contact is Nwabisa.Mbulu@capetown.gov.za (first name "Joyce"). Green Point Athletics Stadium is also the venue for a number of track meets arranged by Western Province Athletics.
If the Green Point track administration is proving resistant, schedule a visit to Camps Bay High School after 4pm and use their 400m grass track. The school's 70m-deep bore hole waters an impressive patch of earth, itself hewn into the hillside with Table Mountain's shoulder in view. Linking your workout with a cool down on Clifton 4 is also an option – sea water temperatures qualify as cryotherapy (this is the beach to the left / south as you look out to sea).
Cape Town's sprawling neighbourhoods have been well contained by the protected land that surrounds Table Mountain, meaning that the best of running routes involve some kind of undulating trail route, fine if you're in good form but potentially hazardous if you're unsure of your range. Three popular routes are worth knowing about, regularly navigated by native trail runners and their tribes. Cape Townians often speak of escalating muggings and violence on the trails, so finding strength in numbers is highly advised until the situation settles [March 2018].
Looking over Camps Bay is Pipe Track, an undulating trail that doesn't ask too much in the way of climbing. The modest complexity of the route will give you space to enjoy views towards Cape Point along the Twelve Apostles, with the stunning Clifton Beaches viewable on your return. The Pipe Track does connect with a route up the shoulder of Table Mountain – Kasteelspoort Path is a punchy 1.4km, climbing at an average of 31% gradient.
For those living in Gardens or City Bowl, Lion's Head Climb is a popular morning route, easily reached from town. This lump sits on the southern end of Signal Hill, approachable from a car park on your left side once you've made the turning from Kloof Nek Road, a mere 2-mile drive from the CDB. The route coils around Lion's Head in a clockwise direction, covering exactly 2km with gradients ranging from 8% to 30%.
The final trail that every visitor should at least know before arriving in Cape Town is Platteklip Climb, the route that takes a natural line into the belly of Table Mountain. At 1.7km and an average grade of 35%, the route can hardly be taken as a run, so any advanced knowledge should be coupled with some aggressive hill training before you arrive in Cape Town. If you do attempt the climb, bring enough cash or a credit card to cover the cost of the Table Mountain Aerial Cableway which drops down the mountain roughly 500m from the top of Platteklip Gorge.
If you're looking to join a trail running group, send an email to Tim Bellairs (tim.bellairs@gmail.com) of K-Way VOB Trail Running. This group includes a number of accomplished trail runners and a wealth of knowledge of trails, far exceeding the trio offered above. The group organise a structured set of runs each week, often organised into multiple pace groups.
British runners visiting Cape Town will appreciate the spread of parkrun venues, even if they are removed from the immediate city centre. Green Point is the only  in-town parkrun, with Rondebosch Common and Constantia Greenbelt demanding a 15-minute drive around to the east side of Table Mountain. Following a parkrun with breakfast at The Vineyard Hotel in Newlands is a good way to justify the early morning drive for the 8am starts (N.B. not 9am like in the U.K.).
Trail running races are also popular during Cape Town's summer and autumn evenings. Footwear brand Merrell do their bit by sponsoring two trail running series that take place during weeknight evenings. Their Autumn Night Run Series is a 3-run series taking place in April from 6:30pm, starting and finishing at Simon's Restaurant in Groot Constantia. In Spring, the Merrell Spring Night Run Series takes place from the beginning of September, setting out from Jonkershuis Restaurant, also in Constantia.
Cycling
The smooth roads that surround Table Mountain curl between its lower passes, opening up a huge variety of terrain and coastal views. Despite the generally pleasant summer, heat and wind can be overwhelming, especially if you make a mistake when plotting your route. Each year, the Cape Argus (Cape Town Cycle Tour) race skirts a route along closed roads and some of the fabulous passes which are themselves tourist highlights – a good reference point for patches of tarmac for everyday routes.
Road cyclists looking for group rides should link up with Pure Savage, a local cycling team that is well organised and furiously motivated with its Tuesday and Thursday break-of-dawn rides. Connecting with them over email (teampuresavage@gmail.com) is the best way to get plugged into good riding – they run an effective online show by having a Strava club page, so have a glance at their Recent Activity to get a feel for their mileage and routings.
Finding a carbon road rental in Cape Town requires some advance communication with iRide Africa, a local operator rental company that has a range of quality frames for road cyclists and mountain bikers.
Swimming
The water crisis in Cape Town has put stress on the city's swimming infrastructure, forcing pools to reduce the number of active swimming pools and water depths. Even so, Sea Point Pavilion is the place to head, a 50m Olympic pool (salt water) that attracts serious swimmers for opening at 7am (R23 for adults). The pool also docks directly with a popular running strip along the seawall, if you want to combine your swim with a short run, while leaving your possessions within changing room lookers.
Visitors to Cape Town from April to September should note the potential closure of the pool – route to Virgin Active, Green Point where you can couple lengths in a 25m pool with a substantial weights room. The ongoing water crisis has also forced swimming pools to reduce their water levels and, in some cases, close entirely. Be sure to phone ahead to make sure your pool is available when you intend to train.
Gym
A quick glance at a group of native Cape Townians will inform you that gyms must be nearby. Fortunately, the bulkier aesthetic that seems to have wilted in Europe has been maintained by the Dutch and Huguenots contingent, now making the most of the city's gyms. In the city centre is Planet Fitness who welcome drop-ins, with Zone Fitness being another venue for those staying further up the hill in Gardens.
Those interested in seeing one of the world's most elite training facilities should route to the suburbs and check into the Sports Science Institute of South Africa (SSISA). This multi-storey facility was completed in 1999 and keeps ahead of the game by introducing the best equipment and practices, with swimmer Chad le Clos and 400m world record holder Wayde van Niekerk among their alumni network. As well as having the latest Wattbikes and weights equipment, SSISA also cater to the nutrition component of training, stocking an on site café with a variety of healthy snacks and to-go meals.
Sleeping & Eating
The rippling rock between Signal Hill and Lion's Head prompts a serious conundrum for visitors thinking about accommodation for their stay in Cape Town. Stay in the spacious eastern suburbs and you'll have to accept that days are significantly shorter, since Table Mountain's 1000m ledge blocks the sun just as those on the Western seaboard are stirring gin and tonics. Over in Camps Bay and Sea Point, the sun to dropping into the ocean, and the CBD isn't too far away either.
Finding a hotel that meets the needs of a business trip while maintaining a running, cycling and swimming regime is never easy, but Cape Town's mountainous landscape makes it particularly hard. If you're looking to save time and get in a good quota of urban exploring, Gardens is the place to stay. The trendy Grand Daddy Hotel is very central, with the city's best restaurants reaching out from this hip spot. Further up Kloof Nek Road half a mile is La Grenadine Petit Hotel, a delightful property run by a young French couple, Maxime and Mélodie. Grand Daddy Hotel is renowned for having airstreams on its rooftop, hoisting up well before these vehicles returned to fashion. True to its name, La Grenadine Petit Hotel is an intimate property that feels more like a home and includes an enclosed garden area, so blending the more spacious mid-tier portion of Gardens.
As well as being close to the business affairs of Cape Town, Gardens is also home to the best in city's cuisine. Healthy breakfast can be grabbed at the chic Loading Bay restaurant, with coffee available next door at Origin Coffee Roasting. Harvest is another breakfast spot of note, located on the edge of the trending Bo-Kaap area with a double frontage that defies the multi-coloured facades of the neighbourhood with a Santorini-white interior.  One block downhill from Harvest is Honest Chocolate Cafe, which is obsessively dedicated to cocoa (also cosy seating area at the back).
Coffee is served in spades throughout City Bowl, with one the world's most sought after spots being Truth Coffee. Deluxe Coffeeworks have a good location further up the hill from Truth, with outdoor seating in the shade (a smaller Deluxe is also hewn into the basement of Harvest). Bean There Coffee Company is another national success, located next to Honest Chocolate.
A range of solid food can be found around the corner from Bean There at The Poke Co, Savoy Cabbage (fine dining) and Chefs Warehouse, one of three sought after venues in town, serving tapas to share. At the top of Gardens is Nourish'd which builds upon its alternative spelling with takeaway jars for smoothies (plastic straws aren't even considered).
In other parts of town, Mojo Market in Sea Point is full of healthy options, open from 8am so perfect if you are looking to get breakfast after your swim at Sea Point Pavilion. Over in Kalk Bay is the relaxed Olympia Cafe, located across the tracks from the table-clothed Harbour House restaurant.
Directory
Grand Daddy Hotel, The: 021 424 7247
Grenadine Petit Hotel, La:  021 424 1358
Honest Chocolate Cafe: 076 765 8306
Origin Coffee Roasting: 021 421 1000
Sea Point Pavilion: 021 434 3341
Truth Coffee Roasting: 021 200 0440
Email Will Ross (will@zafiri.com) if you have any comments, or are planning a trip to Cape Town and want to know how to neighbouring gastro-towns like Stellenbosch and Franschhoek. Browse other Zafiri City Guides.